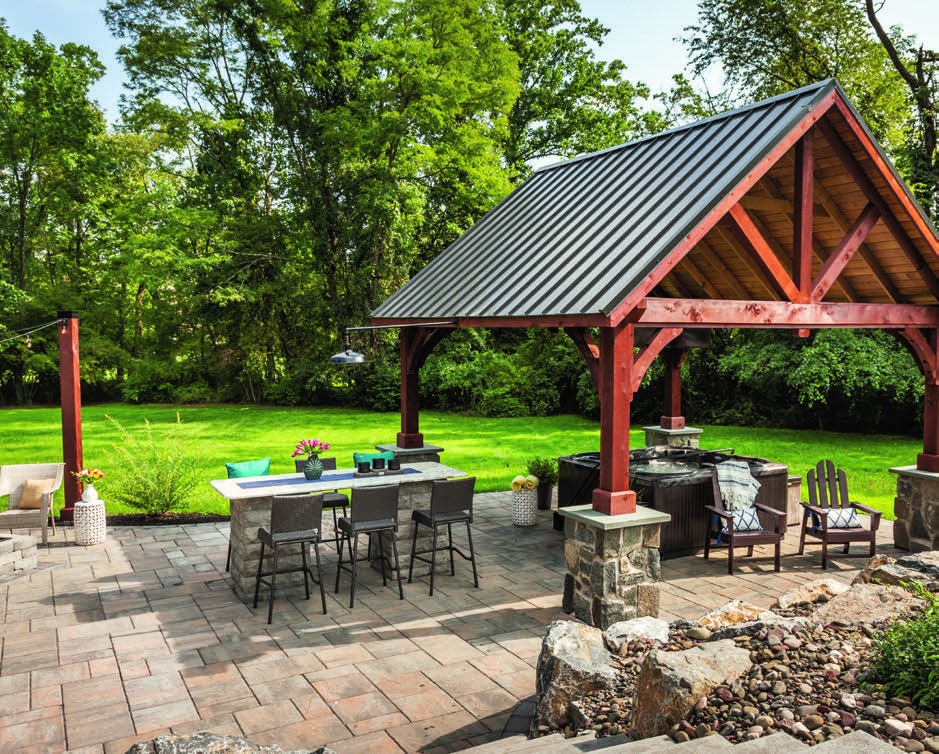 If the recent heatwave was any indication, trying to sit in your backyard with only an umbrella for coverage isn't going to cut it. To truly enjoy your outdoor space even in summer's harshest days requires larger shade structures to provide relief. From pavilions to pergolas and even multi-use sheds, homeowners have several options to consider, so House & Home spoke with a few local companies to find out how these structures have evolved to become must-haves in any yard.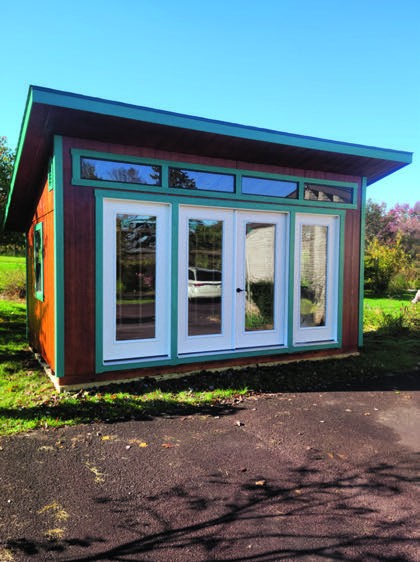 Party Pavilions Prevail
Those within this part of the home improvement industry witnessed unprecedented demand during the pandemic, and it continues still. While wait times for materials have improved, plenty of homeowners are putting in orders for backyard structures.
"People value outdoor time much more, and they want to permanently improve their outdoor space," says Pete King, director of sales at Country Lane Gazebos. "They don't want something from Costco that won't last, they want a structure that will be like a destination in their own yard."
King says most customers will come into the showroom with a general idea of what they want, but many are surprised at the sheer size of the structures. "We'll spend time with them, asking their needs and what kind of space they have available, and of course do site visits for measurements," he says.
It's not uncommon for people to change their mind once they see the options. "They might come in thinking they want a gazebo, but then they realize how much more use they'll get out of a pavilion. Or they think a pergola is a good option for shade, until we show them it's not full shade, unless you add a canopy," King explains.
Dan Stoltzfus, manager of Country Tyme Sheds, says pavilions are by far the popular structure right now. "Gazebos are not as useful—they are more aesthetic. With a pavilion, you can set it on a patio or next to your pool and put everything underneath it and fit all of your party guests," he says. "It's the hot spot for hosting."
He would also place pergolas in the aesthetic class of outdoor structures. "You can put fabric on it for shade, but how long will it last? Not as long as a real roof," Stoltzfus says. "That's why it's important to find out every customer's needs."
Customers also have to determine the materials for their structure, whether wood or vinyl. King says it depends on where they live, but many people end up going with vinyl. "Some want the natural wood-look if it complements their house, but once we start talking about maintenance, they consider vinyl because it can withstand so much."
Although companies do offer standard pavilion designs and models, further customization can be done with the shingle colors, roofline and accessories. King says they wire many of their pavilions for customers to hook up TVs, ceiling fans, lighting and more. "We love seeing their after photos. It's amazing how they transform them," King says.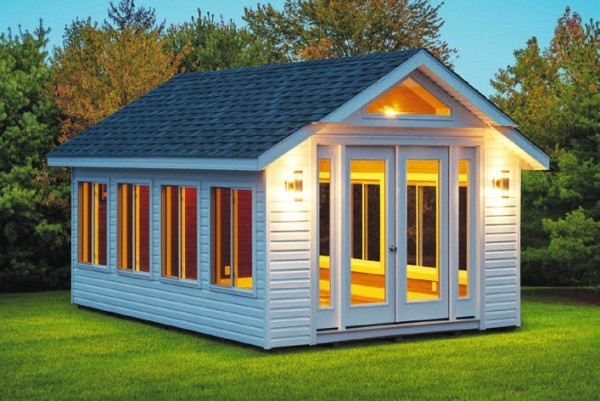 Supercharged Sheds
This humble backyard structure has gone from the place to keep rakes and snow shovels to man cave, she shed, home office and even backyard bar. Professionals say these structures are built with as much detail as a house.
Starting with the materials, Stoltzfus says, like pavilions, there are wood options, but LP Smart Siding has been their No. 1 seller. "It holds up really well and doesn't absorb moisture as much as a plywood product," he says. "It also comes in as many options, colors and planks that you'd have for a regular house, so you could have it match your home. It will last just as long too."
Kristi Reading, managing partner of The Buxton Complex, adds Hardie plank siding, stucco and brick are also options for exteriors.
If using the shed year-round, it needs to be insulated. Next would be finishing the interior walls and floor. Reading recommends sheet rock. "You can install pegboards for hanging items, or paneling. There is even horizontal paneling to get that popular shiplap look," she says.
Then come windows and a sliding door, or a regular door, whichever you choose, Buxton continues. Stoltzfus says there is HVAC to consider and even a bathroom depending on your township's zoning and sewer limitations. "Basically, you could live in these things," he says. "If you get the permit for it, we can build it."
For inspiration, we asked these experts about some of their recent projects. Stoltzfus says seaside bars are in demand, even if you're not near the ocean. "It's more like a pool house area where there's a pavilion connected to the shed, and you can make a little bar area under the pavilion with a fridge and TV," he says.
Reading recounts a project that was half barn, half pavilion, as well as a shed/sunroom with three glass walls and dark brown siding.
No request is too extravagant. "We offer everything from floor to ceiling," Reading says. "If you want it and it's not necessarily listed in our catalog, we can often go to the manufacturer directly. We're working with a customer who wants an insulated glass garage door. It's not in our catalog but we were able to order from the manufacturer."
Stoltzfus says, like most projects, be sure to check with your township before getting too excited. "You have to know the limits and obtain permits. Start there and find a nice way to ask about your options," he advises.
"Contact a local supplier before designing the whole project," King says. "You want to make sure it's going to work with your property layout and your local companies take pride in their experience and knowledge."
The Finishing Touch with Turf
Now that your pavilion or shed is installed, keeping the ground around it looking neat may be a challenge. Artificial turf is something to consider, says Luke Ribeiro, manager of New Jersey operations for Artificial Grass Turf Warehouse.
"After all your effort of installing this structure, you want the grass around it to be nice and flush with the surface. That's difficult to do with real grass, not to mention you constantly need to maintain it with cutting and trimming," he says.
Real grass also creates dirt and wears down with foot traffic. Whether its kids running in and out of the pool from the pavilion or your family dog jumping on your outdoor furniture, grass clippings, dirt and mud can get tracked onto the floor of the pavilion, creating more cleanup for the homeowner. Using artificial grass eliminates that stress.
And there's no need to be concerned about how it looks. This is not the same artificial grass from a decade ago, Ribeiro says. "It doesn't even look artificial anymore. The styles we carry are so realistic and soft, so it won't scratch your skin. It's highly durable and toxic- and chemical-free, so it's safe for kids and pets."
Ribeiro recommends pairing the turf with a complementary hardscape border to help define the transition from natural grass to turf to finish the look.
RESOURCES
Artificial Grass Turf Warehouse
North Bergen, N.J.
(844) 768-8873
ArtificialGrassTurfWarehouse.com
The Buxton Complex
Ewing Township, N.J.
(609) 771-6840
TheBuxtonComplex.com
Country Lane Gazebos
New Holland, Pa.
(717) 351-9250
Gazebo.com
Country Tyme Sheds
Colmar, Pa.
(267) 834-0211
CountryTymeSheds.com
Published (and copyrighted) in House & Home, Volume 22, Issue 10 (July/August 2022). 
For more info on House & Home magazine, click here. 
To subscribe to House & Home magazine, click here. 
To advertise in House & Home magazine, call 610-272-3120.