When it comes to kitchen design, many elements work harmoniously to create one unified, ideal vision. In addition to deciding on the materials, colors and styles for each fixture from large to small, those with renovation on their mind must also consider quality, durability and lifestyle functions that are best suited for their individual needs and preferences. A contemporary yet timeless design combined with local professional installation will undoubtedly result in the kitchen of one's dreams.
The first step, of course, is to plan. Every budget is different, and it's very possible that they will expand to include the accessory fixtures
or luxury aesthetic you discover during the initial process. Deciding if a kitchen renovation will be partial or complete is an excellent launching point: Thorough research can narrow everything down to the most realistic, yet ideal, financial expectations.
"We have some customers that want to salvage certain parts of their prior investments, whether it be a floor or some other element within the room that they don't want to destroy, or a countertop maybe they invested in," begins Dave Cerami, owner of HomeTech Renovations. "There's a lot of different ways that I would direct the customer but overall it's important for any homeowner to have an idea of what they're comfortable with in terms of an overall investment. I think what we as professionals try to do is try to get as much value for that customer, given whatever budget concerns that they have.
He continues, "Sometimes budgets are not in line with reality, and very often we offer a complimentary in-home consultation. One of the things that does come up, quite frankly, is: 'What's your comfort level with a level of investment?' I certainly could develop beautiful designs and specified, beautiful materials and lighting and flooring, but it all comes back to how much you're willing to spend for those things. Everybody has different thresholds and different needs. So I think understanding a comfortable expenditure budget is always helpful as you go into any process. And secondly, I think it's always best to do some research."
With the popularity of home renovation projects today, there is a range of options available that can achieve a desired look at a smaller cost than expected. It's all about comparing materials, colors and styles—and experimenting. Many companies offer digital design renderings for this very purpose.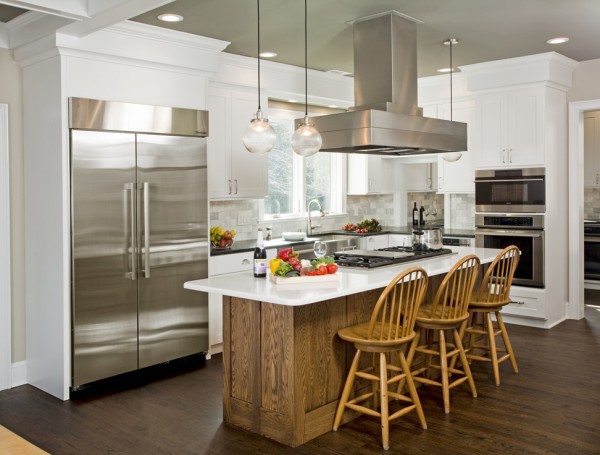 "There are many affordable options available out there without compromising function or design. Sometimes it could be choosing a cost-effective fabric, or it could be going with a more simple drapery header style, such as flat panel versus a pleated top, which requires more material and labor," agree Jessica Hagedorn and Marie Heal, senior designers for Regal Drapes.
Part of the planning process is determining if there is a preference to display a unique kitchen full of personality, or a universally agreeable style to increase a home's rental or resale value. The latter is typically the majority of clients' choice, according to the experts that spoke with House & Home—but it also requires analyzing the usage of a home and one's expected longevity for staying in it.
Fresh and clean aesthetics are most popular right now in kitchen design, a combination of both classic and modern that blends to meet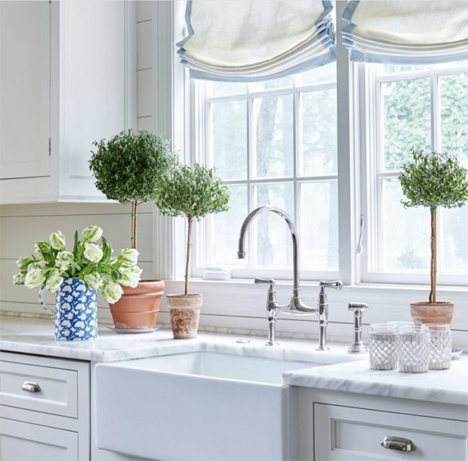 all tastes. Large islands are also trending post-pandemic as a symbol of the simple, often taken-for-granted pleasure of congregating with family and friends—especially in a room most commonly associated with cherished memories. Entertaining and eating, or even cooking and cleaning, become more enjoyable experiences when they're communal, social ones.
"Everybody wants a giant island ... mostly just to have a gathering, some prefer everybody to gather around. Wood accents have been pretty popular, whether it be floating shelves or changing the color of the island to more of a wood tone," says Brian Iwano, founder of Blue Tree Builders.
Professionals are still seeing the stalwart white kitchens and quartz countertops, but natural, wood components are being increasingly implemented as either a dominating aesthetic or to supplement pieces as a finishing touch.
"I will definitely say the trend is more transitional to contemporary presentations. These are more simple door designs, modified Shaker doors, flat panel doors, less-is-more natural woods. We see a huge movement toward a natural rift cut white oak or quarter-sawn white oak. We see just more simple designs, letting the beauty of the wood speak to the character of the design in the home. White kitchens, painted white ... that's been in vogue for quite some time. But we are seeing an end to the quintessential white kitchen. We are seeing more of a migration into natural woods. We see colors being expressed—color meaning charcoal, blacks. We're seeing richer tones as accents for islands, or maybe bars or things that would play off a natural wood kitchen. If we're doing a natural maple or quarter-sawn white oak, we want to put a very interesting paint color in for an island—whether it might be charcoal or black or blue, we see an expression through unique hardware. ... We see really beautiful jewel-like quality hardware that becomes a statement in a kitchen," Cerami notes.
Then, of course, carefully selected details will complete or expand upon a room. Necessity fixtures, like drapes, should complement the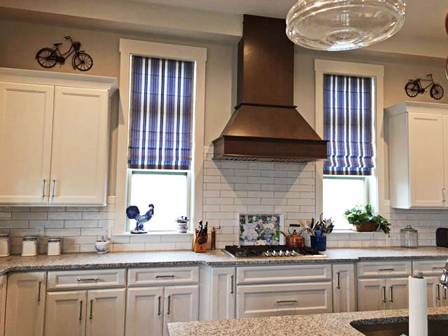 walls, floors and countertops. Like any home renovation project, natural factors can either make or break the idealized finished product.
"We partner with our clients to help them determine which type of window treatments would be best for their functional needs as well as their design aesthetic. For example, we offer multiple lining options based on the client's light filtering needs as well as privacy needs," says Hagedorn and Heal.
It truly is all in the details when it comes to design, and small pieces can turn a solid, neutral-colored structure into a statement piece. Each coordinated decision can lead to previously unthinkable results to truly make a kitchen one-of-a-kind.
"It's all in the finishes and lighting; cabinet finishes, countertops, tile, floor, it's all the finishes that they choose. And the sky's the limit really. There's all kinds of stuff they can do," says Iwano.
Whether homeowners decide to incorporate trends or a style completely their own, the first step to a perfect kitchen is to get in touch with local professionals. An expert opinion in culmination with each client's expectations can yield the epitome of one's vision for an impact on the entire home.
RESOURCES
Blue Tree Builders
Cherry Hill, N.J.
(609) 240-3231
ExperienceBlueTree.com
HomeTech Renovations
Gwynedd, Pa.
(215) 876-8413
HTRenovations.com
Regal Drapes
Morristown, N.J.
(800) 256-5005
RegalDrapes.com
Published (and copyrighted) in House & Home, Volume 23, Issue 10 (August 2023).
For more info on House & Home magazine, click here.
To subscribe to House & Home magazine, click here.
To advertise in House & Home magazine, call 610-272-3120.