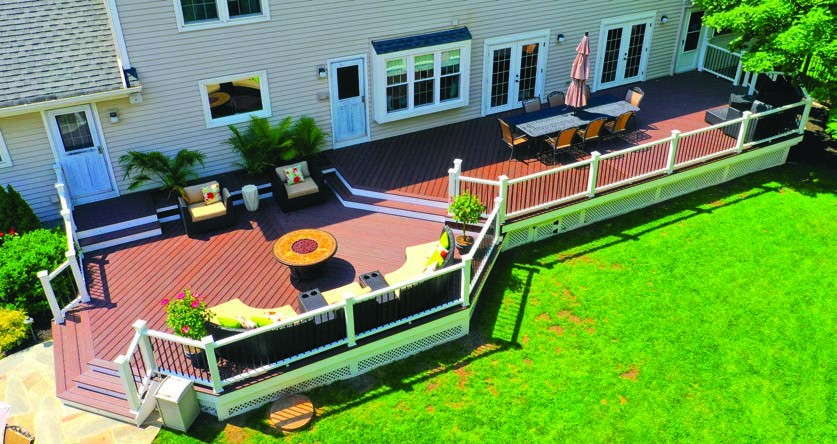 It may be hard to think of spring and summer with the amount of snow currently on our lawns, but now is the time to get ahead and prepare for those warm, summer nights in your backyard on the deck. Deck Guardian is there to install a brand-new deck and help spruce up your outdoor space.
Owner Ion Colbasiuc stresses homeowners should not hold off until spring to start this process, and to start making calls now. "We're scheduling two to three weeks out but when March and April come around, our schedule gets to six to eight weeks and in the summer it's the longest wait time—about 10 to 12 weeks," he says.
Colbasiuc says all new decks require multiple permits which take time to approve and add to the   timeline, and building materials are difficult to maintain due to the pandemic, as well as demand from homeowners as they are home more now than they were pre-pandemic.
 "During the 2020 peak season we experienced the worst year in material purchasing with prices  increasing up to 40% and product availability being delayed sometimes by eight to 10 weeks. This created a mess in logistics from vendors to builders," he says. "Despite this, we were able to build all promised projects with minimum cost changes and schedule delays. Now the materials situation is under control, but we expect the same problems to happen this year in peak season, if not worse as the demand for new decks keeps increasing."
Deck Guardian also provides services such as deck resurfacing, porches, gazebos, pavilions and louvered roofs,  and completes anything from a simple project to a full backyard renovation.
 "Our process is designed to handle any kind of job and we're able to offer top-notch service and quality to all clients; this is really what sets us apart from our competition," says Colbasiuc. "We've developed into a vast variety of services and can take on any type of project to help homeowners across New Jersey."
Deck Guardian has also developed a relationship with some of the most trusted manufacturers, like Trex, Azek and Fiberon, which ensures all decks are made with the highest- quality materials. Colbasiuc says these manufacturers  have revolutionized the decking industry and offer materials that withstand the weather elements for up to 25, even 30 years with little maintenance.
 "Years back when we  used pressure-treated pine to build our decks they required yearly upkeep, and after seven to 10 years you could see serious aging and deterioration to the wooden decks like boards splitting, splintering,  warping and rotting," he explains. "Since we've started to build with synthetic materials, all these issues are now gone. We build a deck and we know it will last and our client will get great value on their investment."
For Colbasiuc and his team, it's crucial to educate each and every customer on the materials being installed and its benefits. There's also a  variety of color options Deck Guardian's design specialists can match with any home and can satisfy every client's taste and budget.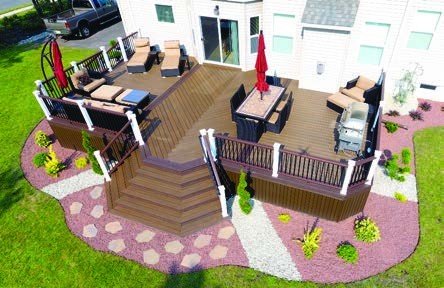 "When we complete a project, our clients are amazed how beautiful these materials really look," he  says. "Deck Guardian understands the composite and PVC materials are the future of deck building and we're on a mission to continue educating our client base and show the benefits of such investment."
Deck Guardian stands beyond its product and makes sure every customer is satisfied by offering warranties on all new decks.
 "We put a five-year labor warranty on all our builds knowing the materials we use will last forever," Colbasiuc says. "The warranty is then extended by the manufacturers to 10 years on labor and 25 to 30 years on materials. Trek, Azek and Fiberon offer this to premium builders and Deck Guardian is at the top of the list."
Colbasiuc has learned a great deal since he entered the construction industry, and since he started Deck Guardian 10  years ago, he's made it his mission to not only provide the best materials and a lasting product, but to take care of all of his clients and employees.
 "I've worked for a few construction companies and got to learn the trades and how residential construction works. During that time I saw business owners who either took good care  of clients and didn't take care of their employees, or the other way around," he says. "I told myself, if I can make both the clients and the employees happy, I can bring a great product to the market. So I started my own company with the goal to provide great service and customer experience to the home improvement market."
Deck Guardian
458 Elizabeth Ave. | Somerset, N.J.
(908) 332-8616 | DeckGuardian.com
Published (and copyrighted) in House & Home, Volume 21, Issue 6 (January/February 2021). 
For more info on House & Home magazine, click here. 
To subscribe to House & Home magazine, click here. 
To advertise in House & Home magazine, call 610-272-3120.