Between a Rock and a Hard Place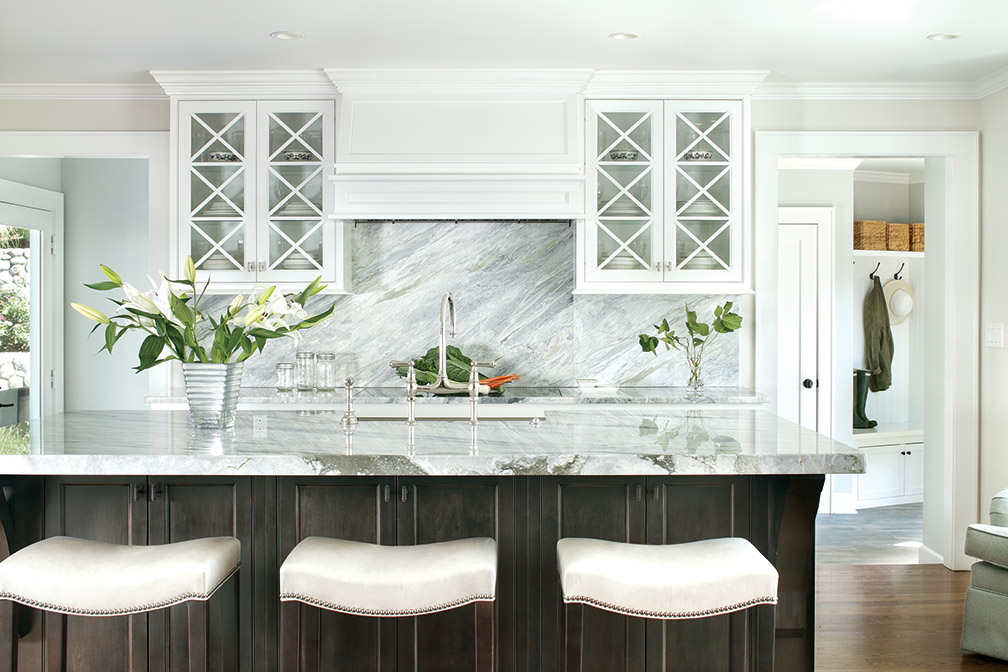 For the longest time, granite seemed to have a complete stranglehold on the stone market. The first request from homeowners remodeling their kitchen was more often than not "granite countertops." Things have changed though, and while granite still has its place, there are other contenders tossing their name in the ring.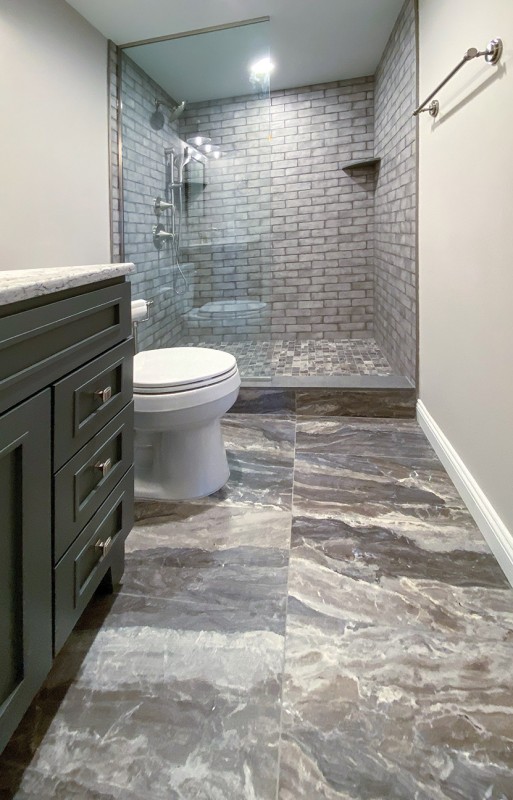 Natural Stone vs. Quartz
One of the first things to address is the difference between granite and quartz. Granite is a natural stone, mined in quarries, many of which are right here in the U.S. The fact that this product—and others such as marble, limestone and quartzite—comes from nature means that its colors and patterns are completely random. No two slabs are identical. Natural stone has been favored in kitchen design for its durability and resistance to the temperature extremes a countertop might undergo.
Quartz is stone mixed with resins, classifying it as a man-made product. Some people prefer it because of its uniformity. It's also low maintenance and non-porous—all features that appeal to the average person.
But when speaking with home improvement design professionals, their opinions varied.
"Keep away from granite," advises Vasos Posidonas, owner of VT Home Improvements. "We're replacing it in nearly every kitchen we do. Quartz is the way to go. It's more durable and not affected by temperatures."
"Regular aggregate granite is out; people want quartz," says Keith Bernhardt Jr., owner of TriCity Kitchens. "What's popular now is the look of a veined marble pattern. You wouldn't want to have a porous marble counter, so the quartz gives you the opportunity to have that look without the maintenance."
"I don't think granite has run its course," says Albert Kzelian, owner of Imperial Marble & Granite. "You don't have to worry about scratching or staining, and people like the beauty of a natural product."
Kyle Eisele, head of business development at Coast Tile & Marble Supply, believes natural stone gets a bad rap. "People get turned off by natural stone when they hear they need to maintain it," he says. "Yes, it's a porous material and over time the sealer fades. But what it takes to reseal it is very easy, and should not be the one reason not to use it. It's a beautiful material and the bit of maintenance it does require is worth it for its beauty."
Kzelian puts it into further perspective. As with most things, there is a generational gap in taste preferences. "We've seen a lot of the younger generation, they like that modern look—that's customers anywhere between the ages of 25 to 40. They love the quartz. But the clients 40 and older, they still like marble and granite. They like the natural colors."
Considering the Individual
Although these professionals have their own opinions, it's the customers' style, preference and budget that ultimately determines the stone. And there are plenty of stones in the sea—so to speak.
"You need to understand what a client's needs are or what they're looking for. For instance, if a client likes to cook at their home a lot, we don't really recommend quartz. If you're doing a lot of cooking and you're going to be putting a lot of hot pots on your counters, the quartz is not durable enough because it has resin. [Wear and tear] kind of stains the resin itself," Kzelian explains. "For them, I'd suggest marble or granite. If a homeowner doesn't want to do marble or granite, then we'd go into what is called quartzite, and quartzite is actually a natural product, which is very strong and very durable—but just, unfortunately, very expensive."
In Coast Tile's case, its location near the Shore means they see two types of customers on the opposite ends of the spectrum. "We get customers who want something subtle in their primary home because they look at it every day, but we also work on projects in second homes, something they'll use on weekends and in the summer. They don't want maintenance or stains, and they want fun colors and textures," Eisele says.
This gives the designers at Coast Tile a chance to play with materials and textures. "Porcelain is becoming more popular in countertops. They are arguably the most durable," he continues. "When you think about a Shore outdoor kitchen and the elements, porcelain holds up, and it's not going to stain. Cement is also an option if the customer wants something truly unique. You can add your own colors, almost like epoxy, and practically create your own artwork. It's not for everybody, but it's exciting and can create a conversation piece wherever you use it in the home."
The finish of a stone can also change the look. Dave Cerami, CKBR, president of HomeTech Renovations, says he was one of the first in the industry to take the shine off of natural stone, instead brushing it with a wire brush to create texture. "It adds a beautiful look, rather than the shiny, reflecting surface, and is just a little more special," he says.
In Kzelian's experience, the shiny look still goes into the majority of projects. "About 10 to 15% like to do a matte finish or leather finish," he says. "Polished is still what everybody's asking for."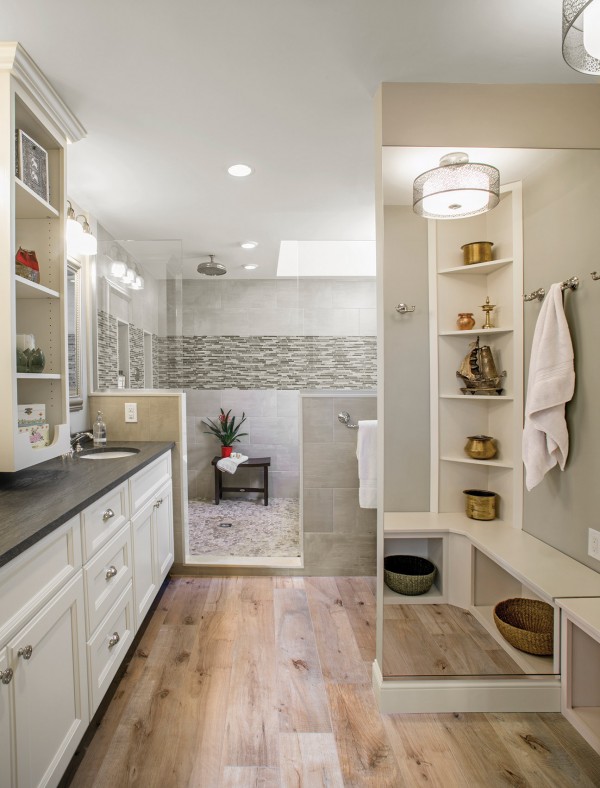 Tile and Trends
Tile is another product that has evolved with some high-end options that are applicable throughout a home. Cerami says tile could be ceramic, porcelain, stone; and where it's going: foyer, family room, kitchen or bath, determines what to use.
"There are logical deductions on where to use tile. If you're remodeling over a cement slab foundation or floor, tile would be a great choice because you can bind it to the cement sub-base. This is preferable vs. installing a floating wood floor over the concrete," he says. "But I would also recommend a radiant heating system underneath the tile to warm the floor."
He says this would be perfect for a primary bathroom located over a garage or a sun porch that is being converted into a year-round room.
Most of our experts agreed: the bigger the tile, the better. "The larger the tile, the more modern the look, compared to the smaller tiles with the traditional bullnose finish. There's not much of those being requested now. It makes the finished project look dated," says Posidonas.
"People want bigger pieces," Eisele states. "In porcelain, it's either 24 by 48 inches or 12 by 24 inches. The bigger piece allows the movement in the stone to really come out. If you chop it into tiny pieces, it looks busier and clashes."
Porcelain tile can also have a wood-look, which is extremely popular now. "The industry has come pretty far in how authentic the wood grains and patterns look on the porcelain tile. It's like having hardwood without the maintenance," Cerami adds. "Even in that area, there are various aesthetics, such as farmhouse or contemporary and everything in between. It takes an expert to know the difference in the styles."
One element that is immediately associated with tile is grout. The large-format tiles allow for fewer grout lines.
Bernhardt goes back to quartz. "It can be used in bathrooms, even on shower walls, as opposed to tile and offers no grout, no cleaning and it does better with moisture," he says. "Any time you have grout, over time it can discolor or if it comes out, water can get behind it, which you don't want to happen."
Cerami says there are some new performance-based grouts that have less propensity for staining. "Grout is part of having tile, so it's important to use a design-build professional who knows about the performance-based grouts without sand that will repel the typical stains people associate with grout," he advises.
RESOURCES
Coast Tile & Marble Supply
Egg Harbor Township, N.J.
(609) 646-9346
CoastTile.net
HomeTech Renovations
Lower Gwynedd, Pa.
(215) 646-7477
HTRenovations.com
Imperial Marble & Granite
West Chester, Pa.
(610) 738-5277
IMGStone.net
TriCity Kitchens
Vineland, N.J.
(856) 825-9002
TriCityKitchen.com
VT Home Improvement
Lyndhurst, N.J.
(973) 489-7899
AAACityContractors.com
Published (and copyrighted) in House & Home, Volume 22, Issue 9 (June 2022). 
For more info on House & Home magazine, click here. 
To subscribe to House & Home magazine, click here. 
To advertise in House & Home magazine, call 610-272-3120.