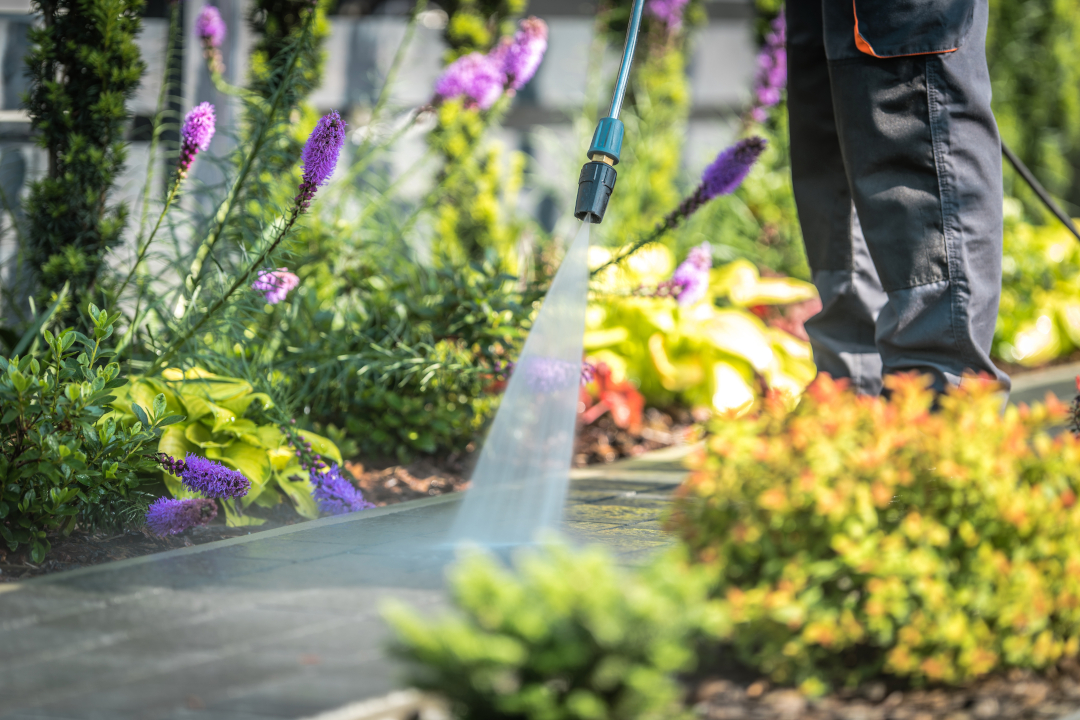 It's that time of year again! The sun is warming us up, grass is turning green and flowers are blooming—in short, it's spring. What better way to embrace the transformative power of this time of year than a little outdoor cleaning?  
Looking around your property, there are quite a few areas that may need TLC before they have their  time in the spotlight. Not only does your yard need its usual attention, but so do your siding, sidewalks, patio, deck, roof and even driveway. Our trusted experts offer their advice on how to tackle these tasks without getting overwhelmed.
LANDSCAPING AND HARDSCAPING
"A spring cleanup is the best way to get your property looking good for the season," says Chris DeMato, owner of Rock Bottom Landscape and Fencing. "First, clean all the debris, leaves and general garbage that may have accumulated over the winter. Raking is the best way to clean your lawn and get rid of any loose debris that can be damaging it," he says, adding that leaf remnants can create bare spots in your lawn. "Planting beds should be resculpted and mulch should be cultivated (turned over with a heavy metal rake) at this time. You can judge  whether or not you may need fresh mulch, and prune any dead branches."
Hard surfaces around your home should have regular maintenance  too. "Power wash hardscape surfaces such as patios, walkways, pool decks and driveways," says DeMato. "This extends the life and  the look of a brick paver, stone or asphalt surface. … After power washing pavers, revitalize your surface with new poly sand and sealant products, which also extend the life of the product. Also, any repair work to patios, steps or walkways should be done prior to power washing."
Beyond just cleaning, Steve Compton, general manager of CKC Landscaping (Paver Restoration too), says to focus on restoration and enhancement. "Whether it's  stone, paver work, decking or older projects once done by contractors, we clean them, treat organic stains and pressure wash. For flat surfaces such as decks/patios/pavers we remove organic debris often sitting there for months, staining the surfaces. We clean it to restore luster and take years off the look by removing dirt and gunk out of the pores."
DECKS
"Clean your deck. If you don't, the shady parts get slippery and the wood on the sunny side can dry out and split. If the boards are damaged, you'll have to replace them. You'll also have to re-stain everything since it hides the difference between  new and old boards," advises Matt Gallagher, owner of Squeeky Clean Services.  
Use someone who understands restoration/enhancement, says Compton. "Our crews are certified craftsmen who can make repairs on decks, retaining walls and patios. Get a company that can do minor and major repairs. It'll save you from getting rid of everything and starting over from scratch. If something during the winter made things bad or weakened an area, this work stops it from getting worse," he says.
ROOFING, SIDING AND MORE
 "Winter wreaks havoc, so you may have a lot to do to get your house looking good," says Deven Robillard, owner of Bright Services. He suggests power washing the house and gutters, but also fixing and staining to add longevity to your home's materials.   
 "It's important to get rid of the algae, mold and moss," explains Shawn Tiller, owner of Sparkling Image Roof and Exterior Cleaning. "Do your basic window washing, maybe wash off the roof and clean the gutters."
"For gutter cleaning, you need to flush everything out with water, repair seams that have worn since parts lose their seal over time," he says. "Cleaning extends the life of stucco, so waterproof it, bridge hairline cracks, use uniform coating and patch water stains."
While there are many areas to deep clean, Tiller says many roofs don't need to be cleaned that often. "Yes, they will be dirtier on their north side, typically the most shaded side of the house, but once every 10 years should suffice. More serious fixes include cracks in siding, gouges in wood, holes in stucco, etc.," he says.
USING PROFESSIONAL HELP
Many people think they can handle these tasks themselves, but that can only lead to more damage.
The main reason for using a professional is peace of mind, says Robillard. "Professionals minimize the damage. So often, homeowners do things themselves that end up costing them big down the road. If they use a trained, affordable service now, they'll spend hundreds but will save themselves from paying thousands."
This couldn't be more important than when it comes to power washing.  "When you get into power washing, you need to use low pressure," Robillard says. "No matter if it's vinyl, steel, stucco or other products, deep cleaning doesn't mean blasting or using high pressure. Professionals know to rely on cleaners and using the power washer to rinse things off. If you use a company that relies on high pressure instead of detergent because it's cheaper, they could damage everything."
Many homes in this region have stucco exteriors, which require special methods for cleaning. "Professionals know it's very important to 'soft clean' stucco, since high-pressure power washing can seriously damage the material," says Gallagher. "[Professionals know how to] spray on cleaner at a higher concentration,  and then use high volume of water at low pressure. That's the best way to clean stucco as high-pressure can create damage." Stucco also can get dark stains on areas that get wet and stay wet, resulting in fungus. On the sides that get sun, the UV can take away the color and break down the material. "If you don't take care of it, you won't be able to fix it without extensive work," he says.
In addition to exterior power washing services, it's crucial to find a company that repairs and seals areas that may have been damaged over the winter, says DeMato. "A beginner may waste a lot of product while learning how to install it properly," he says, adding now is the time to have an expert address your brick paver and step sinkage, which is very common with our region's changes in climate.
For the vast majority of homes, expert cleaning and professional  repairs make a huge difference. "Don't think you have to replace everything and start over," says Compton. "A trained specialist knows how to clean things right and repair things so they last." Find someone with many years in the field who uses products with long lifespans. "If you're sick of how dirty and grimy things are, let an expert fix it and seal it properly so you can enjoy your property for years to come," Compton says. 
RESOURCES
Bright Services, LLC
Colmar, Pa.
(215) 357-305
DeckCleaningPa.com
CKC Landscaping
(Paver Restoration too)
West Chester, Pa.
(610) 436-1810
CKCLandscapingInc.com
Rock Bottom Landscaping & Fencing, LLC
Belle Mead, N.J.
(732) 873-6780
RockBottomLandscaping.net
Sparkling Image Roof and Exterior Cleaning
New Castle, Del.
(302) 365-5562
SparklingImageRoofCleaning.com
Squeeky Clean Services Inc.
d.b.a Shamrock
Construction Services
Glenside, Pa.
(215) 836-9274
SCSSince1986.com
Published (and copyrighted) in House & Home, Volume 20, Issue 9 (March 2020). 
For more info on House & Home magazine, click here. 
To subscribe to House & Home magazine, click here. 
To advertise in House & Home magazine, call 610-272-3120.