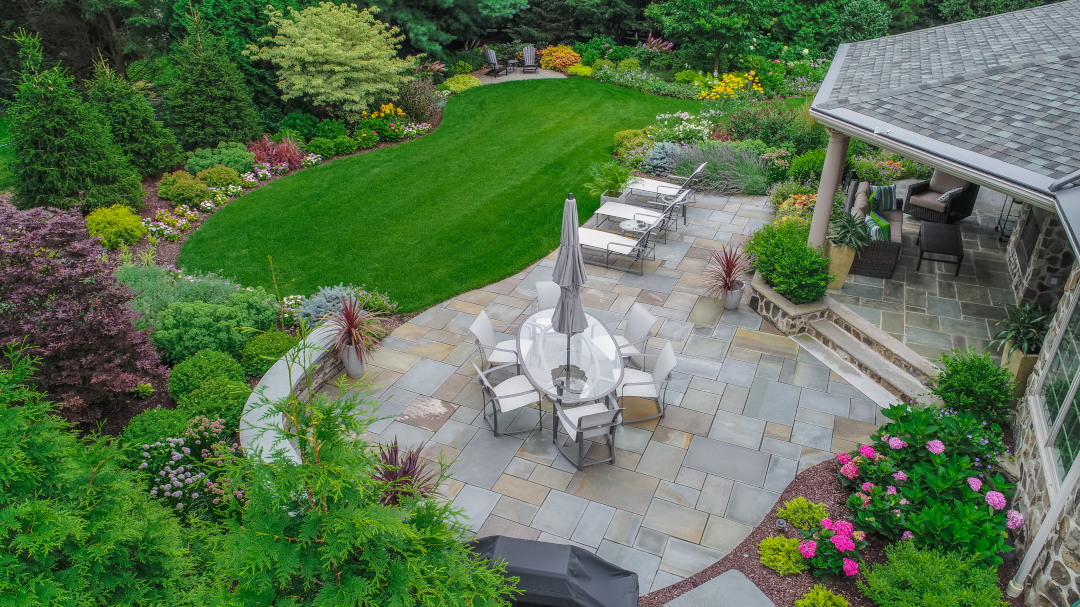 Every neighborhood has those residents with a green thumb who truly enjoy the process of working on their properties and creating a picture-perfect landscape, and their yards deservedly receive compliments throughout the year. Others see it as a chore they must tackle every weekend, but nevertheless recognize that a little effort will go a long way toward curb appeal.
No matter which camp you belong to, know this: The arrival of Labor Day does not mean it is time to lock away your lawn mower and gardening tools for the year just yet. Spring may be the season that the average homeowner most associates with landscaping, but fall is actually a crucial period when it comes to lawn renovations, plantings and maintenance.
"Fall is the time of the year where a property should be evaluated to see what stresses negatively impacted turf and plantings throughout the spring and more likely the summer," says Michael Pasquarello, degreed landscape architect and vice president of Elite Landscaping. "Proper actions taken now will allow your plants and lawn to have a comfortable winter slumber, ready to explode in spring once the weather breaks."
House & Home spoke to several area experts to learn more about the important steps to take now to lead to a lush landscape next spring and summer. 
Prime time for planting
There are a number of factors why fall is an ideal time for new plantings of all varieties, most notably the weather.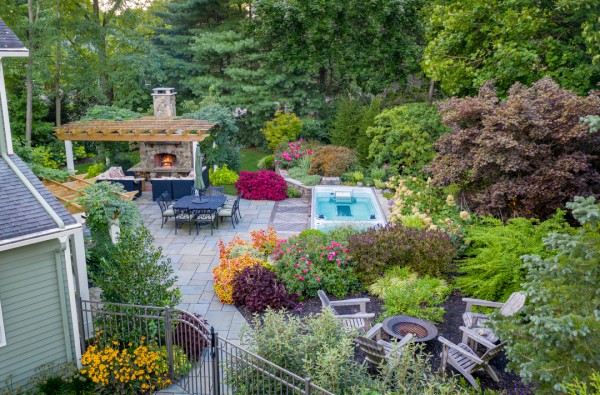 "Most people don't realize it but September and October are much better months than April or May, and studies at Rutgers and Cornell have both shown that," says Richard Cording Sr., registered landscape architect and owner of CLC Landscape Design. "The reason is that soil gets cooler, the roots grow deeper and because of the presence of dew virtually every morning and then sunny days and cooler nights, it's perfect growing weather for lawns, trees and shrubs to set their roots. Also, for new trees and shrubs, it's less stress going into the winter than it is going into a hot summer because they go dormant. If you plant a tree in May and then in June we get five 90-degree days in a row, the stress on that plant is way worse than sub-zero temperatures when the tree itself is dormant."
Chris DeMato, owner of Rock Bottom Landscaping & Fencing, adds that the cooler temperatures make transplanting plant material much easier than in the middle of July.
"You can plant at any time, however the biggest concern is transporting plant material from a garden center on a hot summer day," he says. "It burns the foliage in the travel. In the fall season, it's a bit cooler so you don't have to worry too much about that. Also, it's less work on the homeowner's part to water the plant material. So I think generally it's a great time to plant all plants. Garden centers and nurseries are usually re-stocking in the late summer for another burst of business in the early fall, so you get some nice new plant material as well."
For those looking to add bulbs like tulips and daffodils to their flower beds, now is the time to do so, says Cording, so they can get into the ground before it freezes and have the winter to develop strong roots and begin the flowering process for spring. Sam Waddell, owner of SLS Landscaping, agrees and offers other helpful hints for a beautiful garden. "The avid gardener will also start planting chrysanthemum and aster that will offer that splash of color for the fall," he says. "A little bit later into the fall, winter pansies will make an appearance and provide color late in the season and another big push in the early spring."
Caring for the lawn
The hum of lawn mowers and weed wackers is usually part of the soundtrack of summer, but it is recommended to keep up with regular lawn maintenance in autumn as well. The weather will usually dictate when it is time to stop for the year.
"It's important to keep it regular and do not cut it short before the winter," Cording says. "When I was young my dad always had me cut it real short before the winter but that's the worst thing you can do because it robs the plant of all its nutrients, which are in the green part of the plant. So cut it at the same height through Thanksgiving."
He adds that renovations to the lawn during the fall produce the best results because of the weather and also less competition from weeds like dandelions and crabgrass. Experts suggest thatching, aerating and seeding be done in the early portion of the season.
"September through mid-October is ideal as temperatures are on the decline, creating a more favorable environment for cool weather turf varieties such as fescues to germinate," Pasquarello says. "Having this completed by mid-October also ensures the newly germinated lawn blades have sufficient time to mature and harden off prior to winter setting in."
"Lawns will benefit greatly from fall aeration with combined overseeding and an application of lime," adds Scott Nickett, owner of Nickett Landscaping. "This will break up the clay compacted soils and allow airflow down in the soil, allowing for better root growth for new and existing grass."
Leaf cleanup and other tips
Most homeowners realize the necessity of raking and collecting leaves during the fall, but some will try to get away with the task just once or twice. This could have a negative impact on the lawn.
"I think people tend to do one general cleanup and if the leaves continue to fall, they figure they can clean them in the spring," DeMato says. "That's not a great idea because leaves sitting on a lawn throughout the winter will kill the grass, so you want to make sure you do two or three cleanups throughout the fall season and one at the end. You want to keep as many leaves off the grass and around your plant material as possible. When it snows and rains and you have clumps of leaves around your lawn, you're going to see a lot of damage in the spring when everything melts and starts to grow again."
DeMato and Pasquarello both stress that this pertains to any hardscaping as well, because piles of leaves left on patios, for example, can lead to staining once winter weather sets in and the material starts to decay. Leaves in flower beds, however, might actually be beneficial in acting like a mulch, Cording explains. In fact, he is a big proponent of mulching in the fall, even though most people consider it a spring activity.
"You want to protect your plant roots over the winter from freezing and not having moisture, so a good shredded, hardwood bark mulch protects the roots of the plants over the winter and next year it will hold down weeds, and it also insulates it," he says. "Obviously, the ground is still going to freeze, but it keeps it at a more even temperature. Most shrubs in our area have what we call surface roots—they don't grow down real deep, they grow along the surface. So having mulch over the top protects them and helps tremendously. Mulch is one of the most underused tools that horticulturists have."
Some experts suggest that fall is too late to be pruning, but others say selective, careful pruning can be done.
"Fall is a good time to prune back and shape most specimens of evergreen and deciduous trees and shrubbery and perennials," says Diane Marrazzo, outdoor design specialist and co-owner of Marrazzo North River. "Pruning too late into fall may leave an unsealed wound open, causing the tree to lose moisture through the winter, potentially leading to infection or demise come spring. Deciduous trees can often be pruned well into winter without any consequence come spring. Preparing your landscape for winter also preps it for new growth come spring."
Rose bushes are another example of a specimen that can be pruned and some people will cut back ornamental grasses.
"All perennials should be cut back once the first couple frosts set in and cause the surface vegetation to die back," Pasquarello says. "I actually leave my ornamental grasses up all winter long as the light tan blades and seed heads still are an added interest. Fall is also a great time for corrective pruning as once the leaves fall of the plants it makes it much easier to see the branching structure and evaluate."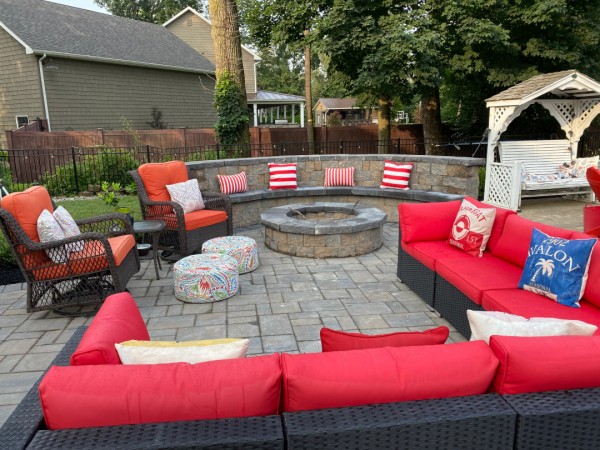 Beginning or planning new projects
Autumn's temperatures also make it perfect for adding hardscaping elements and crews will often stay busy through the end of the year.
"The ground gets a bit harder as the cool weather sets in so it's a little easier to do outdoor projects such as patios," DeMato says. "The diggings and excavating is not as messy during the fall season. We do outdoor projects until the ground freezes, which can be as late as mid-January. As far as materials go, you tend to get a little bit better prices in the fall season. The garden centers, brick suppliers and fence suppliers tend to discount materials they may want to push out the door before the end of the season."
As homeowners assess their properties following the summer, Nickett points to a number of different projects that can be completed before next season.
"All projects can still be planned in the fall," he says. "We are still booking new plant designs as well as plant renovations, and new hardscape projects like walls, walkways and patios are still being installed before winter. One of our biggest projects that is booked in the fall is lawn drainage remediation. With the decrease in temperatures and less daytime sunlight, the lawns stay wetter for longer. Fixing lawn drainage will result in a useable lawn, better lawn growth, no water in the home/basement and cleaner dog paws."
Even if the actual construction is not being done now, it never hurts to begin the design phase and the process of acquiring any necessary permits from the municipality or homeowner's association. Getting on the landscaping company's schedule before it fills up in early spring is another bonus.
"Spring projects seem to be at a distance, however, with the shortage of materials, pavers, natural quarry stones and lumber [along with] booked schedules, now is the time to consider scheduling with your landscape contractor or building contractor for your desired spring needs," says Marrazzo, who emphasizes that a key element for outdoor projects is coverage. "I always say, shade is a commodity—please plant a shade tree. Dedicate the tree planting for a loved one and commit to the care of that tree for years to come. Or plan for the on-site construction of a pavilion for your outdoor space."
In the end, planning ahead in the fall with an experienced professional can pay major dividends when the warmer weather returns and homeowners want to enjoy their outdoor space.
"We're licensed landscape architects and we have a saying: 'Great landscapes start with great ideas,'" Cording says. "If you want these beautiful landscapes that you see on Instagram and in magazines, it comes with planning and coming up with great ideas. We have several architects who work on every plan to come up with a synthesis of ideas, because we feel that's better than just one person's ideas. Then we obviously follow the town's guidelines for setbacks and lot coverage, etc. Sometimes it takes months and months to do the design and get the permits. If somebody is looking to do a project that requires permitting or designing, you can't start that in the spring—you've got to start now."
RESOURCES
CLC Landscape Design
Ringwood, N.J.
(973) 839-6026
CLCDesign.com
Elite Landscaping
Berlin, N.J.
(856) 753-1944
EliteLandscaping.com
Marrazzo's North River
Wycombe, Pa.
(215) 598-1412
MarrazzosNorthRiver.com 
Nickett Landscaping
Doylestown, Pa.
(215) 345-1385
NickettLandscaping.com
Rock Bottom Landscaping & Fencing
Belle Mead, N.J.
(732) 873-6780
RockBottomLandscaping.net
SLS Landscaping
Lumberton, N.J.
(609) 518-5263
SLSLandscape.com
Published (and copyrighted) in House & Home, Volume 21, Issue 12 (September 2021). 
For more info on House & Home magazine, click here. 
To subscribe to House & Home magazine, click here. 
To advertise in House & Home magazine, call 610-272-3120.