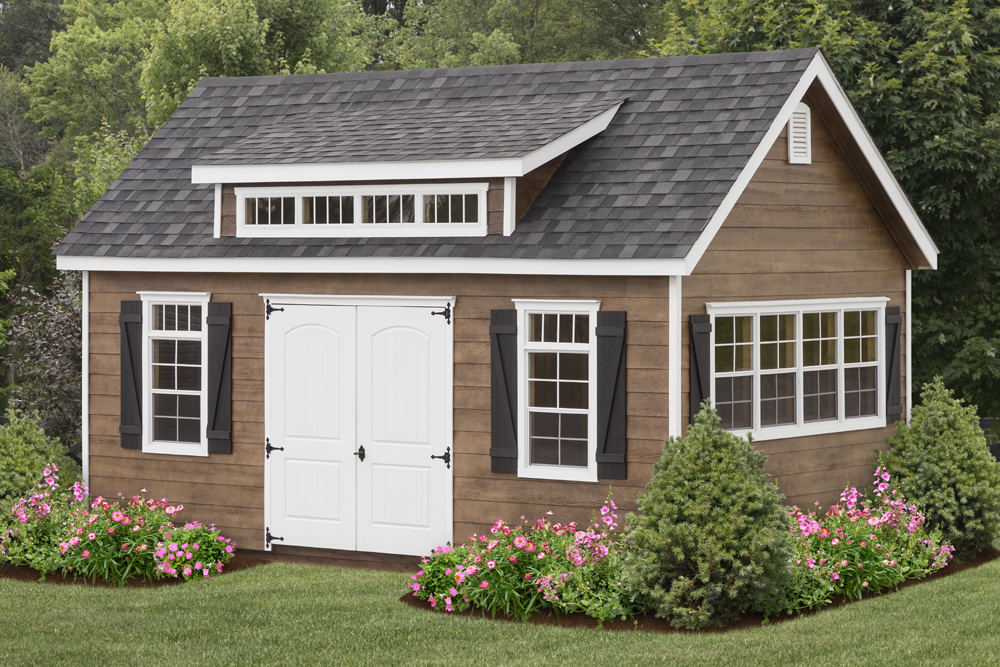 If you're looking to enhance your backyard storage or play space, chances are you may be looking at a shed, swing set or both. We recently spoke with some of the region's experts and got some of their best tips on what's popular and what will best serve your backyard needs. Built with high-quality materials, the latest swing sets and sheds can be a valuable investment.
Maximum storage
Today's sheds have come a long way, says Dan Stoltzfus of Country Tyme Sheds. Homeowners are looking for a shed that is "bigger and better." And with the way sheds are built these days, they're getting just that.
"Quality has come a tremendously long way with sheds," Stoltzfus says. "The quality is supreme because nowadays sheds are built with the best materials. Homeowners are looking at them as an investment on their property and there's no doubt that they increase a home's value."
Many homeowners also want a shed that matches the home, adds Kerra Cooper, salesperson with The Barn Door outdoor design center. They may add dormers or other design features that add both aesthetic appeal and extra storage.
"Our clients love the option to customize their shed in order to match it to the look of their home," Cooper says. "Standard stock is no longer the norm. Clients are looking for a customized shed that is made to suit their own yard."
Of course the main purpose of a shed is to boost storage space, and the experts we spoke with said that today's sheds are truly maximizing the opportunity. Stoltzfus says there's been a big move toward utilizing vertical space. Sheds are getting higher in order to truly get the most space possible. In fact, some are even being built with second floor loft areas that could be used as a rec room, sleeping quarters, extra storage space or more.
Pavilions, pergolas and other structures are also popular backyard additions. Peter Zook, sales and customer service agent with Stoltzfus Structures, LLC, says that these types of structures enhance the yard, adding the perfect "hang out space" for a party or just a beautiful focal point that the eye is drawn to. Zook says that Stoltzfus Structures also does a lot of two-story buildings as homeowners continue to find ways to maximize their space.
"We build them here at the shop and deliver them," Zook says. "One thing that sets us apart is that we can handle all the permits and take care of all the details. Our clients love that we are a one-stop-shop."
Selecting a swing set
For families with children or grandchildren, a swing set can also be a wonderful addition to the backyard. And like sheds, swing sets have come a long way. For one, they are highly customizable with a variety of features.
"Swing sets today no longer just have to be two swings and a slide," Cooper says. "There are so many options that you can customize a swing set exactly to your liking."
Jeff Wanger of Pleasant Run Structures agrees. He says that the possibilities are virtually endless when you start considering all the add-ons.
"We have sets with rock walls, cargo ladders, corkscrew climbers, fire poles and so much more," Wanger says. "But one of the most popular features remains to be a set of monkey bars. While they have a bit of a limited age—ideal for ages 6 to 9—they are really a must-have in that age range as they get a ton of use."
However, the very best way to determine what the kids will enjoy most in a swing set is to try it out. Peter Glynos, president of Swingset & Toy Warehouse has two showrooms where kids can actually come play. He says that parents might come in set on the idea of a tire swing but he'll kindly point out that when the kids came to play on the warehouse sets, they never even played on a tire swing.
"Bring them in and see what they gravitate toward," Glynos says. "It's one of those things where you can't even ask other moms or dads what their kids like because every kid is different. There's no better way to find out what they'd enjoy the most than to let them try it out."
While swings have always been a staple of a swing set, Glynos says that over time kids do get bored and move on to something else. Many times a "role playing" addition such as a lemonade stand keeps them entertained long after the swings have lost their appeal for the day.
Another tip he offers to maintain what he calls "renewed interest," is to make periodic changes to the set.
"If the kids have started to outgrow something, switch it up," Glynos suggests. "Renewed interest—such as adding a new hammock swing—is a great way to keep kids playing on the set for many years to come."
RESOURCES
Country Tyme Sheds
Colmar, Pa.
(267) 477-1145
CountryTymeSheds.com
Pleasant Run Structures
Neshanic Station, N.J.
(908) 237-1325
PleasantRunStructures.com
Stoltzfus Structures, LLC
Atglen, Pa.
(610) 595-4724
MySheds.net
Swingset & Toy Warehouse
Flemington & Upper
Saddle River, N.J.
(888) 794-6473
SwingsetWarehouse.com
The Barn Door
Christiana, Pa.
(717) 529-2395
Photo courtesy of Stoltzfus Structures, LLC.
Published (and copyrighted) in House & Home, Volume 17, Issue 1 (July/August, 2016).
For more info on House & Home magazine, click here.
To subscribe to House & Home magazine, click here.
To advertise in House & Home magazine, call 610-272-3120.