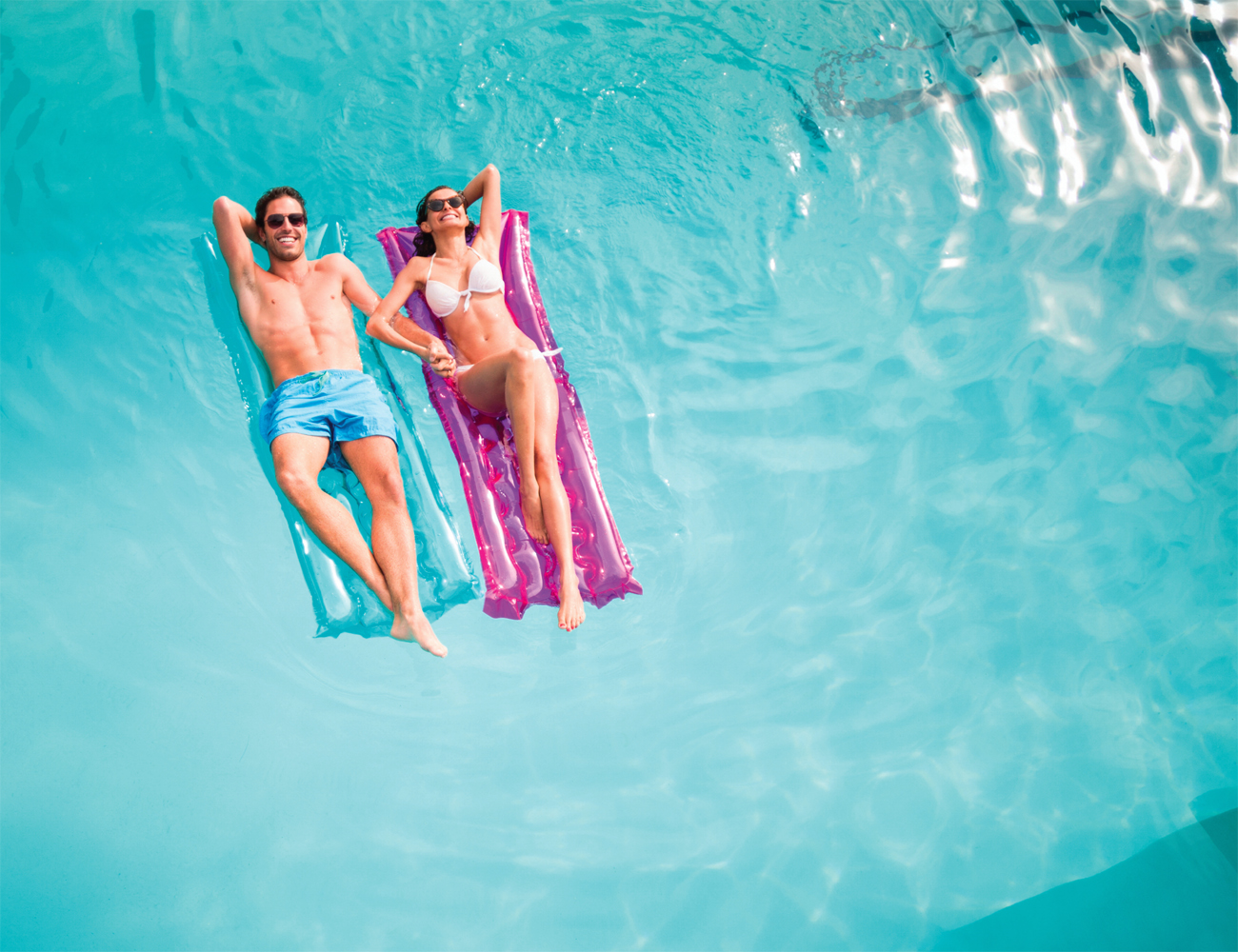 While a pool repair may seem simple at the onset, it's typically a risky project for homeowners to try and tackle on their own. Besides the fact that you could void the warranty, many mistakes that seem easy to fix can have a lot more going on under the surface. We spoke to some of the pool experts in the area about what might be involved when it comes to renovations and repairs.
Dominic DiCesare, general manager of Blue Haven Pools by Calvitti, says that repairs can get more complicated than they often seem in the beginning. For instance, if tile is continuously falling off and you just keep sticking it back on, you're not actually solving the problem.
"It's like a car getting in a fender bender and you just paint it and say it's fixed," DiCesare says. "You didn't actually repair the problem. You just covered it up. Many times there's a structural issue going on which is why it's beneficial to have a professional take a look whenever you have a problem." Some problems certainly can be quick fixes and not all repairs are costly or involved. For instance, if a pool light goes out, it simply needs to be replaced. But some issues have more going on and it's always best to consult with a professional.
"Water has no mercy on anything," DiCesare adds. "It will find its way through the smallest crack in the roof of your house. The same goes for your pool. Even if you think you only have a minor problem you should get it looked at before it does become more serious."
It's definitely important that you stay on top of potential issues, agrees Tony Monaco, director of sales for Anthony & Sylvan Pools.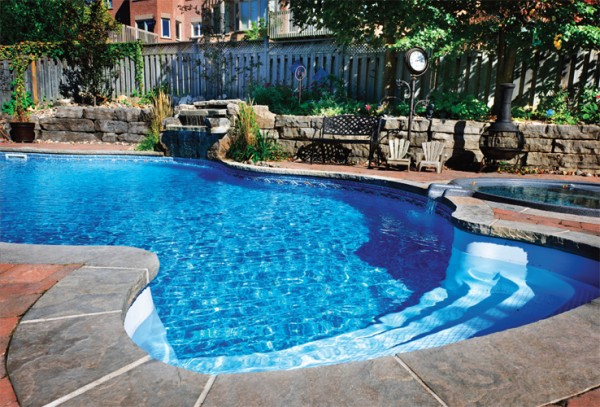 "In cold weather areas, expansion joints are critical and should be replaced every three to five years," he says. "If not, water can get to the beam and damage it as the water freezes and melts. If you tap your coping and it is loose, it will make a hollow sound."
Steve Fahs, owner of Country Club Pools, adds that problems don't just go away, either. It's beneficial to call in a professional at the first sign of trouble. Patching a tear—as home- owners so often try to do—is only a temporary fix.
"As a vinyl pool builder, I can tell you a problem that you find now is only going to get worse," he says. "You are better off replacing it when the damage first occurs than trying to patch it. Most repairs are going to be something you want to take care of immediately."
When you do call in a professional, Walter Beyer, president of Stardust Pools, offers a word of caution about doing your due diligence. He says he has recently worked with customers who have come to him after a bad experience some- where else. He's also found there are a lot of companies out there that are overcharging for the work.
"Do your research and know who you are bringing in for the work," Beyer says. "Check out a company to see if it has bad reviews and whether it's affiliated with the Better Business Bureau. It's become increasingly prevalent that there are unscrupulous companies out there in this industry. Look for a company that has been around for a while and has built a good reputation."
Beyond Repairs
Maybe you're looking more at having your pool renovated in order to update it rather than repair something that is broken. Not all upgrades require a complete overhaul. According to Toni Williamson, owner of The Pool Store, old or dated concrete around a swimming pool can be coated as opposed to removing it or replacing it.
"This allows you to brighten up the pool with color, patterns or even textures to give the pool a fresh look," Williamson says. "Often liner swimming pools can be updated with a new pool liner which only takes days to install and costs a few thousand dollars."
Renovating your pool can entirely change the look of your outdoor living space, giving you something fresh and brand new. Jeff McGalliard of Premier Pools & Spas says that many times a family will purchase a home with an existing pool and then want to renovate it to their own taste and style. Even just cosmetic changes can go a long way in customizing a pool's look. The technology has also come so far that there are many benefits to upgrading to new equipment, McGalliard adds. With new two-speed and variable pumps, it is going to cost you less money to run the pump longer—and it will keep the pool cleaner as well.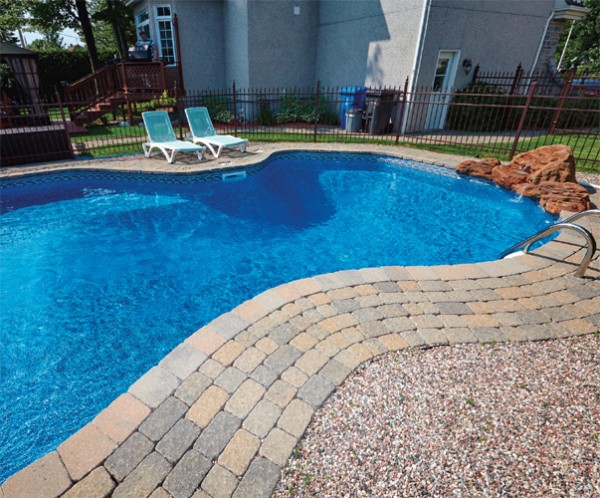 "Going with a new style or color of cop- ing along with an upgraded plaster can dramatically enhance the pool," says Monaco. "Don't forget that the pool is the centerpiece of your backyard but there is also a lot of room around it. Adding in an outdoor kitchen, fire pit or even a cabana or pergola are all additions that can make your backyard the oasis you've always desired."
Pools have also come incredibly far and by upgrading features, you have a lot more options to choose from, adds Keith Frederick, owner of ELA Outdoor Living.
"Renovations to an existing pool can be substantially less than putting in something brand new and there are a multitude of things that can be done to upgrade what you have," Frederick says. "Everything from new filtration systems to pool features or new decking can all be added to upgrade an existing pool."
There are so many great options, agrees Williamson.
"Sun shelves and fun pads are the latest pool craze and offer a body of water that is shallow enough to allow for chairs and lounges," she explains. "You can be 'inside the pool' without being in the pool. These can be installed on in-ground liner pools to give the pool a whole new look and functionality. Sun shelves, steps and benches can all be added to an existing pool as long as we are installing a new pool liner as well. You can also add in some LED color changing lights, deck jets that spray water into the pool, and a salt water system, giving you all the upgrades of the latest technology and features."
RESOURCES
Anthony & Sylvan Pools
Locations in Pa., N.J. and Del.
(877) 729-7946
AnthonySylvan.com
Blue Haven Pools by Calvitti
Exton, Pa.
(610) 363-8007
BlueHaven.com
Country Club Pools, Inc.
Hatboro, Pa.
(215) 675-7550
CountryClubPools.com
ELA Outdoor Living
Doylestown, Pa.
(800) ELA-9252
ELAOutdoorLiving.com
Premier Pools & Spas
Souderton, Pa.
(215) 723-8168
PremierPoolsAndSpas.com
Stardust Pools
East Brunswick, N.J.
(732) 254-3330
Stardust-Pools.com
The Pool Store
Harbor Plaza, Williamstown and Sicklerville, N.J.
(856) 286-3300
ThePoolStore.com
Published (and copyrighted) in House & Home, Volume 17, Issue 8 (March, 2017).
For more info on House & Home magazine, click here.
To subscribe to House & Home magazine, click here.
To advertise in House & Home magazine, call 610-272-3120.