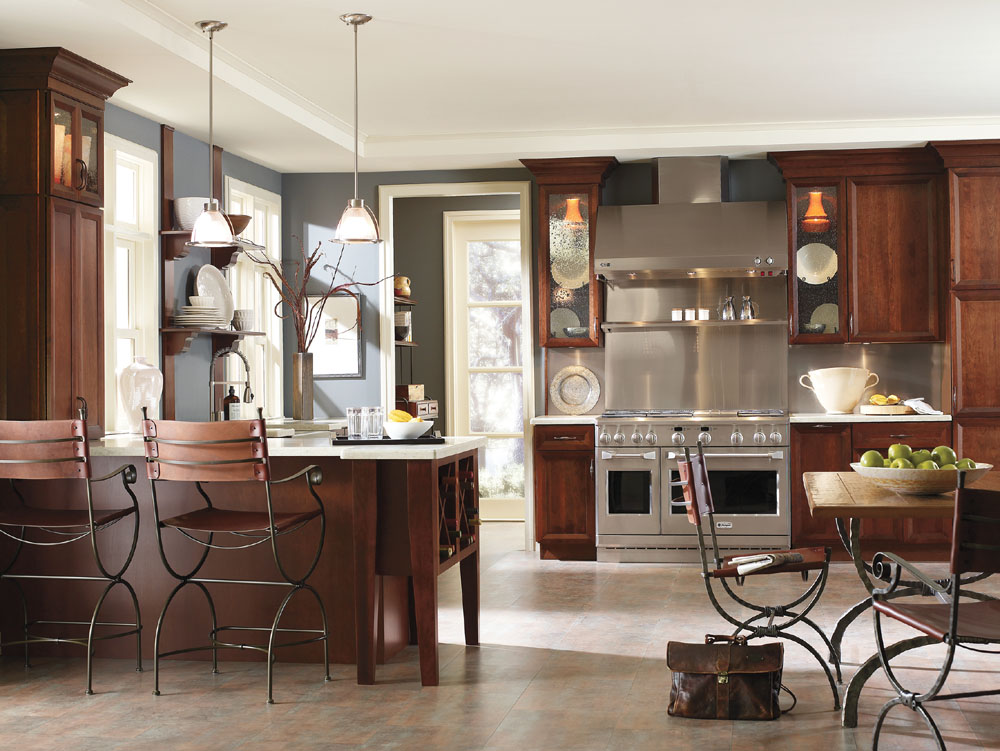 Today, a kitchen has become more than a room for the stovetop, fridge and sink. It's now the heart of the home, where family gatherings are held, a place where homework gets done and of course, where breakfast, lunch and dinner are prepared. Now, homeowners are revamping their current spaces to curate a more open kitchen layout to further enjoy—and entertain in—the space.
Most new homes on the market tend to feature open floor plans, as homeowners prefer to keep the fluidity of their spaces running between their kitchen, living room and throughout the rest of the home. As David Cerami, a certified kitchen and bath remodeler and president of HomeTech Renovations, explains, "Kitchens frequently open up into family rooms [and homeowners] want to integrate those spaces to become holistic and complementary of the decor."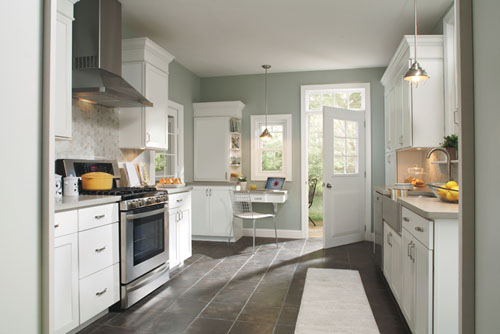 Yet, with many pre-existing homes, having an open floor layout isn't exactly in the cards—or in construction, for that matter—which is why designers and experts highly suggest homeowners consult with a professional to get a better idea of how to make the most of their kitchen layout—whether you currently have a galley, L-shape, horseshoe or peninsula.
WHAT TO CONSIDER
As with many home renovations, budget is constantly the determining factor when it comes to deciding which kitchen layout to go with. "Budget is king," stresses Dominic Linnenkamp, owner of Renew Remodeling. "Forget that and you're immediately in trouble. ... The placement of the sink, refrigerator and stove create what is referred to in design as the 'magic triangle,' and in deciding which layout is best, a thoughtful consideration of this triangle is paramount.
"Applying the filter of budget then can produce options for consideration for improvements in layout along with each options alterations to the budget," he explains.
Going hand-in-hand with budget is a homeowner's personal preference and lifestyle—whether they're a young family, right- or left-handed, bakers, chefs or healthy eaters. "Every project is going to be so unique, every customer is going to be so unique," says Cerami. "As far as a customer needs [it could include] an additional refrigerator, a microwave drawer or twin dishwasher or maybe they want an oversize hood because they do a lot of cooking.
"There's all of these elements that take up real estate, so the more real estate these things take up, the less we have to design a kitchen," he adds. "Again, a design professional will be able to help weed out what can and can't be done relative to a client's ideal preferences. In any remodel, there's always give and take and there's always compromise and what you can get, what you can't get and what will fit."
KOL Kitchen & Bath's Elaine Messer, a design sales specialist, shares Cerami's viewpoint, adding, "It's important to know how our clients use their space by asking a lot of questions. What are they storing? Are they left-or-right handed? How many cooks in the kitchen? All of these and many more get taken into consideration when planning the perfect space."
Right after personal preference comes the home's design and how long a homeowner plans to reside at their current address. "The age of the home has a lot to do with [the] number of doors and windows going into a space," says Cerami. "[With] most remodels you're sort of limited to what the circumstances present based on the age of the home, but what I find is most homes that were built after the early '70s have layouts that are pretty conducive to modern lifestyles for the most part. ...You also try to look at long-term investment."
LAYOUT PROS AND CONS
Once homeowners curate a list of needs for their new kitchen—whether that includes wanting a steamer, microwave drawer, an island, two sinks or stoves for multiple cooks—fitting the layout to adhere to a home's construction is the next step.
As Linnenkamp mentioned, creating the "magic triangle" in a kitchen is crucial for convenience in any kitchen layout. "Preparation is key by compiling your needs before you get started cooking," says Kitchen Magic's Marketing Manager, Linda Fennessy. "As long as the stove and sink are in close proximity then it 'will work.'"
According to Fennessy, L-shaped or horseshoe kitchens are the most common layouts, as they boast functionality and space, giving more counter workspace for the chef or baker in the household. A pro to the L-shape kitchen design is the foot space it offers. "Better traffic flow comes down to the size of a room," she explains. "You want that 36-inch perimeter around an island to allow others to come into the space comfortably. The L-shape is designed to give you a free walkway through the room without disturbing the cook."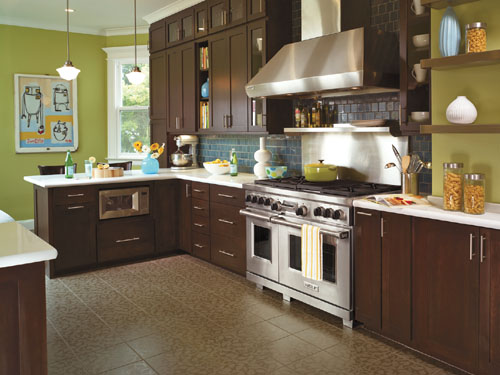 Nate Berger of Solid Wood Cabinet Company adds an L-shaped layout gives enough room for several cooks in the kitchen. "If [homeowners are] going to put in two stoves and two different workspaces, a lot of times people will put a sink into the island and a sink into a different area, but in the kitchen that's an L-shape with an island—where people would have three separate work spaces—that would be great. Obviously the open floor plan would be easy for people to walk around and maneuver without bumping into each other."
In regards to the added island, Fennessy warns that while homeowners may love an island for entertaining purposes as well, their space might not warrant it. "When remodeling the kitchen, many homeowners today are foregoing the peninsula and replacing that counter space with a kitchen island," she adds, "But remember, you have to have enough space to allow it. If you don't then go for a smaller island or this will only create a crowded work environment."
As for other kitchen layouts, experts agree the peninsula layout is limiting to the flow that presents itself in the "magic triangle" Linnenkamp spoke of. "It creates a 'trapped' feeling and separates the hostess or cook from everyone else," says Fennessy. "If you're cooking and prepping on one side, your family and/or guests can only be seated at the table, creating a separation, making you the 'server.'"
As for galley kitchens (two straight walls), Fennessy says it offers a lot of function and flow to a space. "A galley is typically small enough to function but you're walking from side to side instead of one or two steps to prepare a meal. Again, this simply requires more preparation when starting the task of cooking or baking."
While a galley isn't as extravagant as a kitchen designed with an island, experts offer some tips to raise the "wow" factor. "I know some people feel like it's straight and simple, but [by] doing some bump-outs in the galley, it could look extremely pretty," assures Berger. "I've done some really high end homes with a galley type of look and they've come out beautiful."
Marcela Kraft, a designer at Peter Lumber, adds that while a galley kitchen can become long, "sections can create a different illusion to the eyes, or you can work with colors and patterns to create the same effect."
Whatever layout a home has, experts and designers alike ultimately come back to the same thing: any design will boast its custom pros and cons list. While each family is different, remodeling a space that benefits their needs and preferences can only promise convenience in the end. "There are numerous pros and cons to every situation," says Messer. "Each is only addressed by knowing the customer and their needs and wants.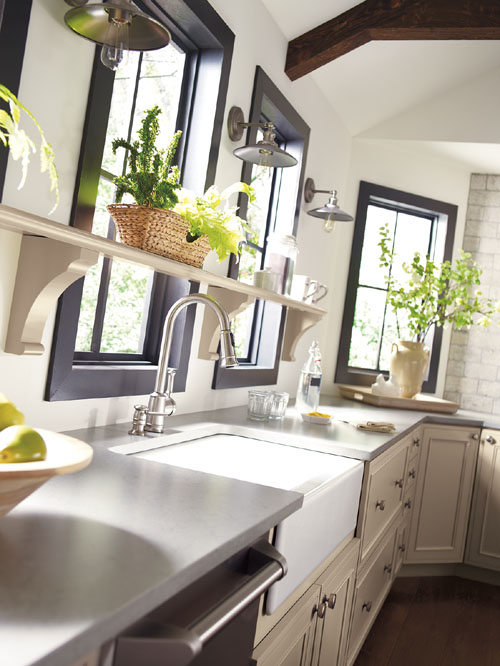 "There is not one specific layout that offers a better flow than another," she adds. "There are many factors to consider when planning for the best possible flow to a design. The client's existing doorways and their traffic pattern habits play an important role in the planning of the project."
WHAT'S IN-DEMAND
It's hard to ignore the latest in kitchen designs, but as of late, most designers are seeing a huge benefit toward adding an island to one's space. Not only does it boast extra counter and cabinet space, it gives the kitchen a gathering spot for entertainment or family time.
"When homeowners remodel and the room allows, an island is almost always chosen," says Fennessy. "It's the island that gives the room grandeur and makes it inviting to others. It's ideal for multiple cooks, surfing on your laptop and entertaining. Many homeowners are foregoing the kitchen table to incorporate it into their new kitchen design."
Kraft agrees, adding "Everyone seems to want islands nowadays. Islands are great for more work surface and to gather around in the kitchen, but unfortunately, not everyone has the space for it. And a lot of people are cramping their space in order to add an island."
That issue is something Fennessy wants homeowners to be aware of. "Your biggest consideration is space. Just wanting an island isn't always enough. While you can get any sized island, there is a 36-inch allowance required all the way around the island. This allows you to move freely and open appliance doors.
"Without this allowance," she adds, "the room will be cramped, therefore becoming dysfunctional. … While you can get away with a smaller island, ask your kitchen designer what is feasible for your new kitchen layout. … Your new layout should be open and spacious."
If space is, in fact, an obstacle, Berger asks homeowners to consider how much they really plan on entertaining in their kitchen, as islands are often ideal for that purpose. "People who come to me have grand plans to entertain, but maybe they entertain once a year. It's just that mindset where if they wanted to entertain, they could and that's what they love about it."
More often than not, homeowners are looking for ways to incorporate an island of some sort in their homes—whether they have to knock down a wall or create a peninsula layout. "I would say the No. 1 request I have for the last two years at least is people want an island in that kitchen," adds Berger.
"People just feel like it's an entertainment center, it's very open, very warm [and] very inviting. ... It's very functional if someone is baking [or] cooking. It's a big area to work on [and] it's definitely very hot in demand."
ADVICE
With the pros and cons of layouts dependant on a homeowner's lifestyle and home, a smooth design process also has a lot to do with a kitchen remodeling expert's advice. While most would advise to steer clear from putting a stove or refrigerator in a corner—where you'll be sacrificing a lot of space—all designers agree to taking the remodeling project slow.
"There's no rush," stresses Berger. "I would basically try to do two or three different layouts showing what a one wall with an island, an L-shape with an island, or a [horseshoe shape] and see which flow really works with the house. Just because [they] see a specific type of kitchen that they would be drawn to and love, [doesn't] necessarily [mean] it would fit with the space that they have in their house."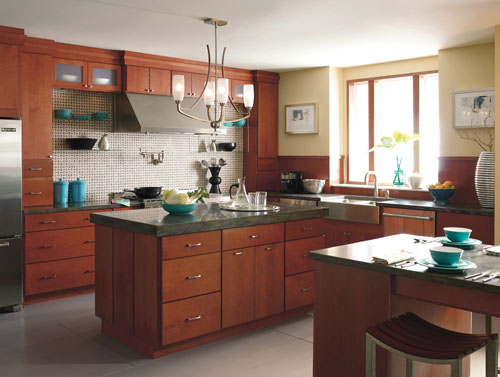 One aspect homeowners often overlook when remodeling is how children use the kitchen space. In fact, Kraft recommends homeowners be especially cognizant of that. "Integrate the kids into the kitchen space and be able to watch them while using the kitchen. … Have easy-to-reach, safe accessories for kids and hide sharp knives and scissors away, easy-to-clean and stain-free surfaces, easy to wipe cabinetry."
In terms of convenience, designers, like Berger, also suggest considering landing space around appliances—whether that be the stove, fridge or dishwasher—as well as perfectly executed cabinet space surrounding the stove for easy access to pots, pans and spices.
"Next to the stove, you should have a spice cabinet and on the other side of the stove, have another cabinet with drawers for pots and pans so you have everything in reach," suggests Berger. "Also, right next to the refrigerator, I like counter space. Some people will put two pantries on both sides and it looks beautifully built in, however, I found when you bring in groceries, you need to have a place to put it down … and just to put things in and out of the fridge. Everyone wants a tremendous convenience in the kitchen."
For homeowners on a tight budget, Berger suggests considering a galley layout, where expensive corner trims are not necessary. "The corner pieces are the most expensive, which is an L-shape. Also, if you do an island, you have a lot of trim that could get expensive with decorative ends and furniture-based moldings, where if you do a galley, it's just two straight walls. You don't need most of the trims that are expensive and it could look just as good."
Another budget option is leaving a kitchen layout intact and updating around it like Fennessy advises. "Cabinet refacing is a great option, that's the best way to stay on budget as well," she says. "When refacing, you can incur up to 50 percent savings and choose to use your kitchen budget to update other parts of your kitchen such as upgrading to stone countertops, new flooring, new lighting, storage and all the other decorative elements that make your new kitchen design a rock star."
Whatever the kitchen layout you decide, experts and designers alike boast the importance of having a space that allows for time well spent. "Today the kitchen really is completely the heart of the home," says Berger. "That's where people entertain, that's where people are hanging out to relax so it's almost like a kitchen, living room, dining room, a playroom all in one. So you have to incorporate it all into one and people are spending a lot of time in the kitchen."
RESOURCES
HomeTech Renovations
Fort Washington, Pa.
(215) 646-7477
HTRenovations.com
Kitchen Magic
Nazareth, Pa.
(800) 272-5490
KitchenMagic.com
KOL Kitchen & Bath
Cherry Hill, N.J.
(856) 857-1430
KOLKitchenBath.com
Peter Lumber
Limerick, Pa.
(610) 489-9301
PeterLumber.com
Renew Remodeling
Morristown, N.J.
(410) 608-1399
RenewRemodeling.com
Solid Wood Cabinet Company
Locations in N.J and Pa.
(855) 644-9663
SolidWoodCabinets.com
Photograph courtesy of Decora. Inset courtesy of Aristokraft
Photograph courtesy of Schrock
Published (and copyrighted) in House & Home, Volume 17, Issue 1 (July/Augst, 2016).
For more info on House & Home magazine, click here.
To subscribe to House & Home magazine, click here.
To advertise in House & Home magazine, call 610-272-3120.