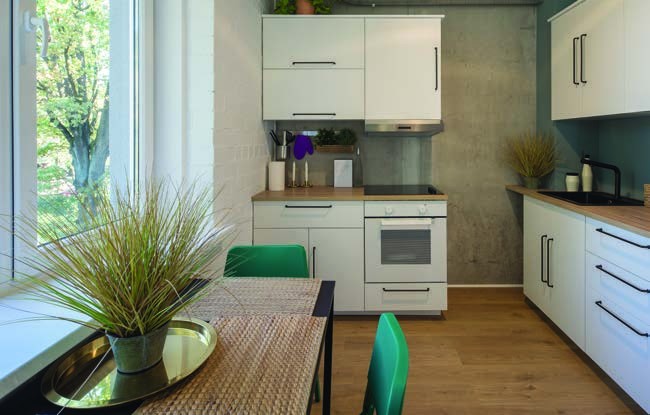 As the president of Gehman Design Remodeling for three decades, Dennis Gehman has frequently fielded requests from clients looking to build an addition or transform an existing part of their home into an in-law suite for aging parents.
Between people living longer nowadays, the rising costs of assisted living and the close personal bonds among parents and children, it makes sense on a number of levels.
About six years ago, Gehman found himself in the same situation and got to experience firsthand how fulfilling it can be to welcome in loved ones when they no longer should be living on their own.
"My mom had dementia and was really regressing and my dad wasn't ready to move into a nursing home," he says. "We have a walkout basement that we turned into an in-law suite so they could live with us. My parents had a bedroom, a bathroom, a nice open living room and a dining room/kitchen combination. We were not allowed to put in a stove so we had a countertop microwave convection oven and a two-burner electric hotplate.
"They were with us for about four-and-a-half years until my mom passed away. My dad wanted to be her caregiver and he was able to do so in our home."
More and more people are going down a similar path as Gehman and his parents in order to offset the cost of nursing homes and have relatives age in a comfortable, loving environment. But there are certain challenges to keep in mind for such a project, and House & Home spoke to several professionals to learn more about the process.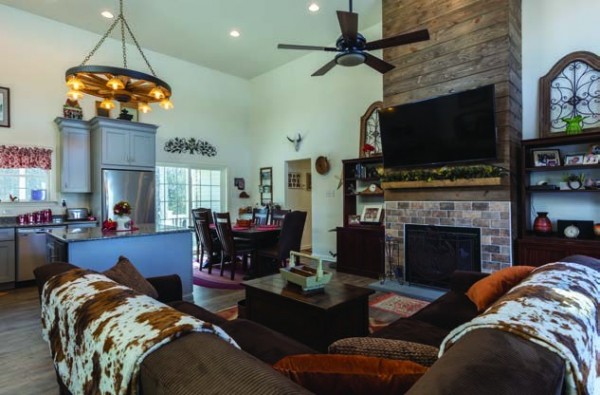 LOCATION, LOCATION, LOCATION
One of the first steps in adding an in-law suite is determining the best place for it and also whether it is allowed according to the city or municipality's zoning laws and building requirements. A zoning variance may be needed before work can begin.
"Anytime you're adding additional footprint, you get involved with zoning laws," Gehman says. "Each township, borough or city has multiple zoning classifications. Generally, there is R1, which means there's just one single family dwelling; then there's R2, which can be for twins or a duplex; then you get into R3 and R4 for multi-family, and then you have commercial and institutional. So you really have to ask for a zoning map from your local township, figure out what your zoning is and then try to plan from there."
Some homeowners may be interested in building a detached structure for an in-law suite, but even if the lot is large enough there are complexities.
"There's too much involved with the zoning process for that," says Wendy Amiano of Amiano & Son Construction. "A lot of times you have to go for variances and there's usually not a lot of room for any kind of separate or detached building."
Because of zoning setback, which establishes the minimum distance a house or other building must be set back from a street or road, variances often come into play when adding on to the existing house as well.
"In a lot of cases you have to go for a variance if you're breaking the building envelope," says John Gemmi of Gemmi Construction. "You have to go in front of the zoning hearing board and basically any house within 500 feet of your property line has to be notified and they can come and dispute it. I always tell people, 'If you have a neighbor you're not friendly with, it only take s one to say no and the township will usually lean that way.' So the easiest thing to do is have the in-law suite or the addition added without breaking the building envelope."
In cases where variances are granted, Gemmi says adding on the side of the house is usually preferred because people do not want to eat into their backyard space, especially if they have a pool or outdoor living area. Building overtop of the garage is another idea.
"Going over a garage is a really good option, especially if you're on half an acre or less," Amiano says. "But if you're going over a certain amount of the setback, you then have to apply for a variance—and when you apply for a variance you're basically asking you r neighbor's permission to be able to put the addition on. [If you g et the variance], a lot of times it does make sense to go over a garage. However, if it is a situation where you're doing a n in-law suite and older people will be moving in, it's better to d o it on the first floor if at all possible to avoid the steps."
Converting an existing room or space is often the most logical decision. Walkout basements are popular, as in the case with Gehman and his parents, and an attic can also be considered, although stairs again become a problem.
George Nickels of Pinnacle Building & Contracting focuses his work in Atlantic and Cape May counties, where many of the homes do not have basements. So he h as found another solution for where to locate an in-law suite.
"We've been turning living rooms into [an in-law suite] and doing a hotel room layout," he says. "The same w ay that you would be watching TV from the bed in a hotel room, that's the way you do it here. You don't actually need furniture because people are usually not having a lot of company.
"Sometimes our customers are a little thrown off by it, because it's not a traditional layout for a home, but once it's done they're extremely happy."
Another possibility in a Shore home is to turn a garage into an in-law suite.
"As far as people requesting to add an in-law suite, that doesn't happen much," Nickels says. "They always want to take it from some where else in the house or the garage. They'll make t he garage an efficiency unit and move [aging relatives] in. Or the people who own the ho use are getting older themselves and the bedrooms are upstairs, so they'll put in a downstairs bedroom in the garage because they don 't want to go upstairs anymore."
DESIRED AMENITIES
Although the size of the addition or converted space will obviously dictate the features of an in-law suite, there are certain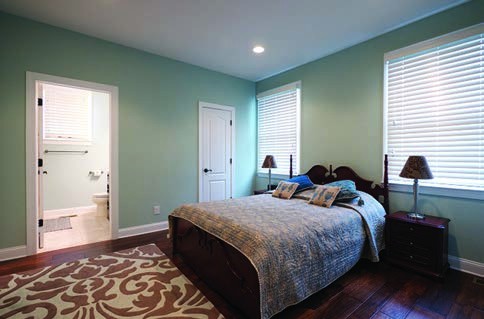 elements that are almost always part of one.
"Typically it's a bedroom and a bathroom an d they often want a small living area too," Amiano says. "But there's usually never a kitchen just because there's too much involved with permitting and you might not even want them cooking on their own if it's for elderly people."
"Most people start off wanting a whole apartment for the in-laws, but many municipalities will not allow us to put a full kitchen in," Gehman agrees. "In fact, we're finishing a basement right now where we weren't even allowed to put a microwave in."
Separate entryways are sometimes requested but not always possible. Amiano adds that there are other ways for the inhabitants to retain a sense of independence.
"If we're able to, we'll try to design a 3- to 4-foot hallway so it does give them a feeling of their own space," she says. "It also helps to cut down on noise and that kind of stuff."
Similarly, Gemmi has designed in-law suites with their own outdoor spaces.
"We've done a couple where we've integrated a porch on the back, so the people can sit outside," he says. "They can be part of the house but still feel like they're independent."
All of the professionals House & Home spoke to agree that accessible bathrooms are mandatory for in-law suites. That includes zero-threshold showers for easy entrance, grab bars, vanities with space underneath for a wheelchair and wider doorways throughout.
"To me that just makes sense," Gehman says. "No matter what project we're doing these days we're talking to people about that, even if it's a young couple. Let's make the doorways wide enough, the walkways between the kitchen counter and the island wide enough and have a little extra space in the bathroom for turning around a walker or wheelchair if it ever comes to that."
"That's called universal design and we actually do a lot of that," Amiano adds. "It's good because you can actually implement universal design in situations f or a child who was born sick or disabled. It involves wider doorways, ADA-compliant bathrooms with low thresholds, bars and seats. All of those things make it easier for someone with a wheelchair or walker to get in and out of a bath room and a shower."
ISSUES TO CONSIDER
When Gemmi is designing an in-law suite, he always discusses budget up front so everyone is on the same p age. But next on his list is an important quest ion that can determine the direction the project takes.
"When adding a space like this you're adding a bedroom, so one of the main things you have to consider is whether you have a public sewer or a private septic system," he says. "Septic systems are engineered by bedrooms, so if you have a four-bedroom home and you're going to add a fifth bedroom in the in-law suite [it impacts] the septic system. It's typically more ideal if you have public sewer.
"When you have a septic system you don't have many options. You can't just add an in-law suite; the board of health won't allow it because you're not engineered for it. So you can either replace the septic system if your property h as enough land to handle it and if y our budget allows for it; or the other option is to go into the existing home and remove one of the bedrooms already there by making it a study or [other type of room]."
Another crucial facet—when building an addition—is heating and air conditioning, and whet her the house's existing HVAC system can be used to heat and cool the extra room.
"That's the other thing most people don't think about," Gehman says. "Many times, even if the existing HVAC could handle the additional space, it's probably wise to use a separate unit because older people usually want things warmer than younger folks. If they can have their own thermostat control it's for the best."
Nickels has several items to check off when converting a garage.
"You have to bring everything over," he says. "Electrical is not a big deal because there's usually electric in the garage. It's bringing everything else: the plumbing, the heating and building the floor, because you have a concrete floor in the garage. The Mitsubishi heating system that you just hang up on the wall seems to work the best instead of updating the whole HVAC throughout the house. Sometimes they have a unit that can handle the extra load of a few hundred square feet, but most of the time our customers install the Mitsubishi system."
Finally, Gemmi stresses that the addition or converted space must look like it belongs in the home and does not stick out in a negative way.
"Another big component is aesthetics," he says. "It's important when you do design and engineering to keep scales and proportions all in mind so it doesn't look like an afterthought. When it's all done you want it to blend in with the existing home. The moon an d the stars need to line u p: It needs to be aesthetically pleasing , fit within the property, work with the septic system and come within the budget."
THE FINISHED PRODUCT
When all is said and done, an in-law suite allows elderly relatives to still have a private space but remain close enough to family members to receive necessary care and attention. But these designated spaces don't have to be reserved for aging parents, or even those moving in. Guest rooms are also popular in some cases for close friends or family members who visit for more than just a night.
"We see a lot of that, especially with people who have moved here from other countries," Amiano says. "They usually have large families who will come and visit for a month or two. For one particular job we created a living room , a bedroom and bathroom and even a walk-in closet to accommodate for when the parents come to stay with the family."
Gehman has not been asked to design many guest houses, but he does often have people requesting extra bedrooms in a finished basement or attic.
"It's very common to designate an area as an addition al bedroom ... and we know full well it's for when family or friends come from out of town to stay in," he says. "It's certainly more convenient for the people who own the home and the guests if they can have a little bit of their own space."
Whether it's an in-law suite or a guest room, the renovation certainly adds value to a home if and when the owner chooses to sell. Of course, potential buyers might not be looking for such a space.
"It does add value because it's adding square footage to the house," Amiano says. "The only thing is you're adding to your taxes and you're limiting your market, so to speak. Not all buyers need that kind of space; it's almost something you g row into. Anything with increased square footage or bathrooms adds to the value, but it's a specific buyer you're looking for."
Gemmi adds that going from four to five bedrooms results in a significant increase in value. H e also thinks that the in-law suite can be used for more than just aging parents.
"You will see more and more people buying home s today who are interested in first floor living," he says. "They're saying, 'This is my forever home, I'm not moving, let's find a place we can grow old in.' So they look for a home with a big master suite and a bathroom on the first floor, but that still has a staircase and four bedrooms upstairs where the kids can go. So you can do it and not necessarily call it an in-la w suite; it's just a first floor master and that is desirable. In my opinion, more and more people today are going to look for houses set up for first floor living so they can age in place."
RESOURCES
Amiano &
Son Construction
Tabernacle, N.J.
(609) 268-5923
AmianoAndSon.com
Gehman Design
Remodeling
Harleysville, Pa.
(215) 513-0300
GehmanRemodeling.com
Gemmi Construction Inc.
Mechanicsville, Pa.
(215) 340-4600
GemmiConstruction.com
Pinnacle Building
& Contracting
Serving Atlantic County and
Cape May County
(609) 770-2501
PinnBuilding.com
Select photos courtesy of Amiano & Son Construction