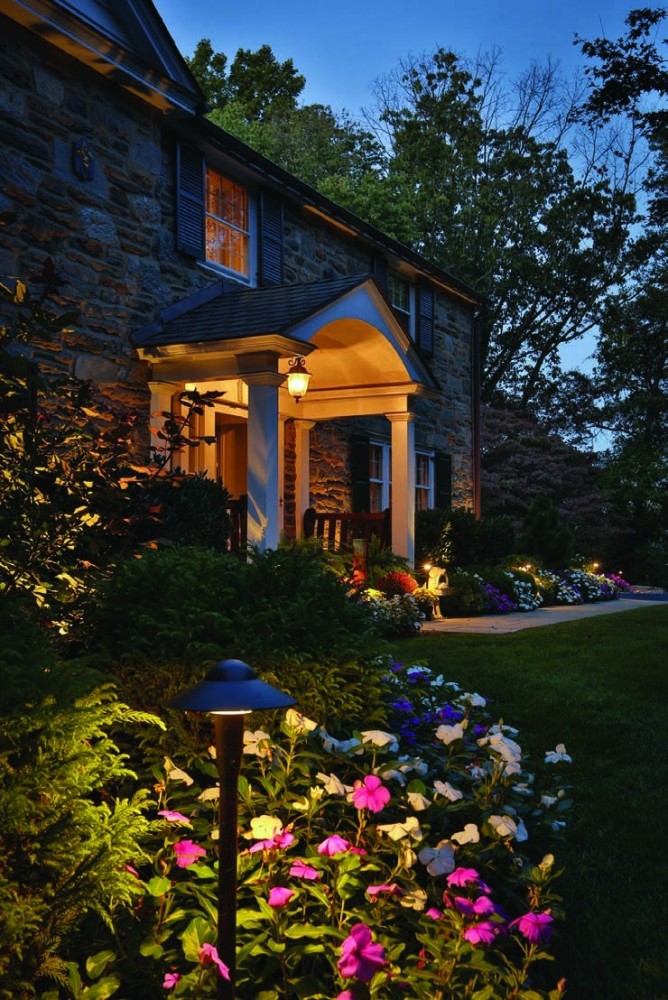 Summertime is obviously made for outdoor get-togethers, whether it's a peaceful family dinner on the patio, a few neighbors sharing a cocktail after a stressful day at work or a larger gathering of relatives and friends on the weekend for a barbecue.
Along with all of the usual must-haves for the person hosting the shindig—such as separate areas for sitting and dining, an outdoor kitchen and a shade option—another essential piece is lighting. After all, there's no reason for the party to end just because the sun has gone down.
While lighting may have once been an afterthought, nowadays it has become a crucial element of any outdoor design.
"In the past, if we needed to make a budget cut to hit a certain number, one of the first things that would usually get cut was outdoor lighting," says Steve Compton of CKC Landscaping. "What I'm finding now is that we're keeping the lighting and something else is getting cut out or scaled back, because that's how vital lighting has become.
"Every single proposal and design I put out for an outdoor living space has outdoor lighting as part of the design. We're not building these spaces to be used from dawn to dusk. They're made to be used past dusk, especially during the summer months."
House & Home spoke to several local professionals to learn more about outdoor lighting, including the best ways to highlight certain areas, how to increase safety and security and the role technology plays in the lighting system.
Safety first
Nobody wants to trip over a step they can't see or have their home susceptible to unwanted visitors, which is why most experts agree on the No. 1 reason for having an adequate outdoor lighting system in place.
"Safety and security are big issues in today's world and landscape lighting can help," says Scott Mallon of Creative Landscape Lighting. "Path lighting and downlighting walkways, driveways and dark areas of your property can provide you with light for safe passage to and from your home. Lighting your home and property may also aid in deterring would-be thieves or vandals from approaching or vandalizing your property while at the same time highlighting the beauty of your hardscape and landscape."
Compton looks for elevation changes, step risers and the areas separating a hardscape or deck from planting beds or turf as ideal spots for lighting. Rich Cording Sr. of CLC Landscape Design also addresses the safety aspect of outdoor lighting before anything else.
"Safety is the easiest part because we always illuminate all the steps, the entrance, the walks and stuff like that," he explains. "Security is easy too, because you just want lights in enough locations. You don't want to light it up like a ballpark—it has to be done [in a subtle manner], but you want all the areas illuminated enough so that people can see there's no one on their property and they can walk out to their mailbox or car safely."
Jill Weiskopf of Denney Electric offers several lighting tips to provide safety and security.
"Illuminating walkways and stairs is important for safety and it also adds ambiance," she says. "You might want to consider illuminating some railings too. There are some cool deck-mounted lights that you can mount to the posts on your deck that will provide light and obviously help people see where the edges are on the deck or patio.
"Around the edges of the house it's kind of the same thing. You can use landscape lighting to illuminate windows and wall wash the side of your house so you get a nice spread of light but also eliminate shadows where people could potentially find a break-in point."
The aesthetic appeal of lighting
Once the safety and security features are established, it's time to think about highlighting certain areas of the yard or house that the homeowner wants to draw attention to.
"The aesthetics is the fun part," Cording says. "You want to illuminate plants, create nice silhouettes and shadows and illuminate parts of the house. As a landscape architect, the same way that we specifically choose the placement of plants to create views from inside the house and outside the house, we do the same thing with lights. So when someone enters the property there's enough spacing on the lights that draws your eye to whatever we want it drawn to.
"Very often what we do with the aesthetics is use uplighting on trees and certain shrubs to accent them. Sometimes we'll shine lights up into really big trees, or sometimes we'll go up into a tree and shine them down to create what's called moonlighting."
Weiskopf starts with the notion that less is more, especially in regards to landscape lighting. She adds that a wide range of products can be used depending on what the homeowner is illuminating.
"With something like highlighting a tree, you would probably use what they call a little bullet fixture, and that's just a short, round spotlight. You just angle that appropriately to uplight the tree," she says. "When you're talking about getting closer to the exterior of your house, you might want what they consider a wall washer or even little lights that you can put between your stairs in the masonry to highlight your steps."
"I like to use in-ground well lights [for] accent uplighting, which shines light upward to give a dramatic accent to trees and shrubs," adds Don Panetta of D. Panetta Contracting. "For walkways, I like to use path lights [to] shine light down and spread light across the ground. For accenting stonework, I like to use directional spotlights and step/deck lights [to give] the stonework an added depth and dimension for a magical glow."
Mallon starts by highlighting architectural elements of the home, such as a brick or stone façade, before moving on to plantings or ornamental trees. He then likes to create ambiance in the gathering places.
"By lighting sitting areas or creating focal points in your landscape you can lengthen the amount of time you would otherwise not spend outdoors during the evening hours," he says. "Moonlighting a patio, deck or sitting area can be achieved by placing bullet lighting fixtures within a tree with the light spread passing through the branching of the tree to add subtle light to the area below."
The product lines for decorative lighting around a deck or patio continue to expand and evolve. One key is making sure they can withstand the elements outdoors.
"We've seen multiple manufacturers come out with more chandeliers and hanging lighting fixtures that are wet rated so they can be used outside, as well as ceiling fans [with lights]," Weiskopf says. "Even in the portable lamp space, there are a lot of manufacturers who are now coming out with wet-rated lamps so you can literally have a table lamp, a chandelier and maybe even a floor lamp outside to recreate the living room environment in your yard."
Other areas in an outdoor living space that mesh well with lighting include stone fireplaces or pergolas, Compton says. He also recommends that homeowners pay just as much attention to the front of the house and the effect lighting can have on curb appeal.
"One of my biggest principles, beyond the safety aspect of outdoor lighting, is to make sure we have a proper mix of light and shadow," he says. "You can overdo or overlight an area or a house. The shadow means just as much to us as the light does, the way the two interact with each other.
"That's especially important when you get away from highlighting an outdoor living space in the back and you're looking for some curb appeal with landscape lighting in the front of the home. You don't want to light your house up like it's the Corleone compound in The Godfather. You have to be cognizant of the wattage you're using."
The impact of technology
The continued advancement in LED technology has been a game-changer in outdoor lighting compared to systems used even in the not-too-distant past. There are many benefits to LEDs, primarily their energy efficiency and durability.
"With most LEDs—especially with outdoor lighting, because you're really only using them at night—it's not uncommon to get a fixture or even a bulb that can last 10 years, maybe longer," Weiskopf says. "Some of the brands we carry for landscape lighting will guarantee their fixtures for 10 years. The other nice things about LEDs is they don't emit nearly as much heat, so you're not attracting bugs to the light like you would with incandescent bulbs."
"LED saves 85 percent on your electric bill and saves you maintenance—you don't have to replace any bulbs, because they last 15 years or longer," Cording adds. "The other thing that's important about the technology of LED is there's no fire hazard [with leaves]."
As in other aspects of the home, automation has also become a key feature of outdoor lighting. Homeowners can basically have as much or as little control as they desire.
"We're giving you the ability to control when lights are on and off, set multiple programs and dim the lights up and down from an app on your smartphone," Compton says. "That's through the Wi-Fi system in your home, so you can do it anywhere. If you're on vacation and you want to turn the lights on or off, you can.
"We're also giving you the ability now to have Bluetooth, to speak from your phone to individual light fixtures. So on Halloween, you can change individual light fixtures to orange if you want. If you want your lights to be red and green for Christmas or green and white for your Super Bowl party, you can do that. The other way this comes into play is with ornamental trees or shrubs that are certain colors. By controlling the color of the bulb ... you can actually accentuate the colors of the leaves on a nice maple tree, just by playing with the color that the LED light is giving off."
One final recommendation
While some homeowners may be tempted to look at outdoor lighting as a DIY project, it makes sense on several levels to hire a professional.
"You don't realize how much thought and energy goes into all these different aspects of landscaping," Cording says. "When the average person sees some of the really good architects' landscape designs, all they react to is, 'Wow, this is beautiful.' But the way you create that beauty is with detailed, specific steps, whether it be plant placement, light placement, etc."
Compton agrees and adds that there are safety and financial reasons as well.
"You definitely want to hire a lighting professional, not just from a design standpoint but also an installation standpoint," he stresses. "They're going to know how to make proper connections, keep everything safe and make sure your investment will last. The other thing is, your lighting professionals will have access to the nicest features you can find, stuff you can't walk into a big box store and buy. So take advantage not just of their knowledge, but their buying power."
When that professional is done, the homeowner is left with a serene setting that is undeniable.
"Today, using a spotlight from a house just doesn't cut it anymore," Panetta says. "You don't want to make it seem like it's daytime. You want nighttime to have a romantic, soft glow to illuminate your outdoor surroundings."
Resources
CKC Landscaping
West Chester, Pa.
(610) 436-1810
CKCLandscapingInc.com
CLC Landscape Design
Ringwood, N.J.
(973) 839-6026
CLCDesign.com
Creative Landscape Lighting
Serving North and Central N.J.
(908) 722-6866
DesignWithLights.com
D. Panetta Contracting
Serving Northern N.J.
(973) 659-9374
DPanettaContracting.com
Denney Electric
Ambler, Pa.
(215) 628-8880
DenneyElectricSupply.com
Published (and copyrighted) in House & Home, Volume 19, Issue 1 (July/August 2018). 
For more info on House & Home magazine, click here. 
To subscribe to House & Home magazine, click here. 
To advertise in House & Home magazine, call 610-272-3120.