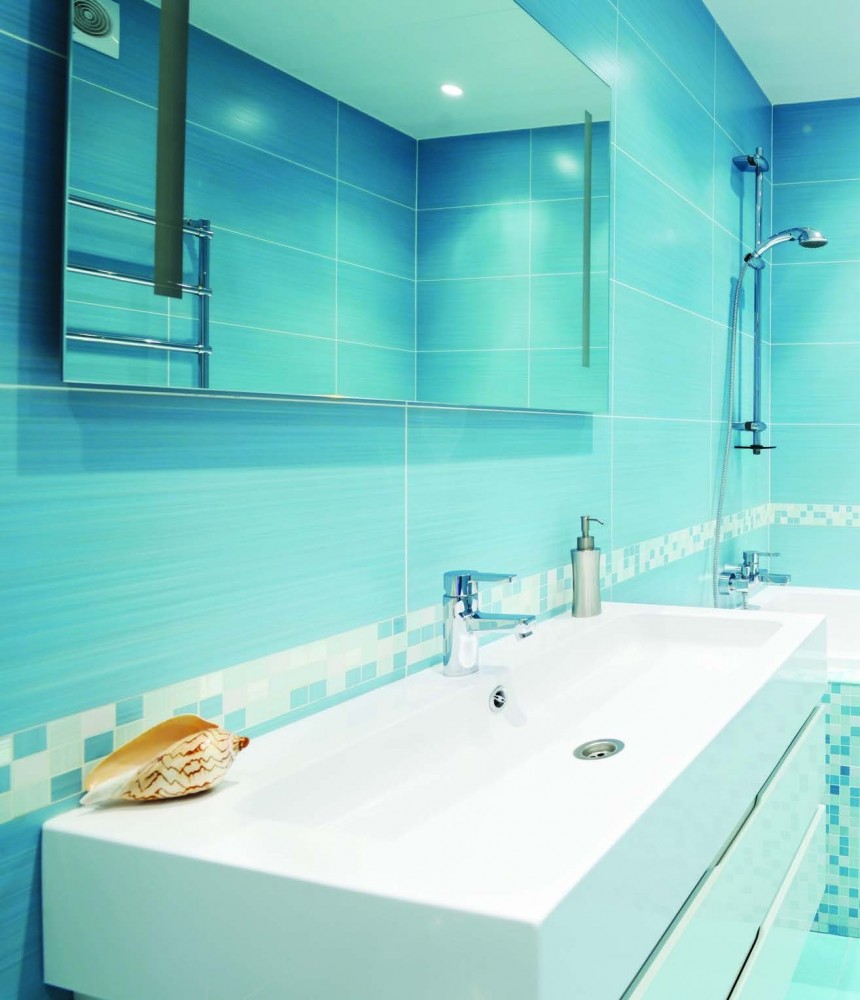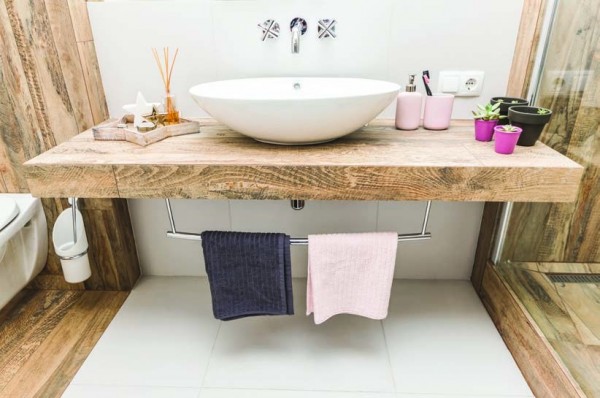 Having a vacation home at the Shore is all about escaping the stress of everyday life and enjoying valuable time with loved ones. It's a place where deadlines and carpools take a backseat to relaxation.
That carefree mentality also carries over to home design, particularly in Shore bathrooms, which seem to have a style all their own. In these spaces, homeowners can take chances they might not take in their primary residences and create a retreat that fits with the overall vibe of the Shore.
 "It is fun to design for people's Shore homes because they sometimes will get more creative than they do at home," says Wendy Amiano of Amiano & Son Construction.  "Since it is their getaway they make their space more for enjoyment than functionality. With all of the fun new tile and countertop products available we see a lot of daring selections. Some clients want fun and loud, others calm and serene."
House & Home spoke with several professionals in the area to gain tips on designing a Shore bathroom and find out more about the trends they are seeing with their clients.
BE BOLD
Experts agree that a vacation home is an opportunity for people to get adventurous, from bright paint colors to unique product selection. The goal is to have the bathroom stand apart from the bath in a primary residence.
"What's nice is people feel like they can do some things they may not be able to do at their regular homes," says Tim Pesce of Beco Kitchens & Bathrooms. "They have a little more flexibility at their Shore homes, whether it be some bolder colors or [different designs].  
 "Using tile that looks like wood is easy enough and done often, but you might have it with a driftwood feel [in a Shore bathroom]. Granite that might mimic the ocean is something that people would choose."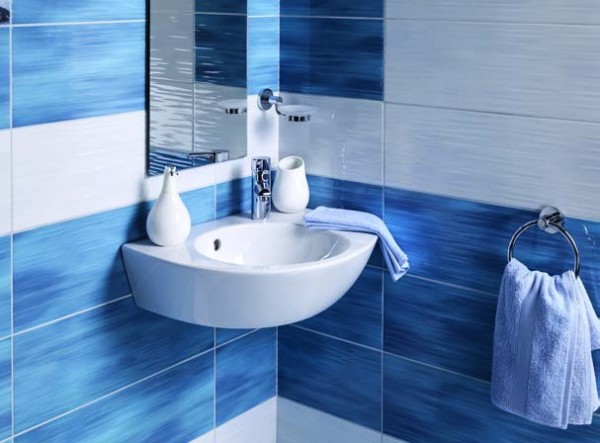 Shades of blue are always going to be found in a Shore bathroom due to the influence of the sea. But some people also like to add pops of green, yellow or pink. "A very popular color is seastone  green, believe it or not," says George Nickels of Pinnacle Building & Contracting. "All of my customers seem to be wanting that. Grays and whites are also very popular; that's what everybody is leaning toward. It's a clean look and I call it a modern design."
 "It all comes down to personal preference," Amiano adds. "The calming neutral tones of grays, blues and browns seem to pick up on the sand, water and sky of the Shore. Those colors mix in well with coastal themes, nautical themes [and] even tropical themes. There are some great countertops available right now that offer sea glass or other recycled glass materials in them that really make them pop."
Nickels has been in business for almost two decades and almost all of his work is done in seaside towns like Cape May, Wildwood Crest, North Wildwood, Avalon and Stone Harbor. He is noticing another trend lately.
 "People are bringing kitchen design into the bathrooms," he says. "They're using wainscoting, and tile on the walls is becoming a very popular item. It was always popular, but now almost every customer sees it in a magazine and wants it. Even in average homes, not just high-end homes, everybody seems to want that kind of look.
 "I wouldn't be afraid to use woods or composites in bathrooms anymore," Nickels continues. "After everything is painted, any composite  material that you would use for wainscoting inside the bathroom goes with almost any design you would want to use."
Mike Brindisi of Brindisi Builders agrees that homeowners can take risks in a Shore bathroom, but he stresses that quality is not being sacrificed.
 "When I first started working at the Shore back in 2000, it was more down and dirty; people just wanted basic baths," he says. "That trend has diminished to the point where people are looking for the same quality as their primary  home. Because people are buying better products, they're more durable so they can handle additional usage [from guests]."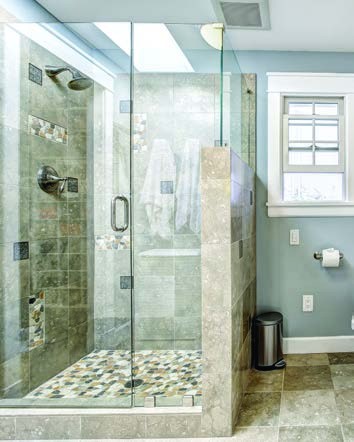 SHOWER TRENDS
In line with the overall trend in bathroom remodels, homeowners are increasingly choosing to eliminate bathtubs and focus on large showers with all of the bells and whistles in their Shore residences.
"That's a big trend down there," Brindisi says. "Most of our bathrooms are total renovations, meaning we're gutting them and most of them are redesigned. So  designing with current standards, we usually pull out the tub and put in a larger shower with a seat in it." Frameless glass enclosures, which have been in demand for some time, have made their way to many Shore homes as well. Precision Shower Doors offers a product that comes standard with glass that is made with the best durability and clarity available.
 "The Shore is our hottest market for the last year or two," Tom Basile of Precision says. "It's booming down there. I think the frameless  shower enclosures work in any environment, but people seem to be putting a lot of their discretionary income into their summer homes."
Basile adds that soft-close hinges are also in demand at the Shore to prevent slamming of the doors, which is helpful considering vacation homes often have many guests using  the shower. He also points to a new item that is gaining steam.
 "The hottest product we're selling is what we call divided light," he said. "We take a traditional shower door but we put a grid over it. We're getting a tremendous amount of demand for that. It's very unique."
Nickels is also seeing visual appeal emphasized in showers, along with the latest showerheads.
 "When we do custom showers, people usually want subway tiles," he says. "We're also adding an aesthetic glass tile in the design to break up the brick look of the subway tile. Rain showers are very popular, as are dual head systems. People like to detach one from the wall to use in their hand and they have the rain shower system up above."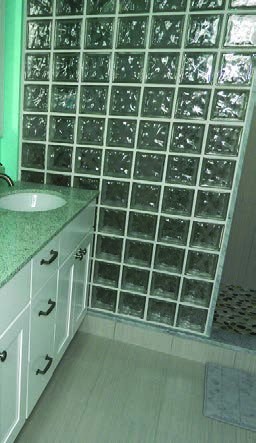 OTHER DESIGN IDEAS
Just as he does in any design, Pesce makes sure to ask his Shore clients exactly who will be using the different spaces he is renovating. For example, a home that has renters or frequent visitors needs to make the appropriate accommodations.
 "Having a lot of people might play into the design," he says. "For instance, you try to allow for more counter space since people are coming with their own plug-in toothbrush or hair and skin care products. The other thing is to take into consideration the different ages of people using the space. If it's a hall bath, you probably want to make sure there's a bathtub so kids can use it. If it's a master, you're designing a shower and maybe even a two-person shower. It really comes down to making it work for whatever people want in that space."
A lot of guests in a Shore house also means a lot of sand being brought into the home from the beach. The flooring in the bathroom must be able to withstand the wear and tear.
 "Tile with a thin grout line is always your best bet," Amiano says. "You can sweep, vacuum, mop—whatever it takes to get the sand up. Thin grout lines stay clean and easily maintained longer."
Brindisi adds that any hard surface—from ceramic tile to quartz and marble and stones— can be utilized for the flooring, while Nickels has gotten favorable results with a boardwalk plank tile that resembles wood.
Finally, as a finishing touch on a Shore bathroom, homeowners can always choose to incorporate  their favorite aspects of the vacation setting.
 "I have a client who I just completed a job for and all of their knobs were different themes of the Shore," Brindisi says. "We did three bathrooms for them: one was nautical with boats and sails, one was shells and one was a beach theme. So you can definitely  tailor the bathrooms to where you are and get enjoyment from the design."  
RESOURCES
Amiano & Son Construction LLC
Tabernacle, N.J.
(609) 268-5923
AmianoAndSon.com
Beco Kitchens & Bathrooms
Morrisville, Pa.
(215) 295-7123
Beco-Designs.com
Brindisi Builders
Marlton, N.J.
(877) 284-5353
BrindisiBuilders.com
Pinnacle Building & Contracting
Serving Atlantic County and Cape May County
(609) 770-2501
PinnBuilding.com
Precision Shower Doors
Eatontown, N.J.
(732) 389-8175
PrecisionShowerDoors.com
Published (and copyrighted) in House & Home, Volume 19, Issue 2 (August 2018). 
For more info on House & Home magazine, click here. 
To subscribe to House & Home magazine, click here. 
To advertise in House & Home magazine, call 610-272-3120.