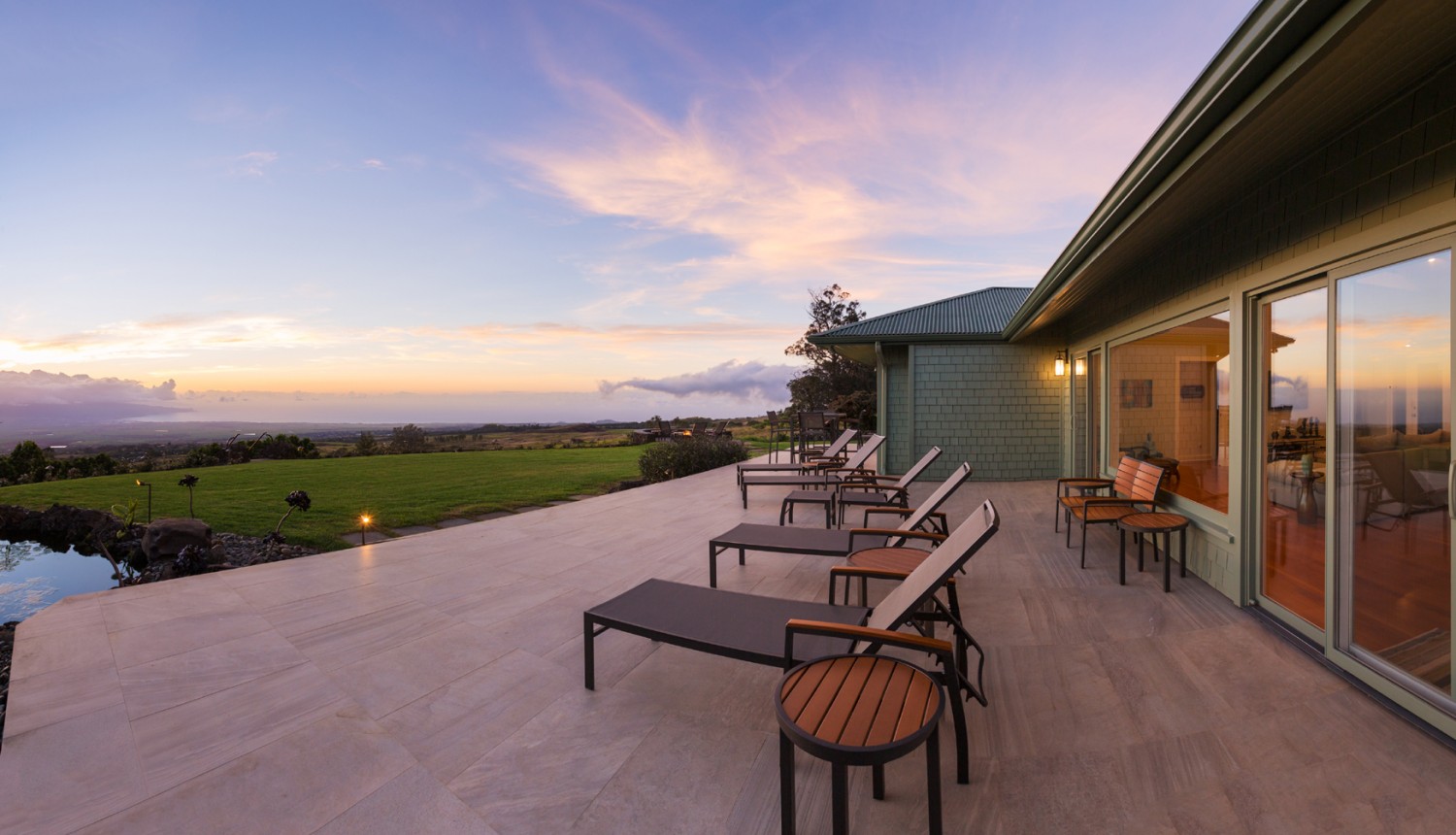 There may be a few more snow storms in the future that call for your winter jackets and snow boots, but that doesn't mean you can't be thinking of the warmer weather that will start moving in during early spring. With the changing of seasons coming before we know it, bringing longer days with the sun out and more time to enjoy our own outdoor spaces, why not start planning now?
House & Home caught up with the experts when it comes to decking, outdoor kitchens, landscapes and pools to find out the latest trends popping up for the upcoming season. While these professionals may share different expertise, they all agree that the best time to start planning for the backyard of your dreams is right now.
ALL HANDS ON DECK
It's no secret that the deck tends to get just as much use in the summer as a living room does in the winter by becoming the hangout spot—and even dinner table—for family and friends during the spring and summer. This is why we asked Juan Cardona, owner of Archadeck of Chester County, about the trends he's seeing in decking for this year.
"When it comes to decking, most customers prefer to use composite materials if at all possible (depending on their budget)," says Cardona. "A larger number of our customers lately are opting for features like open porches, pergolas, gazebos, outdoor kitchens and fireplaces on their decks and patios. The trend toward investing in your outdoor living spaces seems to be continuing."
Cardona explains there are no new products taking the market by storm this year, but most homeowners in the area are choosing established decking manufacturers like TimberTech, Azek, Trex or Wolf for their product needs. "The enhancements introduced in the past few years have made the manufactured decking and railing products much more reliable and aesthetically pleasing," says Cardona. "And if you factor in the cost of yearly maintenance with wood decks, the cost of ownership is not that much more."
And while there aren't specifically any new noteworthy products in decking this year, Cardona says there have been enhancements to already existing products. "Most of the technology we use now has been in use for several seasons," says Cardona. "For the most part, companies are coming out with one or two new models/colors each year, but the technology itself is already in use and a proven quantity."
Although, with temperatures in the 20s it may be hard to think of decks or patios, Cardona says that now is the best time of year to contact a contractor to plan a project for the upcoming spring. "By the end of March, most decking contractors are booked through the spring and even through the summer," says Cardona. "Some contractors may even be offering some winter discounts now in the off-season, so homeowners may want to ask about that."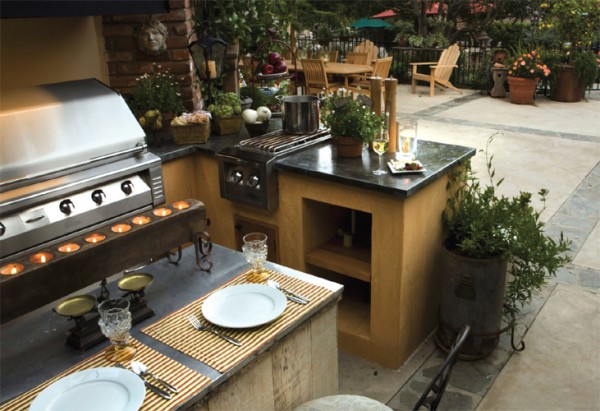 WHAT'S COOKING?
Another great aspect of the backyard is an outdoor kitchen. Nothing says summer like grilling right outside on your patio and creating an entire meal for your family on a warm sunny day.
Sam Stoltzfus, owner of LanChester Grill & Hearth says that he is seeing more and more homeowners opt for two grills instead of one. Whether it is gas, charcoal or wood pellet, Stoltzfus says homeowners seem to be understanding that there is a little more involved with an outdoor kitchen and are getting serious about making the space a nice work station.
"More people are putting roofs over their outdoor kitchens, which I highly recommend," says Stoltzfus. "So often when you're outside grilling in the summertime, some rain pops up unexpectedly and you can keep grilling. Also, more and more people are grilling in the wintertime—and I'm one of them—and if you have a roof to keep the snow off of you, it's so much better."
The roofs homeowners can choose from are that of a traditional structure roof, a pergola with curtains that will help dispel the rain but won't hold snow in the winter or a louvered roof that can open to let sun in or close to keep the rain out.
Stoltzfus says along with roofs, the most popular amenities he is seeing with his clients are gas grills and The Big Green Egg charcoal grill along with trashcans, more drawer space and refrigerators within the outdoor kitchen space.
As for technological advances, Stoltzfus says his company is bringing in a wood pellet grill that can be controlled with WiFi from your smartphone. "You can control the temperature. Let's say you're at work and you know you want to grill when you get home, you have your meat ready," says Stoltzfus. "A half hour before you get home you can get on your phone and start the grill so when you get home you can throw your meat right on and you are done in short order."
Ideally, Stoltzfus says it would be great for them to have three months from the initial first meeting with a homeowner to the finished product of the outdoor kitchen. This gives both them and the homeowner time to finalize plans and get permits necessary for any structures.
GREEN THUMB
There may be nothing better than stepping into your backyard and seeing a beautiful landscape complete with pavers and brightly covered flowers. With shade in the right spot and flowers constantly in bloom during the warm spring and summer months, Drewe Schoenholtz, president of The Green Scene, says there are a lot of trends you can choose from for the upcoming season that will have your neighbors green with jealousy.
Noting that outdoor kitchens are a big trend in landscapes, Schoenholtz says for actual plant material, homeowners are looking for bigger. He explains that homeowners might purchase a three-inch caliber tree that is the size of a beer can and won't grow to shade your yard for about nine to 12 years. Homeowners want shade right now so Schoenholtz offers them a 10 to 12-inch caliber tree that is the size of a telephone pole and within one hour they will have shade in their yard.
"People are also looking for much brighter colors than in the past. Flower companies today are coming out with new flowers, they are developing new palettes of colors and it's nice," says Schoenholtz. "I've seen them at some of the trade shows and the different things they are coming out with are beautiful. And people can expect this explosion of colors if they do their yards right."
But don't count out hardscaping. The need for large pavers has drastically changed from the old 4-by-4-inch pavers in the past. These large pavers are favored by homeowners especially in the Tuscan and rustic-looking design.
"The hot items right now are made to look like porcelain, like a porcelain tile in your kitchen. But a porcelain tile in your kitchen would not stand up in the winter weather, so this is now compressed concrete tile that is made to look like porcelain or marble and they really do look like that," says Schoenholtz. "However, they beautifully handle the winters up here."
The other item, similar to the made-to-look like porcelain is wood. Schoenholtz explains that people love hardwood flooring so now they can have it in a paver tile and it looks just as beautiful as it would in your home indoors.
"I think what is coming more and more prevalent to homeowners' desires is they try to go to a one-stop-shop," says Schoenholtz. "Homeowners are finding it difficult to hire a mason, a fence contractor, a landscaper, an electrician, a plumber, a pool guy, so on and so forth. They're looking for one entity, and I can do it all. It's easier for them because it's a one-stop-shop."
Schoenholtz says he's had clients call as early at two years in advance to plan for a landscape on a lot where a house wasn't even built yet. He reminds homeowners that it's never too early to start the planning for your landscape.
DIVING IN
The final touch on backyard oases will always be swimming pools. There is just something about have a "beach-like" area footsteps from your home that makes it that much more of a desired spot to be during the warm months of spring and summer.
Mike McCool, general manager of Swim-Mor Pools, says the trends have been consistent in the past few years. Homeowners want natural looking pools built into their backyard landscapes with sun shelves, beach entries and attached spas. They are even seeking out automation to reduce the amount of maintenance. "I don't see this changing anytime [soon]," says McCool. "Just becoming more and more elaborate as more options and materials become mainstream."
Another big trend is salt-water pools. "For several years now everyone wanted a salt pool, even though they didn't have a full understanding of what is was," says McCool. "Now they have a better understanding that it is a salt chlorine generator on the pool and that it is not maintenance-free. What have started to pick up steam are the Combination Ozone and Ultraviolet systems that do not have the maintenance or costs involved that a salt chlorine generator has but provide the same, if not better, water sanitation and purification."
When it comes to pools, thinking ahead and working with a pool builder earlier is key. Township permits can take months for approval so it's best to start as early as possible so once the weather breaks, construction can begin and you are swimming in the spring as planned.
Looking at the snow on the ground and defrosting your car might make it hard to plan ahead for warmth, but the experts have made it clear that the time is now. Don't wait too long to call a company and get the process started. You don't want to be the envious homeowner on the block with an empty backyard this summer while your neighbors have oases fit for kings.
RESOURCES
Archadeck of Chester County
West Chester, Pa.
(610) 696-3340
Chester-County.Archadeck.com
LanChester Grill & Hearth
Gap, Pa.
(717) 442-8794
LanChesterGH.com
Swim-Mor Pools
Mount Ephraim, N.J.
(856) 456-3332
SwimMor.com
The Green Scene
Hopewell, N.J.
(609) 333-8540
TheGreenSceneNJ.com
Published (and copyrighted) in House & Home, Volume 17, Issue 6 (January 2017).
For more info on House & Home magazine, click here.
To subscribe to House & Home magazine, click here.
To advertise in House & Home magazine, call 610-272-3120.