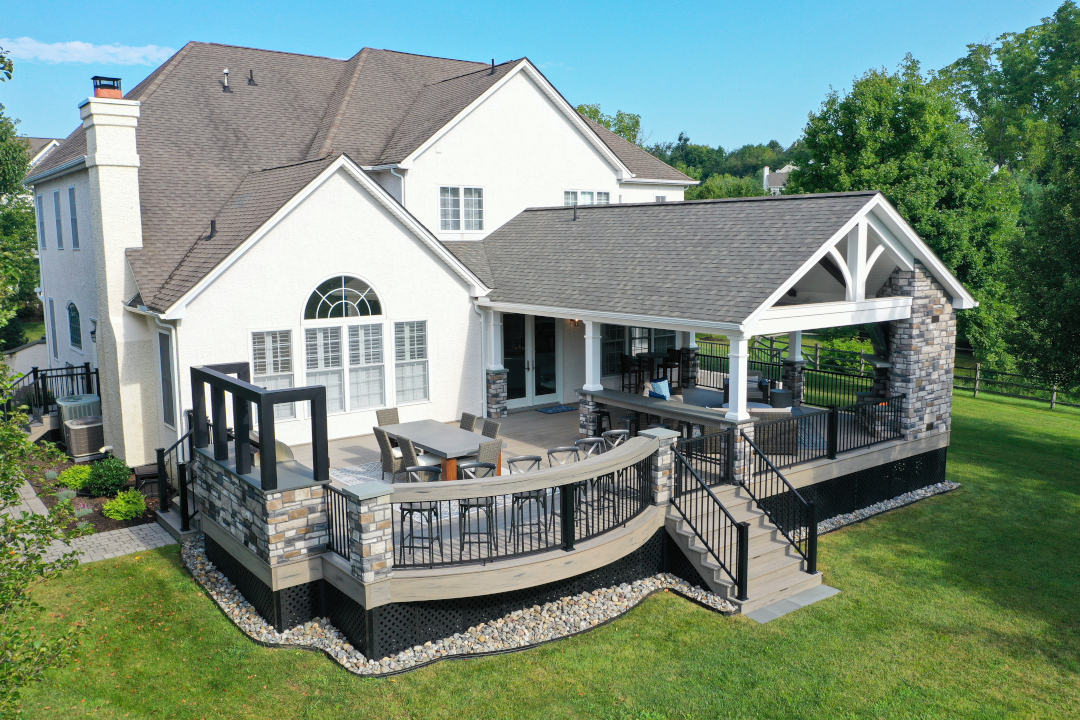 Spring's arrival and the promise of warmer weather means that deck season is right around the corner. Soon enough, friends and relatives will be catching up in the backyard over an adult beverage or two and outdoor kitchens will be fired up to feed the guests at a summer barbecue, and although visitors may marvel at the craftsmanship and special features of the space during these gatherings, rarely will they think about the attention to detail that went into the finished product they are enjoying.
The truth is that designing and constructing a deck that will give the homeowners an outdoor area to cherish for years to come takes extensive planning and serious consideration about a number of questions. From materials to colors, unique shapes to multiple levels, and must-have amenities to those that are probably an unnecessary luxury, sometimes all of the concerns that must be addressed can be overwhelming.
That's where an experienced deck contractor—who has likely run into every kind of situation under the sun—can step in and be of major assistance. House & Home spoke to several local experts to get their insight into the process and their tips for creating a backyard oasis.
Composite vs. wood
There was a time when most backyard decks were built with pressure-treated wood, and even as composite materials skyrocketed in popularity in the late 1990s and early 2000s, there were still sentimental homeowners who went with wood because of the lower cost associated with it or just because they preferred the look to the still-developing synthetic market.
Recently, however, the low maintenance, along with the improved aesthetics and more affordable pricing now being offered by the leading composite manufacturers, have just about made wood decks obsolete.
"In the past three or four years, I would say 99% of the decks being built are using synthetic products," says Jack Cameron, a designer at Deck Guardian. "There is a lot of variety as far as the brands and the qualities and properties the materials have, but everybody is doing synthetic materials, no wood. Some people are looking for entry-level and some are looking for the best out there, and there are boards that will do the job for everybody. People just need to educate themselves on what, how and when."
Ray Ebersol of Decks R Us adds that the most recent surge for wood decks eventually declined because the materials became too costly.
"Five, six, seven years ago, it was kind of a cool thing to do exotic hardwoods—ipe was a big one, which is Brazilian walnut," he says. "But that's kind of faded out because it got so expensive with shipping and everything. It's priced out of the market for most people."
Randall Yoder, a designer with Keystone Custom Decks, has some clients who ask about vinyl, but in general the company steers them toward composite decks, which account for 95% of their projects.
"There are a lot of different levels [of composites]," he says. "The higher-end option is a lot more durable over time and prone to less fading. Sometimes with the lower-end composites, if it's poorly made there will be a lot of fading."
It's important for contractors to ascertain the lifestyle of the homeowners and then helping them determine the best materials for the job. Those who entertain often, for example, may want to go the extra mile.
"Obviously, some people can spend $50,000 on a deck and some people only have $10,000 to spend on a deck, and materials can make or break the deal in some cases," Cameron says. "We have boards that are entry-level, boards that are mid-range and boards that are high-end. It's all over the place when it comes to synthetic products these days.
"The biggest [advantages to higher-end boards] would be longevity, look and performance with high traffic. The entry-level board is not for somebody who's going to have 20 people on the deck every day, running up and down the stairs and all of that. It's for somebody who wants to sip a glass of wine over the weekend and not abuse the deck too much. For high-traffic areas you need a more durable board that won't get so much wear and tear over time."
As Ebersol points out, the higher-end composites will cost more now, but in the long run might actually save the customer money compared to less expensive vinyl-wrapped composites, which he notes come with a 25-year warranty and fewer color options.
"The higher-ends, the solid vinyl boards from an Azek or Wolf, they have a lifetime warranty and there's a lot more color selection," he says. "We like those materials because they're easier to install and they're nicer to work with. It's almost just a price point—do you want to spend the money for Azek and get a lifetime warranty so you'll probably never have to worry about it? Or do you want to save yourself some money now and go with something that's not going to look as nice? It's going to move a little bit more when you walk over it and you're going to be able to tell that it's not the same quality."
Colors and other material considerations
As for the most popular colors, there has been a major shift since composite decking first broke into the mainstream.
"Everybody is looking for lighter colors that don't get as hot on your feet when you're outside," Cameron says. "Ten years ago, people were just looking for dark chocolate colors and dark grays, and then everybody realized that those get too hot in the sun. Now manufacturers and homeowners are all shifting gears to light, neutral colors that perform much better under the sun."
Ebersol still sees some demand for darker browns and grays, but one trend coming on strong is the two-toned deck, which will feature boards of varying colors.
"We do a lot of those," he says. "The main floor will be in one color and the border will typically be a darker color. Sometimes it's a darker floor and lighter border, but I would say probably 90% of the time it's the lighter color in the middle and the darker color on the border."
Some projects seamlessly work in multiple kinds of materials, especially the resort-style spaces that may include a composite deck with a roof overhead and a fireplace.
"For the interior of the roof, we use our own products and it's a cedar," Yoder says. "We do our own custom blends and stains and it works well for us. PVC is also very popular at the moment. Masonry on our projects is also very big, and I feel that's what sets us apart. The columns, fireplaces and outdoor kitchen areas stand out. Everyone wants to be at home right now, so more and more they want to bring indoor space to the outdoors."
Making a statement
While a majority of decks remain rectangular or square, there are designs that stand out by bending boards and incorporating circles.
"It's mainly aesthetic and there are some pros to it as well," Yoder says. "Little bump-outs help out for bar areas, so you can still get some extra dining behind it. We have our own guys who bend the boards, so that kind of sets us apart because we can do it all in house."
"Our designs are unique," adds Bill Wilson, one of the owners of Amazing Decks. "We do a lot of curves—we have the equipment to curve boards, so a lot of our decks are free-flowing curves. We also integrate other materials, like paver patios or bluestone. Maybe the backyard doesn't just call for a deck; maybe it calls for a combination of the two. Even though we're a deck company, we have to be honest with the customer and tell them what will work best."
Ebersol still gets requests for round areas of the deck but it is starting to be few and far between.
"That little fad kind of faded out," he says. "We just finished a pretty large project that had a circle front, but it's not as popular as it once was. We still do a handful a year, maybe even a dozen, but not like we used to."
Another trend that was hot for a few years but has cooled off is the multi-level deck. It may lead to "oohs" and "ahs" when guests first lay eyes on it, and it will certainly look spectacular on Instagram, but for practical, everyday use it can be a safety issue. As Cameron points out, that is especially true when parties are occurring and people are enjoying alcohol on the deck.
"Most people settle on a single level just because they have more flexibility when joining two or three tables together for a large gathering rather than having three corners where people are separated," he says. "Also, multi-level decks were popular back in the day but people realized that after you get a couple of drinks in, you're walking backwards and before you know it you're flipping upside down.
"So now people are more conscious of a single level being much safer. We still do some multi-level but not to the extent that it used to be, when we would do as many as four levels on a deck. The maximum someone would do now is two levels—the dining and lounging on one level and then the cooking and bar area on the other."
Another way to show off decorative flair is through the railings, which can have functional uses as well.
"The most popular railing requests we get are the flat-top drink railing options," says Mike Jerminski of Get Decked. "We take the same material used on the decking and place it on top of railing to provide a nice, flat, 6-inch surface perfect for drinks, bird feeders, etc. Also, the aluminum square balusters used vertically are a great architectural look that combines a sleek, see-through modern design that is still fully code compliant."
Finally, LED lights have become almost a must-have, and can be used in several areas of the deck to provide not only safety but ambiance.
"In the last few years, we have installed lights on almost every single deck that we do," Cameron says. "It used to be a commodity, and now it's just part of it—when people get a deck, they automatically think about lights. In some states across the U.S., having lights on the stairs is actually code required. In New Jersey it is not, but people understand that having lights is really going to save people from tripping. At the same time, in the evening it creates a really nice resort-style, laidback atmosphere because the lights are not too bright in your face, but you can turn off the overhead lights and have the low-voltage ones while you're enjoying dinner or a glass of wine."
"The LED lighting has become way more affordable and lasts a lot longer than the old lights did," Ebersol adds. "Probably 80% of the decks we build have lights on them, maybe even more. Typically it's on the side of the posts, about 6 to 8 inches down from the top of the railing. That's almost like a triangle-shaped light and it will shine down toward the deck floor. And then we'll put them on the risers of the stairs pointing down so it shines on the tread where you're stepping as you're walking up the stairs. Those are the two most typical locations; we do post-top lights sometimes as well."
Special features
Fully loaded decks featuring outdoor kitchens, bars and entertainment areas with televisions may not be quite as in demand as a few years ago as a result of concerns over the economy, but these amenities are still popular for those who can afford them.
"It's been affected a little bit, but for the most part, most people know what they're getting into," Yoder says. "As designers, the big thing is setting expectations ahead of time and making sure the clients are aware of the costs going into it. Just a couple of years ago, everybody wanted to add on, add on, add on. It has taken a step back a little bit, but we are still doing those extras if we set expectations correctly."
Some form of protection from the elements is also beneficial, although Cameron gives a word of caution.
"Pergolas are not going to do much other than decorate the deck," he says. "But people who are serious about using the space outside need a roof, because it's either too hot or it's drizzling, so you never get the perfect weather outside. A lot of people are using the roof so they can have shade or protection. Those things have really good ROI unlike a pergola, which only gives you the look. Having a roof over your deck is almost like an addition to your house and you get 85% return on it."
In the end, homeowner heeding the advice of experienced designers and builders when it comes to materials, colors, trends and amenities will usually be thrilled with the final results.
"It's great for both us and them to see a project come to life," Yoder says. "You see the pictures that get posted by the families and you create a relationship with them. It's a lot of fun and very rewarding."
RESOURCES
Amazing Decks
Ambler, Pa.
(215) 654-1886
Flemington, N.J.
(800) 220-3275
AnotherAmazingDeck.com
Deck Guardian
Somerset, N.J.
(908) 332-8616
DeckGuardian.com
Decks R Us
Paradise, Pa.
(717) 407-5623
DecksRUsLLC.com
Get Decked
Downingtown, Pa.
(302) 897-0302
GetDeckedInc.com
Keystone Custom Decks
East Earl, Pa.
(717) 553-0835
KeystoneCustomDecks.com
Published (and copyrighted) in House & Home, Volume 23, Issue 5 (March 2023). 
For more info on House & Home magazine, click here. 
To subscribe to House & Home magazine, click here. 
To advertise in House & Home magazine, call 610-272-3120.