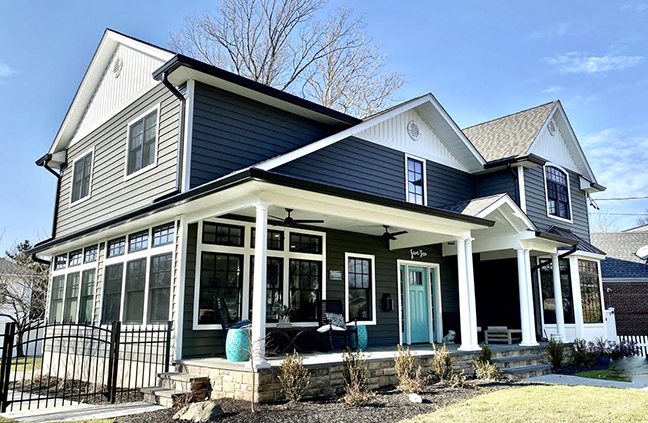 Although this winter has certainly been mild by typical Northeast standards, it still makes sense for homeowners to head into spring by taking stock of their property after the ice and snow have rolled through. Whether certain exterior projects are on tap out of necessity or just because of the curb appeal they can bring, it is wise to seize the opportunity now to ensure the house is in its best condition and small issues do not become worse.
"As the weather changes and people start coming outside, they should walk around the house to see if any shingles have fallen down, if any screens have ripped or the gutters are loose, anything like that," says Gary Selleck, owner of C&C Family Roofing. "If somebody is having a problem, we work all winter long, especially this year and last year when there's hardly any snow and the temperatures are pretty good. But the ideal time is March and April to start assessing what they need done."
An added benefit of addressing any concerns early is getting on the schedule for the premier roofing and siding contractors in the area, especially since spring and fall are the best times to complete such projects because the weather is not extremely hot or cold.
"If homeowners want to get the work started and completed in the spring, they're probably better off considering which direction they want to go and which products they might want to use, and which companies they want to have in to give estimates," says Vic Fiore, co-owner of Magnolia Home Remodeling Group. "You start the process now so that when the weather breaks, the work can begin and before the spring is over all of the construction work is completed."
House & Home spoke to local professionals about the most common exterior projects and the advantages of certain products over others in regard to roofing and siding.
Protection from above
The roof obviously plays a significant role in protecting the rest of the home, so it is crucial to have an understanding of what kind of condition it is in, especially after the winter. A regular inspection by an expert is always a good idea, but there are also clues that homeowners can look for themselves in determining if a new roof may be needed.
"The shingles lifting, shingles breaking off, the granules of the shingles wearing off the face of the shingle and sitting in the gutter. All of those are good signs, and of course a leak," Fiore says.
"Age is probably the thing you want to keep an eye on the most. If you have a roof that is 20, 25 or 30 years old, you're nearing the end of its life expectancy."
Because a new roof is a major investment, some homeowners may want to put if off as long as possible, and in certain cases a repair will buy them time.
"We don't replace every roof," Selleck says. "If one part of the roof is bad and some shingles blew off, they're wearing a certain way or there's a flashing that's not right, we do a lot of repair work and they can last for years and years. You don't necessarily have to put a whole new roof on. The good thing is, we're a family company, so if we tell people we can get them through a repair and it will last another three or four years, then they'll call us back when they need a new roof because we were honest to begin with."
When it does come time for replacement, there are several options available, with a large majority of homeowners choosing traditional shingle roofs.
"We do shingle, we do some metal, we do rubber and there are some synthetic products that we can work with," Fiore says. "A shingle roof is the most cost-effective. The warranties are excellent and there are some real solid companies like GAF and Owens Corning that we work with that offer all different colors, designs and styles."
Global Home Improvement has had great success over the years with the installation of metal roofs and recommends that option because it is more durable than a shingle roof. Instead of having to be replaced in 25 years or so, metal roofs will usually last a lifetime for a homeowner.
Metal roofs are also eco-friendly and add an aesthetic appeal.
"Asphalt roofing can show its age quickly," says Adam Parnes, marketing manager for Global Home Improvement. "It may last 15-plus years, but typically after five it will show discoloration and staining. Metal roofing has no discoloration issues and will last longer and look better on your home. Metal slate roofing turns your boring asphalt roof into a dynamic and aesthetically pleasing focal point of your home."
Fiore agrees that metal adds a nice decorative touch.
"A lot of people want to use metal as an accent on a front porch roof or something along those lines," he says. "Once in a while we'll do a whole house in metal but it's expensive and the cost becomes prohibitive."
Because it is a one-time job, metal roofs make financial sense for some, but others do not want to pay the extra money up front compared to a shingle roof.
"It's expensive and when it rains, it's very loud," Selleck says. "When the snow lies up there, it slides off at a fast pace, and if you don't have the snow guards at the bottom, it can really do some damage if somebody is walking under there. There's not much call for it—in the suburbs, people want to replace the roof with shingles because it's cost-effective and the shingles now are a 50-year shingle, which they call a lifetime shingle. The price is right and you can get the job done on most houses in a day."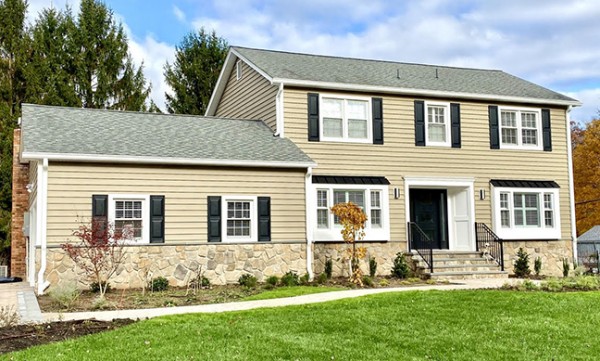 Wow factor
Just as with the roof, the siding is important to keep a house protected from harsh weather, but a new project can also provide a much-needed facelift to a home. There are plenty of options to add curb appeal, including the always in-demand vinyl siding along with James Hardie fiber cement siding.
"[People love] the look and the durability of the James Hardie fiber cement, but the downside is that it's very expensive compared to vinyl siding," Selleck says. "And if vinyl siding is put on right, it will look beautiful and stay for years to come, especially if you put insulation behind the siding. There's only a certain amount of homes that we ever put the Hardie on—it's all very upscale homes because of the expense."
If homeowners can afford it, Fiore is a big fan of the fiber cement siding and other products from James Hardie. He also has high praise for Ascend from Alside, which he explains is a composite siding that is installed similarly to vinyl, making it a quick project at a lower price point than James Hardie. Magnolia also works with well-regarded companies like CertainTeed and Azek.
"There are lots of options that work well with any budget," Fiore says. "It's just a matter of budget, style and color—those are probably the things that factor into the decision the most.
"If homeowners are purchasing a higher-end product, they also need to make sure that the install is done by somebody capable, knowledgeable and well versed in what the manufacturer is looking for, so you're not voiding warranties and creating a problem down the road."
As for colors, Selleck says grays, whites and earth tones are popular at the moment, and Fiore has had clients ask for darker hues lately.
"The last five-plus years, the trend has been toward these darker architectural colors—the deep blues, the dark grays, there's even some charcoal and black options now," he says. "[Manufacturers are] able to roll those colors out now because of the technology—they don't have to worry about the color fading because of the advancements in their manufacturing process. Years ago, they weren't able to put out a dark color and guarantee against fading. Today, they're able to do that."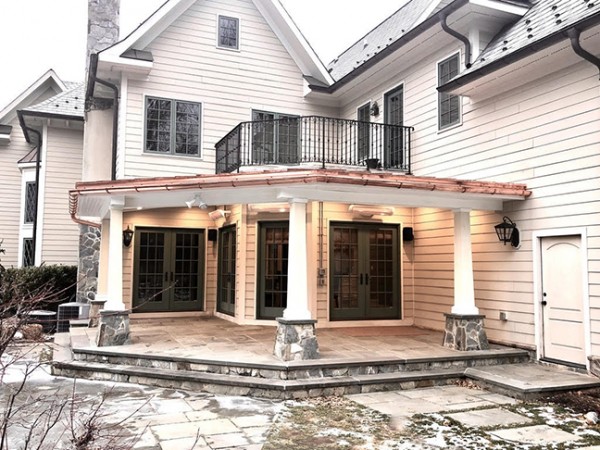 The forgotten exterior project
While roofs and siding will get most of the attention, Selleck warns homeowners not to forget about another aspect of their house's exterior.
"People really overlook the gutters, but gutters are kind of the lifeline of the roof and siding, and over the years they start to drop a little bit," he says. "If the water is not being taken off quick enough, or the gutters are clogged, then the water backs up and it rots the fascia out and it can get underneath the roof. Not to mention, when it snows and the gutters are not pitched the right way or the gutters could be clogged, the snow builds up and you get ice damming, which could get into people's houses."
Repairing or cleaning gutters can be a dangerous DIY project, but fortunately there are experienced professionals ready to help.
"We have thousands of customers who bring us in to clean their gutters and get the leaves out," Selleck says. "We tighten them, we clean them and we make sure the downspouts are all clear. Gutters are very important for a home."
RESOURCES
C&C Family Roofing
Willow Grove, Pa.
(610) 421-4494
CAndCFamilyRoofing.com
Global Home
Improvement
Serving Pa. and N.J.
(866) 735-1121
GlobalHomeInc.com
Magnolia Home
Remodeling Group
Union, N.J.
(855) 624-6655
MagnoliaHomeRemodeling.com
Published (and copyrighted) in House & Home, Volume 23, Issue 4 (January/February 2023). 
For more info on House & Home magazine, click here. 
To subscribe to House & Home magazine, click here. 
To advertise in House & Home magazine, call 610-272-3120.