Finding Peace in your own Backyard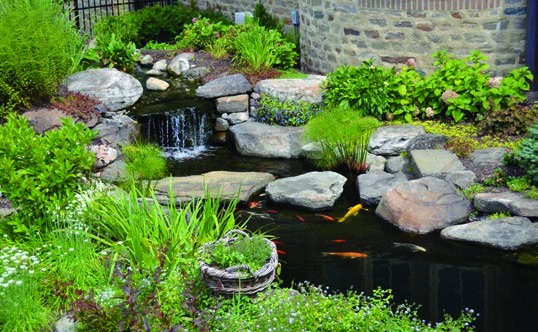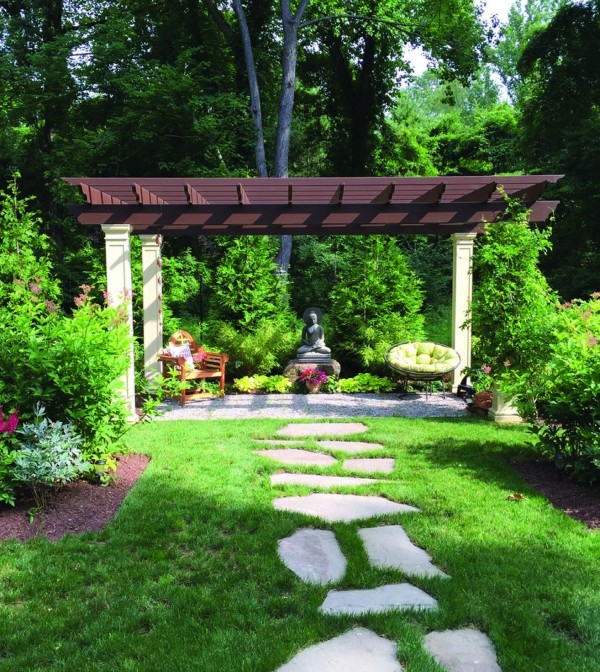 IT WOULD BE AN UNDERSTATEMENT to say 2020 has been a challenging year—and it's only halfway through. The world around us has changed and people are staying in the comfort of their home for work and recreation. Backyards offer a retreat from our day-to-day activities. Those working and learning from home can find a break from the screen while sitting in a peaceful corner of the garden, listening to the trickling of a fountain or watching koi swim around a pond.  There are many options, as discussed by local professionals, that can rejuvenate your mental health without leaving the house.  "Now that people aren't going to the office anymore, projects they thought they could put off until next year are bothering them because they are tired of looking at a yard that isn't perfect," says George Mihalchick, owner of Ponds by George. "When the pandemic started we thought we were going to be in for a tough year, but the trend is that everyone wants it now, so we're very busy."
With many restrictions on construction now lifted, landscaping companies are expecting a full load of projects this summer. "Instead of investing money on a family vacation, people are investing that money into their own properties," says Steve Compton, owner of CKC Landscaping. "Construction was shut down for 60 days in Pennsylvania so now I think it's moving fast and furious and if people are looking for a contractor, make sure it's someone who can deliver on the dates they give you and also take their  time through the process."
Water Features
There's nothing more relaxing than the sound of water. "The sound is everything—it's the whole focal point and purpose of a [water feature]. … You have to get it just right for the clients— the relaxation, hearing the sound, and the visual as well," says Ronni Hock, owner and landscape designer at Ronni Hock Garden & Landscape.
Water features range from large ponds, koi ponds, garden ponds, pondless waterfalls, fountains, rock fountains, and can cost anywhere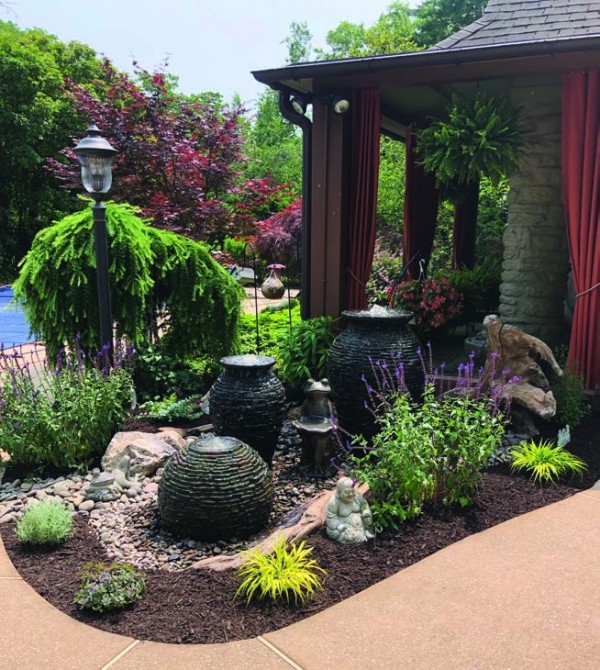 from $5,000 to $25,000 for something truly out of this world, says Rich Cording Sr., owner of CLC Landscape Design. "Any kind of water  is just inspiring," he says. "Birds come for a bath and when the sunlight hits the moving water it creates a beautiful ambiance for the backyard."
A rock fountain is one of the most affordable and something that could be installed quickly, says Cording. "For rock fountains we drill a hole through a big rock where the water comes out at the top and trickles down into a gravel bed," he says. "This has become one of the most popular features we install."
Consumer education about ponds has changed over the years, adds Mihalchick. "They used to be afraid of a pond because it was a lot of maintenance. Back in the day everybody would go to Home Depot and Lowe's and buy a preform one and that is one of the worst cases because it is so much harder to filter a small pond than it is a big pond—so much maintenance. ... I think the biggest thing now is education on the internet. And people are seeing some great pictures out there and are starting to understand that it isn't a lot of work."
More often, people are asking for pondless waterfalls. "Pondless (or basinless) features are the most popular," says Michael Pasquarello, degreed landscape architect at Elite Landscaping. "These features don't actually have a visible collection basin such as a pond and are much easier to maintain. Bubbling urns or boulders, waterfalls, etc., give the illusion the flowing water  just disappears into the ground through stone. It actually is recirculated from an underground vault and pump."
Homeowners prefer this over a regular pond because of the level of maintenance required, but Brian Bucholtz, owner and founder of PondWorks, says a completely maintenance-free water feature doesn't exist. "We can make them maintenance friendly," he says. "I think customers have to be honest with themselves and decide if they can dedicate 15 minutes a week or more, depending on the feature, or get on a maintenance program with a company."
Finding a company that specializes in water features is crucial to  their success. Mihalchick says 40 percent of their work is re-doing what someone else did, so the home- owner ends up paying twice.
 "Since we design, build and maintain water features throughout the year, our experience lets us know what works," says Bucholtz. "It allows us to tweak features with more extensive filtration or products to make them more user friendly. That's the biggest difference between a specialty company and someone who does a little bit of everything."
Landscaping
Plants and flowers are the finishing touch on any water feature and attract life to the yard.  
 "In the East Coast area, particularly Mercer County, we have a lot of deer," says Hock. "So it's a big challenge for us, but there are some wonderful perennials and plants that do really well and that also are not only deer-proof but they also attract the pollinators and they can be entertaining."
She highlights garden phlox, which blooms from July through September, for its ability to attract butterflies. "Butterflies entertain the kids and the adults, and it's always a big plus if you are giving back to Mother Nature, having those plants and feeding the butterflies and the hummingbirds and regular birds with their seed," she says.
Mihalchick says a good landscape  planner will make sure a yard has something blooming from spring to fall. "You always want one blooming then another blooming. And you want to tie these in, so if you're walking down a walkway to your pond, you make sure there's  some by your walkway, and there's some by your pond because your eye is drawn to that color," he says. "One of my favorite plants is a variegated red sweet dogwood. The bush has a variegated leaf and in the winter when it drops its leaves, its branches are bright red. I call that a four-season plant that gives you some flowers, but you're full of color, and your twigs are brilliant. In the white snow those bushes pop even without leaves."
Cording says layering plants is the most aesthetically pleasing. Bigger ones should be placed in the back and they step down in size. He recommends barberry, spireas, knockout roses, rozanne geraniums, golden spirea, quick fire hydrangea—a new variety— and the variegated Iris.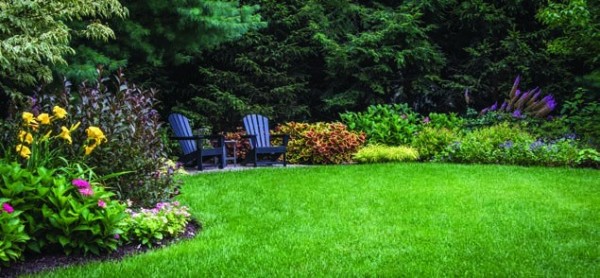 Finishing Touches
While a big chunk of your attention  may be paid to the plants and water features, there are other elements such as shade and lighting that can ensure the space is enjoyed any time.
 "Technology always seems to be the front-runner on the latest and greatest additions to outdoor entertainment spaces from year to year. The integration of WiFi-driven outdoor audio, color changing LED lighting and irrigation systems is becoming much easier and more user friendly  to control right from the palm of your hand," says Pasquarello.
LED lighting has reinvented outdoor lighting. Mihalchick loves using lighting to accent water features. Small LEDs can light up rock walls and ponds, and a new effect is called down lighting. "If there's a tree or branches over a pond, we'll hide a fixture in the tree and at night it looks like a full moon and it's so cool," he says. Lighting can also change colors, making a water feature festive for Halloween, 4th of July and Christmas. 
Having a focal point in the yard adds to homeowners' enjoyment, says Hock. "I always like to try to have a focal point so when you're sitting there having your glass of wine or relaxing with  the kids, there is a big beautiful tree that's uplit at night or a beautiful urn or some kind of garden ornament. Or it could just be a garden that's lit softly—it comes alive at night."
Hock keeps her lighting approach conservative. "You can always add more, but you want to be considerate of the night sky and the beneficial bugs in your yard," she says. "If you overdo it, it makes you feel like you're living in an airport. … You definitely don't want to be blinded when you're trying to enjoy your backyard."
Overhead coverage is another element to incorporate. "Fans, water misting systems, solid roof structures and even pergolas with canopy systems help achieve relief from the sun," says Pasquarello.  
In the end, the finished product is going to be that sanctuary you need. "When you stick with all  the senses and bring in the sound with the ponds and the waterfall, or the fountains and the visual with the lighting in the evening it extends that period for you to be able to enjoy it," Hock says.
And since we don't know what the future holds, these projects are an investment not just for a summer staycation, but for years to come. "We've got all these months ahead of us where there's a likelihood that we're all kind of stuck back inside again," says Compton. "It is much better to reach out to your contractor right now and get on the schedule for a few weeks from now. Build it so you can enjoy it because God knows what is around the corner for us."
RESOURCES
CKC Landscaping
West Chester, Pa.
(610) 436-1810
CKCLandscapingInc.com
CLC Landscape Design
Ringwood, N.J.
(973) 839-6026
CLCLandscapeDesign.com
Ponds by George
Serving Pa.
(215) 396-7500
PondsByGeorge.com
Elite Landscaping
Berlin, N.J.
(856) 207-4718
EliteLandscaping.com
PondWorks
Pottstown, Pa.
(610) 327-1423
PondWorksOnline.com
Ronni Hock Garden & Landscape
Serving N.J. and PA.
(609) 844-0066
RonnisGarden.com
Select imagery courtesy of CLC Landscape Design, Ponds by George.
Published (and copyrighted) in House & Home, Volume 20, Issue 11 (June 2020). 
For more info on House & Home magazine, click here. 
To subscribe to House & Home magazine, click here. 
To advertise in House & Home magazine, call 610-272-3120.