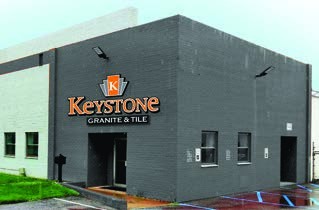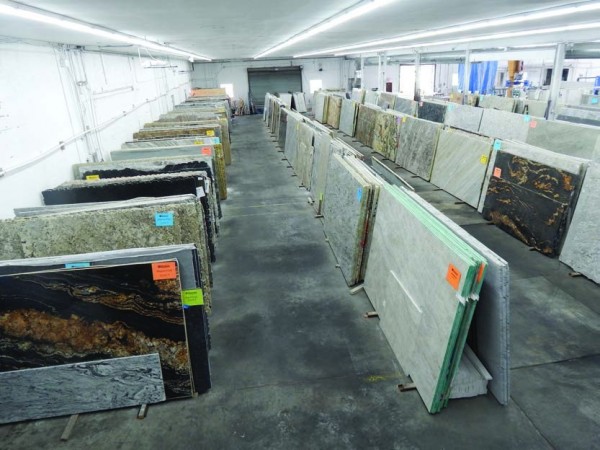 Creating your dream kitchen is no simple task, both aesthetically and financially, but the right outcome can lead to years and years of happy memories and increased homeowner satisfaction, not to mention the potential boost in your home's value and marketability when it's time to sell.  
Keystone Granite & Tile understands the importance of happy, satisfied customers and has earned a reputation for excellence. Their team of dedicated professionals makes the selection of stone countertops, sinks, backsplashes and more an easy and untroubled experience. After  opening the company's Huntingdon Valley store in 2014, the business took off, quickly outgrowing  the location and sending owner A.J. Ayaz looking for more room to expand operations.   
New Horsham showroom
A.J. found what he was looking for close by in the Babylon Business Complex on Route 463/Horsham Road in Horsham Township.  The new location has room for a 30,000-square-foot showroom and 100,000 square feet of indoor shopping and warehouse and fabrication area for thousands of slabs of granite and other stone for customers to choose from, protected from the outdoor  elements and well lit even at night, so customers can really see the individual features of the slab they are selecting.  
A.J. invested in state-of-the-art technology for the stone cutting equipment, and all  fabrication is done on site. While granite and other stone countertops remain at the heart of the business, the new showroom will be a full-service kitchen and bath showroom, featuring cabinetry, tile, flooring,  fixtures, tubs, shower pans and doors, sinks and faucets.  The store now offers 3D design services as well. "We want to be a one-stop shop," says A.J.  
Customer service first
Keystone customers are always met with dedicated professionals who know everything there is to know about the product they sell. "A lot of customers appreciate having communication with one designated person who can help them from start to finish," says A.J. "When a member of our sales team starts a project with a customer, they are not only the first person to talk with them but probably the last  as well. They stick with the customer through the whole process."
Keystone Granite & Tile can help you find the right fit for your home by customizing your experience to fit the needs of your family. "Each job is a custom  experience," says A.J. "Every home has its own criteria of cabinets, flooring and wall colors. … These elements dictate the need for either a dark, medium or light colored stone. We give the customer a designer's eye as well as the customer service attention to detail for their project."
The product
While excelling in the small details, Keystone Granite & Tile has emerged as a player for large-scale ventures as well, having completed substantial projects like the Pegula Ice Arena at State College, and working with sizable builders like AVE, Bozzuto, Harkins, IMC, Dr. Horton, Lenar, CBG, Hanover, Toll Brothers and Forrino Homes. In addition to Horsham, Keystone Granite & Tile has three other locations: Lancaster, Pa., New Castle, Del. and Columbus, Ohio. 
 "We are able to buy stone directly from Brazil,  India, Italy and Turkey with no third party taking a markup," he says. A.J. himself often travels overseas to select stone from the quarries that produce them.
While Keystone offers a variety of products, granite is in their name and remains one of  the company's most popular countertop options. "It is a very strong, beautiful and solid material, and makes daily use easy for customers," says A.J.  "Quartz is also very popular for the same reasons."
On all products, Keystone Granite & Tile provides a one-year warranty on workmanship, as well as care instructions so that customers can be guaranteed a lifetime of enjoyment. Most care is easy, requiring only an annual application of a designated granite seal to protect against staining.
The installation process is just as  easy as its care and upkeep. After coming in to the Horsham location, browsing displays and selecting materials, a Keystone Granite professional will come to your home to take final measurements.  From there Keystone will fabricate your product and have it ready to be delivered for a three- to five-hour installation. In about a week your dream kitchen is done.
More than 10,000 granite slab options
"There are a lot of granite companies that will give you a five-week estimate," says A.J., "but because we fabricate here, on site, we cut that time down significantly. It's a perk that we can provide customers that makes such a big difference in the end." 
Keystone Granite & Tile
406 Caredean Road | Horsham, Pa.
(215) 392-6052
Keystone-Granite.com
Published (and copyrighted) in House & Home, Volume 19, Issue 4 (October 2018). 
For more info on House & Home magazine, click here. 
To subscribe to House & Home magazine, click here. 
To advertise in House & Home magazine, call 610-272-3120.