Creators of Elegant Outdoor Living Areas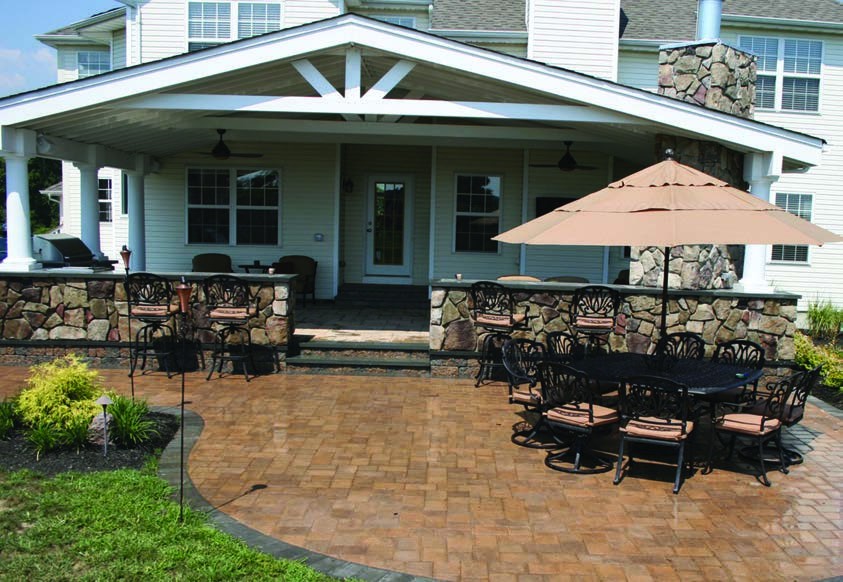 It may be hard to imagine during the dog days of winter—when the temperatures are low, it becomes dark at dinnertime and the threat of snow is always hanging over us—but soon enough the warm weather will arrive, encouraging us to spend as much time outside as possible.
With a well-designed outdoor living space, homeowners can get the most of their backyard, whether they are dining al fresco with the family, enjoying a cocktail after a long day at the office or having friends over for a barbecue.
While there are many so-called experts vying for business in the outdoor living arena, it is crucial for homeowners to find an established company that values honesty and integrity in its work, and Legends Home Improvements has fit that description since its founding in 1975. A full-scale home improvement company that does kitchen renovations, basements, additions and more, Legends specializes in building decks, porches, screen rooms and gazebos.
"We basically build outdoor rooms," says Bill Lecorchick Sr., who owns and operates Legends with his son Bill Jr. "It's no longer just a simple square or rectangle off the back of the house. They include fireplaces, fire pits, roofs, stonework and kitchens. We create beautiful outdoor spaces for people to enjoy."
Customers know they are working with a unique company right from the initial consultation meeting with Legends, which is free of charge. It usually lasts about an hour and a half and homeowners are urged to share their desires and to take an active role in the process.
Legends' experienced designers will listen intently to their hopes for the space, explain cost and present a conceptual design for the project.
 "Our first goal is to figure out what our customers want to accomplish and get the husband and wife on the same page, because they are often thinking different things," Lecorchick says. "The customers will usually bring out pictures of things they would like to incorporate and we work with their ideas. We can also give them an idea about the values, because some of the items on their wish list are much more expensive than they realize."
During the design stage Lecorchick has two important recommendations, if they can be accomplished in the homeowner's budget: a roof structure and an outdoor kitchen. In his experience, these add another dimension to the space and drastically improve the look and functionality.
 "I really believe that every deck and patio should have a roof area," he says. "It allows for more usage of the deck, when it gets hot in the summertime or it's raining. A lot of people put a fireplace on the deck as well, so it extends their season well into the winter.
 "The other thing that is great, if you can do it, is an outdoor kitchen. If you entertain frequently, outdoor kitchens keep you involved and make you part of your party, and they incorporate very nicely into the outdoor living area."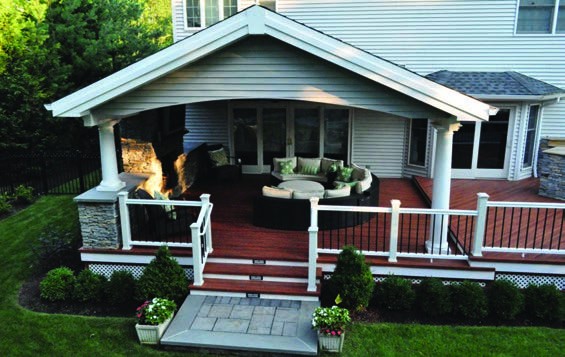 Unlike some companies that work exclusively with one manufacturer, Legends is proud to offer the finest materials from seven of the leading manufacturers, including Trex, Azek and TimberTech. Over 65 boards and railings from those companies are on display in Legends' impressive showroom, allowing customers to get an idea of what their deck will look like before committing.
 "We don't specialize in one manufacturer; we're here for our customers," Lecorchick says. "If a customer prefers one manufacturer over another, that's what we're going to build with. It allows for flexibility and a better design. Our goal is to give our customers the outdoor living area they want; not what we want to build with."
Once a customer decides to move forward and the contract is signed, Legends will handle all of the planning, such as building permits from the township, completion of necessary inspections and arrangement for licensed trades, including gas and electric. "All the customer has to do is watch us build their dream deck," Lecorchick says.
Legends only has two crews, consisting of employees who have been with the company for years, are well-versed in deck building and are committed to delivering the project the customer was promised. When the job is finished and those goals are accomplished, there is no better feeling for Lecorchick, even after four decades in business.
 "It's a terrific feeling when we find out the customer loves the outdoor living area we built for them," he says. "They often bring us back to their house for another job because the crew was a pleasure to work with and was respectful of their property. It's wonderful to get that feedback."
Legends Home Improvements
43 Brunswick Woods Drive
East Brunswick, N.J.  | (732) 955-6321
LegendsBuilt.com
Published (and copyrighted) in House & Home, Volume 20, Issue 8 (February 2020). 
For more info on House & Home magazine, click here. 
To subscribe to House & Home magazine, click here. 
To advertise in House & Home magazine, call 610-272-3120.