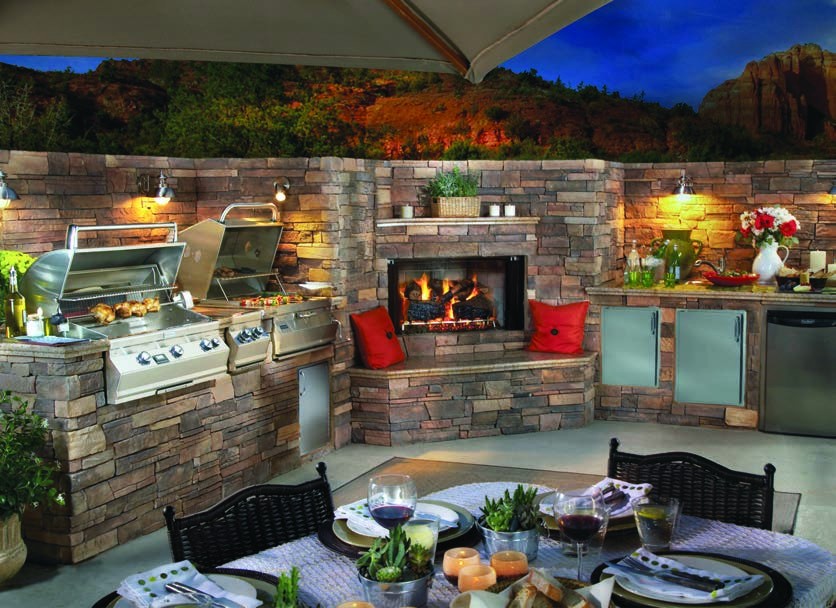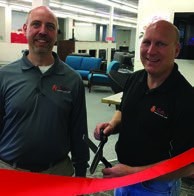 When you walk into Salter's Fireplace Patio Grill, it's immediately clear that their knowledge and product selection goes beyond anything found at a mass merchant.  
Salter's has been a well-known name in the region since 1974, when the original owners began with a hardware store before branching out into fireplaces, stoves and later outdoor furniture and grills. Jay Stong has been involved in the business since the '90s and bought the company in 2000. Recently, Stong acquired Barto Pool and Spa in Phoenixville, adding to Salter's Fireplace other two locations in Hatfield and Eagleville.
While the Hatfield and Eagleville locations showcase and sell fireplaces, stoves and grills, the new Eagleville location at 3076 Ridge Pike includes  an Outdoor Oasis showroom—7,500 square feet featuring everything homeowners need to design and equip their outdoor living room. Displays include a full outdoor kitchen, an indoor/outdoor see-through fireplace, patio furniture with deep seating, bar-height dining, fireplaces and electric space heaters, to name a few. And now that Barto Pool and Spa is part of the Salter's Fireplace family, spas are also on display and available for purchase, truly making Salter's a complete outdoor design destination.
There are several advantages homeowners have when coming into Salter's new Eagleville showroom. "One of the biggest is being able to see, touch and feel the products," he says. "And unlike mass merchants that lock you into one or two color combinations for furniture and cushions, we have a range of 15 different frame colors and fabrics, and most of ours come with warranties between five and 15 years while theirs might only be one year."  
The quality is also beyond anything you'll find at a large retailer. Aluminum-woven outdoor furniture is currently popular. However, Salter's  furniture has an aluminum frame- work, not steel like the box stores, so it won't rust from the inside out. No need to be concerned  about maintaining cushions either. "Our deep seating patio furniture has a solution-dyed, acrylic fabric so the water wicks off. Unless there was a dominant rain, homeowners can enjoy the cushions within an hour of drying in the sun," says Stong. "Also, our Sunbrella brand cushions are thicker than what you'll find at mass merchants, but the typical consumer might not recognize the difference this makes just sitting on it in the store. They will appreciate the cushions at the end of an evening and for years to come." Stong adds, "Our experienced sales designers will consult and educate customers on the difference in the quality and the warranty they receive from our manufacturers."
That knowledge is something shoppers can tap into at Salter's Fireplace Patio Grill, especially when it comes to designing an outdoor living space. When homeowners walk in and browse Salter's Outdoor Oasis showroom, they will realize that Salter's also offers a wide range of outdoor fire features including portable fire pit tables, tempest torches for ambiance around a pool or patio, and even an outdoor wood or gas fireplace to complement their new patio furniture.
 "We can truly help them figure out how to design an outdoor living space so it flows with function," says Stong. "For example, when designing an outdoor kitchen, there are some key questions and factors to consider such as how many  people they cook for regularly—this would determine how large the grill should be— if they are right- or left-handed, and where the sun is during the day. Our customers comment that Salter's is different from the mass merchants because questions like these aren't asked of them."
Salter's also understands that most people have a budget. "We can do things in stages, giving you the elements that are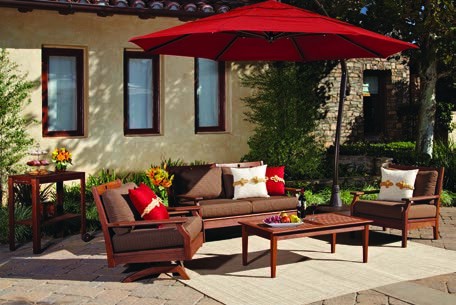 in your budget now and preparing for the things to add in the future, whether  it's next year or over five years," Stong says. "If a customer is starting a new outdoor project, we'll ask for a wish list. Drawing that out of them is one of the biggest components so we can help them determine the best products that will achieve their desired end result."
Stong has the utmost confidence in Salter's products and staff. "I would put my staff against any other company doing similar business," he says. "Everything we do from sales to design and installation to service, is with in-house staff who are trained in industry standards and our own company training. We have a great team who can help bring a customer's project from concept to reality, and if we can't, we're not afraid to tell them. Our goal is to provide safe, reliable products they can enjoy in their home for years to come."
Salter's Fireplace Patio Grill
Two convenient locations: Hatfield, Pa.
(215) 362-2443
Eagleville, Pa. (Outdoor Oasis showroom)
(610) 631-9372
Browse online catalog: SaltersFireplace.com
Published (and copyrighted) in House & Home, Volume 19, Issue 12 (June 2019). 
For more info on House & Home magazine, click here. 
To subscribe to House & Home magazine, click here. 
To advertise in House & Home magazine, call 610-272-3120.