In a Spring State of Mind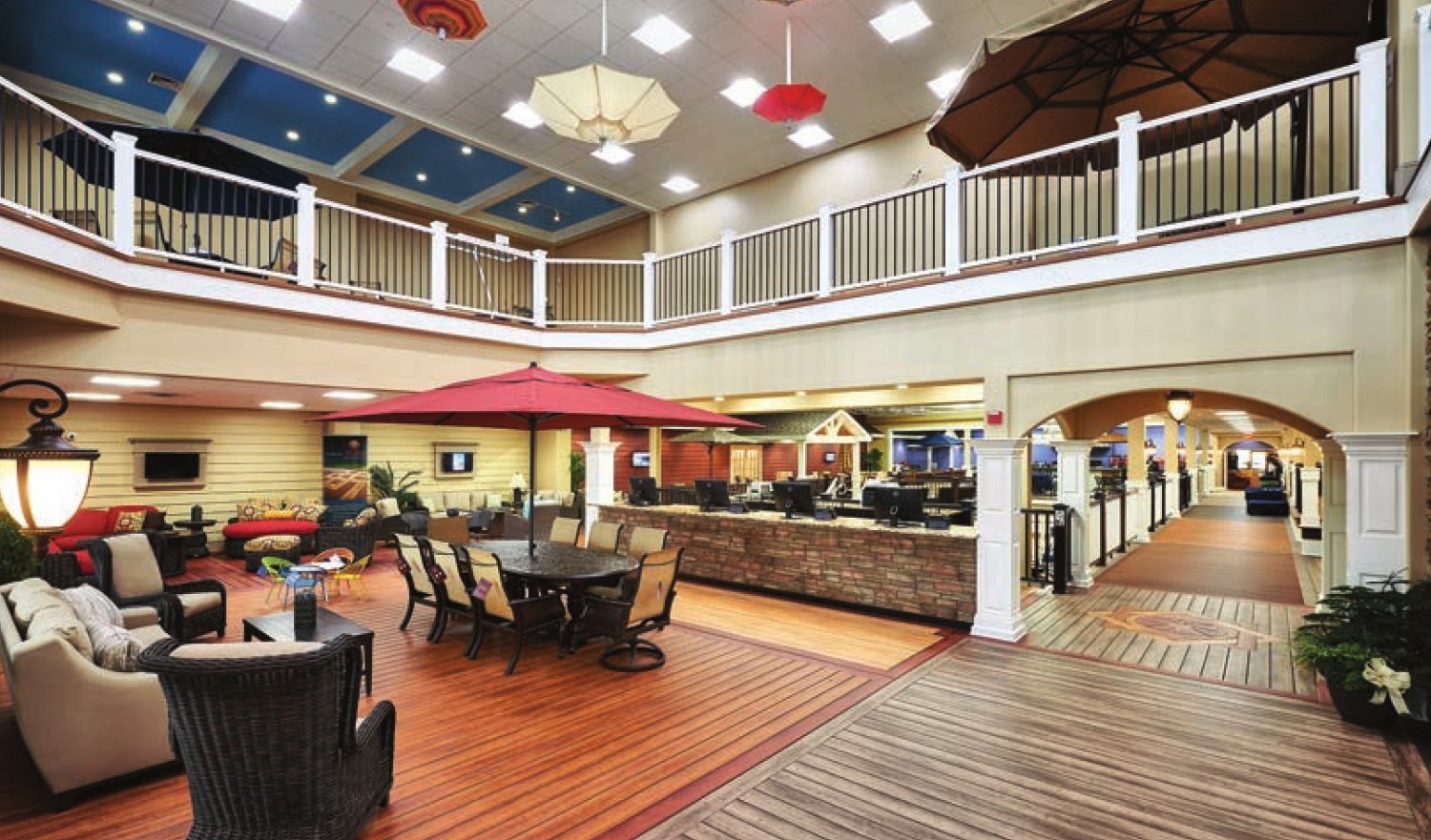 With the new year upon us and frigid temperatures setting in, many people's minds may be longing for summer fun.
Instead of being stuck indoors, we'd prefer to be outside, entertaining on a deck, lounging by the pool,  enjoying a drink on the patio. Fortunately, there is a place that feels like summer all year round: Sequoia Out Back. 
Inside its 30,000-square-foot showroom, customers will find everything they could possibly want for their outdoor living spaces: patio furniture,  cushions, grills, outdoor kitchen setups, heating lamps, fire pits, decking and pavers, pergolas and so much more.
There is nothing like it on the East Coast, a vision brought to life by owner John Keller. After a long career in the construction and building materials business he felt the availability of products and supplies for the backyard was not as robust as it should be to support the growing trend of outdoor living. Sequoia Out Back's showroom is spread over three levels. Its interior is constructed to give you a real-world vision of what your outdoor property can look like. There are coffered ceilings that seamlessly convey the notion of the open sky above, patios and decking installed right down to the railings, and furniture and design items that give each display a feeling of home. You are given the opportunity to see how these items will truly look at your house.
And that's something that online shopping can't deliver. The ability to not only see, but touch and try-out outdoor furniture and other products is highly valued by Sequoia Out Back's customers in this digital day-and-age. It's incredibly difficult to find a brick-and-mortar store that carries so much—and that's why Sequoia gets visitors from far and wide.
 "People are coming from all over," Keller says. "They are walking in the door and their jaws are just dropping."
A visit to the store is sure to evoke new ideas and provide a realistic visual of how the products might look in your own outdoor living space. Many of the most respected product names can be found at Sequoia Out Back including furniture lines from Gensun, Pride, Woodard, Brown Jordan, Ebel, and much more. And Sequoia's vast decking displays include well-known brands like Azek, Timbertech, Trex, Fiberon, Zori, Wolf, and many more.
Customers can get a jump start on this season's trends, too. Visitors can expect to see new grilling accessories, outdoor dishware, outdoor paintings, citronella candles, tiki torches, bird feeders and all kinds of outdoor accessories when they visit the showroom this season.
And, with the new addition of a warehouse on premises, Keller says they are able to bring in more inventory and keep prices down for customers.
Recently Sequoia has begun to expand the building material options as well with the opening of a hardware store. "Another exciting new thing that we're doing on the building material end of the business is offering  a hardware store that will have all the accessories and supplies needed to build a deck," Keller says. "We'll have everything from the bolts and the hardware to the DeWalt tools and other tools and accessories you need to build a deck or do other projects around your house."
Other aspects of home improvement projects are also covered at Sequoia, including windows, doors and specialty siding, all available for customers to browse in the showroom.
Sequoia Out Back will also continue sharing its list of preferred contractors, designers and builders, so you can find the perfect person to install the product you've selected. 
And as the outdoor living trend only continues to grow, Sequoia Out Back will continue to add new products, brands and set-ups to its location so that homeowners can always find the very best. 
 "The future will continue to bring a lot of emphasis on creating backyard living spaces," Keller says. "With an outdoor living area you can significantly expand the footprint of your house without having to add on. That's a concept that is always going to be popular."
Sequoia Out Back
2420 Bethlehem Pike, Route 309
Hatfield, Pa. | (866) 650-DECK
DeckSupplies.com
Published (and copyrighted) in House & Home, Volume 19, Issue 7 (January 2019). 
For more info on House & Home magazine, click here. 
To subscribe to House & Home magazine, click here. 
To advertise in House & Home magazine, call 610-272-3120.