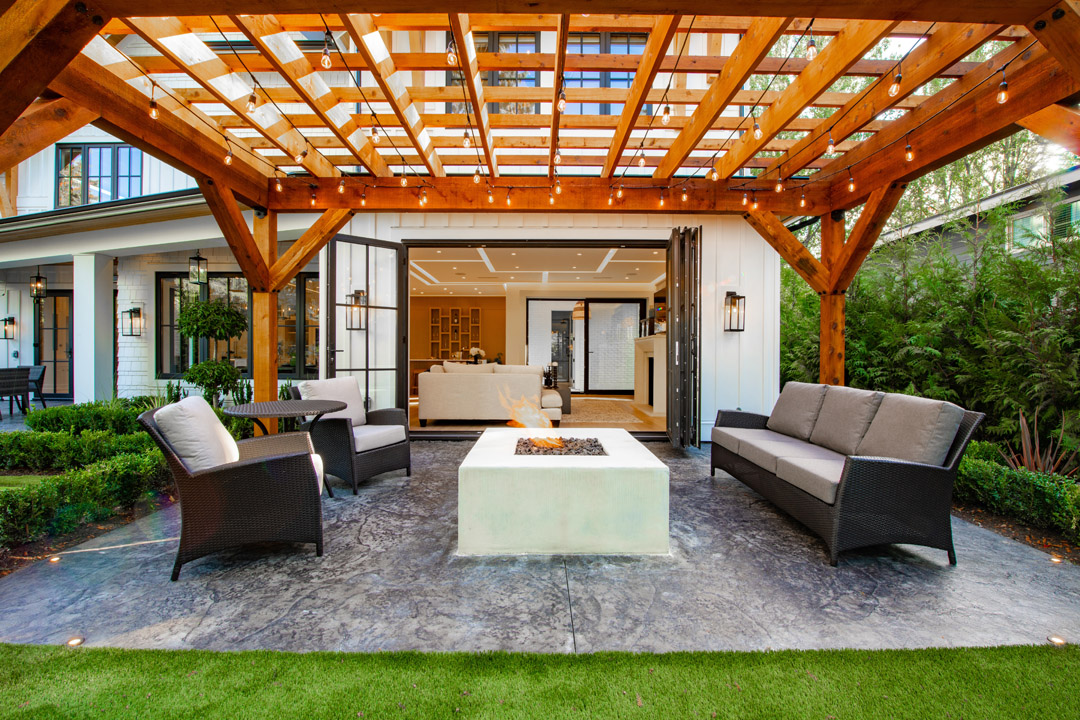 As the world continues to embrace the significance of nature and its positive impact on human well-being, outdoor living spaces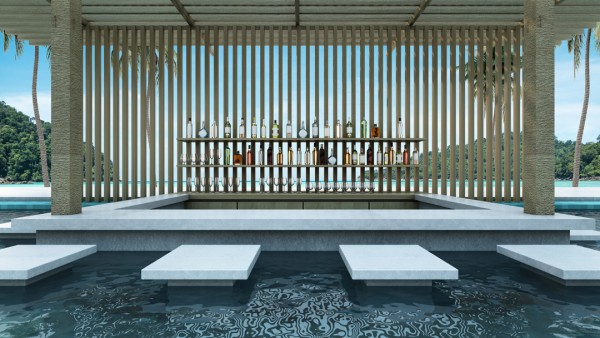 have gained immense popularity. Homeowners are increasingly turning to outdoor structures as a means to create inviting, functional and aesthetically pleasing spaces that blur the lines between indoor and outdoor living. The latest trends in outdoor structures not only amplify the beauty of your property but also offer numerous benefits, enriching your overall living experience.
These days, outdoor structures are no longer limited to just one purpose. The latest tendency revolves around creating multi-functional retreats that cater to various activities. A single space might serve as a yoga studio in the morning, a workspace during the day and a cozy movie theater at night. These adaptable outdoor structures add versatility to your living space, accommodating diverse interests and hobbies.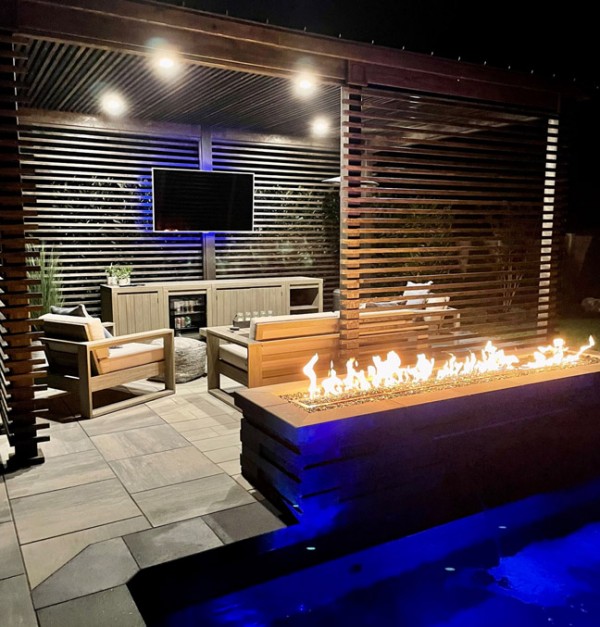 In this article, we explore some of the most cutting-edge trends in outdoor structures and delve into how they can enhance your daily life.
The perks of pergolas, pavilions and more
The lines of demarcation between indoor and outdoor living continue to blur as more homeowners gravitate into backyard spaces to whip up dinner for friends, light a small bonfire or put in a few hours of work while sitting on a shaded patio.
"The benefits of adding an outdoor structure to your yard provide you with a comfortable outdoor living space. Bring the party outside, relax poolside or just enjoy the outdoors. Most structures also have a storage space component—store the party supplies, hide the pool filter and chemicals, or use as a bonus shed to hide lawn equipment," explains Kristi Reading from Buxton's Backyard Structures.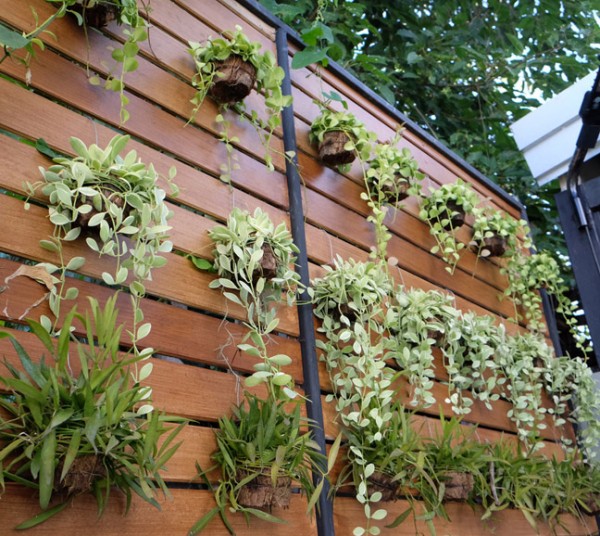 When considering what direction to plan for when it comes to upgrading your outdoor space, Reading offered a few suggestions. "Homeowners should consider the size and purpose of the outdoor structure. If you are just looking for an outdoor bar—what size bar area and what size storage area would be beneficial? It's important to get something that will work for your needs."
"Another thing to consider is how you want it to look. Are you trying to match your house or make it stand out? There are lots of options from painted wood, vinyl siding, faux stone siding, hardy plank, board and batten, or log cabin. There are so many options to customize the perfect structure for your home," Reading continues.
For homeowners with pools, poolside pavilions are the ultimate trend in enhancing outdoor living. These structures offer shade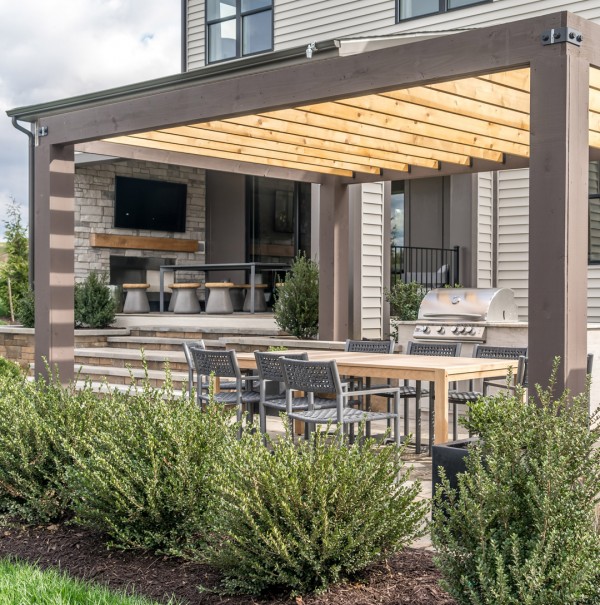 and protection from the elements, making poolside relaxation a comfortable and enjoyable experience. Pool pavilions can be designed to include lounging areas, mini-bars and changing rooms, providing a perfect blend of leisure and convenience. "Homeowners want shade from the sun in the summer and the ability to keep using their outdoor space with heaters or fire when the temperature drops. Pavilion-style structures and pool houses are very popular for this reason," shares Karen Frederick from The Louvered Roof Company. "Something to think about when you're investing in an outdoor structure is natural light and airflow. Do you want to be completely inside with closed doors and air conditioning or do you want to have that vacation feeling where you can still be outside and feel the air but have protection from the elements? There is a lot of room for personalization when designing a pavilion."
Pergolas have also quickly climbed the ladder of popularity with homeowners because they can be ideal for an outdoor space that's used frequently. Whether over a porch, yard or garden, pergolas help the outdoors feel more hospitable for long days outside. "The kitchen is typically the heart of the home, so extending that to the outdoors with a pergola, allows the homeowner to have more usable entertaining space," Bill Wilson from Amazing Decks says. "A pergola or retractable awning can provide shade, allowing homeowners to enjoy a meal outdoors and help to create a warm and inviting space from early spring through Thanksgiving."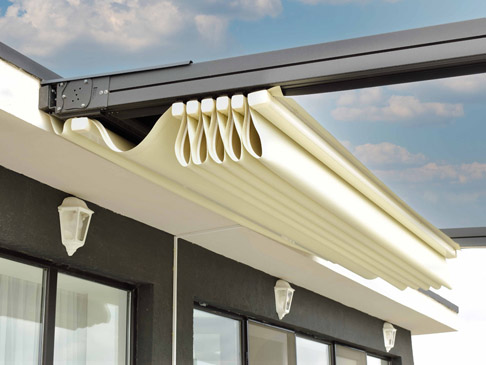 One thing to note, pergolas aren't meant to keep the elements away completely but to visually designate and decorate pools, seating areas or yard features. The overhead beams offer places to hang plants, lighting, or even swings. Pergolas are also perfect for anyone who enjoys being outside but wants to avoid strong overhead sunlight. Some homeowners use outdoor curtains to add bit more privacy, and because they are stylish and affordable, pergolas are a no-brainer for anyone looking to create a serene space.
The Coop Craze
After the pandemic was declared, people began to panic-buy the essentials from grocery stores, and that included everything from toilet paper to eggs. With more time being spent at home, people invested in gardening and becoming more self-sufficient in general, thus also creating an uptick in the ownership of chickens. "We have sold a lot more chicken coops since 2020 than in recent years [and] it hasn't really slowed down. Folks love the comfort of knowing they're getting fresh, organic eggs right from their backyards," explains Reuben Zook from Mainline Outdoor Living.
Deciding to own chickens is only half the decision, the other part of that equation is providing the appropriate outdoor housing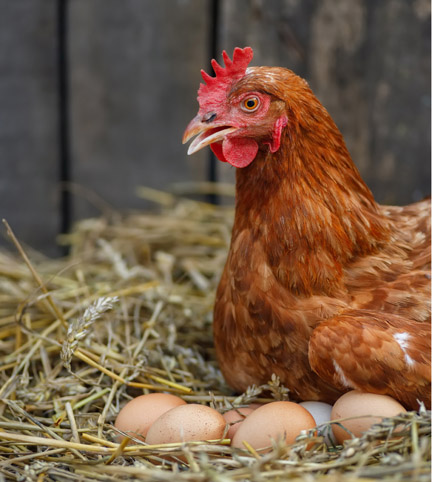 structure to support a safe—and aesthetically pleasing—environment for both the chickens and human residents alike. "[We] offer an assortment of sizes and styles for anyone who wants to own chickens. Coops can start as small as 15-20 square feet to as large as a couple hundred feet. There really is a lot of personalization that comes along with owning chickens," explains Zook.
Sustainable structures
As environmental consciousness grows, sustainable outdoor structures are also gaining traction. Living walls and vertical gardens not only add a touch of greenery but also provide insulation and promote biodiversity. Moreover, eco-friendly building materials and solar-powered lighting solutions are being integrated into outdoor designs, reducing the environmental impact while adding to the overall appeal of the space.
Final thoughts
As urbanization continues to rise, the importance of outdoor spaces cannot be understated. The latest trends in outdoor structures offer homeowners the opportunity to transform their yards into captivating and functional extensions of their house. Whether it's alfresco dining areas, cozy outdoor living rooms, sustainable structures, multifunctional retreats, poolside pavilions, or outdoor showers and spas, these trends enhance the living experience by fostering a deeper connection with nature and promoting overall well-being.
Kristi Reading concurs: "There are so many additions that you can add to your structure. From a fully finished interior, flooring, roofing, fans, lights, bars, windows, dormers, porches, screens, French doors, sliding barn doors, weathervanes and more. There is no limit to what you can have."
So embrace these trends, and let your outdoor oasis become a sanctuary that enriches your life in countless ways.
Resources
Amazing Decks
Ambler, Pa. & Flemington, N.J.
(800) 220-3275
AnotherAmazingDeck.com
Buxton's Backyard Structures
Ewing Township, N.J.
(609) 771-6840
TheBuxtonComplex.com
Mainline Outdoor Living
Honey Brook, Pa.
(717) 858-2425
MainlineOutdoorLiving.com
The Louvered Roof Company
Doylestown, Pa.
(610) 310-0429
TheLouveredRoofCompany.com
Published (and copyrighted) in House & Home, Volume 23, Issue 9 (July 2023).
For more info on House & Home magazine, click here.
To subscribe to House & Home magazine, click here.
To advertise in House & Home magazine, call 610-272-3120.