Embracing the Ocean Breeze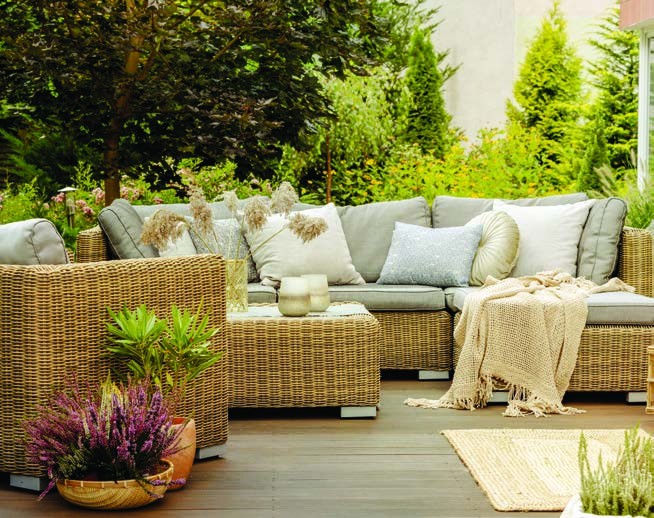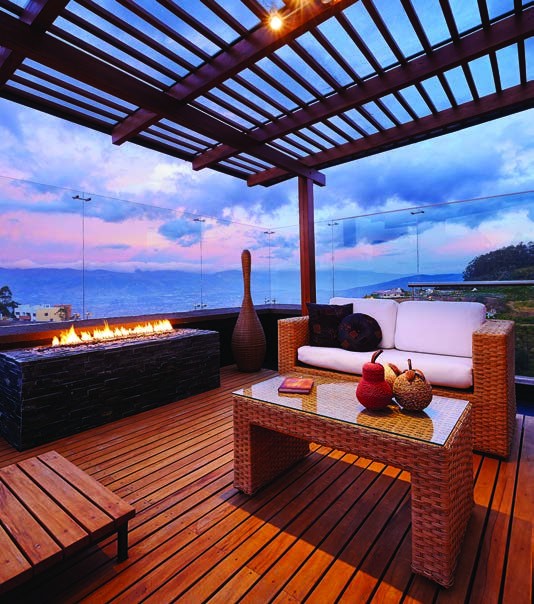 Time spent down the Shore— whether it's a two-week vacation, a long weekend or just a random getaway for the day—is all about enjoying the sunshine and salty air with loved ones. Although most people relish any opportunity to lie in the sand and hear the waves crash, however, the end of a beach day does not mean the party is over.
Just like they have in primary residences, outdoor living spaces have become all the rage at Shore homes. An afternoon of relaxation or even a large get-together is possible with the right planning.
 "Everyone loves the beach, the sand and the sun, but the fun doesn't have to stop when you step off the beach and are back at your house," says Bobby Huber Jr., sales manager at Oskar Huber Furniture & Design. "The perfectly designed outdoor living space needs to have the right furniture [and] the perfect dining area.
 "The real secret to design … is function. Your space should look great and work even better. Spaces that can be used for cooking, dining and relaxing will stand above the rest."
MAKING THE MOST OF YOUR SPACE
While there are certainly large lots to be found, especially in the more affluent Shore towns in this area, in most cases beach houses are going to be close together and yards are not likely to be as spacious as in primary homes.
But outdoor living areas are still attainable, and that's where an experienced designer can make a world of difference.
 "There are some beautiful, large, extravagant outdoor spaces at the Shore points, but there are also people who have smaller spaces and they want to maximize it," Huber says. "A designer who has the expertise can help lay it out by asking the right questions and finding out what your needs are as a homeowner."
Huber adds that homeowners can bring their floor plans to a designer or have the experts come out and measure and get a feel for the space themselves. Either way, it is crucial to be forthcoming about how the outdoor area is meant to be used.
 "When planning the right outdoor space, make sure you think about how you are going to entertain," he says. "I think that's where a designer can really help you. We ask leading questions like: How are you going to use the space? Do you entertain a lot? Is it just your family or do you have a lot of guests? Do you rent out the home?
 "Based on the answers, our designers are able to lay it out properly. The traffic will flow and a smaller space will feel like a larger space with the way it's designed and also with the outdoor furnishings you use. You can really maximize your space with smaller scale furnishings that are still comfortable."
Charles Hessler, vice president of Barlow Tyrie, agrees about the importance of design. Even in cases where it feels like the neighbors are right on top of you, the right elements can make it feel like your own private oasis.
 "A non-permanent privacy screen can be a welcome addition to outdoor living at the Shore, where homes are often very close to one another," Hessler says. "Our Woodland teak privacy screens offer a visual break, and with the use of our optional curtain, create a partition. The built-in, low voltage lighting strips add a touch of interest when the sun sets."
FURNITURE FIT FOR THE SHORE
The lines between interior and exterior furniture have blurred over the years, with homeowners looking to bring the comforts of the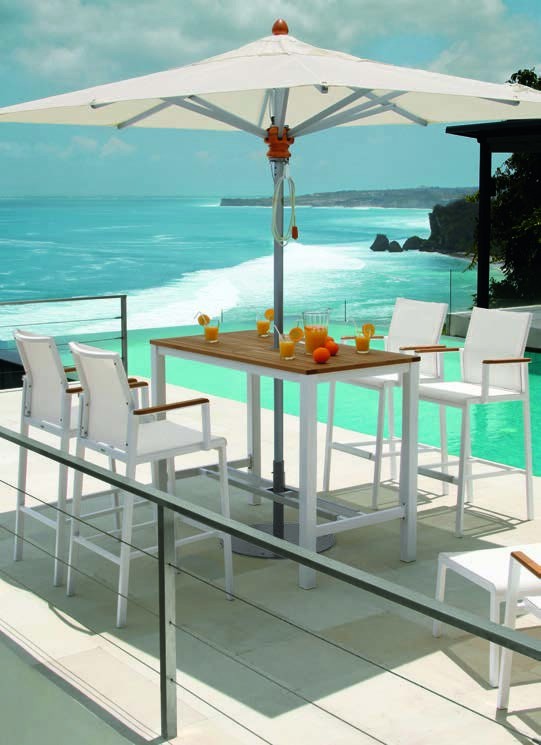 inside to the outdoors. That is also true at the Shore, but at the same time furniture must be able to stand up to the unique conditions of coastal living.
 "The outdoor space is more popular today than ever before," Huber says. "It is considered an extension of the inside and our customers want to design and furnish their outdoor living spaces with the same details as they do the inside of their homes. Furniture that's trending in 2020 flirts with the idea of both interior and exterior looks, designs and styles, so much so that you could take this style of outdoor furniture and put it both inside and outside, and no one would know the difference.
 "Comfort is a timeless trend for interior and exterior and that is no different for 2020. You will find more comfortable, less rigid sofas, chairs and loungers, all while being stronger than ever and able to hold up to some of the toughest elements nature wants to throw at it."
Hessler finds that his clients want furniture that is easy to care for without compromising on the looks.
 "Anything that is low or no maintenance is what Shore living is all about," he says. "You are there to relax and enjoy, not clean and paint rusty outdoor furniture. High-quality teak furniture is probably the best investment to make as it is extremely durable and requires no preventative maintenance. One of our bestselling ranges, Aura, combines painted aluminum frames with first quality teakwood accents and tabletops. The style of the furniture is a personal choice— [whether it's] traditional, contemporary or transitional, [there are] choices across the board."
With a new decade upon us, bold style choices are starting to emerge. Huber points to fabric shades that range across the color spectrum, from "fiery flamingo to mellow mushroom," with classic coastal blues remaining popular and being paired with crisp vibrant whites or calming cool grays.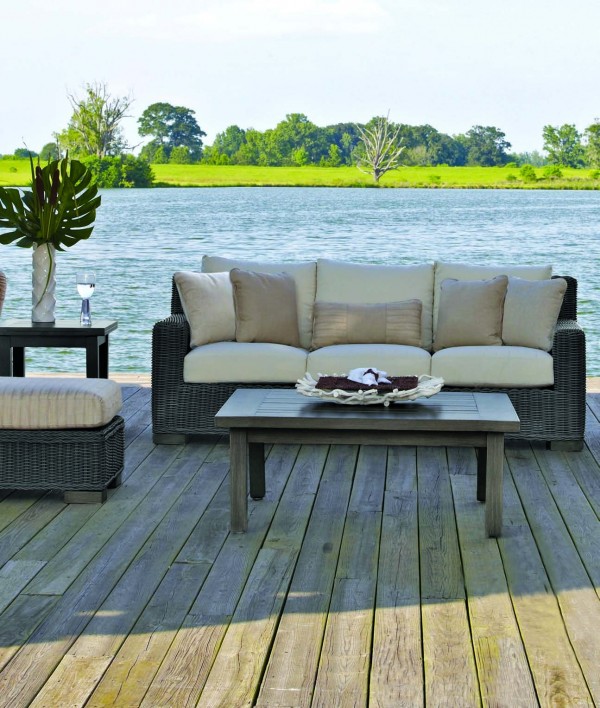 He also endorses the trend of performance fabrics, which are designed to withstand wear and tear and last for years.
 "These high-tech fabrics work like a charm, repelling the toughest spills and stains with ease," Huber says. "Ideal for homes with children, pets and high-impact areas, performance fabrics continue to grow in popularity season after season and are the only option for a true outdoor oasis."
FINISHING TOUCHES
As much as homeowners crave time outdoors in the sun, they also want to be able to escape the rays when it gets too hot. Shade options are therefore a must in any outdoor space.
 "We manufacture several types of shade products that are useful for outdoor living," Hessler says, "including sunshades that cover large areas and large market umbrellas that have optional, movable wheeled bases that keep you in the shade, no matter where the sun is."
Awnings that extend from the house or even pergolas are other design elements often found at Shore homes.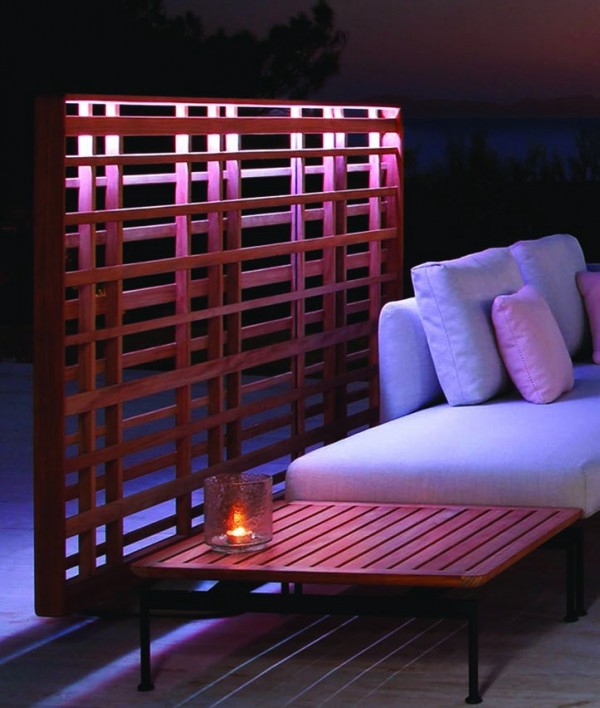 Homeowners can also show off hints of their personality in their outdoor décor. "We all know how finding the perfect area rug or the right pillows makes a huge difference," Huber says. "Lighting can also change the look of the space in an instant, and now the outdoor areas don't have to be any different. All the accents that make a room a home are now outdoor friendly and add just the right finishing touches to your space."
Finally, while most think of Shore season as Memorial Day to Labor Day, others recognize the enjoyment to be had during the spring and fall months. A fire feature can help extend time outside.
 "Outdoor rooms continue to be a 'hot' trend and can be designed for more than just summer use," Huber concludes. "Look to install an outdoor fireplace or add a fire pit that matches your aesthetic. It is perfect for the cool, crisp fall air or early spring mornings. Curl up and relax in the warmth and ambiance an outdoor fire pit will provide, and stay outdoors all year long." 
RESOURCES
Barlow Tyrie
Moorestown, N.J.
(800) 451-7467
BTUSAStore.com
Oskar Huber Furniture & Design
Southampton, Pa.
(215) 355-4800
Ship Bottom, N.J.
(609) 494-8127
OskarHuber.com
Select images courtesy of Oskar Huber Furniture & Design and Barlow Tyrie.
Published (and copyrighted) in House & Home, Volume 20, Issue 6 (Spring 2020). 
For more info on House & Home magazine, click here. 
To subscribe to House & Home magazine, click here. 
To advertise in House & Home magazine, call 610-272-3120.