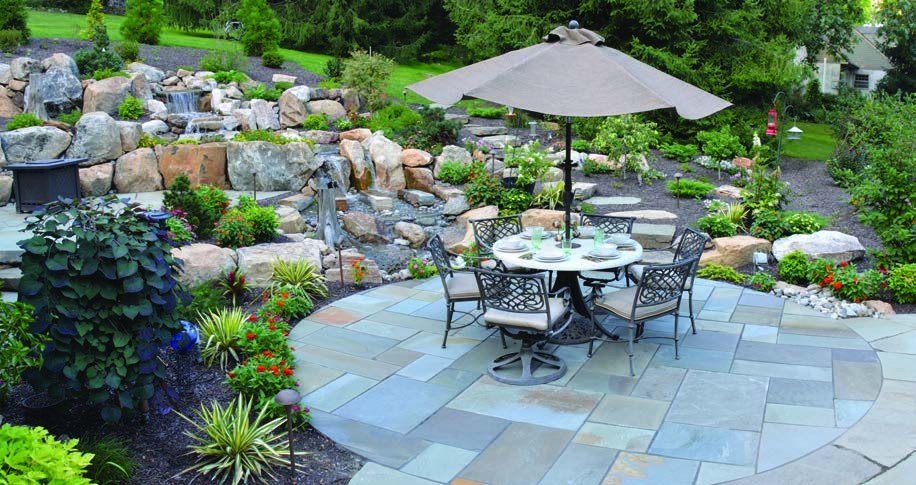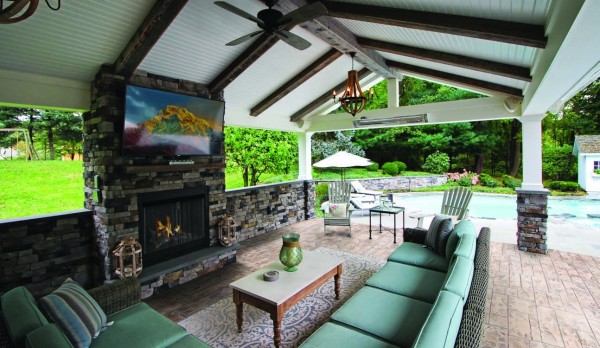 Spending time together outside is a common occurrence for families, especially in the warmer weather that we are entering now, but even more so since the COVID-19 pandemic started. With all this time outside, homeowners may be thinking about redoing a walkway or patio, or starting a brand-new project from scratch.
One of the first things to decide on is the hardscape design. From decorative structures such as benches and stones to practical structures such as patios and walkways, there are a wide variety of materials to choose from in many different styles to make your front and/or backyard look like it was taken right out of a magazine.
House & Home spoke with experts who discussed all the materials available, what homeowners should be mindful of before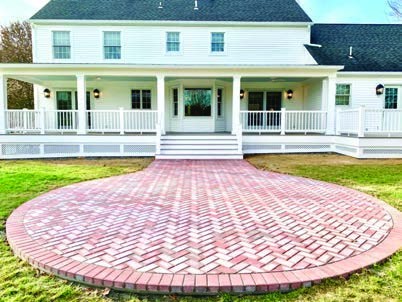 starting a project and other elements to help complete the space. 
Jarrod Nyce, owner of Nyce Crete and Landis Block & Concrete, says one of the ways hardscaping can define your space is by creating privacy.
 "You can use hardscaping to build up, drop down or even to close off a defined area," Nyce says. "Privacy walls to seating, or knee walls are also ways to define your outdoor living space. Combined with landscaping, you could make your area as private or open as you wish."
Vic Fiore, owner of Magnolia Home Remodeling Group, says in many cases manufacturers can produce a retaining wall that can coordinate with other hardscape areas of the project.
When it comes to other areas, such as patios, walkways and driveways,  Fiore says his clients are choosing pavers for the cost and functionality.  
 "The technology and design of these paver products can give you a look similar to natural stone," he says. "Sometimes it's a lot more functional. Pavers from 20 years ago were very basic, and today they have a wide range of colors, textures and sizes. Years ago you might have been limited to a few basic sizes, only 6 by 6 or 6 by 9, but now there are large slabs. There are some very interesting shapes and a lot of natural-looking  textures, so it's a very durable, long-lasting product, with little or no maintenance and it's fairly easy to install for most contractors—especially in the Northeast. It's a more forgiving install with different stages of climate, temperature and other related factors."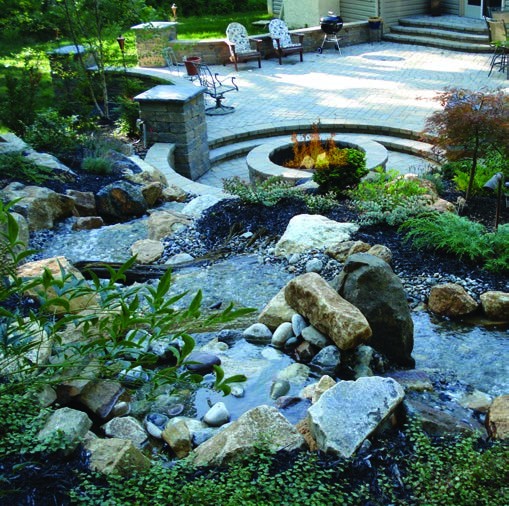 In addition to these benefits, Fiore notes the wide variety of colors pavers offer. "The colors are unbelievable and the design possibilities are endless. You could do multiple borders, use different shapes and sizes and blend them together," he says.
John Fossett, project manager with Turpin Landscaping Design/Build, says more of his clients are going with Pennsylvania bluestone, either in a pattern or irregular style.
 "There are a few different kinds," he says. "There are a lot of brown colors throughout Pennsylvania bluestone and some blue. With the full color there's more of a mix of blues, grays and earth tones; sometimes even brown or rust. That is a pretty common stone we use."
Fossett says bluestone is natural-looking stone and is very durable, which is important for its longevity. "[Bluestone] is quarried right out the earth, so it's not going anywhere," he says.
Whether the homeowner is looking for a more traditional, rustic or modern look, there are materials that suit everyone's style and taste.
 "We carry two different styles across most of the lines, pavers and retaining walls," Nyce says. "Renaissance, which is more rustic, and kingscourt/splitface, which is more traditional. The more modern look is large format, which means they are larger than normal pavers and cover more area. They come in many different patterns from wood planks to large garden steps."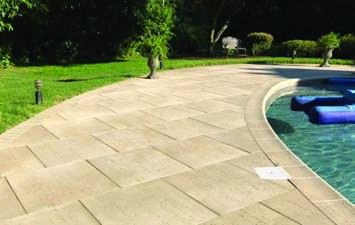 Materials such as river stones, crushed stone and mulch can frame areas to give a decorative, completed look.
 "We have also done a combination  of flagstone and gravel," Fossett says. "We can do large spaces in the irregular flagstone patios, and have large joints where we put river rock and basically we glue the mix in the river rock called GravelLok, so you can have decorative gravel on the patio." 
Certain materials work better in specific areas in the backyard, such as an inground pool for example. "We offer epoxy flooring, granite coating and a quartz flooring system called Graniflex—they work really well around the pool deck," Anthony King, owner, Keystone Decorative Concrete, says. "Graniflex is durable, crack resistant and has a whole different look. It has a salt-and-pepper look and also comes in a lot of different colors."
 "Pavers and travertine are what we commonly use around pool decks because they are designed to stay cool in the sun," Fossett says.
A trend Steve Compton of CKC Landscaping is seeing with his clients is coming back to their homes for a second or third phase to install the exact materials and finishes they want. He says he's already had three projects where he went back to the property much later to complete phase two with the goal of  creating the ultimate outdoor living experience.
 "One example is we planned a high-end project two years ago. When we were hired, we put down the foundation and footings for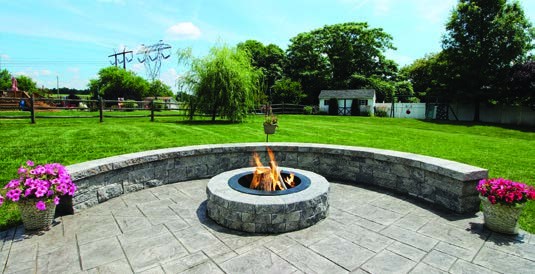 future phases. We installed steps and a flagstone patio," Compton says. "Earlier this year we went back and added all of the vertical elements—custom natural stone, pillars, walls, fireplace, custom railings,  lighting and landscape. We could have given them all the components in phase one, but would have had to sacrifice material and gone with the lower-cost alternative. This client wanted all high-end finishes and it's a compromise they made to get it done over 24 months. It's marrying budget with aesthetics of materials and the overall plan."
Before any materials are chosen, Compton says there is one thing that is the most important part of these projects, and the majority of homeowners don't think about— stormwater management.
 "From the consultation on day one, right off the bat I ask myself these questions on the homeowner's property," he says. "Where does water come from when it rains? Where are the roof drains? Where is it coming from over the terrain, and how do I manage that so it's not changing the natural course of water flow and also not going to damage or undermine the work we will do?"
Compton says figuring this out before starting a project will stop potential major problems from happening down the road.
 "It's very important," he says. "All of a sudden there is moved earth and potentially there is water coming through your backyard that never did before. We figure out how to tighten these problems before the project begins."
Of course, there are many finishing touches to an outdoor living project that truly complete the space. "Pergolas are a great way to throw shade or block the sunlight without being under a roof," Nyce says.
 "A popular item to make it an inviting space is a fire pit, which can be made in coordinating colors by paving stone manufacturers," Fiore says.
With endless options to make your outdoor living area a one-ofa-kind space, now is the time to make the rest of your moments in quarantine and beyond with your family more fun and memorable.
 "In our current environment, people have been forced to stay home," Nyce says. "We have been promoting outside living spaces for years so this is what people are looking for and designers are providing."
RESOURCES
CKC Landscaping
West Chester, Pa.
(610) 436-1810
CKCLandscapinginc.com
Keystone Decorative Concrete
East Earl, Pa.
(717) 344-5476
KeystoneDecorativeConcrete.com
Magnolia Home Remodeling Group
Serving all of Central and North Jersey
(855) 624-6655
MagnoliaHomeRemodeling.com
Nyce Crete and Landis Block & Concrete
Souderton, Pa.
(215) 723-5506
LandisBC.com
Turpin Landscape Design/Build
Coatesville, Pa.
(610) 389-1119
TurpinLandscapeDesign.com
Select photography courtesy of Keystone Decorative Concrete, Magnolia Home Remodeling Group, and Turpin Landscape Design/Build.
Published (and copyrighted) in House & Home, Volume 20, Issue 10 (April/May 2020). 
For more info on House & Home magazine, click here. 
To subscribe to House & Home magazine, click here. 
To advertise in House & Home magazine, call 610-272-3120.