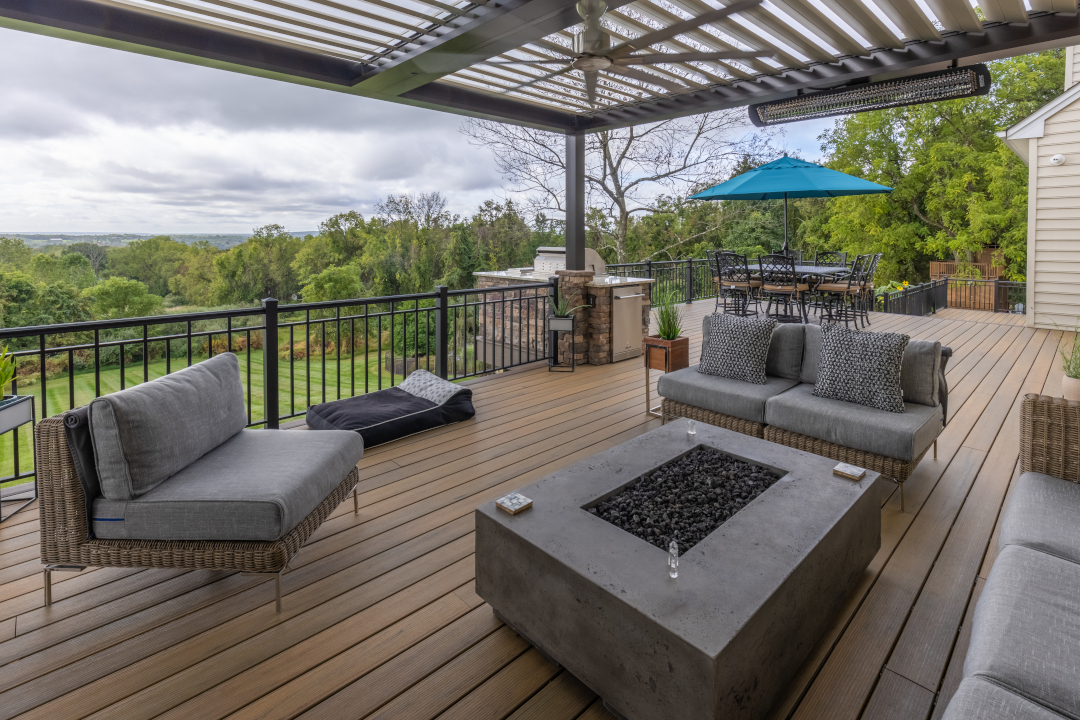 Paradise has never been as close to home as it has in the past couple of years. Homeowners have been opting for staycations and creating outdoor living spaces with all the features of a five-star resort. Professionals in the industry say there's no sign of this slowing down and urge people to make a plan now.
We spoke with a variety of professionals who offer a range of services in the outdoor living industry about what elements they may want on their master plan and how to figure out what's right for their lifestyle.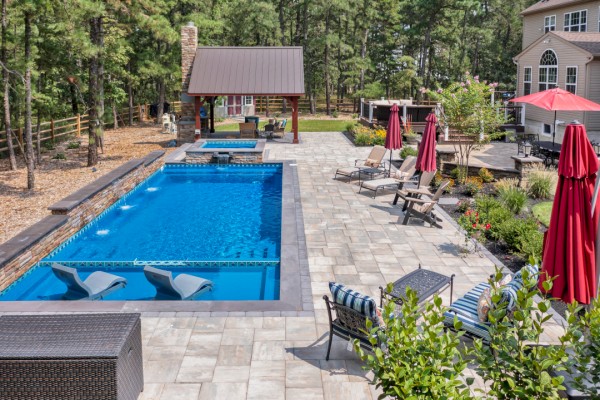 Preliminary Ideas
Any project's success relies on a solid foundation of understanding between the client and designer/builder. Amazing Decks puts a great emphasis on the planning stage. While some potential customers will ask for estimates over the phone or through email, it is important for the designers to personally visit the site and get to know the homeowners.
They will ask questions regarding the size of their family, how often they entertain, whether they plan to add a pool, etc. The company has often been called upon to fix mistakes by other companies that did not design a backyard space properly. Co-owner Bill Wilson says the space should not only work now, but in the future, should the homeowners want to add to the space or decide to sell the home.
"We're interviewing them just like they're interviewing us," Wilson says. "Our initial meeting is very easy-going. We get to know the client and find out how they're going to use the space. Then we're able to tie everything together and design something in the backyard that they're going to use. It doesn't have to be expensive; it just has to be designed right."
Michael Pasquarello, degreed landscape architect at Elite Landscaping, says homeowners should ask themselves: "Do they see the space being used just for their immediate household or to include extended family and friends? Which seasons are the spaces to be utilized?" This would ensure there's enough space for everyone and also signal if infrared heaters or fire features should be incorporated, he says.
"Each project is different," says Michael Tarleton, owner of TLC Landscaping. "I take into account the size of the yard, where the sunlight hits. ... We also listen to what people want because a backyard plan for a couple nearing retirement would be different from a family with babies or teenagers."
Decks and Patios
The structure of a home may naturally lend itself to a deck if a back exit is raised off of ground level, but both a deck and patio can have a place in an outdoor design if desired.
"Our designs are unique," Wilson says. "We also integrate other materials, like paver patios or bluestone. Maybe the backyard doesn't just call for a deck; maybe it calls for a combination of the two. Even though we're a deck company, we have to be honest with the customer and tell them what will work best."
Joseph Kalnas, owner of My Deck, says his company uses cutting-edge materials. "We use steel framing, helical pier footings, composite or PVC decking and custom aluminum railings. This gives homeowners the best build possible and allows us to build almost any design you can imagine," he says.
"Your deck area, more and more, is an extension of the house," says Omar Stoltzfus, director of sales and marketing at Deck Craft Plus. "It's a place to host parties, to hang out with family and friends, to grill on a nice day. In today's market, the only limit is your imagination."
Patios have their merits, as well. "A ground-level patio adds more privacy especially in fenced-in rear yard spaces," says Pasquarello. "Stone/paver patios can also be elevated but that does drive up installation costs exponentially."
If longevity is top of mind, Tarleton says stone will outlast any deck material. "Even Trex can warp or fade. Stone lasts pretty close to forever," he says.
If that's the route you go for your outdoor space, there are several materials to choose from, depending on the desired look and function.
"You can never go wrong with natural stone," Pasquarello says. "It's been around for millions of years and has a timeless appeal. The look of stone veneer on steps, walls and outdoor fireplaces adds a touch of elegance to patio spaces. Pennsylvania Bluestone is another geographically local stone that looks great for patio floors and step/wall caps."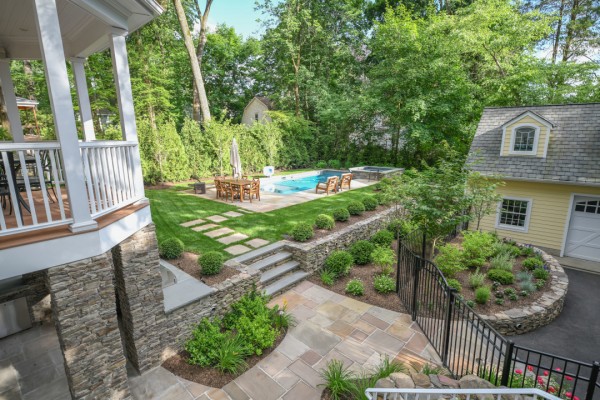 Concrete is another option with lots of versatility, says Adam Myers, residential sales lead at Architectural Concrete Design. "Concrete is an incredibly durable, cost-effective and low-maintenance material, especially when compared to natural stone and pavers," he says. "One of the main strengths concrete has in comparison to other hardscaping materials is the fact that it is installed as a monolithic surface. Having a solid plane and a hard surface without gaps between individual pieces allows for water to be better controlled, and limits penetration. Once water penetrates through degraded polymeric sand, or chipped grout, it will expand, contract, and begin to move any individual pieces that are not bound together. All these properties show why concrete is the most popular selection out of all the hardscaping options to be used around pools. When working with areas that will always be wet, such as a pool deck, it's best to use a surface with a safe texture that can be pitched to control runoff and resist water penetration."
Concrete can take on many looks, Myers adds, with the application of stains and dyes, color hardeners or by coloring the concrete integrally. "When done correctly, these various techniques can allow for concrete to stand out as a show piece or incorporate surrounding colors and textures into the slab to complement existing stone, stucco or siding. ... Stamped concrete can continue to look great after 20 years if maintained properly. Installation with reinforcement, strategic sawcut control joints and application of a sealer are a few ways ACD makes sure a new pour will continue to look good and stay structurally stable for years to come."
Before committing to any outdoor surface, Kalnas advises: "Always look for a licensed contractor specializing in building decks and/or patios. Research their ranking level through manufacturers and then I would take a trip and visit their showroom."
Fencing
Although a fence can seem like a finishing touch on an outdoor space once the overall living area is complete, Lou LoPorto, product specialist at Progressive Fence and Rail, says a fence should be discussed at the beginning of a project.
"There are so many ways people can enclose their backyard paradise and so many aspects to consider," he says. "If they plan on putting in a pool, there are specific fence regulations to follow. If they have a dog, the gate should swing a certain direction to prevent the dog from jumping onto it and pushing it open."
A fence immediately makes people feel safer, says LoPorto. "It keeps other people and animals out, and keeps your pets and kids in. It makes you feel good about sending them outside to play."
While a fence also defines your property limit, it can dispel any awkwardness with neighbors. "One main thing we've heard from people since they've been home so much is how they feel like their neighbors are always around. It's awkward because you can be outside barbecuing and you feel obligated to invite them over. But it can be equally as awkward putting in a complete privacy fence and risk offending them," LoPorto says.
Fortunately, he has solutions for every scenario. "We're going to ask you about your relationship with the neighbors and what your needs are. We can do anywhere from picket fencing to full privacy, or semi-private where the top one or two feet of fence is decorative and can still allow conversation with the neighbors," he says. "Some people have woods around them and want to be able to enjoy that view, so we can suggest an aluminum fence that doesn't obstruct the view but still gives security. We tailor everything to your situation."
Fun Features
Professionals say various features will make the space more useful and enjoyable.
LoPorto recommends solar caps on fence posts, as well as a retractable awning over a deck or patio to provide instant protection from rain or sun.
Stoltzfus says, "If you're looking for shade, a pergola with a canopy is a good option. If you want protection from the rain, then you should get a roof. If you want protection from the bugs, you should get a screened-in porch, which can even be an all-season room with heaters to enjoy the cool spring and fall days."
These days, almost no outdoor space is complete without a kitchen and fire pit/fireplace. "Every project I'm doing has one of these," says Tarleton. "An outdoor kitchen gives the grill a home and gives the host a bigger serving area. ... For fireplaces or fire pits, you have to think about size, safety and budget and what you're looking for."
In the end, Tarleton says homeowners should be open to change in their plan. "You're not stuck to what's on the paper. The person you hire does this for a living and may make suggestions on what might work better. Generally they are leading you in the right direction."
Resources
Amazing Decks
Ambler, Pa., and Flemington, N.J.
(800) 220-3275
AnotherAmazingDeck.com
Architectural Concrete Design
Levittown, Pa.
(866) 956-2818
ACDConcrete.com
Deck Craft Plus, LLC
Honey Brook, Pa.
(610) 273-3317
DeckCraftPlus.com
Elite Landscaping
Berlin, N.J.
(856) 753-1944
EliteLandscaping.com
My Deck
Flemington, N.J.
(908) 713-1000
MyDeck.com
Progressive Fence & Railing
Egg Harbor Township, N.J.
(609 449-8079
ProgressiveFenceAndRail.com
TLC (Tarleton & Family) Landscaping
Midland Park, N.J.
(201) 321-2421
Tarleton-Landscaping.com
Published (and copyrighted) in House & Home, Volume 22, Issue 3 (Spring 2022). 
For more info on House & Home magazine, click here. 
To subscribe to House & Home magazine, click here. 
To advertise in House & Home magazine, call 610-272-3120.