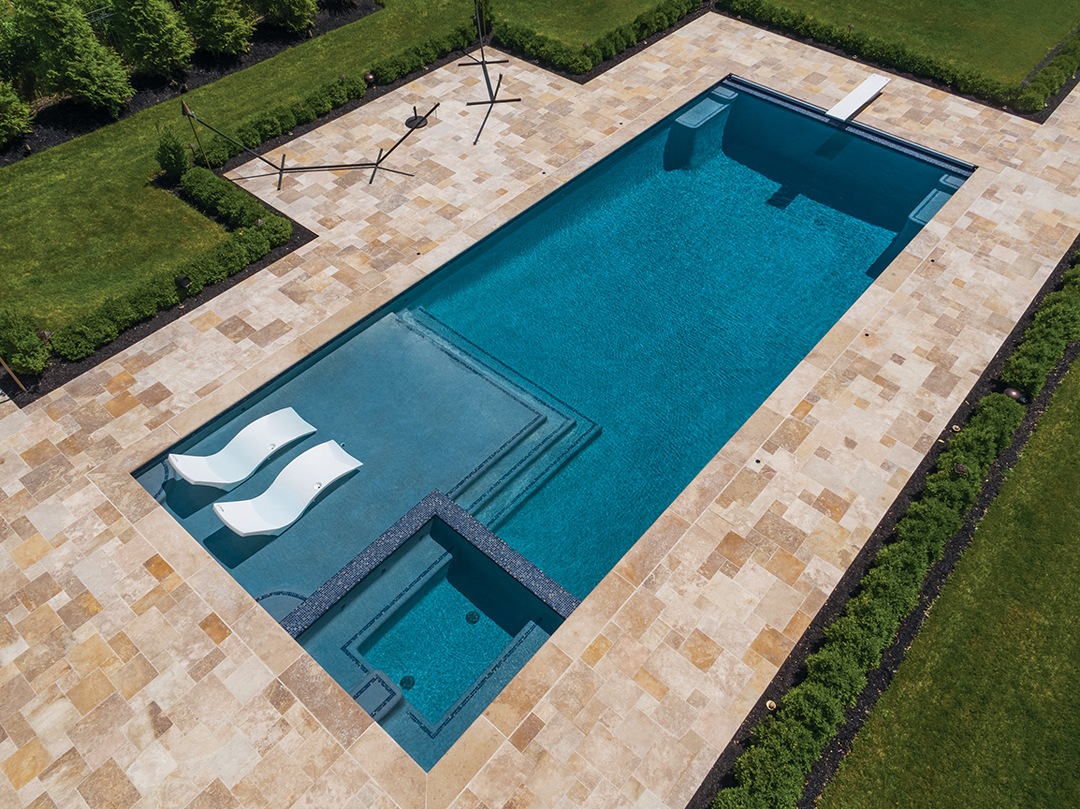 For many years, finding a home at the Shore with a swimming pool in the backyard was a rare occurrence. After all, the thinking went, the ocean is just a short walk or drive away—is a pool really necessary?
That mindset has started to change over the past decade or so, with new construction sprouting up all over the coast and homeowners desiring the same amenities that they may have at their primary residences. If the property is one they will be renting out as well as enjoying themselves, the existence of a pool will certainly add to its appeal.
There are different challenges to building a pool in a coastal community compared to inland, to be sure, but fortunately this region is home to many qualified contractors who have experience with the obstacles that may arise. Take Tom Braun, for example, who started his company, U.S.A. Pools, in Pennsylvania in 1989 and worked mostly on the Main Line until moving to the Jersey Shore with his family in 2002. Now, he's installed hundreds if not thousands of gunite pools in Shore communities.
"I had to adapt and learn how to dig with water filling in the hole," he says. "Aside from that, it's pretty much the same process, but the biggest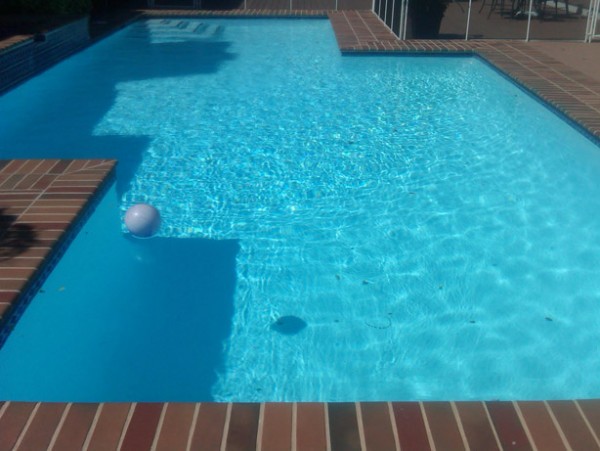 difference is, we're working on 50-foot lots, sometimes 25-foot lots, as opposed to working on a property that's an acre or several acres. Trying to do something custom in a small area takes a lot of thought in order to come up with something that doesn't just look like a cookie-cutter rectangle."
House & Home spoke to Braun and several other professionals to learn more about the important steps to take when installing a pool at the Shore.
Adjusting to the site conditions
One of the major issues when adding a pool in a coastal community, and the first to address, is the differences in the land it's being built on because of its proximity to the ocean or the bay. This shouldn't deter homeowners from beginning the process, according to Walter Beyer of Stardust Pools, but he recommends doing your homework to find the right contractor.
"It's all sandy soil, so the closer you are to the ocean, the higher the water table is," he explains. "A lot of pool companies stay away from doing it, because it's a lot more work. You need to put a dry well under the pool to control the water and to build the pool. So it does take longer, and it is a little more expensive, but not dramatically more – maybe $5,000 or $10,000, tops, if the water is real bad… We've been doing it for 63 years and we deal with water every day, so it's not an issue at all."
Nick Erman of Evergreen Pros agrees that knowing the site conditions is critical and adds that conditions may vary by property, with homes by the bay often experiencing a higher water table than those that are oceanfront. His company specializes in fiberglass pools, which join gunite, or concrete pools, as the best options for the Shore.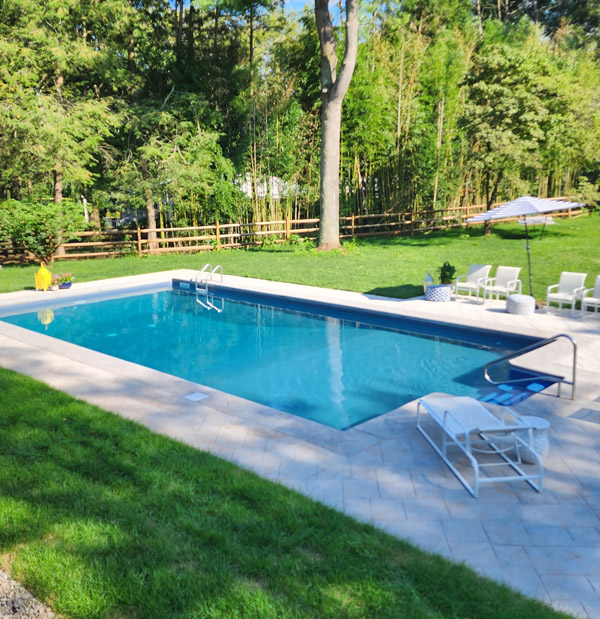 "When an experienced pool contractor begins the excavation process, they may experience high water table conditions at depths between 3 to 5 feet," Erman says. "When this occurs, the contractor begins a process called dewatering. The contractor installs a high-flow water pump in the hole and the water is removed from the hole. Stone is added to secure sand walls from falling back into the excavated area."
"Once the area is excavated, the fiberglass pool is immediately installed and filled with water. The weight of the pool water keeps the pool from lifting or popping out of the ground. Lifting or popping occurs when the groundwater beneath/around the pool is greater (hydrostatic pressure) than the volume of water in the pool. [If that happens], the groundwater pushes the pool shell upwards, at which time the pool shell must be lifted and re-excavated and leveled."
Managing the water is an ongoing process, Erman says, and can be monitored by installing a permanent wellpoint system, which consists of an 8-inch plastic pipe installed a foot beyond the deepest end of the pool and later capped.
"The wellpoint will be used in the future to remove the groundwater under the pool with filter fabric and clean stone," he says. "The wellpoint is used before a homeowner or contractor removes the pool water (to add tile design, for example). This ensures no lifting or pool popping issues."
Working in tight spaces
Since most Shore towns have houses built right on top of each other on small lots, it can be difficult to even get all of the necessary equipment and parts into the backyard for the installation.
"For [fiberglass pool contractors], it can be a real challenge, because sometimes they have to crane in the pools since the shell is so big," Braun says. "For us, we only need as little as 5 feet, and we can get in somebody's yard with a machine big enough to dig a hole and a machine big enough to haul the dirt out. It is a challenge, it's a lot harder than it would be inland, but once you get situated and do it on a regular basis, you get accustomed to it. You just have to make sure you don't hit the neighbor's fence or damage anything – it's always a challenge when you're using machines on other people's property."
Braun does all of the design work for his company and enjoys coming up with an idea that is unique to each customer's property. Beyer also says customization makes for unusual shapes for Shore pools.
"One that I just built was 12 feet wide, then it went down 30-plus feet, then it made an L," he says. "The owner wanted to get the maximum he could out of the yard. When we sign on to do a pool down there, we send it to the engineers and then they come back with the impervious coverage and how much pool you can put in the yard."
That is an advantage to working with gunite pools, whereas fiberglass pools are limited to a certain set of sizes and shapes.
"[With gunite], the shape can be customized to fit your backyard," says Mike McCool of Swim-Mor Pools. "We can work around different parts of your backyard to create a more natural-looking backyard. And the finishing touches simply bring everything together."
Amenities and equipment
Just like with pools in other parts of the region, homeowners today are seeking a resort-style experience in their yard, and that leads to the kind of amenities they add to their project.
"The most popular add-on is a hot tub or spa attached to the pool," Braun says. "Second to that—and in our case, it's not an add-on, it's included – is a sun shelf, which is a shallow part of the pool that you can use as a kiddie pool or a place to sit in a lounge chair. My mom is 87 and she's not going swimming, but she'll sit in an Adirondack chair and have her feet in the water on a sun shelf.
"All of the LED lights are also a popular option, along with LED waterfalls. After that, it's more about designing the room to fit around the pool. Cabanas are real popular right now with a TV outside, so you can float around in the pool while watching TV. Under-counter refrigerators and a place to make drinks or put food out are also popular."
Experts say that most of the standard equipment is suitable for Shore pools, but because of the weather conditions, checking the water levels regularly is a must. Properly winterizing the pool at the end of the season is crucial as well.
"Winterizing your pool is the process of readying your pool for winter weather when the pool is not being used," Erman says. "It prevents damage to the pool and helps the pool to be ready next season. You need to winterize your pool if you live in a four-season climate and experience snow, sleet or freezing temperatures. Winterizing involves removing all water from the pool pipes, filters and pump, [adding] chemicals and [skimming] the water."
Don't delay
On the late-summer day that Braun spoke to House & Home, he had already met with four prospective clients about installing a pool for next summer. Now is the time to begin the process to get full use of the pool next year.
"We do all of the permitting, so let us get that done, and as soon as we get you on the list, if we can start between October and February, the pool is going to be done before Memorial Day," he says. "If we start in March, now it might not be done before Memorial Day, and June 15 is more likely. If we start in April, then your target date is the Fourth of July.
"The volume has been incredible since the pandemic, so the earlier the better. What used to be a good year down here for us was 40 pools, and for the last four years we've built 80-plus, and over a hundred in two of those years… So we advise everybody to start your project now. It's a Shore house and you're not going to be here during the winter, so let us get the gunite in the ground and as much as the work done as we can during the cold months, and as it gets warm we can do the finishing details. This way, you're ready for the season and it's one less headache."
And when the pool is finally in, the results speak for themselves.
"It immediately increases the rent per week and it immediately increases the value of the home, because the average person wants to buy a house down the Shore with everything already in it," Braun says. "We've had customers who sold their townhouses side by side for literally $200,000 to $250,000 more than another house that doesn't have a pool, because people don't want to go through the aggravation – they'd rather buy it complete."
"It has always added value here at the Shore to any house, and since the pandemic, I've read a few national publications that said it's added value to any neighborhood, because people are concerned that if there's going to be another shutdown, they want to have all of the amenities they can at their home. So now they're looking for houses with pools, whereas 30 years ago it wasn't as popular."
Resources
Evergreen Pros
Cologne, N.J.
(609) 214-8552 • (609) 652-0646
EvergreenPros.com
Swim-Mor Pools
Mount Ephraim, Northfield and Millstone, N.J.
(800) 794-6667
SwimMor.com

Stardust Pools
East Brunswick, N.J. | (732) 254-3330
Stardust-Pools.com

U.S.A. Pools
Avalon, N.J. | (609) 368-1900
USAPoolsNJ.com
Published (and copyrighted) in House & Home, Volume 23, Issue 10 (August 2023).
For more info on House & Home magazine, click here.
To subscribe to House & Home magazine, click here.
To advertise in House & Home magazine, call 610-272-3120.