Summer and warm temperatures in the coming months mean more time outside enjoying the weather, and for pool owners, that also means it's time to start thinking about opening your pool. But what will you find when you lift the cover off your pool? Inside the pool and the surrounding area could be in the same shape it was last season and all that needs to be done is cleaning and a little maintenance, but there's also a chance cracks and/or foundation issues have formed last fall or winter or mechanical equipment has failed. 
The experts we spoke with unanimously agree that now is the time to check under the cover, fix any repairs that need to be done and start renovations—not only so you aren't stressed come summertime with your pool not being ready to use, but because this is busy season for pool companies and many of them already have quite a few appointments booked throughout the spring.
"Right now is the ideal time to address repairs, that way you are able to get it done before swim season starts in May and everything is good to go for the summer," Mike McCool of SwimMor Pools says. "If you wait a little bit too long, companies are going to get busy and repairs won't happen in time. Spring is a big time of year for repairs and renovations." "If people open their pool up and find a problem, most struggle through the summer unless it's something that can be taken care of immediately," Tom Heath of Pugliese Pools says. "If you have a problem, take care of it as soon as you can."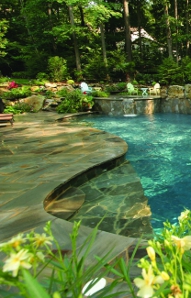 Dominic DiCesare of Blue Haven Pools & Spas, says the majority of the repairs he comes across didn't happen overnight, and pool owners shouldn't put off making the necessary repairs any longer.
"In most cases, people have been living with the issues for some time, and most repairs go hand-in-hand," he says. "Plumbing issues can be caused by improper maintenance or ground movement. On the electrical end of it, grounding and bonding of the pool is very important and should be checked periodically. In regards to decking, ground movement p lays a factor in settling or cracks in the deck. If you have tile falling, nine times out of 10 the pool coping is moving which is causing the tile to fall off."
"If the coping and tile are old, they can easily be replaced inmost circumstances which also leads to re-plastering the pool with a change in color and texture," Steve Yanulavich of Garden Patios Inc. says.
McCool and Heath say when replacing equipment such as pumps and lighting, clients have more options than ever before because of the energy-efficient products that are available today, which could mean fewer repairs in the future and possibly saving money. "Equipment is changing so frequently now with more energy-efficient lighting, variable pumps and low-voltage speed pumps," McCool says. "Pumps give you variable speeds to save energy," Heath says. "With a variable speed pump, it uses the lower speed part during the day during the pool's filtering when the pool is in operation mode and not using a lot of electricity. That's very popular today."
There is a plethora of other energy-efficient and more technologically advanced products these experts recommend when renovating your pool, such as an ozone and UV system offered by DiCesare and McCool that helps sanitize your pool water. There are also automated features in your pool that work directly with your smart phone that you can adjust any time of day.
"These features are one-touch away to turning the pool lights on, adjusting the color of the lights and also connecting to the landscape lights as well," Yanulavich says. "The phone will also be used to turn on the heat to your pool/spa and have it ready for you before you get home from an exhausting day at work."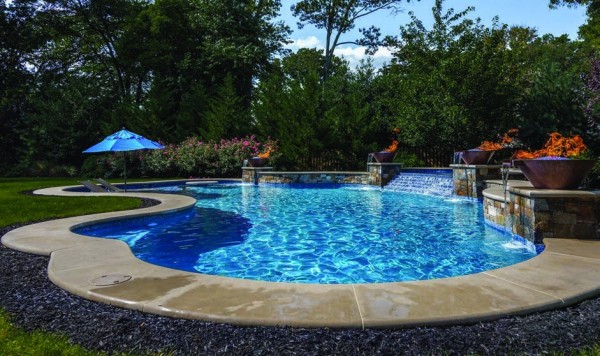 Heath says although a salt water chlorine generator has been around for over 40 years, more people are becoming aware of it now and it is "the way to go today where you don't use conventional chlorine."
"It converts salt into pure chlorine and you get no side effects —no burning eyes, no bleached hair, no smell and you don't have to buy chlorine," he says. "It saves a lot of money and it's the best purification a pool can get."
When going through extreme repairs or buying a home with a pool that was neglected for years, you may want to consider a remodel and/or adding other elements to make it a true outdoor living space, something that many homeowners are gravitating toward these days.
"Once the inside of the shell of the pool comes together and flows in a certain color pattern, not too long [after that] we start to think of how we can bring the entire project together. We really can make it come alive by adding other components such as a larger pool deck, outdoor living area with a bar or a fire and water feature in addition," Yanulavich says. "All of these items can be thought through with a pool design professional, which would be presented in 3D visual."
Don Panetta of D. Panetta Contracting, also presents his clients with a 3D image of their pool after design ideas are discussed. "The 3D image shows the whole project before we even get started," he says. "We design it within their needs and they have a full understanding of the total project to scale, and they also have comfort seeing what the project looks like before it's executed."
In addition to making the pool an outdoor living space, some of the latest trends pool owners are having installed in their pools are water features, custom slides, shallow lagoon areas, grottos, swim-up bars, and custom pool plaster finishes such as quartz, pebble and glass, says DiCesare.
"Infinity edges where water cascades over one wall are very popular, and so is a beach entry," Heath says. "The shallow end meets with the patio and people enter the pool without steps or maybe a combination of steps and a slope."
"I am seeing more rectangles and sharp edge pools to give an ultimately modern feel," Yanulavich says. "The other direction homeowners are more frequently considering when constructing a pool is to make the pool completely fun for the kids. By having a natural pool with lots of curves and water features such as rock waterfalls and caves in addition to grottos incorporated into the pool, this embraces total family entertaining at its best."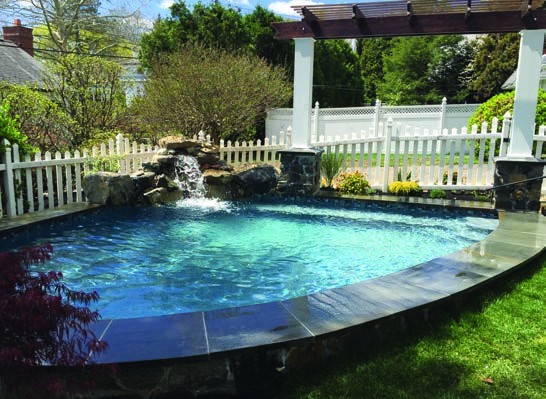 Family entertaining and relaxation are the main reasons why homeowners have pools, and once the repairs and remodel are complete, your oasis might become the favorite part of your home.
"Instead of staying inside in the air conditioning, you can enjoy the hot summer months outdoors and vacation in your own backyard all summer long," Panetta says.
"You have a pool so you have a vacation or staycation in your own backyard versus going to the swim club and having to deal with traffic at the Shore," McCool says. "You are able to walk out the back door and have a mini vacation."
RESOURCES
Anthony & Sylvan Pools
Multiple locations serving
the tri-state area
(877) 729-7946
AnthonySylvan.com
Blue Haven Pools & Spas
Multiple locations serving
the tri-state area
(215) 996-0900
BlueHaven.com
D. Panetta
Contracting, LLC
Randolph, N.J.
(973) 659-9374
DPanettaContracting.com
Del Val Pools & Spas
Turnersville, N.J.
(856) 629-2999
DelValPoolsAndSpas.com
DS Pool Service, Inc.
Royersford, Pa.
(610) 948-2000
DSPoolService.com
Garden Patios Inc.
Quakertown, Pa.
(215) 953-7422
GardenPatiosInc.com
Pugliese Pools
West Orange, N.J.
(800) 428-7946
PugliesePools.com
Swim-Mor Pools
Serving the Delaware Valley
(856) 456-3332
SwimMor.com
Published (and copyrighted) in House & Home, Volume 18, Issue 9 (March 2018).
For more info on House & Home magazine, click here.
To subscribe to House & Home magazine, click here.
To advertise in House & Home magazine, call 610-272-3120.