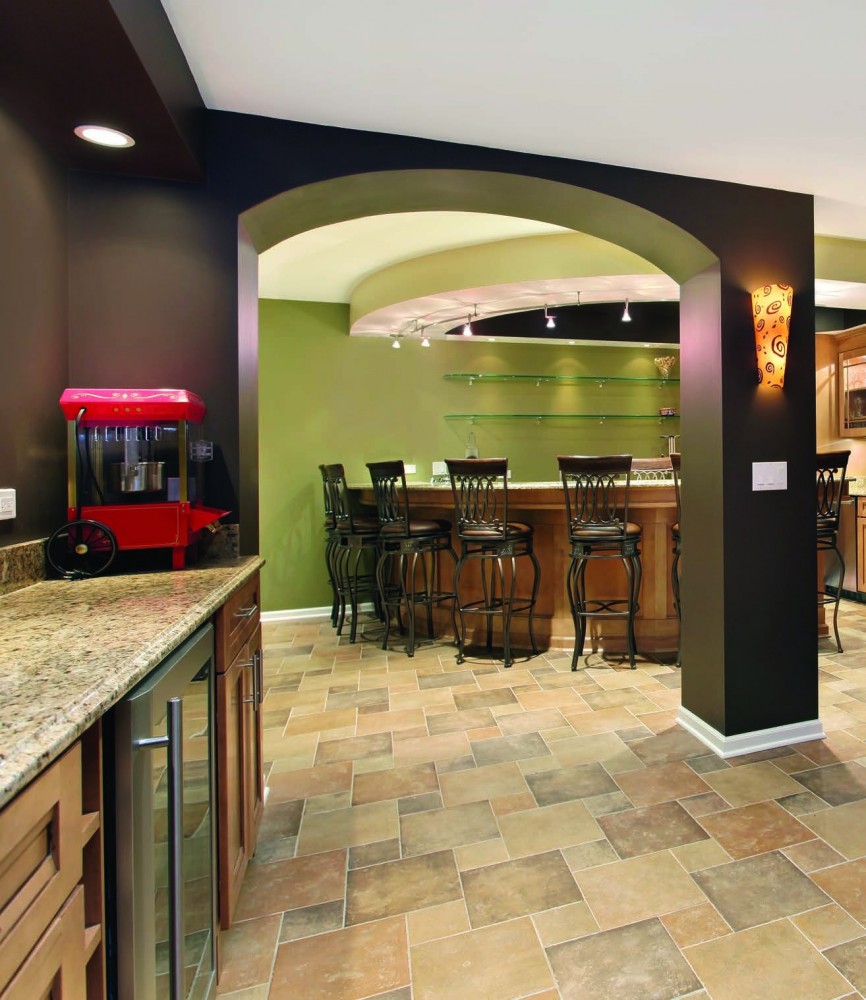 KITCHENS ARE KNOWN TO BE THE HEART OF THE HOME AND BRING FAMILIES TOGETHER, but a finished basement is the ideal place to gather family and friends to watch the big game, have movie nights and be the ultimate hangout space away from the main living areas in the home. It's also the area where you truly make this space extra creative and personal, having the ability to create a certain theme that ties into every piece of furniture and fixture throughout the basement.
Having this large space also gives you the options to add a full bathroom or even an extra bedroom, making it a complete living area where it's easier to have company stay over.
The industry professionals we spoke with went into detail about their clients' incredible basement transformations that not only are aesthetically pleasing to the eye, but fixed problems such as leaks and mold residue, and the final results are more practical for each homeowner.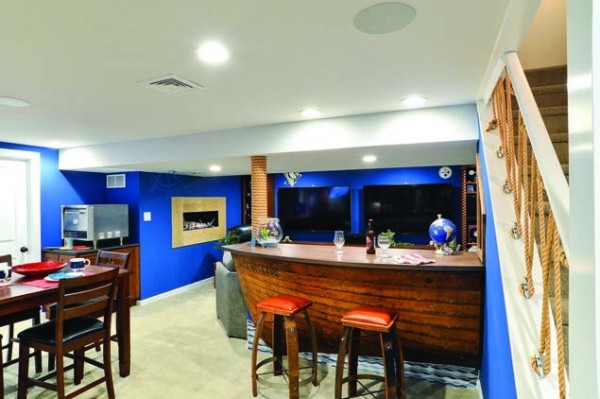 NATURALLY NAUTICAL
"This is a 1930s house and the basement had been finished in the '70s and was poorly done. There were choppy rooms and it had a side entry, along with poor lighting and an old bathroom. They had an oil tank and we did a conversion to natural gas by pulling gas from the street.
 "For this transformation, the owners had this idea of a nautical theme because they had family members in the Navy, so we wanted to home in on that specific theme, which was really cool. The thought behind this is, if you're going to spend money, make it personal and be creative. All of our collective thoughts came up with the best ideas. We bought a floating boat off Craigslist and made a bar out of it. There are glass fixtures above the sink that are like jellyfish, we wrapped a column in the basement with a nautical rope and the balusters are also done in the same rope.
 "This is a three-unit family—a husband, wife and son. The father constantly watches the stock market because of his job, but he and his son wanted to be able to watch sports as well, so we installed dual televisions side-by-side so they can watch both at the same time.
"It was an incredible project from a creativity standpoint and improved efficiency for the home. We relocated mechanicals of the home by going to natural gas and created space they didn't have previously."
Greg Harth, owner
Harth Builders
Spring House, Pa. | (215) 654-0364 | HarthBuilders.com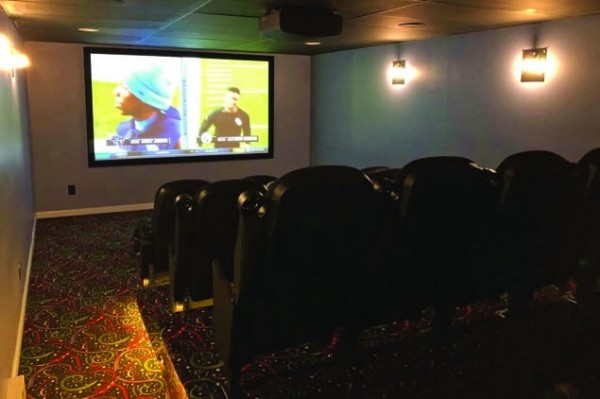 THE THEATER EXPERIENCE
"For this project, the homeowners wanted a theater in their basement. In order to do this, we had to move a wall and build risers to get to the appropriate seating heights so the person in front of you doesn't block your view. We put LED rope lighting on the tiers of the three levels of seating so no one trips on the risers. We installed a 120-inch acoustic transparent screen, a screen you'd find in movie theaters where the speakers are invisible and the sound comes through the screen. We also installed a 4K Ultra HD projector and made equipment all automated through the Control4 system. This system gives homeowners complete access to operation and utilizes the ability to use Alexa and smartphones to control devices, including lighting. This minimizes frustration with multiple remotes and components. You can integrate a lighting scheme, you can set up speakers a certain way and start your DVD player with the command of one voice or button—that's automation. One command and it can shut everything down or turn everything on."
Jim Fossile, owner
EDS TV
Colmar, Pa. | (215) 997-4300 | EDS-TV.com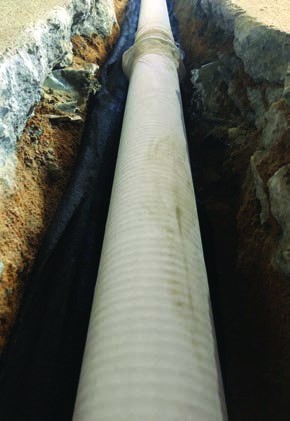 NO MORE LEAKS
 "These homeowners had a sub-floor pressure relief system installed by another company that didn't do it correctly. The basement was leaking every time it rained and this company wouldn't follow up with the homeowners and wouldn't hold the warranty up. They ended up calling us to fix it.
 "First, by taking out the system, we removed the concrete 16 inches from the wall all the way around the perimeter—285 linear feet. We also did lateral across the middle of the floor because the hydrostatic pressure was so bad. We dug to the bottom of the footer and removed the existing drain system that was incorrectly installed. We installed three, 4-inch perforated PVC pipes with a mud filter sock around it. We pitched 1-inch for every 10 feet toward different sub-containers we installed. Then we surrounded that with ¾-inch triple-washed clean stone, and then installed myriad drain and poured new concrete with the existing floor.
"With our completed job, these homeowners have no more leaks and a dry basement."
Matt Kropp, owner
Dry Tech Waterproofing Solutions
Eagleville, Pa. | (484) 927-4326 | DryTechCorp.com
ENTERTAINING SPACE
 "These homeowners have a good sized basement—well over 1,000 square feet—and wanted a complete basement renovation because they needed the space for entertaining family and friends, and having the additional bathroom was a bonus. They originally wanted a half bath, but the cost to go from a half to a full bath isn't that much more. They decided to go with the full bath and from what they told me, they've been using it when friends and family come over.
 "The customers had a very nice home to begin with. They wanted the finishes to reflect the rest of the house so it didn't look like the basement was an afterthought, from the trim to the paint colors, doors, surface-mounted fixtures and lighting fixtures. We had a similar approach to the bathroom—matching up similar to what they had upstairs with nicer finishes. So when you come downstairs in a finer home into the basement, it has to mirror all the finishes from the upstairs. It checked all the boxes they were looking for."
Chris Fontana, owner
Magnolia Home Remodeling Group 
Serving all of North and Central New Jersey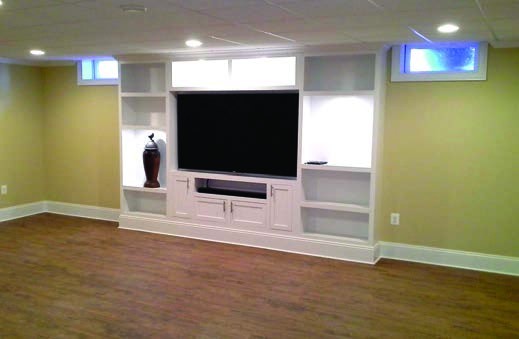 (855) 624-6655
MagnoliaHomeRemodeling.com
CUSTOMIZED LIVING
"We worked on a large home—2,200 square feet— with a big basement. We installed a bedroom with an egress window, which is a window big enough for someone to escape, which is required in a bedroom in a finished basement. We also installed a full bar, a custom-built entertainment center that was customized to the size of their television, LED lighting and a full bathroom that was also customized to their needs and looks like the master bathroom.
 "Another room we added to the basement was a gym and within that gym I used a wall system with the combination of traditional drywall and purple board drywall. The benefits are that it's mold- and mildew-resistant and it's breathable; it allows moisture to come through. It also has 90 percent sound efficiency. It absorbs 90 percent of ambient sounds as opposed to drywall where it bounces and doesn't absorb it."
Tom Meier, owner
Basement Living Systems
Westmont, N.J.
(856) 952-7901
WowBasements.com
Select photography courtesy of Harth Builders, EDS TV, Dry Tech Waterproofing Solutions, Basement Living Systems and Magnolia Home Remodeling Group.
Published (and copyrighted) in House & Home, Volume 20, Issue 5 (November/December 2019). 
For more info on House & Home magazine, click here. 
To subscribe to House & Home magazine, click here. 
To advertise in House & Home magazine, call 610-272-3120.