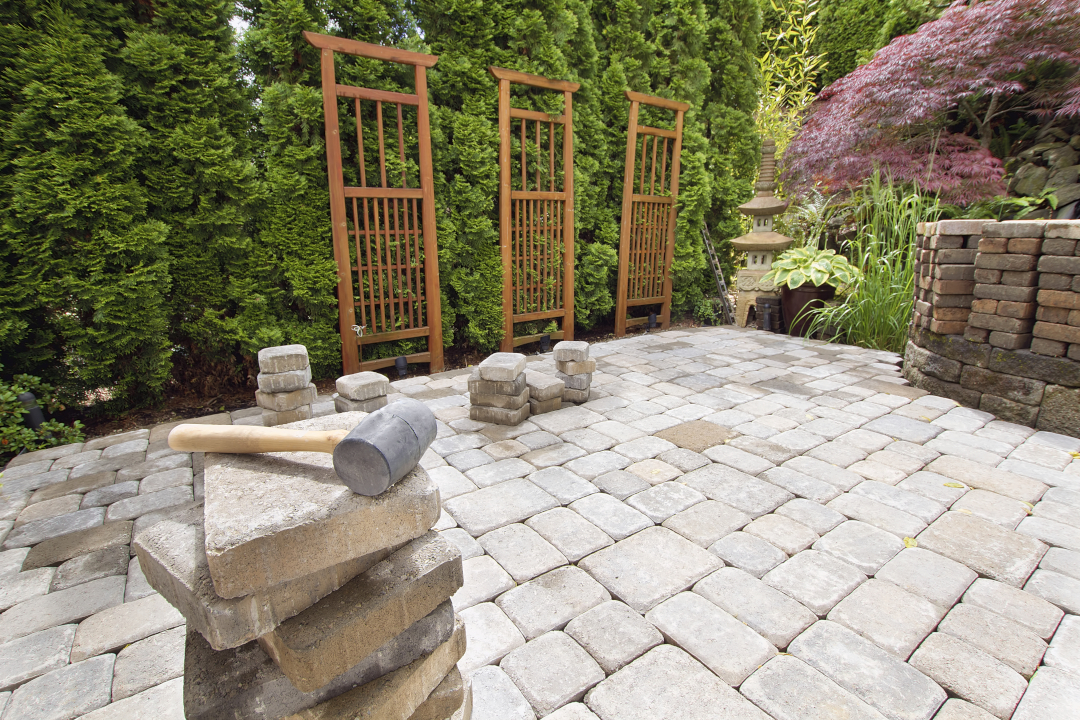 Although restaurants and bars are starting to operate at full capacity, amusement parks are reopening and people will be longing to take the vacations they missed out on last year, there is no question that outdoor living spaces will continue to play a crucial role in entertainment for homeowners this summer. From beautiful stone walkways that greet guests at the front of the house, to custom patios that host barbecues and parties, to pool decks that often become the focal point of a backyard, the right hardscaping feature can enhance those get-togethers and make an ordinary property extraordinary.
However, over the years these surfaces withstand a great deal of wear and tear not only from usage, but the elements and changing of the seasons. Now is an ideal time to examine the hardscaping around the home and determine if repair work or even replacement is necessary heading into the warmer months.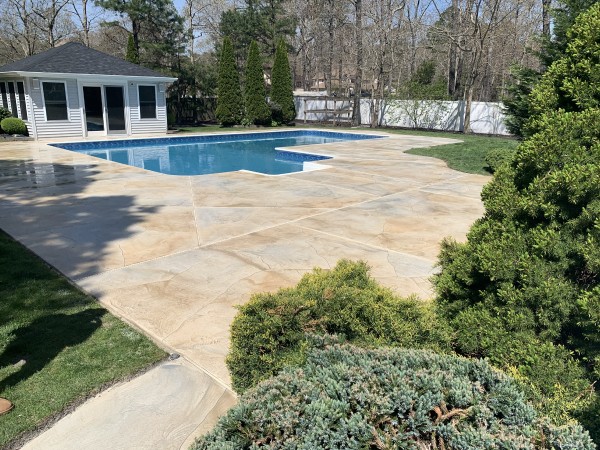 "Usually in the spring everyone goes out to start unveiling their yard and assessing what needs to be done for the rebirth of summer," says Gwen Kunkel of New Castle Artisan, which specializes in concrete resurfacing for outdoor spaces. "They do landscaping, mulching and cleanup, and then they take a look at their concrete. A lot of times after winter has come through there has been additional damage or just a tired-looking surface outside. We get very busy because of that."
Whether homeowners are looking to begin a brand-new hardscaping project or give a makeover to an existing one, our area is blessed with a plethora of qualified professionals. House & Home spoke to several of them to learn more about the options and important factors to consider.
Solving common problems
In some cases it is obvious that work must be done to a hardscaping feature, such as a sidewalk or walkway that has sunken and created a tripping hazard. But there are other more subtle signs to look for as well.
"You would see some cracking; that would be a symptom of a sinking slab," says Margaret Mustin of BQ Basements & Concrete. "You might see some water pooling, or worse, water going into the basement if [the hardscaping is] up against the house. If it's a front stoop—we do a lot of those—you can see that the step is now too big, hence another tripping hazard though not as obvious as the sidewalk. Or if it's up against the house, you can see the line starting to appear from where the concrete is sinking."
BQ Basements & Concrete uses a system called PolyLevel to address issues of sunken or uneven concrete. Polyurethane foam is inserted into a dime-sized hole and turns from a liquid into a solid, filling the void between the eroded soil and the concrete slab, stabilizing it and creating a flat, even surface on top. According to Mustin, the process can take as little as 20 minutes in some instances.
"It's a permanent solution, it's clean and people just love it," she says. "There's a 10-year warranty, it's environmentally friendly and you can drive a tractor trailer over it in 15 minutes. You also won't have mismatched concrete from replacing certain sections."
People also appreciate this solution because it won't break the bank, Mustin adds. "What a lot of homeowners don't know is that they don't have to replace [the slab] if it's in decent shape. We can just come and pump the foam, even it and fix the problem, which is something you can't see. It's happening underneath due to erosion or bad backfill."
New Castle Artisan also avoids replacement by using polymer concrete densifier to fix problems like cracking or pitting. The densifier is designed to absorb into the clean pores of the cement and harden, Kunkel explains, and if applied properly it will not delaminate, peel or flake. The resulting surface is not only durable, but New Castle creates an aesthetically pleasing design—such as the always-popular irregular stone pattern—to camouflage the existing cracks and add curb appeal.
"It's basically turning the repair into a remodel so you end up with value out of it as opposed to just fixing something," Kunkel says. "If you have a concrete driveway and you have a crack, and then you replace the concrete driveway you really haven't added any value to the home. But if you are able to fix that driveway and give it an updated look, then the money you are spending becomes valuable as an asset and upgrade to the property."
Not only is polymer concrete densifier beneficial for driveways and patios, but it can also be used in the area around a swimming pool.
"It's an exceptional application for pool decks for several reasons, the first one being concrete around a pool is extremely expensive to replace," Kunkel says. "It's very labor-involved bringing concrete into someone's backyard. Our process does not damage the landscaping and there are no fences to take down. It's done with handheld tools, so there's not a lot of rip-out and mess-up.
"Finally, the application and the way it's colored and designed allows for future reparability. So if you have to get your skimmer replaced or your ladder steps replaced and they have to take out a piece of the concrete, this is something I can match up should that need arise. As I explain to people, it's a repair process that can always be spot repaired."
Yet another option is to use an epoxy-based coating system to prevent damage and extend the life of sidewalks or patios. Not only are these products durable and safe, they also can add aesthetic value.
"We have seven different products [that can be helpful], depending on whether you just want the finished concrete to look nice, you have medium damage like small chips or flakes, or you have major damage like big cracks," says Jason Larsen of Epoxy Floor Experts. "We pretty much have solutions for everything."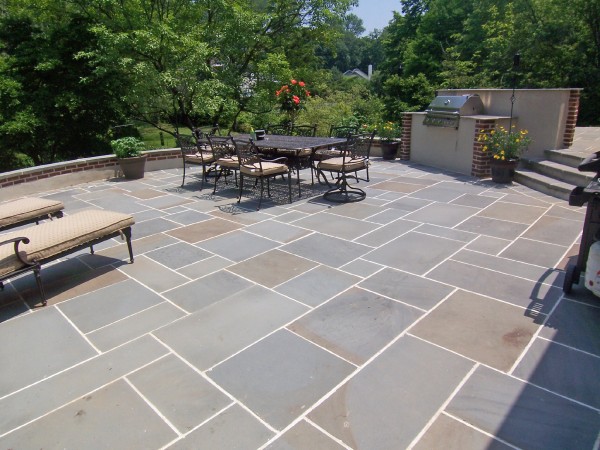 Larsen recommends a product called FlexStone for pool decks for a number of reasons, safety being at the top of the list. "It's a rubber and stone mixture that goes on about a half-inch thick," he says. "The advantage is it's porous, so when a kid gets out of the pool, the water will seep down into the rubber so it's not sitting on the surface. That way you don't have puddles everywhere, making it slippery. It's also slip resistant on the top. But if you do happen to fall, you're falling on rubber rather than falling on concrete."
FlexStone is also cool on the feet—particularly in lighter colors—and homeowners can include designs, such as a dolphin or lettering.
Larsen suggests using a quartz or flake coating for a patio that has cracks rather than tearing it up and starting over, especially since the thawing and freezing common in this area will continue to affect the concrete. There are endless options to choose from in terms of colors.
"If you're going to spend the money, you want to accent it and make it look nice," he says. "We have so many choices that there are no popular colors—it all comes down to your personality. We have a color for every personality, that's what I like to say. Some of our customers call it 'concrete candy' or 'concrete jewelry.'"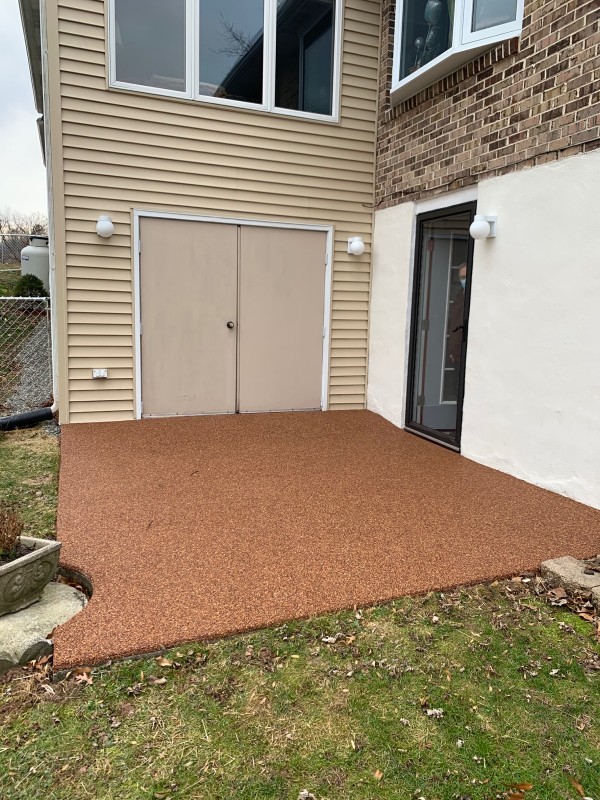 Starting fresh
Steve McNamara of Custom Patios also takes a lot of calls at this time of year for people hoping he can fix the problems with their hardscaping feature. Obviously, he does everything he can to help them avoid the cost and hassle of a complete rebuild.
"Some people just can't afford to put a new patio in," he says. "Sometimes we're able to powerwash, remove all the old sand and put in a new polymer sand and give them a little uplift. But it's really a case-by-case basis whether the patio is salvageable or not. Quite often it needs to be redone completely."
For those who require a replacement, and also clients who are finally moving forward with their dream project and installing a brand-new hardscaping element, McNamara undergoes a comprehensive planning process before designing and finally building the space. Homeowners provide pictures for inspiration and he discusses cost along with the pros and cons of a wet-laid application versus a dry-laid application.
Many of the people McNamara works with are drawn to the natural stone look, with Pennsylvania flagstone being the most commonly used.
"That's really popular," he says. "The benefits are, it's a timeless material for one—it never gets outdated. Some pavers are probably more appropriate for certain neighborhoods but for certain homes the flagstone fits the bill. We like to mix it up with brick and other materials. People like the natural cleft and the colors of it; you get various shades of blue, gray, some rust and lilac colors with it. With some pavers, depending on the company, some of the aggregate starts to show through over time. You don't get anything like that on the natural stone."
However, there are also many advantages to using pavers and plenty of manufacturers from which to choose. McNamara does not push any particular company on his customers, but simply presents the options and helps them make the best decision for their property and budget.
"There is a little bit more versatility with the pavers," he says. "Obviously, you have different shapes, sizes and a lot of different colors, and I think that's why a lot of people go with it. It's also a little more affordable to install.
"The manufacturing techniques have gotten better over the years. They have larger-format pavers now, which kind of mimic the size and scale of natural stone. But you're never going to get the real look of natural stone unless you're using it."
Natural stone can also be used on a pool deck, with travertine being a trendy choice because it remains cooler than flagstone or pavers under the summer sun.
No matter which materials the homeowners chooses for their project, McNamara is always delighted to deliver an outdoor space that will change the way they entertain.
"When we take before-and-after pictures, people can't even believe how it turns out," he says. "You have to have a particular vision, I guess, and once you've done it for so long you end up getting pretty good at it when you design them all day long. I do have a design and architectural background so that helps. It's really nice to see people appreciate the work when it's all done. It transforms the whole property, and if it's designed properly it can really increase the value of the home."
RESOURCES
BQ Basements & Concrete
Erdenheim, Pa.
(215) 989-4188
BQHouseAndHome.com
Custom Patios
West Chester, Pa
(484) 804-3818
CustomPatiosLLC.com
Epoxy Floor Experts
Servicing Pa.
(484) 824-0311
EpoxyFloorExperts.com
New Castle Artisan
Blackwood, N.J.
(856) 725-3333
NewCastleArtisan.com
Published (and copyrighted) in House & Home, Volume 21, Issue 8 (April/May 2021). 
For more info on House & Home magazine, click here. 
To subscribe to House & Home magazine, click here. 
To advertise in House & Home magazine, call 610-272-3120.