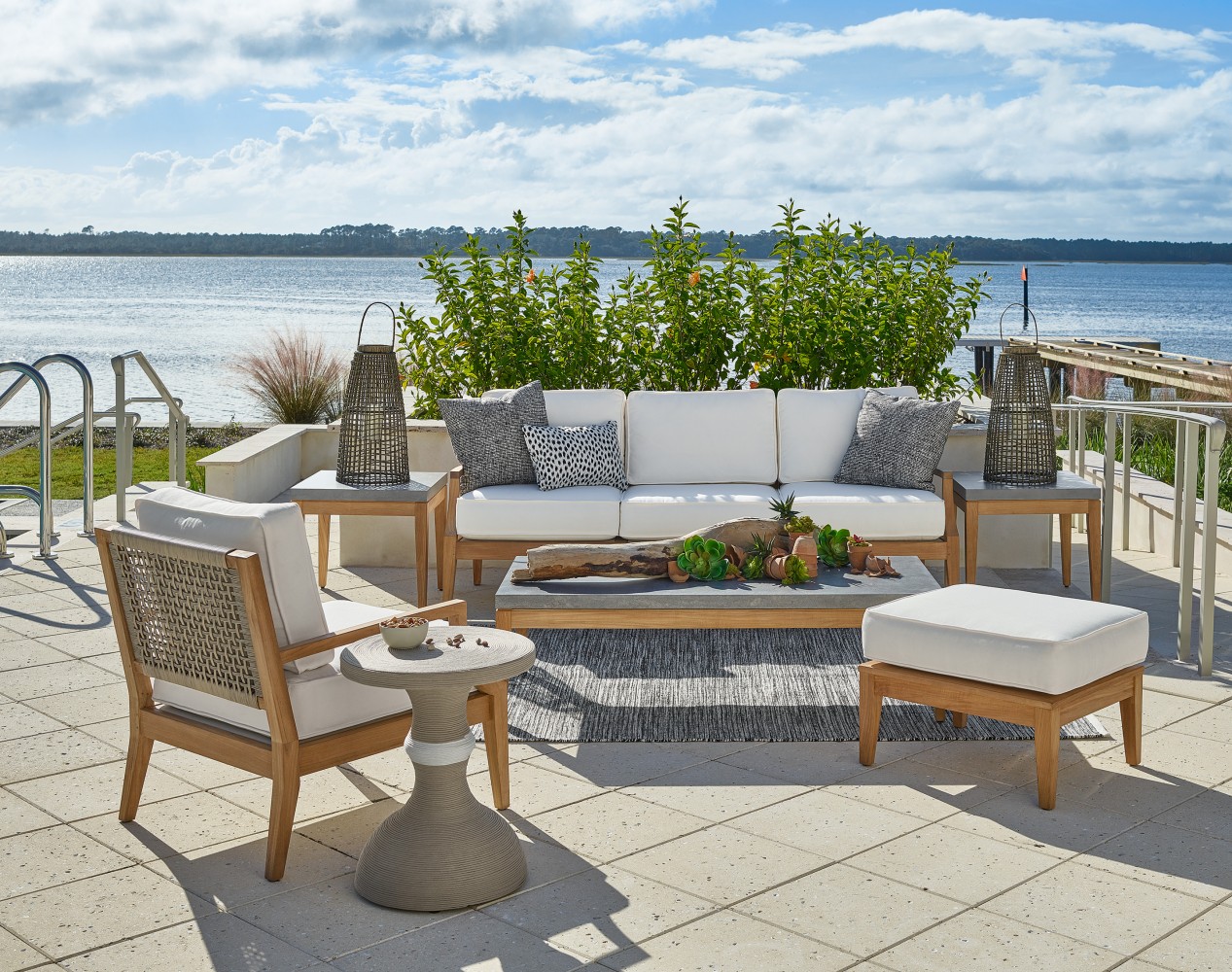 Perhaps more than any other space in a home, outdoor living areas were highly coveted during the pandemic. So much so that city dwellers sought out properties with expansive yards featuring a pool, patio or deck—or at least the space to build them. Professionals within the outdoor living industries say the pandemic will have a lasting impact on them.
Bobby Huber Jr., sales manager and buyer for Oskar Huber Furniture & Design, says, "The COVID effect and COVID economy is quite interesting and will without a doubt be studied in years to come in business classes around the world. The lifestyle changes made during the height of the pandemic are having a profound effect on the way we work, shop and live. The 'post-COVID' consumer has a strong desire to improve their living space both indoors and outdoors. The sharp rise in demand for indoor and outdoor furniture coupled with the new socially distanced factories, a strained supply chain and the trucking/logistics sector in disarray has created a never-before-seen product shortage and delay."
House & Home spoke with local businesses that provide services in the outdoor living industry and asked what products and designs are trending and what to expect for the coming year.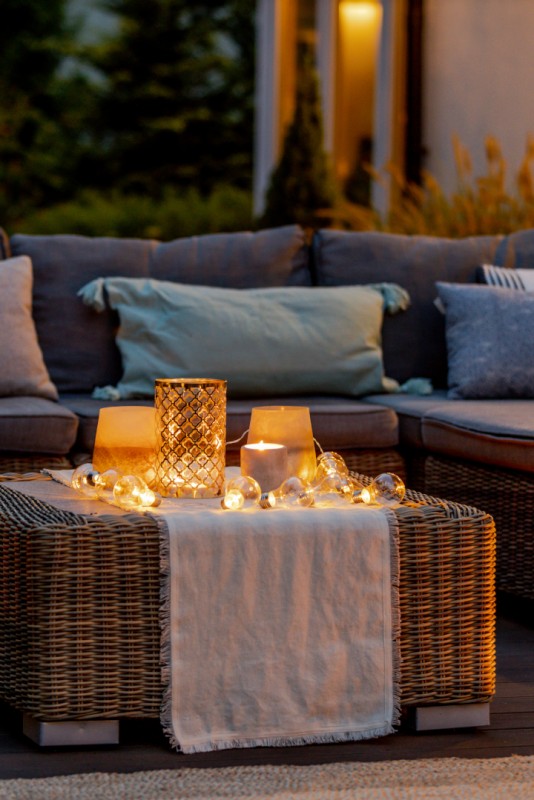 Decks and Fences
The website Houzz reported that searches for deck-related design and construction jumped 178 percent from 2019 to 2020, further solidifying this must-have feature. Joe Kalnas, general manager of My Deck, has been in the industry for 25 years. Within that time, his materials of choice have become steel framing, composite and PVC decking with aluminum railings. These give more flexibility in the design.
"Clients tend to think a deck can only be square or rectangle, we think outside the lines by incorporating curves, shapes and using steel framing, taking into account aesthetics as well as longevity," Kalnas says. "Composite and PVC decking come with a warranty, why not have a similar warranty on your deck foundation using steel framing?"
To make the deck more interesting, Kalnas suggests adding a curve, fire feature, spa and a covered area for grilling and dining.
A railing is also a big factor in the aesthetic of a deck. "Cable, glass and custom aluminum railings all offer a different appearance. Railing color is also an integral part of accenting the overall appearance of a deck project," he says.
Something that is emerging in railings is known as a "cocktail rail," which is a deck board mounted to the railing, providing a flat, even surface to set a drink down.
Kalnas advises homeowners to plan well ahead if a deck is a project on their wish list. "Most reputable deck builders are currently scheduling projects several months out, so if a deck is planned for next spring, act now. And make sure to use a licensed contractor that specializes in decks and outdoor living spaces."
The fencing industry has also embraced the low-maintenance and durability of vinyl, says Dany Leslie, owner of Superior Fence & Railing. He's been installing fences for over 20 years and founded his own business four years ago.
"Everybody wants vinyl fences and heavy duty rails," he says. "We offer various styles that can bring out the aesthetics of your yard or basic styles that provide maximum privacy. We are happy to carry the Illusions brand as well, which offers the industry standard in vinyl composite and color spectrum fencing. All vinyl products are secured with a 20-year limited lifetime warranty to secure quality integrity."
Aluminum fencing is another option that, although it does not provide much privacy, can define a space with a high-end look. It's especially complementary to pools. Superior's product comes with a 15-year warranty on the fabrication.
Railings also come in a variety of options: aluminum, vinyl, wood; and styles such as Colonial spindle and black aluminum spindle.
Leslie recommends homeowners ensure they are getting a fair, honest price for their fence. "Make sure it's a professional, reputable company doing the installation and that the products are quality American-made."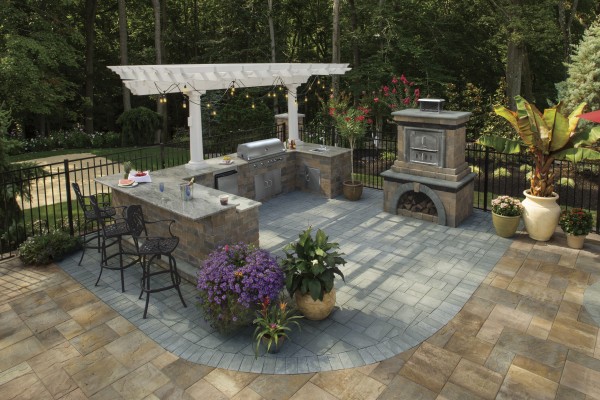 Hardscaping
The stone elements in an outdoor space play so many roles, from the patio foundation to retaining walls and fire pits. One of the benefits of hardscaping is the ability to add-on features to enhance what you currently have, says Jarrod Nyce, owner of Nyce Crete and Landis Block & Concrete.
It's up to the homeowner what they have in mind. "If they have a basic patio they might be looking to add a sitting area like a bench or a knee wall, maybe a fire pit. If they already have that, maybe they're looking to add an outdoor living space with a TV and a fireplace. All depends on what the customer really wants," he says.
In terms of stones trends, a more modern look has become popular in the past few years, Nyce says. "More square and rectangle shapes with smooth surfaces. Colors are all over the charts because everyone has their own favorite colors, but the combinations of very light and very dark colors seem to be very trendy.
"I personally buck the current trend, I prefer the more rustic or tumbled look. I like the look of more natural rounded edges and softer transitions. And I prefer lighter colors especially in areas of foot traffic because of the hot sun," he says.
As 2022 approaches (can you believe it?) Nyce isn't quite ready to make any predictions on future trends. "It's a little early to tell yet as most new products come out in February. But I would say you'll continue to see more water features, fire features, audio and TV, and lighting ideas. The outdoor kitchen and cooking ideas are always fun as well. I'm sure there will be some surprises that will get a lot of people excited."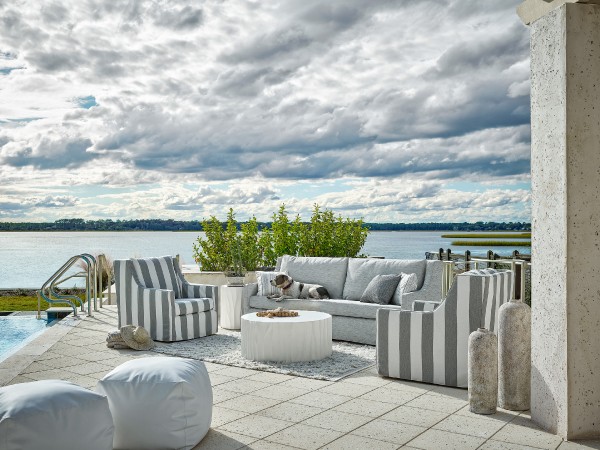 Outdoor Furniture
This area is viewed by many as the finishing touch to an outdoor space.
"Outdoor furniture and accessorizing are what really bring to life the outdoor space," says Huber. "Outdoor hardscaping is beautiful and the materials available can bring an outdoor space to life but it is the furniture and accessories along with the plants, trees and flowers that really create the excitement. The outdoor furniture and accessories will let you put your personal stamp and style on that area. Between the fabrics you can select from, the styles and the modern materials, you can create an outdoor living space that is just as exciting and full of functionality as your indoor spaces."
It can be overwhelming to decide which pieces are going to achieve the right look—and how to know if they are worth the investment. This is where a skilled eye comes in handy.
"From the furniture side of things, having the guidance of a design professional to properly assist you with laying out your outdoor space to give you the optimal flow and functionality you are looking for is important," Huber says. "But our designers will also assist you in finding the right product that will meet your needs and stand the test of time. Outdoor furniture needs to be built right using the proper materials to withstand mother nature. The last thing anyone wants to do is replace their outdoor furniture a year or two after buying it."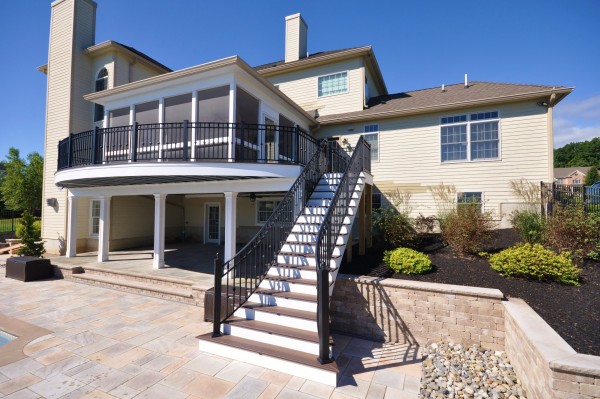 Not to mention, there are hundreds of different outdoor furniture manufacturers available to buy from in today's market, he continues. "What we have done at Oskar Huber is curate a good, better, best story—and our professional designers can explain to you the difference between our good and another retailer's best. As a family-owned business we pride ourselves on responsibly sourced, environmentally friendly home furnishings that will stand the test of time, are the quality we would want to put in our own homes and have the ability to be customized to our customers' needs all while being a value."
Huber does caution, he has never seen lead times on custom orders like this before. "It is crazy to think about next spring and summer when we [just] finished [summer 2021], but that is exactly what we are doing at Oskar Huber Furniture. We are also urging customers to not wait and to buy now—we will even store their new furniture if it arrives before they want it. If you wait until next March or April or May you might not be able to get the product you want in time to enjoy it for the outdoor season. ... I am seeing custom orders being confirmed with March 2022 ship dates. On average our outdoor vendors are shipping in 26 to 30 weeks."
Clearly there is no slowing of the demand for outdoor living spaces and homeowners should act now to bring their dreams to life by 2022.
RESOURCES
My Deck
Flemington, N.J.
(908) 713-1000
MyDeck.com
Nyce Crete and Landis Block & Concrete
Souderton, Pa.
(215) 723-5506
LandisBC.com
Oskar Huber Furniture & Design
Southampton, Pa.
(215) 355-4800
Ship Bottom, N.J.
(609) 494-8127
OskarHuber.com
Superior Fence & Railing
Minotola, N.J.
(609) 727-3708
SuperiorFenceNJ.com
Published (and copyrighted) in House & Home, Volume 21, Issue 11 (Fall 2021). 
For more info on House & Home magazine, click here. 
To subscribe to House & Home magazine, click here. 
To advertise in House & Home magazine, call 610-272-3120.