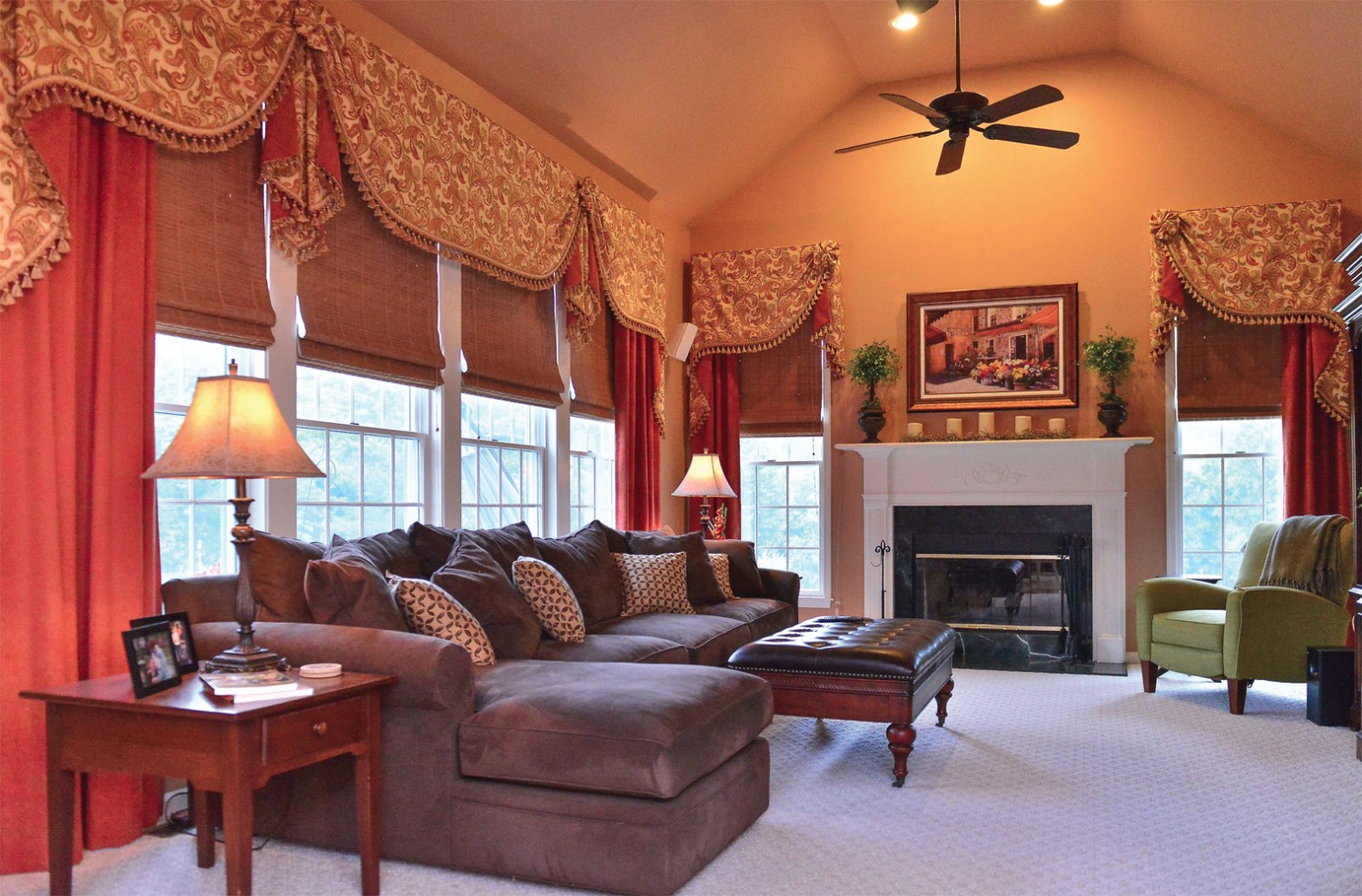 The same room can be made to look entirely different, simply by updating the window treatments. In addition to changing the look of a room, win- dow treatments also serve many functional purposes. Since there are a lot of options, it can be helpful to have the guidance of a professional in making the best selection for your home.
Among the points to consider when deciding what's right for your space are factors like privacy, light control and functionality—as well as what's going to look great in the room, says Nikki Rieber, owner of Blind Builders.
"There are many things to consider when deciding on the right window treatment for your room," agrees LuAnn Nigara, co-owner of Window Works. "Function, style and budget all play key roles in arriving at the treatment that will enhance your room and be worth every penny of the investment you make into custom window treatments."
Nigara says homeowners must also con- sider factors such as which way your home faces. Does it face south and get intense sun all day? Do you need privacy from a nearby neighbor or have sweeping views? Are you in your first home or are you in an empty nest? Nigara says a window treatment professional will ask these kinds of questions and more.
Rieber suggests doing some research about the different offerings out there as there are many new and innovative products on the market. She says that one of the biggest trends she has seen in recent years has been plantation style shutters. There are many styles and design options, making them feasible for almost any setting or décor.
Stephanie MacQueen, office manager for Shutter Tech, has also seen increasing interest in plantation shutters—once homeowners realize the possibilities.
"We are putting plantation shutters on sliding doors more and more and it is something that a lot of homeowners don't initially realize can be done," MacQueen says. "Shutters drastically change the look and feel of any room and a lot of our customers are completing the look by putting shutters on their sliding doors as well as other windows."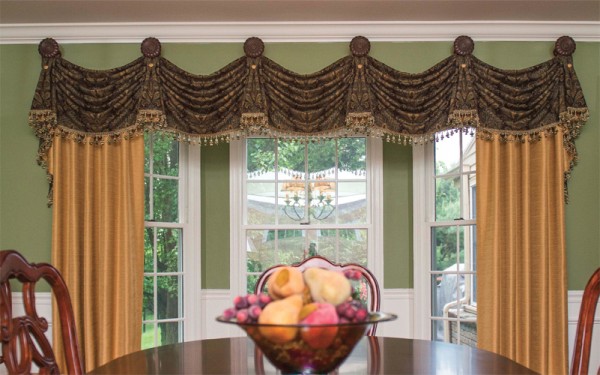 CLEAN, SIMPLE AND CLASSIC
Laura Hawley, president of Ambiance Design, says that clean and simple lines have been the reigning trend among her clients. She says the "color of the year" was Simply White, as a lot of homeowners appreciate a clean, finished look to their space and a basic and beautiful white helps to do just that.
"As for our fabrics in the drapery section, we are seeing a lot of trends for simple pat- terns with warm light colors to be universal through the space," Hawley says. "This allows our clients to hold on to their treatments even when their style changes through the seasons and the years."
Anita C. Yoder, owner and designer of Heritage Design Interiors, says she is seeing clean, clear white with warm gray as the most popular color choices of 2016. On the horizon of 2017, Yoder says there will be an emergence of colors that are softer and calming such as blush/soft warm pink, lavender, navy blue and spa green. But whites and grays will continue to trend.
"Right now, we're seeing a lot of blues," adds Cindy Philo, owner of Blue Raccoon Home Furnishings. "But I think with drapery that the trends are more about the texture of the fabric itself. We're seeing a lot of rich velvets and heavy-weight Belgium linens."
There is also a lot of room to be bold and creative when it comes to drapery, continues Philo. She loves it when clients get excited about a bold graphic print—but adds that this kind of style is "not for the faint of heart."
Even so, those who like a bold print but are too nervous to do it on a larger scale can "experiment," says Philo, by doing the bottom portion of the drape with a bold horizontal block of color or a graphic print.
Hardware also makes a tremendous difference, says Philo, who adds that she is seeing a lot of polished chrome, brass and black nickel in hardware styles. Hardware can add the finishing touch and really complete the entire look.
Since there are so many choices these days from color to style, Anne Linn Fischman, Allied ASID, of Fabulous Interiors, suggests that homeowners first look at pictures in magazines or books to see what they like. For made-to-measure blinds from Hunter Douglas, Graber, or any of the other manufacturers, go see the product in person to review quality, color offerings and controls.
"Take a couple photos of the windows, bring them to the store with you, and dis- cuss the project with the designer," Fischman adds.
FOR THE TECH-SAVVY HOMEOWNER
Technology is also playing a big role in what kind of window treatments home- owners select. Fischman says that as more homeowners move into "smart homes," there will continue to be an increase in the automation of many things around the home—including, of course, win- dow treatments.
While automation was once a luxury and primarily only for higher-end homes, these days it's available at a lower price point.
"Hunter Douglas launched PowerView in 2015," adds Rieber. "It's made motorization more affordable and more convenient for today's homeowners. And options for integrating Pow- erView with home automation systems are also on the rise."
MacQueen says that automation isn't always just a luxury, but sometimes is a necessity. With skylights and other hard-to-reach windows, automation is incredibly convenient.
"Motorization of window treatments is very popular," adds Yoder. "They can be operated via a remote control in the home. They can also be operated by your phone or tablet when you are in the home or away. You can set your blinds to open and close at different times of the day. Different times can also be set for weekdays and weekends, when you can sleep in."
Safety First!
It's a scary truth that child death by window blind strangulation is a legitimate concern. After hundreds of deaths and injuries over the years, the Consumer Product Safety Commission has launched a new effort to ban window blinds or cords. These efforts are helping increase awareness.
"The awareness of child cord safety is higher than I've ever seen it, and that's really great news," says Sue Berry, owner of Sew Stylish Designs. "People are more aware of the potential hazards and are making the responsible decisions to move to cordless treatments whenever possible to protect both children and pets."
While cordless options were once more expensive, Berry adds that many manufacturers are now offering that option at no extra charge in order to make it easier for clients to acquire them.
RESOURCES
Ambiance Design
Blue Bell, Pa.
(267) 898-0200
AmbianceDesign.biz
Blind Builders Inc.
Feasterville, Pa.
(215) 322-5855
BlindBuilders.com
Blue Raccoon Home Furnishings
Lambertville, N.J.
(609) 397-5500
BlueRaccoon.com
Fabulous Interiors
West Orange, N.J.
(877) 927-1331
FabulousInteriorsNJ.com
Heritage Design Interiors
New Holland, Pa.
(717) 354-2233
HeritageDesignInteriors.com
Sew Stylish Designs, LLC
Mount Laurel, N.J.
(609) 332-5690
SewStylish.org
Shutter Tech Inc.
West Chester, Pa.
(800) 272-9934
ShutterTech.com
Window Works
Livingston, N.J.
(800) 505-5860
WindowWorks-NJ.com
Published (and copyrighted) in House & Home, Volume 17, Issue 2 (November/December, 2016).
For more info on House & Home magazine, click here.
To subscribe to House & Home magazine, click here.
To advertise in House & Home magazine, call 610-272-3120.