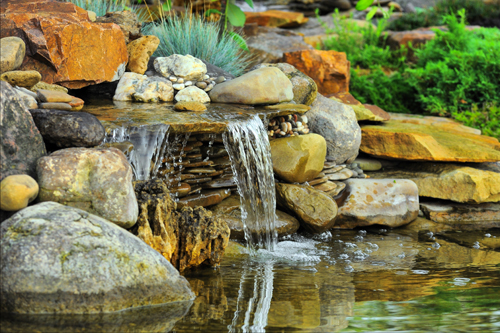 As the temperatures heat up, chances are you're spending more time outdoors with your family. We spoke with some of the area's best landscapers to get their thoughts on how to make the most out of your outdoor space this summer.
Beautiful landscaping
While it sounds simple, having a yard that is clean and well-kept goes an incredibly long way in keeping things looking attractive.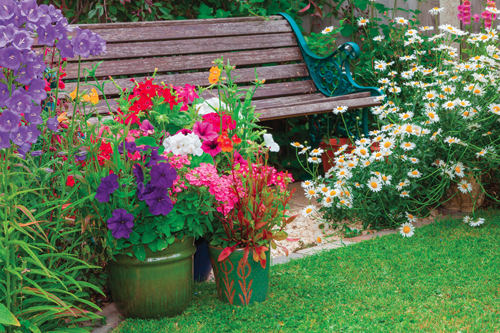 "Edging, mulching and bed clean-up is going to make your yard look very nice," says Lou Klegarth, branch manager for the maintenance department of Plantique Landscaping. "Something as simple as clearing out debris and then putting down a fresh coat of mulch is going to really brighten up the landscape."
Of course, adding some color is really going to make those beds pop.
"Flowers will give you a lot of color and a lot of curb appeal in the front," says Jason Turpin, owner of Turpin Landscaping Inc. "But I personally spend a lot of time in my backyard and want to get enjoyment out of that color. I would encourage homeowners to consider flowers in the backyard as well."
If you do add flowers, proper maintenance is important, says Drewe Schoenholtz, owner of The Green Scene. He says that keeping flowering shrubs well-pruned will also help produce more flowers.
"Select plants that fit the right conditions of your property—whether that be sun or shade," Schoenholtz says. "It sounds simple but it's where a lot of people go wrong."
One of the easiest ways to get color without a lot of maintenance is container gardening, suggests Dean Johnston, owner of Johnston & Associates Land and Water Creations. Container gardens work great for a patio, deck or even a balcony.
"Container gardens are easy to install and give you a lot of color," Johnston says. "They're also perfect for homeowners who don't have a lot of time to get out and water an entire landscape."
Johnston says that selecting a "filler, a thriller and a spiller" will also ensure that the finished product looks complete. The filler would be foliage or a flowering plant that fills the space. A thriller would be your "showpiece" plant—something bold and colorful. And your spiller would be a plant that hangs over or touches the edge, such as Creeping Jenny.
"Creating an eye-catching container garden may seem daunting but if you follow those three steps, it's going to look awesome every time," Johnston says.
Selecting the right plants can also have the added benefit of keeping pests away.
"Incorporating plants which have mosquito-repelling properties into the landscape or in container gardens surrounding outdoor living spaces can lead to much more enjoyable summer evenings and ward off those uninvited guests," says Michael Pasquarello, a degreed landscape architect at Elite Landscaping. "Plants such as geranium, citronella, basil, rosemary and lemon balm are all great choices [that] will not only beat the bugs but will also add to the visual interest of your space."
Wonderful water
Another great way to have an enjoyable summer landscape is to add a water feature. Diane Marrazzo, owner of Marrazzo's North River Landscape, says water features "invite serenity," allowing you to truly relax and enjoy your backyard.
"A beautiful pond boasting a dramatic waterfall, perhaps a babbling brook, lighting and select koi is an awesome investment that will significantly increase the value of one's property," Marrazzo says. "The trickling sounds may drown out environmental sounds, thus calming the mind. To come home from a long day of work or school to a water feature helps support a relaxing mental state."
Jaak Harju, owner of Atlantis Water Gardens, says that integrating a water feature into the entertaining space allows you to interact with it.
"If you're going to invest in a beautiful water feature, you want it where you can enjoy it," Harju says. "Don't stick it in a far corner—have it as part of the entertainment area where you can actually interact with the fish or enjoy the sounds of the water. It's truly a conversation piece."
Harju says that adding lights also allows you to have almost two entirely different water features as the daytime and nighttime versions look quite different.
"At nighttime a water feature can become very magical with the right lighting," Harju says. "It gives off a warm and inviting feeling."
The total package
As the outdoor living trend continues to grow, many homeowners just want the total package—not only a lush landscape, but the hardscaping and amenities to go with it. Nick Nykorczuk, owner of Creative Pavers, says that as people become more hectic and on-the-go, they've also come to increasingly value a "complete outdoor living space" that offers relaxation and enjoyment at home.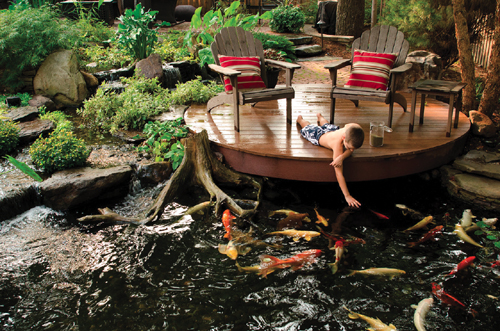 "People want to spend as much of their free time with their friends and family enjoying the outdoors," Nykorczuk says. "Gone are the days of installing a simple patio with some basic plantings around the perimeter. Homeowners today want to create multiple areas to entertain including an outdoor kitchen, fireplace, a covered roof or pergola for a dining area, an open area for lounge chairs and maybe a separate destination to fit a fire pit or spa."
Richard Cording Sr., LLA, ASLA, CNLP, founder and owner of CLC Landscape Design, agrees that covered spaces definitely add toward an outdoor living space.
"We're seeing more interest in pergolas, perhaps with a remote controlled canopy so that you can open it to see the sky or close it to have sun or rain protection," Cording says. "You can also attach an outdoor ceiling fan to a pergola. It makes for a nice destination point where you can cool off and hang out."
For those who already have an outdoor living space but are looking to brighten it up for a new season, Schoenholtz says that accessories can go a long way in updating a space without spending very much money.
"Dressing up your patio with vividly colored cushions and umbrellas is a simple way to make a dramatic change," Schoenholtz says. "It's also budget friendly. Changing a $20 cushion from brown to bright teal or orange can electrify your yard without breaking the bank."
RESOURCES
Atlantis Water Gardens
Denville, N.J.
(973) 627-0515
AtlantisWaterGardens.com
CLC Landscape Design
Ringwood, N.J.
(973) 839-6026
CLCDesign.com
Creative Pavers Inc.
Gibbstown, N.J.
(856) 848-7400 (New Jersey)
(302) 738-9634 (Delaware)
(610) 565-7680 (Pennsylvania)
CreativePaversInc.com
Elite Landscaping
Berlin, N.J.
(856) 753-1944
EliteLandscaping.com
Johnston & Associates Land and Water Creations
Newark, Del.
(302) 521-2984
LandAndWaterCreations.com
Marrazzo's North River Landscape
Wycombe, Pa.
(215) 598-1412
MarrazzosNorthRiver.com
Plantique Landscaping Inc.
Allentown, Pa.
(610) 395-6940
Plantique.com
The Green Scene
West Windsor, N.J.
(609) 333-8540
TheGreenSceneNJ.com
Turpin Landscaping Inc.
Coatesville, Pa.
(610) 380-1119
TurpinLandscaping.com
Last photo courtesy of Atlantis Water Gardens.
Published (and copyrighted) in House & Home, Volume 16, Issue 11 (May, 2016).
For more info on House & Home magazine, click here.
To subscribe to House & Home magazine, click here.
To advertise in House & Home magazine, call 610-272-3120.