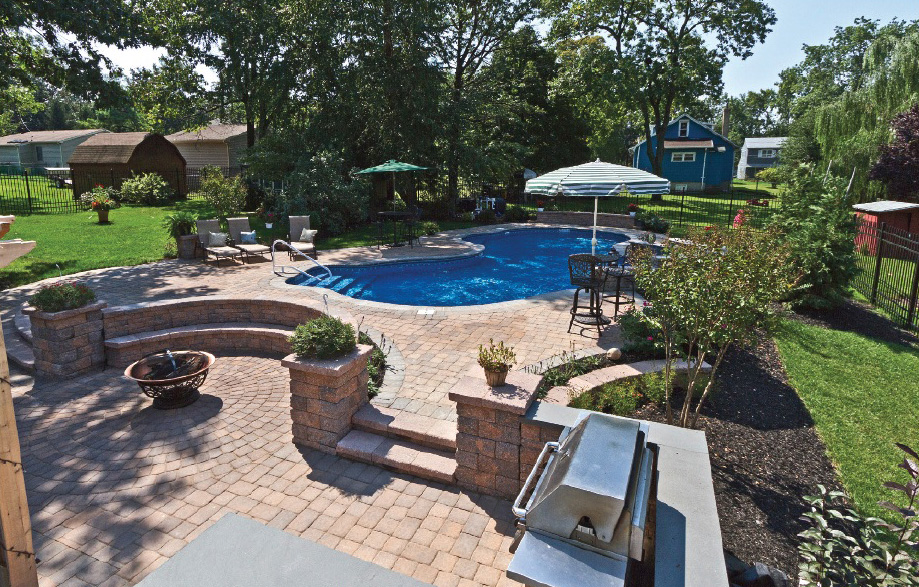 When it comes to designing your home's landscape, homeowners are using natural stones and pavers to complete their lavish backyard spaces as a means to curate a natural space replete of personal taste and creativity.
Yet, before you begin your outdoor project, experts behind companies that work with natural stone and pavers advise homeowners to first consider a budget and the exact use of the backyard. Will your outdoor space be an extension of your living room and will the space be designed with children in mind?
"Thinking about how you're going to use the space is just as important, if not more important, than the actual features where you're going to put it," advises Jason Turpin, co-owner of Turpin Landscaping Inc.
When it comes to budget, experts agree natural stones run a bit higher on the price scale than your mainstream concrete interlocking pavers. As Turpin points out, "If you're trying to get a lot of other features [in your backyard], sometimes you go with pavers to keep the costs down."
If there is a budget limit, Jarrod Nyce, vice president of Nyce Crete and Landis Block and Concrete suggests homeowners start with just a patio or a walkway and continue to add to their backyard over time. "These things, it's not set in stone. It's kind of like drawing a picture with a pencil. You can arrange it and start it back over again. Fix it, change it and mold it," he says.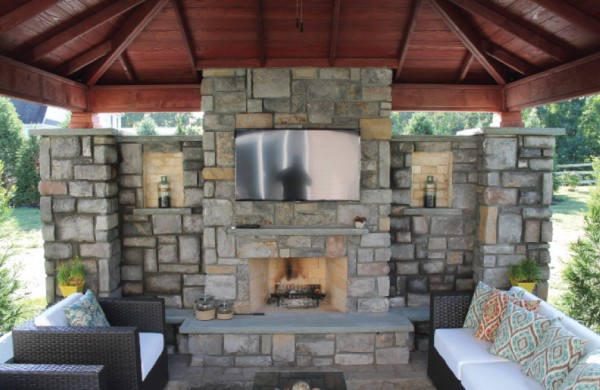 "We always push toward pavers because if you're going to continue to build your backyard paradise, you can do it easier with pavers than with a lot of the other products out there."
Once a budget has been decided upon, Turpin also suggests to be up front with your designer and/or installation company so that the project can stay in line with the homeowner's financial vision. "If you're willing to share what you're able to do, we know how much detail we can put in and how far to take it [if we're] on the same page from the very beginning," he explains.
Natural vs. man-made stone
The biggest appeal to using natural stone and pavers is their versatility. They can be incorporated in almost every design of your landscape including a fireplace, waterfall, patio, pool deck, structural or accent walls, driveways and even walkways around or in between gardens.
The only limit is one's imagination, as the variety of colors and shapes are endless. "There's so many different styles, colors and textures of pavers and stones, it's becoming like carpet," says Nyce.
When choosing between natural or man-made stone, durability is a huge factor. Where natural stone lacks in durability—specifically in a driveway setting—concrete pavers win in strength and overall choice in color, pattern and texture.
"Concrete pavers are more durable than natural stone because of what it is," says Doug Urbano of Landscape Materials Inc. "The concrete pavers are two and three inches thick and they're made out of concrete [so] they have a pretty good strength to them."
Concrete pavers can even mimic the rustic look of natural stone and offer "consistent sizes allowing a cleaner, flatter walking surface." This also allows control over the aesthetic of a project, whereas natural stone can be a guessing game as they tend to vary in color.
However, according to Creative Pavers Inc.'s president, Nick Nykorczuk, that's the beauty behind natural stone. "A benefit to working with natural stone is the high integrity of the product allowing you to never have to worry about fading or other wearing issues with the surface," he says. "Sometimes the minor imperfections and color variations in a man-made product are unwanted, but with natural stone, those same imperfections are part of the aesthetic appeal and give it its 'character.'"
Another bonus to natural stone is they stay cool in the summer and don't become slippery under damp conditions. "This is why a natural stone such as travertine is one of the better choices for the [pool] surround due to both of these characteristics," says Nykorczuk.
Concrete is also a contender when it comes to using it around a pool. "It is the No. 1 surface to use around a pool because it is slip-resistant," says Architectural Concrete Design's president and CEO, Chris McMahon, explaining concrete's transformative properties. "We can transform plain concrete to have a beachy feel with a sandylooking surface, or we can simulate cracked earth or a solid rock texture."
As for deciphering which stones perform better in specific areas of your backyard, Urbano says it honestly depends on personal preference. "The way I see it with natural stone versus pavers, the natural stone gives you more of a rustic look, whereas pavers today would be more of a contemporary, modern-day look," he says, adding, "It depends upon the look that you're looking to achieve."
As for maintenance, experts all agree that a sealer helps the stones and pavers hold up longer. "Once the project is done, we always say, protect your project, protect your investment [and] put a sealer on it. Protect it just like putting wax on a car," advises Nyce.
Weathering is natural, of course, but a little upkeep and power washing go a long way. "The only thing that's going to happen as time goes on, is that the color in the concrete pavers may fade out a little bit, where the stone will kind of fade a little bit too from the ultraviolet lights from the sun," says Urbano.
Add-ons
Entertaining features—whether that includes a fire pit, a water fountain, an outdoor kitchen and/or bar, a dining area or a living room, so to speak—can also heighten the luxury of an outdoor space. "When you mix in fire and water and then incorporate that in the natural stone and pavers, it really draws you outside and that's what really gives you a pop," says Turpin.
Nyce, however, warns homeowners from over-doing the design aspect, as you run the risk of overplaying all the features and stones in the space. "You want it all to blend in real nicely, you don't want one thing to jump out more than the other," he suggests. "If something jumps out at you, that's the worst thing you can have."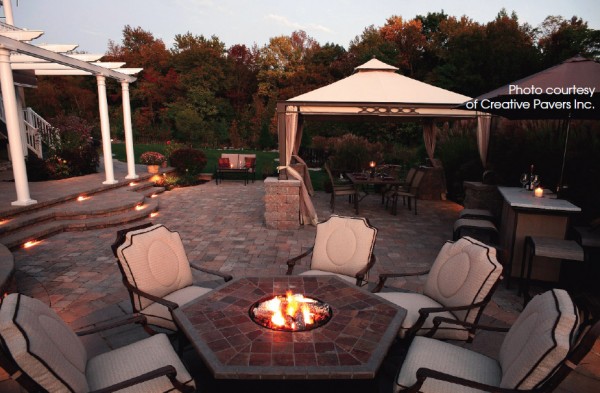 Overall appeal
In the end, homeowners favor using natural stones and pavers in their outdoor spaces because of their flexibility in customization and design.
"The versatility of both manmade and natural products are second to none," explains Nykorczuk, adding, "The amount of customization and creativity that you can offer each client for their project is unlimited and you can create a truly personalized outdoor living space with a variety of products so that no two projects are exactly the same."
Turpin shares the sentiment adding, "To me, the appeal is really awesome creations that you can make in order to create outdoor spaces and draw people outside. All of [these] materials is what allows you to do those things."
RESOURCES
Architectural Concrete Design
Levittown, Pa.
(215) 946-5039
ACDConcrete.com
Creative Pavers Inc.
West Deptford, N.J.
N.J. (856) 848-7400
Pa. (610) 565-7680
Del. (302) 738-9634
CreativePaversInc.com
Landscape Materials Inc.
Hillsborough, N.J.
(908) 252-1550
LandscapeMaterialsInc.com
Nyce Crete and Landis Block and Concrete
Souderton, Pa.
(215) 723-5506
LandisBC.com
Turpin Landscaping Inc.
Coatesville, Pa.
(610) 380-1119
TurpinLandscaping.com
(Photo courtesy of Creative Pavers Inc.)
Published (and copyrighted) in House & Home, Volume 16, Issue 9 (March, 2016).
For more info on House & Home magazine, click here.
To subscribe to House & Home magazine, click here.
To advertise in House & Home magazine, call 610-272-3120.