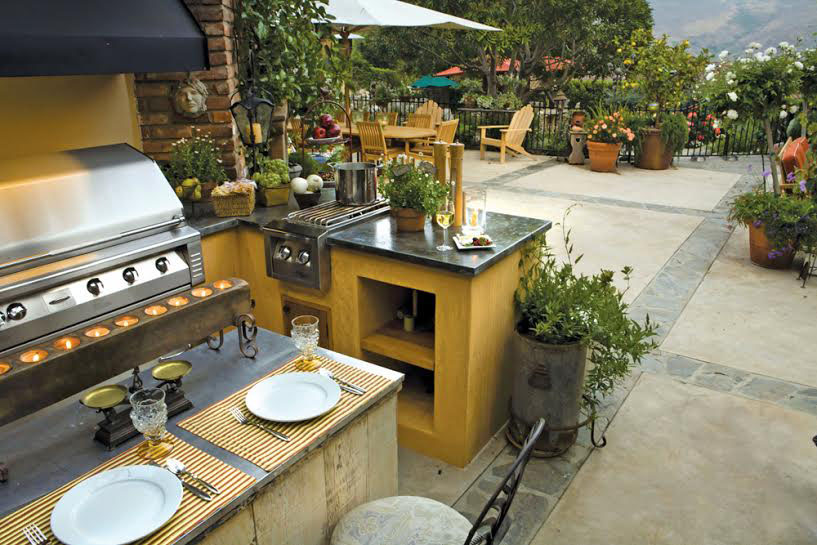 Planning on hosting a backyard barbecue around a simple charcoal grill? We aren't either, and the same can be said for millions of Americans who are spending their outside cooking season surrounded by great, big, beautiful outdoor kitchens and cooking areas.
Today's exterior party solutions keep the hosts involved with the festivities, while delivering sumptuous culinary results. And the amenities will blow you away, with refrigeration, huge prep space, units for every type of grilling and specialty accessories you'll drool over.

THE MAIN COURSE 
There is so much that goes into the design of an outdoor kitchen—the grill, the bar, refrigeration, shelving and more. Tom Blakeslee, owner of All Aspects Masonry, says there is no limit to what can be created. "By the time customers reach out, they are already researching, getting ideas ofwhat they want," he says. "They see things in magazines or online, and then tell us what they like. There is a wide variety. I don't think we've done the same thing twice."
Just like any good meal, the entrée is where it all counts. And for an outdoor kitchen, it's all about the grill options. Jay Stong, owner of Salter's Fireplace Company, says there are gas, pellet, electric, charcoal and wood-fired portable and built-in grills, as well as pizza ovens, smokers and more. To create the space that's right for you, Stong asks: How many people do you normally cook for? Do you entertain for several guests and if so, how often? What is your preferred cooking style and foods, frequency and seasonality of grilling? What is the preferred location outside, in relation to accessibility to the indoor kitchen? Are lighting and needed electric appliances desired? "Overall, we recommend grills based on our customers' lifestyle and what they enjoy cooking," he says.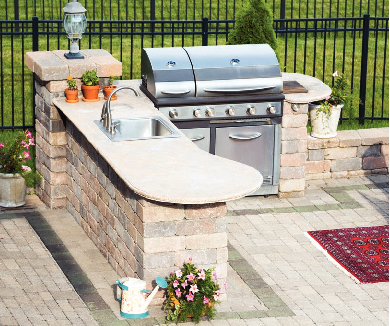 For consistency in cooking, gas grills are still the most popular, says Sam Stoltzfus, owner of LanChester Grill & Hearth. "They [come with] infrared burners and side burners, which are excellent for searing." Depending on the grilling method, food can taste different, he says, adding that homeowners should consider smoker tubes and griddles, using wood pellets for cooking or lump charcoal (which offers a natural charred wood taste without chemicals), and to give the Big Green Egg a look.
When it comes to grills, the upgrades can steal the show, explains Steve Compton, general manager of CKC Landscaping. "[Customers] are looking at rotisseries and searing bars, or building grills and smokers into islands. Maybe it's the competitive cooking shows. There's a gourmet essence to the indoor kitchen they want outside." People also want to socialize. "The host/hostess wants something where they can be part of it all," he says.
Larger grills—especially 36- and 42-inch sizes—are popular, says Sean Murray, owner/partner of Nature's Apprentice Landscape Designers and Contractors. This is true even for people who are not outdoor chefs, because they last a while. "Big Green Eggs and smokers can be built right into the kitchen," he adds. "We've built areas so they fit in their separate space."
"Weber is an outstanding, solid unit," says Bill Vandegrift, owner of Bill Vandegrift Appliances. "The warranty is terrific." He says one of the benefits to high-end units is that they often offer lifetime warranties on stainless steel, burners, welds and more. "Grills that can cook at higher intensity temperature can really change the flavor of what you're cooking. Plus these units are really built well. If they have any issues, it's usually that the owner hasn't cleaned and maintained them," he says.
Another popular cooking amenity popping up in a lot of outdoor kitchens is the pizza oven. "People want things that add to the fun," says Chris Demato, owner of Rock Bottom Landscaping & Fencing. "Pizza ovens lead to pizza parties. They also cook great pizzas and quickly, in about 90 seconds. You can cook just about anything—steaks, seafood, vegetables—all at restaurant quality."
However, Murray makes sure to be upfront with clients who are interested in pizza ovens. "I warn people that they need a lot of prep time, to get wood and coal where they want it, heat-wise. But if you're really into it, it's a very cool niche," he says.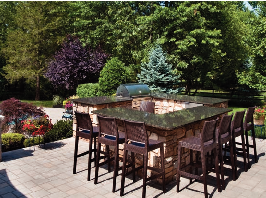 COMPLETING THE SPACE
Just like their kitchen inside the house, homeowners want to have access to practical cooking items, through the help of cabinets and refrigeration, reducing the number of times the host has to run inside for a plate or bottle of marinade.
If installing a fridge, make sure it's built specifically for the outdoors, says Vandegrift. "There's a difference for outdoor fridges in the mechanics of the electrical components, due to moisture and high humidity. You can't just put an indoor fridge outside."
For people who add extended roofs, overhead ventilation should not be overlooked. "[Otherwise], you'll get black, greasy residue that can ruin the ceiling," he says.
Compton agrees, saying appliances often dictate where and how they can be installed. "Liquid propane, natural gas—the grill has different connections. You have to take ventilation into account for proper air flow," he says.
And then there are the building materials, each one with its own benefits and caveats.
"The materials to choose for the area vary," says Compton. For patios, he uses wall block with the masonry unit made from natural stone, with possibly some Bluestone, too. "We connect areas by matching railings and trim, and look at how everything fits into the overall plan, to create an elegant, beautiful look," he says.
For Stong, when building outdoor kitchens—depending on the style and type of grill purchased—aluminum tubing and block would be chosen for the structure and stone or stucco for exterior finish. "We don't recommend tile due to the freeze and thaw in our region. Although brick is a reliable building material, it tends to be an outdated style," he says.
"You have to have stainless steel for appliance and ceramic smokers," says Murray. Other materials he suggests for the custom-built kitchens he creates include concrete block with a stone veneer. "It helps with durability and allows for flexibility for construction," he says.
For countertops, granite is the best option and leading preference, says Demato. "You don't have to worry about staining. Natural stone needs to be treated." Aesthetically, he likes Bluestone, limestone and Corian.
Creating and completing the space with the help of a professional will ensure you and your family can enjoy meals al fresco for years to come.
RESOURCES
All Aspects Masonry
Norristown, Pa.
(610) 292-1955
AllAspectsMasonry.com
Bill Vandegrift Appliances
New Britain, Pa.
(215) 345-1892
BillVandegrift.com
CKC Landscaping
West Chester, Pa.
(610) 436-1810
CKCLandscapingInc.com
LanChester Grill & Hearth
Gap, Pa.
(717) 442-8794
LanChesterGH.com
Natures Apprentice Landscape Designers and Contractors
Lebanon, N.J.
(908) 255-5665
NaturesApprentice.com
Rock Bottom Landscaping & Fencing
Belle Mead, N.J.
(732) 873-6780
RockBottomLandscaping.net
Salter's Fireplace Company
Salter's Fireplace Patio Grill
Eagleville, Pa.
Salter's Fireplace & Artisan Shop
Hatfield, Pa. 
(610) 631-9372 
SaltersFireplace.com
Published (and copyrighted) in House & Home, Volume 17, Issue 12 (June, 2017).
For more info on House & Home magazine, click here.
To subscribe to House & Home magazine, click here.
To advertise in House & Home magazine, call 610-272-3120.