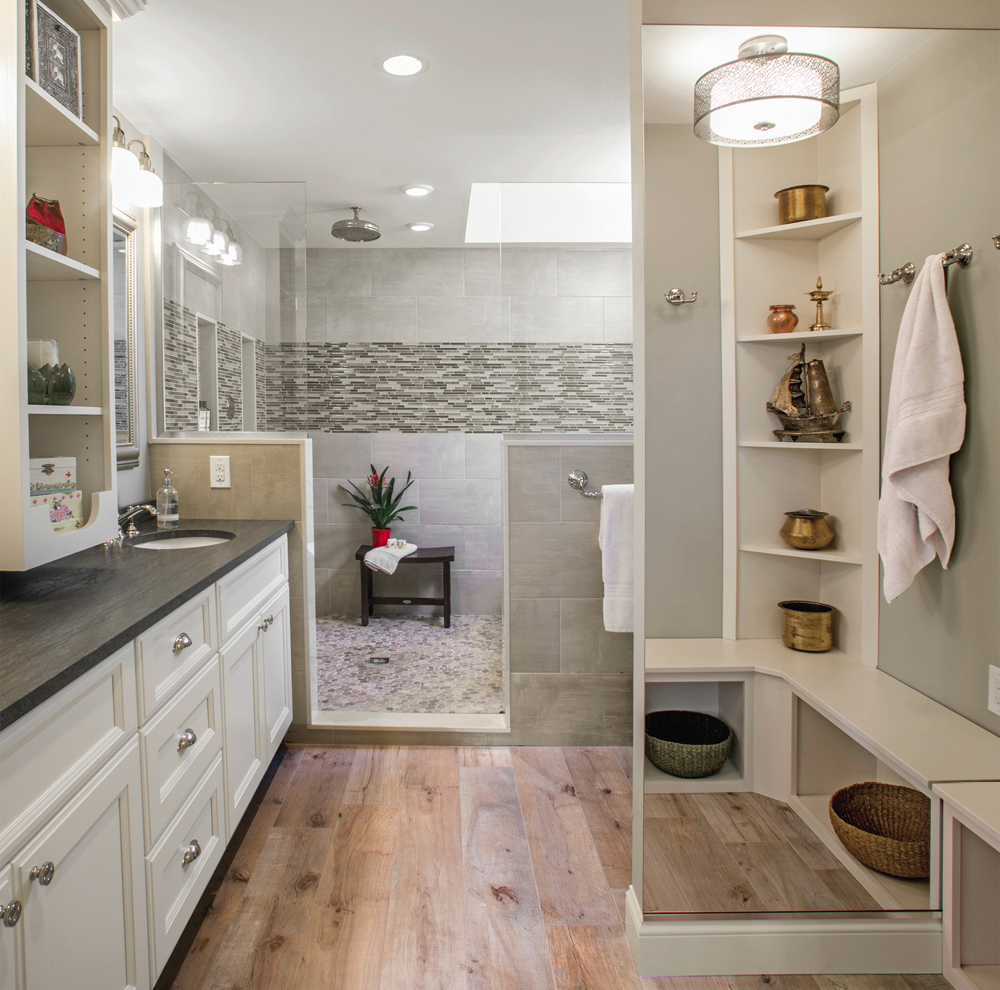 A home has a lot of personality—even in the smallest of spaces like a bathroom. While many homeowners might find it incredulous that such a small space can fit so much personality, designers across our area see it as a room full of opportunity.
Whether your tastes err to the side of traditional, modern, European, Asian or all-out opulent, several local designers reveal to House & Home just how homeowners can best use their personal touches and personality to curate a bathroom retreat they've always wanted.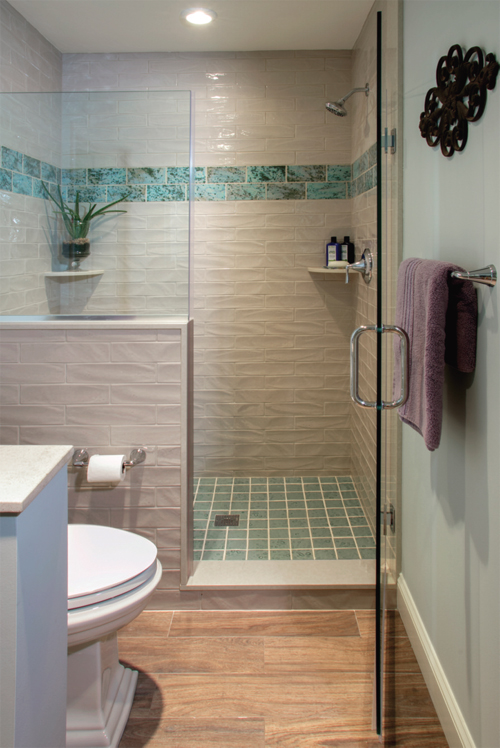 CONSIDER THE BUDGET
For starters, designers urge homeowners to consider their budget and the time frame in which they intend to live in their home. This gives both owners and designers a better idea as to what kind of renovation they're working on and most importantly, the overall cost of the project.
"Having an idea of bathroom renovation costs up front will help you set a budget for you and your space," explains HomeTech Renovations' designer Nicole E. Cummings. "Being prepared and knowing what you will be able to get for your budget will result in a smoother process and ultimately a space that you will love. Selecting products that are way out of your price range will only result in disappointment and frustration."
Tom Collins Jr. of Colmar Kitchen Studio reiterates this point, adding bathroom renovations can often lead to cost overruns when a budget isn't set in place."While a bathroom may be small in space compared to the rest get out of control," Collins explains. "Cost overruns and time delays are very easy to encounter. Hire the right people and have a design and action plan in place before any work starts."
With that, seeking professional help and having a clear-cut idea of what kind of personality a homeowner wants their bathroom to take on, will aid in making swift and concise decisions during a renovation. Utilizing additional designing tools such as Pinterest, Houzz or visiting a local vendor, will also aid in the research process.
"Homeowners often know the feeling they want to evoke, but are lost when it comes to piecing it together," Collins says. "A professional can help guide them to get the result they desire within their budget. ...Try visiting vendors that specialize in the different materials you need. They often have staff that can guide you if you don't have a designer to pull it all together, i.e., a tile store, a plumbing supply showroom [or] a cabinet showroom."
As for how long a homeowner intends to live in their home, Cummings advises to keep that time frame in mind when choosing a style for a bathroom. "If a 
client is interested in a traditional style but plans on living in the home for only two years, they might want to move into a transitional style. This will be better for resale," she explains. "If this is your forever home," she counters, "you might want to keep in mind that styles may change so neutral color palettes are typically safe."
CHOOSING A PERSONALITY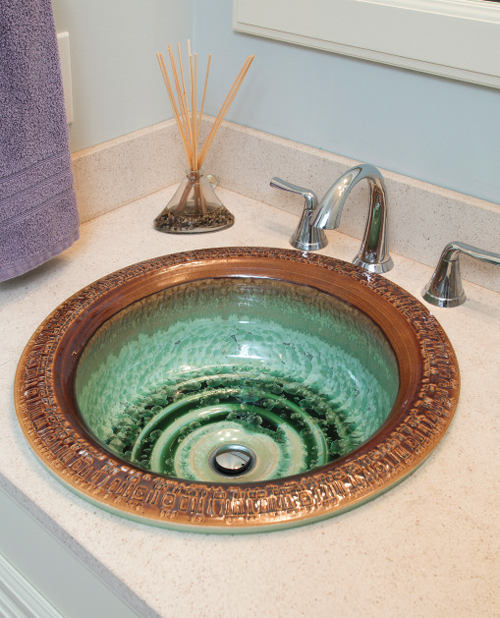 One of the best ways to give a bathroom a personality is focusing on certain aspects of the space. To start small, changing the color of the room is one way of adding a lot of flair. "You don't have to paint all your walls a bright color to add some life to your bathroom. Some simple coordination of a subtle paint color and accessories in a pop of color is all you need," says Collins.
"The second is your cabinet hardware. We refer to cabinet hardware as jewelry; pair a stunning necklace
with an old dress and you have an impressive outfit. It can totally change the look of a cabinet and bring a fresh updated look to the bathroom."
When it comes to big changes, it could be a complete overhaul of the space, whether that's replacing a standard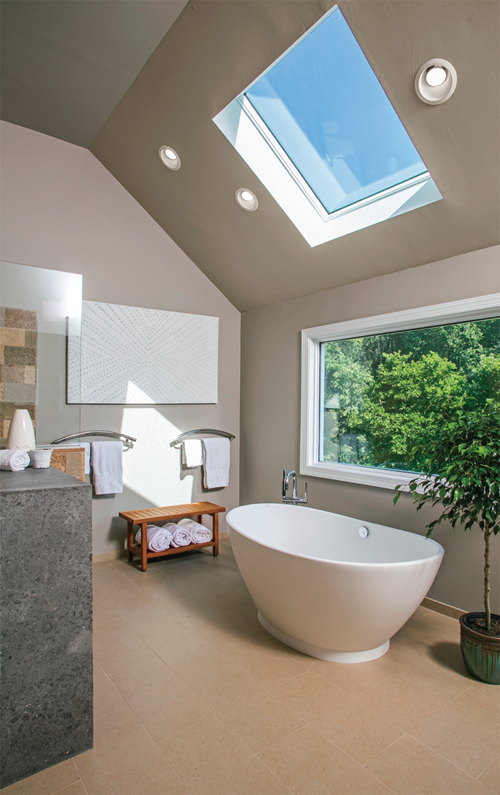 shower to mimic a specialty spa, adding a soaking tub, the addition of a chandelier and light fixtures, or a completely new vanity. Yet, each of these elements varies stylistically ranging from traditional to opulent looks.
A EUROPEAN LOOK
If you're veering for a European look, designers agree the style is a bit more minimalist and open. "Many European bathrooms are tiled floor to ceiling," explains Beco Kitchens & Bathroom's owner, Timothy Pesce. "[It] really gives you a sleeker feel … [and] one of simplicity. It's definitely one with a great deal of function with things."
Pesce, along with Cummings, explain the color palette in a European space is softer, with colors ranging from white to chrome. "When clients are looking for the European look they typically want something that is more contemporary," says Cummings. "They are looking for the latest trend; very sharp lines and angles, large format tiles, wall-hung vanities, high contrast and an overall cooler feel."
For homeowners looking to be bold, Skippack Kitchen & Bath's interior designer, Jennifer Kell, AKBD, suggests, "Us[ing] slab-front doors in a gloss enamel finish. I usually think of clean lines, open storage and crisp white contrasted with fun pops of vibrant colors … [like] a deep saturated color behind the crisp white tub."
A MODERN LOOK
For a modern space, it has a softer feel compared to the latter. "Modern bathrooms often have a monotone color palette, but may add interest with different textures," says Cummings. "Wall-hung vanities, large format tiles, freestanding tubs [and] natural stone are all characteristics of a modern bathroom."
Another aspect of modern elements includes sharp-edged or linear tiles. "Go big with the floor and wall tile," advises Kell. "Maybe 12-by-24 floor tiles in a stacked pattern. A modern look may incorporate a little asymmetry."
A TRADITIONAL LOOK
Unlike its counterparts, a traditional look tends to have balance and symmetry. It features a lot of ornate characteristics in terms of fixtures and door design, as well as neutral and earth tones, or even a cooler palette ranging from black, gray or white.
"Consider a soaking tub, beautiful wood cabinetry, oval-shaped sinks, classic limestone or marble and rich wood tones for the cabinetry with framed flat panels," says Kell. Another key trait includes furniture-like vanities, which according to Kitchen and Bath Gallery's Bernie Butler, is quickly becoming popular with many traditional-styled bathrooms.
AN ASIAN LOOK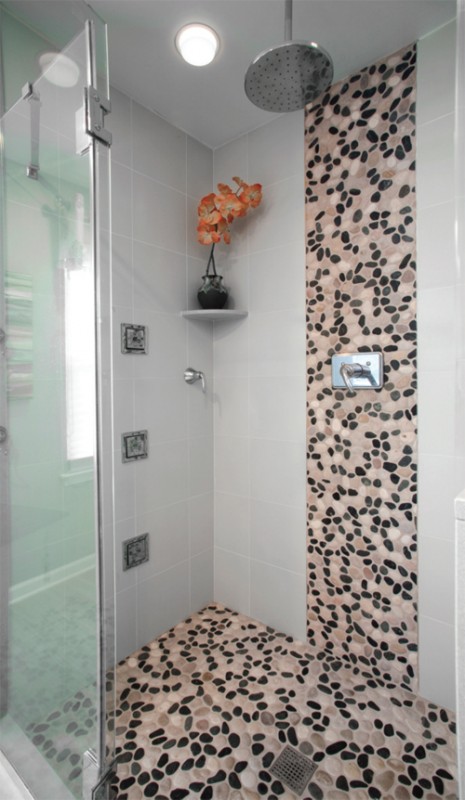 For an Asian feel, homeowners should tap into a yin and yang balance throughout their bathroom space. Using earthy tones, as well as wood-clad walls, gives the room an overall zen feel.
"An Asian-style bathroom has a very open airy feel, balance and symmetry are key elements to the design," explains Cummings. "Very natural, neutral colors and materials are used. The Asian style is very simplistic, uncluttered and incorporates low lines."
AN OPULENT LOOK 
What might be considered as the most unique style, opulent lends itself to the lavish and custom. It incorporates some traditional aspects, but features ornate moldings, rich tones with pops of bold color and, of course, crystal chandeliers.
"Looks are achieved by incorporating unique pieces such as a custom vanity and storage system, uniquely shaped tiles, water-jet cut for any shape you can imagine, or a custom mosaic piece focusing on the homeowners' interests," explains Kell. "Then maybe a bidet, steam shower with aromatherapy and definitely a towel warmer. All of the materials would be created using finest craftsmanship."
A PERSONAL TOUCH
Whichever style a homeowner chooses, designers agree there is no one style that fits all when it comes to a bathroom's personality. Adding a mix of each look, whether it's traditional and modern or opulent and European, gives a bathroom a personality of its own—just like its homeowners.
"Don't feel trapped or pushed into having to be one or the other," advises Pesce. "Stick with what you feel is going to end up speaking to you because in doing that, you will end up with what it is that's going to work best for you.
"Don't try to force something in there," Pesce adds. "Do it the way you feel most comfortable and you'll still end up with an eclectic feel. ... If [you have] a contemporary feel, but you want to go with a more traditional vanity, then do it—especially if you're going to be looking at it for the next 10 years. It's something that you want to be able to have or give you pleasure in the morning and at night."
RESOURCES
Beco Kitchens & Bathrooms
Morrisville, Pa.
(215) 240-4850
Beco-Designs.com
Colmar Kitchen Studio
Margate, N.J. | (609) 822-4992
Avalon, N.J. | (609) 368-9500
ColmarKitchenStudio.com
HomeTech Renovations

Fort Washington, Pa.
(215) 646-7477
HTRenovations.com
Kitchen and Bath Gallery
Marlton, N.J.
(856) 810-1111
NewKitchenAndBathGallery.com
Skippack Kitchen & Bath
Skippack, Pa.
(610) 409-7998
SkippackKitchens.com
All photos courtesy of HomeTech Renovations.
Published (and copyrighted) in House & Home, Volume 17, Issue 7 (Special Edition Spring 2017).
For more info on House & Home magazine, click here.
To subscribe to House & Home magazine, click here.
To advertise in House & Home magazine, call 610-272-3120.