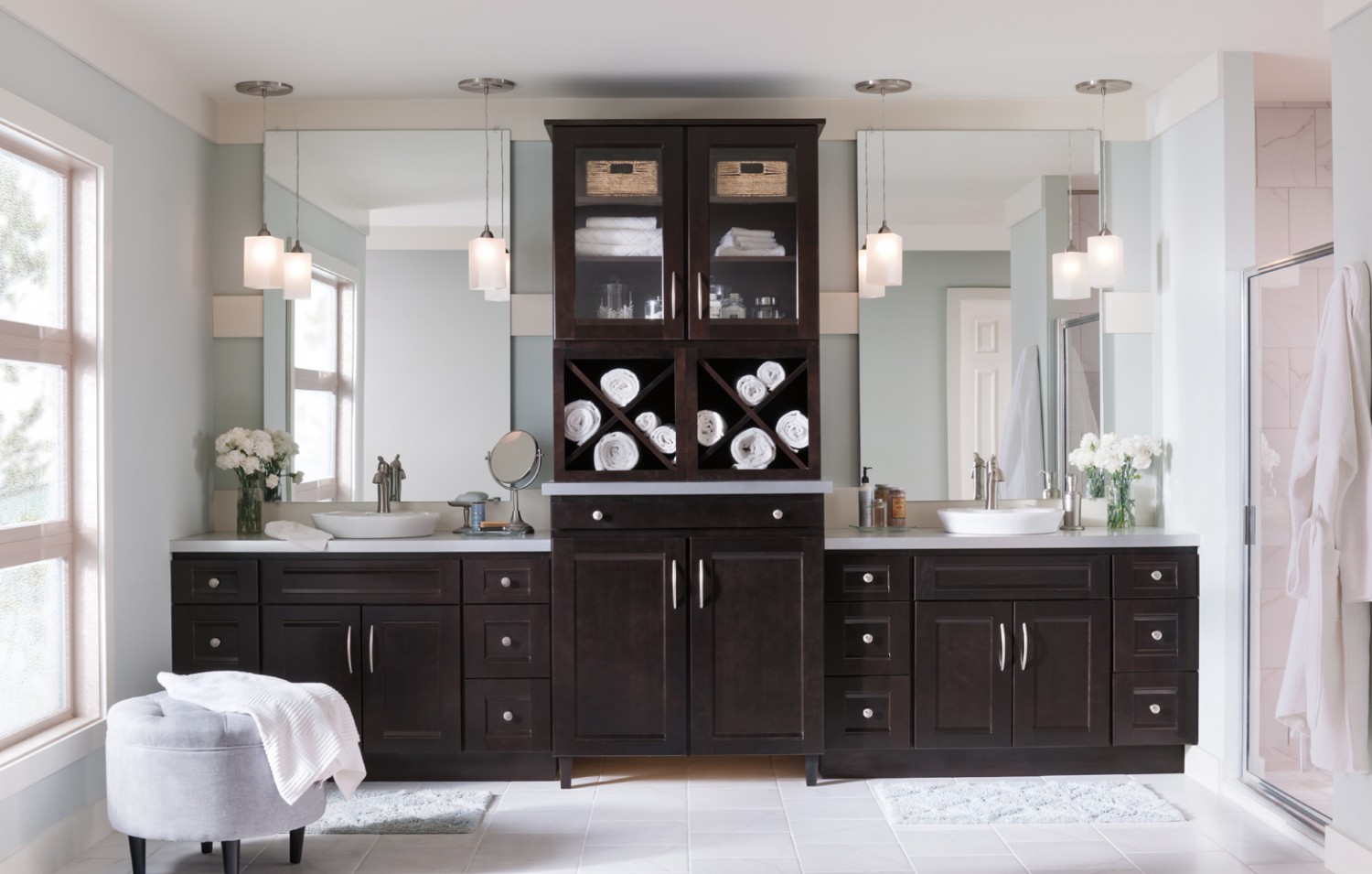 If you had to name the one room in your home that you just can't stand anymore, would your master bathroom come to mind? Perhaps you've been living with the builder-grade tub, a leaky faucet or cold tile flooring that make mornings just a little bit rougher. With the help of a professional bathroom designer and remodeler, this room can be transformed into a welcoming space with updates and investments that will improve your home's value and your well-being.
House & Home spoke with several professionals about their recommendations for approaching a bathroom makeover, including frameless showers, heated flooring and vanities.
Preparing for the remodel
Today's homeowners have access to thousands of inspirational photos through websites like Pinterest and Houzz, and professionals recommend clients gather their likes and dislikes before approaching a remodeler.
"It's good to look around for things you like so when you meet with a remodeler we have some idea of what you like or don't like," says Mike Reisbord, owner of Diamond Kitchen & Bath. "We want to know your basic wants and the generaloutline of the space, and then the designers can do their thing to bring you a design to fit that."
Sharing information makes the end product more successful. "It's best to know how the client will use the space and what they are looking to accomplish so we may tailor the design features to meet the client's needs," says Robin Murphy, CKD at Bath, Kitchen and Tile Center. "All of the design elements, from footprint to the material selection, will come into play to ensure we are accomplishing the original purpose of the remodel project."
Yet, there is a word of warning for those who are curating a bathroom design through online inspiration, says David Cerami, CKBR, president of HomeTech Renovations. "What can often happen as we accumulate these ideas, we divorce ourselves from what stuff can potentially cost," he says. "Freestanding tubs look great, but they can cost upwards of $15,000. It's a hard pill to swallow. It's important to understand that a certified design professional has genuine insight into value-based engineering, and can help make critical decisions on what isn't in your best interest or may not coincide with the budget."
This may cause some to reconsider a full remodel, instead attempting to just replace one or two components of the bathroom. "That can wind up [creating] more of a problem," says Cerami. "If you pull out a tub and replace it, there may be fallout with the tile and infrastructure, and if you try to match the tile it will end up looking obvious. If you want value in the home, it's not just new tile or new vanity; it's rebuilding the room for modern choices."
Shower and tub options
Most updated bathrooms have been doing away with the standard bathtub and moving toward a walk-in or frameless shower design.
"The majority of people remodeling their master bathroom choose to create a spa-like experience with a walk-in shower in place of a separate or combined tub/shower," says Deborah Spinosa, manager at Weinstein Supply & Bath & Kitchen. "The decision is often driven by the departure of children from the home and a desire to reinvent the couple's space. No threshold showers are easier to clean and make the bathroom look bigger. [You can] add body sprays and water jets in the wall to give the feeling of a water massage. There is also the choice to have a built-in or moveable bench, which is helpful as homeowners age in place."
Designers must take into consideration the location of pipes, which could be behind walls or under the floors, when deciding where to place a shower and if the water supply will be easily accessed. Doug Mottershead, CKD at McHales, says a tub-to-shower conversion can be simplified using a retro-fit shower pan. "This has a factory-made left or right-hand drain, as opposed to a center drain, thus minimizing the amount of plumbing work required," he says. "Since you stand upright in a shower, it can be beneficial for reducing the size of the footprint of the actual shower floor area."
Larger showers seem to be in-demand though for those with the space. "A big request is for the shower door to be frameless, without the metal trim," says Murphy. "More often than not they still have a door and it keeps the warm shower air in."
Tom Basile, founder and president of Precision Mirror & Glass, says the hinged door system is by far the most popular system among his clients, due to its minimalist qualities and its cost advantage over a high-quality rolling system. "Our exclusive Precision Touch Collection 'soft close' hinges have improved the product immeasurably. Most products on the market are spring loaded, providing tension to keep the door closed tightly, but if they continually slam closed, the fixed panel could loosen, requiring a costly service call." Soft close is an alternative that Basile says will add to the cost up front, but preserve the product long term.
For those who do still want a tub in their bathroom, designers recommend a freestanding tub. "Many are adding a freestanding tub with accompanying floor-mounted tub filler," says Spinosa. "This allows the homeowner to place the tub virtually anywhere in the room because the water supply to the tub filler is installed through the floor." She adds that the tub will often have elements like heat, water movement and light and sound therapy, adding to the oasis-like environment.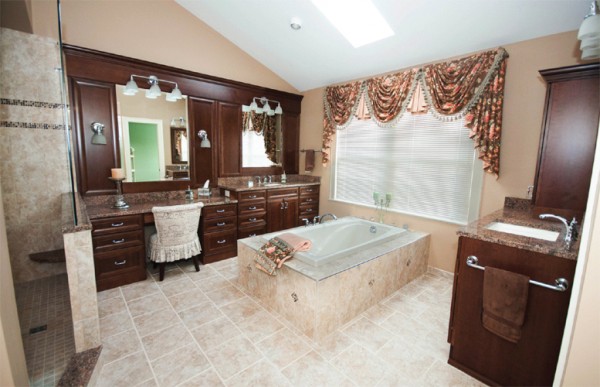 Optimal flooring
There seems to be a consensus in the type of flooring recommended for bathrooms: non-slip ceramic tile. "Porcelain tile is pretty much the only one I recommend," says Reisbord. "The best part is it can be made to look like anything: hardwood, natural stone or just plain tile."
Murphy agrees. "I recommend porcelain tile for bathroom flooring in either 12 by 24 size or tiles that look like hardwood," she says. "It's very durable and easy to care for, not to mention great looking."
There are other trends on the horizon, however. "Non-slip ceramic tile is still king, due to its water resistance, durability and beauty," says Mottershead. "But due to the maintenance required by the necessity of grout and caulk in a ceramic tile installation, we have seen an uptick in the use of a newer product in the bathroom: vinyl, floating, click-lock plank flooring systems that are cork-backed and impervious to water." He mentions COREtec Plus by U.S. Floors. "Through the miracle of technology, it can look like wood or stone without any grout."
To really elevate the feeling of the flooring, Cerami recommends radiant heating. "It's nice to come out of the shower and put your feet on," he says. "[Some] systems we use eliminate the baseboard or cast iron radiators traditionally used in older homes. So you end up with a clean look with no visible mechanicals, and the radiant heating does more than warm the room, it heats it adequately."
Vanities and countertops
A bathroom vanity is often the main focal point of the space and it's where a person spends most of their time getting ready for their day. People who have been living with a small vanity with lack of counterspace and storage may immediately think they want an oversized vanity. "Most clients want the largest vanity and counterspace the space can accommodate, and this is usually because they are coming from a bathroom that didn't have enough of either," says Murphy.
Maggie York or Caledonian Kitchen & Bath says a vanity's size is an important consideration. "I prefer not to overdo the vanity size but instead I like to use the space for depth and dimension and design and aesthetics."
The key is to avoid anything bulky. "The contemporary look is minimal, natural, simple," says Cerami. "We are seeing a lot of wall-hung vanities and the configurations are nice, with rollouts and accessories to benefit the homeowner with storage."
"Functionality is at the forefront," Spinosa says, "with many vanities having electrical outlets for razors, hair dryers and curling irons. They also include organizational cubby-like-slots behind their beautiful furniture façade to aid in organizing creams, lotions and other self-care products. People are able to take advantage of vertical space, using end cabinetry for towel and sheet storage."
Besides the size, homeowners can also choose from a variety of colors and materials for their vanity. "In addition to the tried-and-true cherry and maple woods or thermofoiled whites and creams, we are seeing more interest in woodgrains with an increasing amount of gray tone added," says Mottershead.
Finally, York says she recommends quartz as a countertop. "There's no sealing required and you don't have annoying water spots that take time to dry," she says.
Additional finishing touches for the bathroom remodel include lighting and hardware. Mottershead says sconce lighting on both sides of a mirror provides illumination for putting on makeup or shaving; and York says gold plumbing and hardware is making a comeback.
It can all be very overwhelming to choose, which is why a professional bathroom designer can lend a guiding hand. "When you deal with a specialty company, we've been around the block," says Cerami. "A good design professional is worth their weight in gold."
Resources
Bath, Kitchen and Tile Center
Wilmington, Del.
(302) 992-9210
BathKitchenAndTile.com
Caledonian Kitchen & Bath
Flourtown, Pa.
(215) 836-5150
CaledonianKitchenAndBath.com
Diamond Kitchen & Bath
Huntingdon Valley, Pa.
(215) 752-4400
DiamondKB.com
HomeTech Renovations
Fort Washington, Pa.
(215) 646-7477
HTRenovations.com
McHales, Inc.
Levittown, Pa.
(215) 874-3805
McHalesKitchenAndBath.com
Precision Mirror & Glass
Eatontown, N.J.
(732) 389-8175
PrecisionShowerDoors.com
Weinstein Supply & Bath & Kitchen
Collegeville, Pa.
(610) 409-2800
BetterBath-Kitchens.com
First photo courtesy of Bath Kitchen and Tile Center.
Second photo courtesy of McHales.
Published (and copyrighted) in House & Home, Volume 17, Issue 7 (February, 2017).
For more info on House & Home magazine, click here.
To subscribe to House & Home magazine, click here.
To advertise in House & Home magazine, call 610-272-3120.