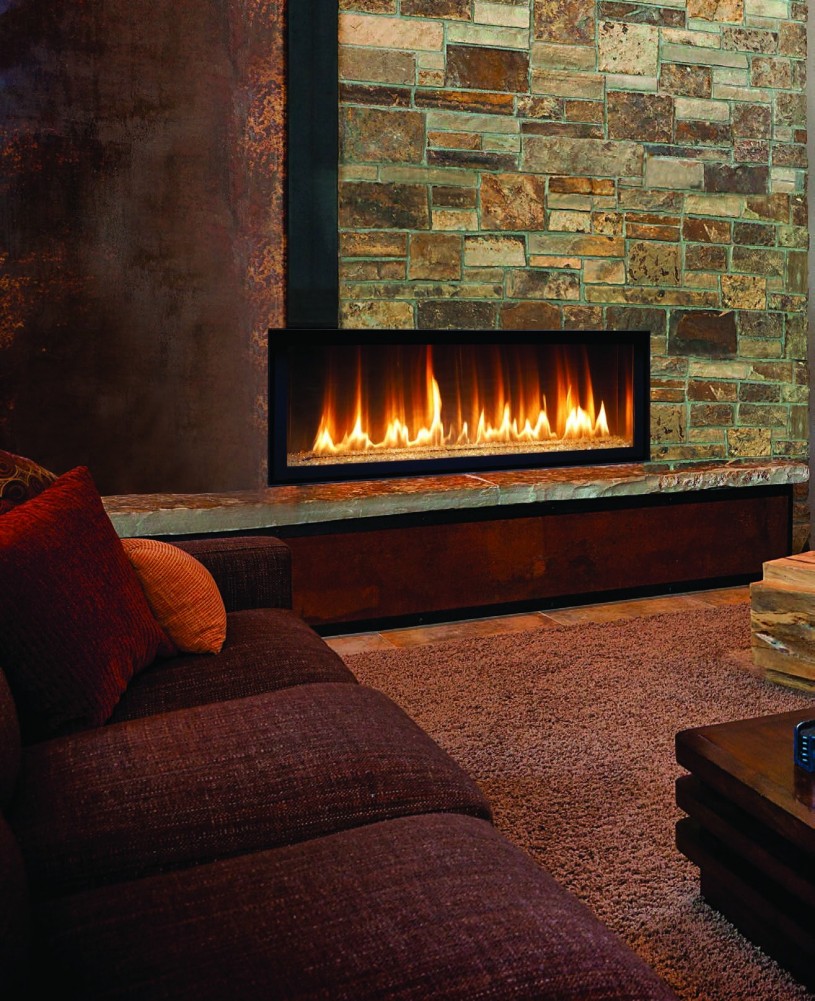 NOTHING SAYS COZINESS LIKE BASKING IN THE GLOW OF A WARM FIRE ON A COLD NIGHT. And with today's available indoor fireplaces, there's never been more ways to add a heat element to your home that fits your needs. Maybe you want the sound of crackling wood? Or the ability to light a fire with the flip of switch? Every choice has a tradeoff but luckily, there are plenty to choose from.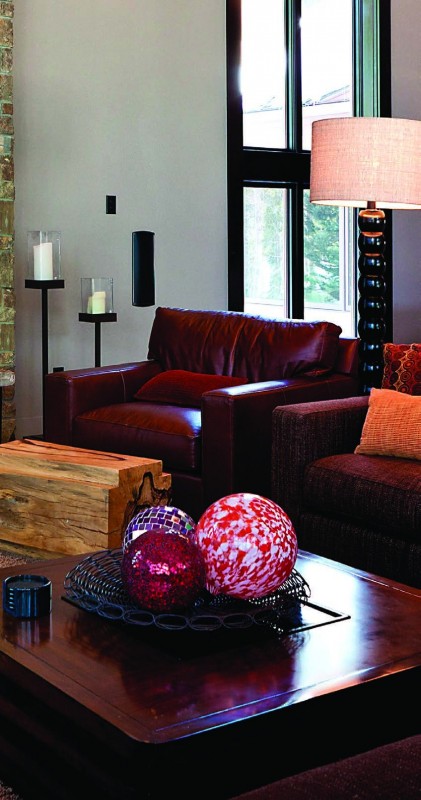 AMBIANCE OR HEAT
Fireplaces today are fueled by gas, wood or electricity. Additionally, free-standing stoves can be gas, wood or pellets. If you're confused about which of these is right for you, you might just want to start by answering this question: Do you want heat or aesthetics?
 "That's a big thing," says Alexis Rettinger, co-owner of Rettinger Fireplace Systems. "That's one of the first questions we ask."
Rettinger says if a person is looking for heat specifically, she may direct them to a direct-vent system. A direct-vent fireplace is a sealed combustion system that utilizes gas. With this unit, air is pulled in from outside to feed the fire and then the combustion  by-products are expelled outside the home via a ventilation pipe.
This differs from traditional open fireplaces,  where the chimney allows for the fire to burn and some of the combustion emissions do end up in the home because it is not a sealed unit.
If a customer is looking more for ambiance,  Rettinger says there are lots of options including electric fireplaces and vented gas logs.
 "It would be beautiful and very appealing," she says. "It's going to temper the area but it's not going to heat the area like a direct-vent or vent-free would."
Loyd Miller, president of Alber's Fireplaces, says directvent gas fireplaces can be 70 to 80 percent efficient. Although, he  says certain wood-burning fireplaces can provide ample heat also.
 "As far as wood-burning fireplaces, there are models that can do the same, depending on their efficiency rating," he says. "Wood-burning  inserts are also another good heat source. A standard open-front fireplace is not an efficient heat source."
When it comes to the most heat efficient option, vent-free fireplaces are top of the list, being 99 percent efficient, Miller says.
But while a ventless system can provide a lot of heat, it also has many drawbacks.
Ed O'Sullivan, owner of Newtown  Fireplace Shop, says few people actually qualify for a vent-free  system and that his shop screens people accordingly before they sell one. 
Ventless fireplaces are not recommended for people with allergies, asthma, breathing disorders or those sensitive to smell because this  kind of system pulls in air from the home and then releases emissions right back into the home.
 "It's not right for everybody for sure," O'Sullivan says. "There's definitely a time and a place that's right for a vent-free appliance."
O'Sullivan, who is also a local firefighter, says he believes people should really vent when they can. He is big on safety and he advises people have their ventless products inspected yearly, just as they would  a gas or wood-burning fireplace.
 "My thoughts are with a product that combusts and vents into your home, it's so much more critical to make sure that it's operating  in an optimal fashion all the time," he says. "We tell our customers that if you purchase a ventless system, you absolutely want to perform the annual maintenance on it."
IT'S ALL ABOUT GAS
Sam Stoltzfus of LanChester Grill & Hearth says with the way gas prices are and how easy gas fireplaces are to maintain and operate, he's not sure why anyone would go  with anything other than a gas system.
 "First off, you don't have to haul wood," he says. "You don't have to store pellets. You don't have to go pick up a whole bunch of pellets and unload them into your house and then dump the bags in every day. Gas is certainly  the way to go, especially natural gas."
If you already have a chimney and hearth, a gas fireplace insert can be installed into that space. Without a hearth,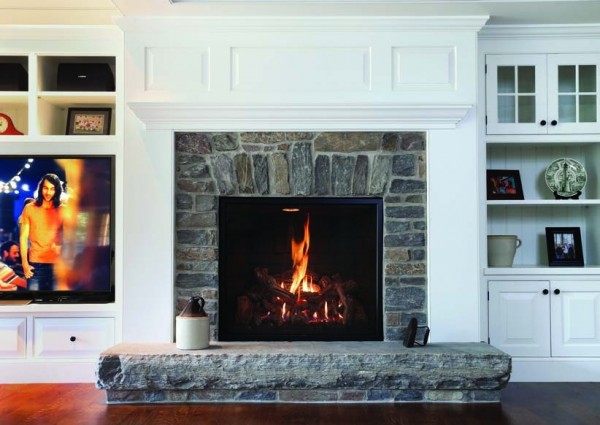 adding a gas fireplace is still possible in most areas of the home as installation only requires access to outside through a wall or the roof. "The beauty of the gas fireplace is they come in all sizes and configurations," Stolzfus says. Chris Tor of 3C Home and Hearth Fireplaces says homeowners should have their gas fireplaces inspected and cleaned about once a year, just as they would a traditional wood-burning fireplace. He also stresses that gas fireplaces are ideal for people looking to  add effortless charm and warmth to their home.
 "The most convenient option to buy for a homeowner would be a gas fireplace," Tor says. "You can just use a remote, on and off. As far as easy to use, gas would be the easiest."
SIZING DOWN
Although electric fireplaces are mostly used for ambiance, they can provide enough heat for smaller rooms in the home, Jay Stong, owner  of Salter's Fireplace & Stove Shop, says.
"If [the room is] 200 square feet or less, they could consider an electric fireplace," Stong says. "If it's anything more than that space, they're not going to be able to sufficiently heat it with an electric."
Electric fireplaces are exceptionally low maintenance as well. "Electric doesn't really involve any maintenance from the consumer standpoint, except for maybe  replacing lightbulbs depending on the make or model they get," Stong says.
Small stoves can also be an option for adding heat and ambiance to a smaller space. Pellet stoves in particular are good for small spaces, but they do require more maintenance than gas and electric fireplaces.
 "Pellets do require hands-on function from the homeowner," Stong says. "If it's a pellet unit, they'll need to feed fuel into it on their own. They're going to have to store fuel … and clean ash out of that at least once a week."
Rettinger says stoves in general are great because they take up minimal room. "If space is a factor, a freestanding appliance would be appealing to someone if they don't have  a lot of space or if they don't want the traditional fireplace  mantel setting, if that's not important," she says.
Pellet stoves in particular are also more eco-friendly than burning wood.
 "It's a personal preference but folks who burn pellets, sometimes they're liking the fact that they  are using a renewable reusable fuel. It's more the green effect because the pellets are made of waste from sawdust."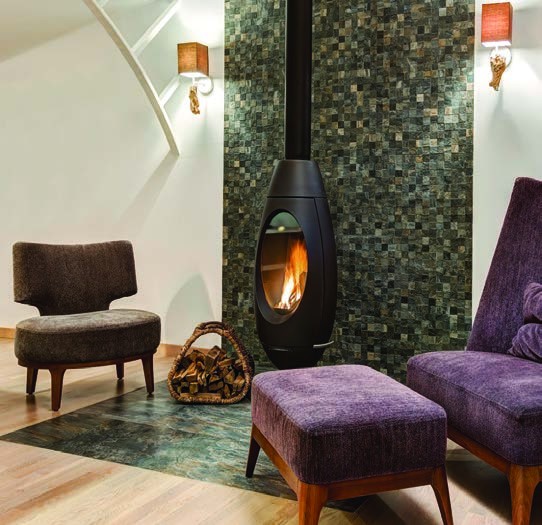 MODERN WARMTH
As far as what is new in fireplaces,  experts say linear fireplaces are highly sought-after.
 "They're really like sleek, modern-looking, longer horizontally," O'Sullivan says. "We see a lot of that. The traditional fireplaces are always popular, still are. But I would think the linear look, the modern look is an up-and-coming thing in our industry."
Linear fireplaces are generally fueled by gas and can be customized  to fit lots of different spaces. They can be up to 20 feet long, shaped like an L or even set in the middle of the room on an island.
Miller agrees that linear fireplaces  are popular, and adds that people are also looking for units that are remote operated or ones where they can place their TV above the fire.
 "Customers are looking at more modern options nowadays," he says.
RESOURCES
3C Home and Hearth Fireplaces
Richboro, Pa.
(267) 261-6886
3CHomeAndHearth.com
Alber's Fireplaces
Serving all of N.J.
(732) 629-7444
AlbersFireplaces.com
LanChester Grill & Hearth
Gap, Pa.
(717) 442-8794
LanChesterGH.com
Newtown Fireplace Shop
Newtown, Pa.
(215) 968-3981
NewtownFireplaceShop.com
Rettinger Fireplace Systems
Voorhees, N.J.
1 (855) GET-RETT (438-7388)
RettingerFireplace.com
Salter's Fireplace & Stove Shop
Eagleville and Hatfield, Pa.
(215) 362-2443
SaltersFireplace.com
Photograph courtesy of LanChester Grill & Hearth
Published (and copyrighted) in House & Home, Volume 19, Issue 3 (September 2018). 
For more info on House & Home magazine, click here. 
To subscribe to House & Home magazine, click here. 
To advertise in House & Home magazine, call 610-272-3120.