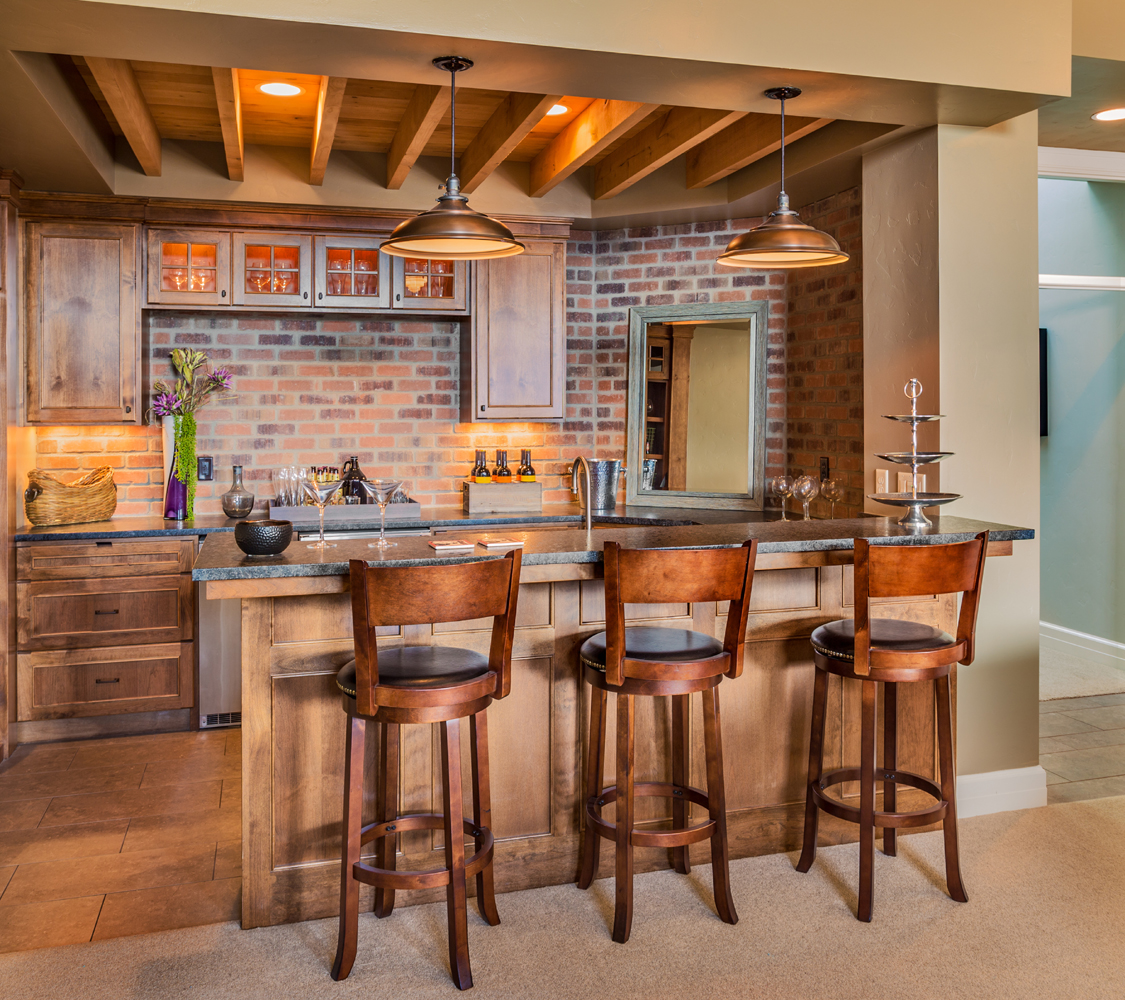 For the average family, basements are seen as a very versatile space in the house. When just starting a family, the basement tends to be the spot where all the extra boxes of decorations get stacked up or is even the area for your personal home gym. As children come into the picture—and working out changes to a luxury—the basements are often transformed into playrooms to keep the majority of toys in one messy space and out of the eyes of guests.
But as children get older and are in the house less often through high school and soon going away to college, the basement becomes up for grabs again. At this point in your life, it's the perfect opportunity to transform your basement—or just an area of it—into your very own home bar. House & Home caught up with the experts in basement bars to get all of the tips on materials, design and must-haves when it comes to your new lavish hangout spot.
Getting ready
The first step to getting your dream home bar is assessing your basement for what it is right now and planning out where the bar will physically go.
"You want to refinish the basement first," says Tom Meier of Basement Living Systems. "You don't want to put a bar down there without refinishing it first; that would be counterintuitive."
And speaking in terms of the most cost-effective way to install a bar into your basement, Meier says the best time for installation is when the refinishing is taking place.
Jason Parsons, lead designer at Design Build Pros, agrees, saying incorporating a bar into a new basement remodel is not difficult at all. But if you are retro-fitting the new bar into an already finished space, designers have to think about access to plumbing for sinks and a water line if you want a wet bar. You even need to consider how you are getting the materials into the basement and if they will fit down the stairs.
"Spatial planning is the single most important item to consider before installing a basement bar," says Parsons. "A bar is like a mini-kitchen with limited space storage, landing zones and prep areas [that] need to be planned as much as the seating.
"We use a photo-realistic design software to provide 3D color views of basement projects and the bar areas to ensure the space, materials and lighting are all in sync with each other," says Parsons. "Once you have the plan, it all comes down to execution by experienced carpenters and tradespeople."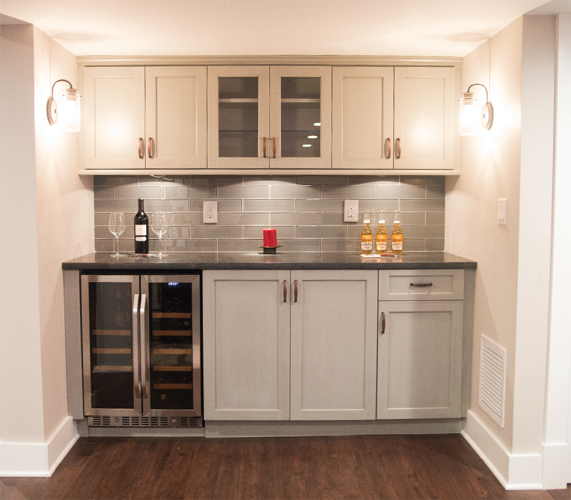 Design and materials
After mapping out where the bar will go, it's important to not only plan for the design of the bar and the materials used, but to be cognizant 
of having the bar area and the rest of the finished basement flow effortlessly together.
Meier says after defining the bar area, the flooring is the biggest thing to look out for. You obviously wouldn't want carpet in the bar area with the chance of spills and splashes from the sink. "A lot of times what I will do is the bar area will be tile or a vinyl plank flooring. Say they have another room that is [more of a living space] that would be carpeting," says Meier. "That's how you define the space so it is the [start of the] bar area."
Parsons says this is where the spatial planning is key once again. "You do not want the bar to be too overbearing and take over the room, or get lost in the corner. It should be a focal point and have access to it without crossing the TV area, or interfering with gaming tables or other activity areas," says Parsons. "This is where 3D modeling helps as well."
As for the actual shape of the bar, there is an array of styles to choose from but the popular styles teeter back and forth between "U" shape and "L" shape. Mark Ollivier, sales and design manager at Home Trimwork says two-tiered bars are also another popular style. This is where guests will sit in the front of the bar at a top section and the bartender will be at the back in a lower section to be able to prepare drinks and food.
"As far as the most popular material, I would say wood more than anything else," says Ollivier. "People tend to lean toward what they see the most when they shop online. If they tend to see a lot of wood bars they tend to want a wood bar. We do get those customers who are more specific who know they want to incorporate some stone into it, more granite, more marble or natural stone for a more rustic feel."
Parsons says the combination of wood and stone is very popular right now. "Tops range from reclaimed wood, to exotic natural stone and concrete," says Parsons. "I am currently designing a bar with an LED backlit acrylic top."
"Homeowners are looking for a 'pub' feel to their home bars," says Parsons. "Most often, they gravitate to a more transitional style that blends traditional materials with a more minimalist design.
Amping it up
What is a bar really without all of its features? Your patrons will be amazed by all of the amenities you choose to include in your bar. While a kegerator and fridge—whether it is mini or full-sized—are definitely must-haves, there are other amenities to choose from to get the full use of your bar.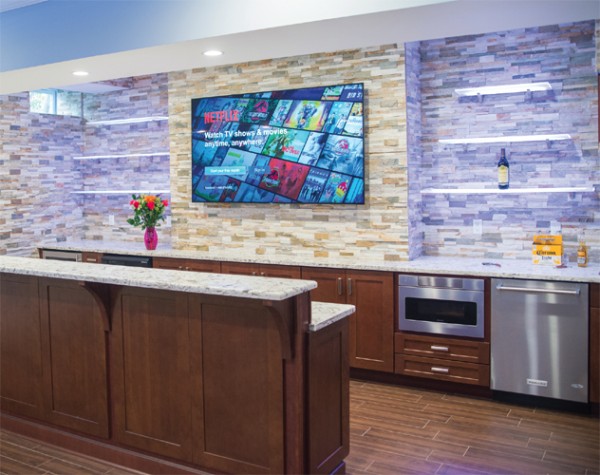 During the planning process, and thereafter, Ollivier says he comes together with the homeowners to determine what features they want. "Do they want a wet bar? Do they want appliances? Do they want additional cabinetry in the rear that might incorporate enclosed cabinets?" says Ollivier. "[Do they want] coffee makers, kegerators, wine dispensers and all of these sorts of things?"
While Ollivier agrees that a refrigerator is a must have to be built into the bar, he also suggests building in an icemaker for those special on-the-rocks drinks or frozen margaritas. In that case, don't forget the blender, either.
To amplify the entire bar area, Meier suggests hanging a TV on the wall. This will make those hosted TV events even more exciting by encouraging the party to congregate around the bar. He also suggests adding a bar game like a pool table to really make the space feel and look like a bar.
"If you have access to plumbing, I highly suggest a sink and a dishwasher. You do not want to carry dishes upstairs that need cleaning during a party, and the dishwasher makes your post-event clean-up easy," says Parsons. "There are electrical pumps that can send the waste water to your plumbing line without the cost and mess of digging up the concrete floor. These can be hidden within the cabinets and plumbing lines disguised in decorative soffits."
Enjoying it
There's just something about being the hosting house for events like the Super Bowl or the season premiere of The Bachelor. Inviting all of your friends over and mixing drinks and mingling without the loud-setting of a bar—where everyone is screaming over the music—is something that more and more people want.
"More and more finished basements are being referred to as lower living spaces," says Parsons. "Homeowners are spending more time with friends for game and movie nights as opposed to going out somewhere. I recently attended a 40th birthday party hosted at a friend's finished basement equipped with a full bar. All the attendees preferred that type of setting to that of a hall or club."
"Having the destination space at your home has many benefits," he says. "Creating a great bar that your friends don't need to drive to will not only provide you with years of memories, it will improve your home value."
RESOURCES
Basement Living Systems
Cherry Hill, N.J.
(856) 583-4805
WowBasements.com
Design Build Pros
Red Bank, N.J.
(732) 790-0973
DesignBuildPros.com
Home Trimwork
Huntingdon Valley, Pa.
(610) 287-1100
HomeTrimwork.com
Last two photos are courtesy of Design Build Pros.
Published (and copyrighted) in House & Home, Volume 17, Issue 7 (Special Edition Spring 2017).
For more info on House & Home magazine, click here.
To subscribe to House & Home magazine, click here.
To advertise in House & Home magazine, call 610-272-3120.