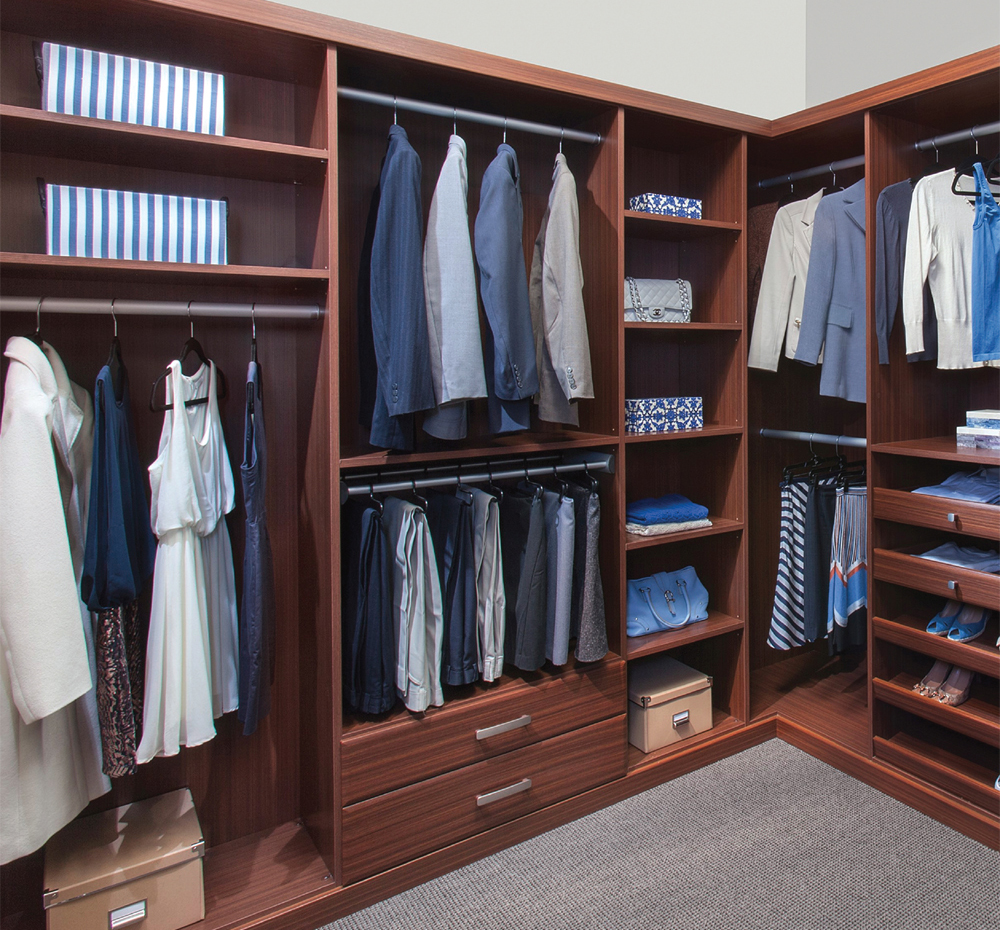 The new year is just a few weeks in and it's likely that many people have already broken a few of their resolutions. Maybe the goals were too lofty, or results not quick enough. One resolution that can provide an almost immediate impact on your lifestyle and well-being is getting organized. Think about your morning routine. Is it stressful? How often do you get out the door on time and completely put together? And don't forget the kids, are they looking for one shoe or last night's homework before jumping on the bus? Sure these little annoyances seem like just a part of life, but they can take a mental toll on a person.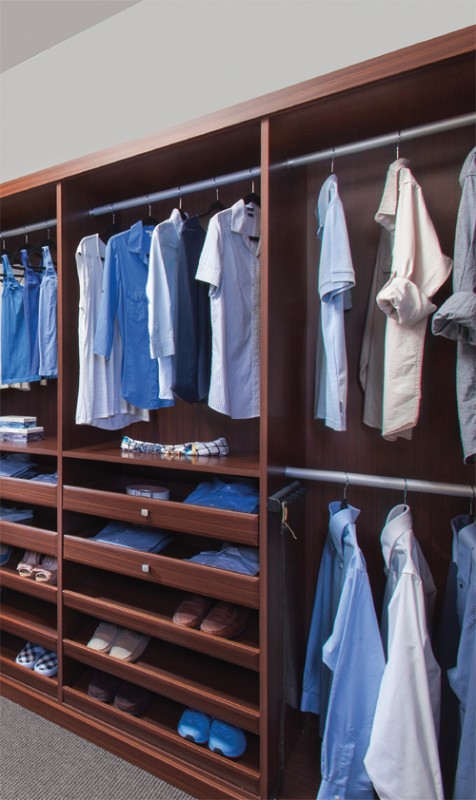 "Everyone is in a rush to get somewhere, and they are tired of not being able to put their hand on what they need as soon as they need it," says Aaron Lewis, owner of Closets for Less of Bucks County. "We commonly hear that people can't find anything in the pantry, bedroom closet, coat closet and it takes up their time."
For this reason, January, which is also National Organization Month, is the perfect opportunity to get that precious time back in your day. "People want to start the year off on the right foot. Being organized—in both your home and life—is essential for your day-to- day to run smoothly," says Melanie Statlander, marketing manager of California Closets North Jersey. "If everything has a place, and your life is free of clutter, you have more energy to focus on things that really matter, instead of spending time looking for that extra shoe or the important document you need."
CREATING CLOSET SPACE
Waking up and getting ready for work can be a struggle for many of us. Maybe we spend too long looking through the bedroom closet for a specific top or tie, only to find it hidden away—and wrinkled—and it's too late to do anything about it. This sets the tone for the day.
"We start every consultation by asking: Are you storing items in inconvenient places? Are you holding on to clothing that you'll never wear again? How much time and effort does it take you to get ready in the morning? They will create a design that will give you back those precious minutes in your day. Perhaps it's enough time for another cup of coffee, maybe an extra story with the kids before you head out for another busy day at the office," says Kymberly Morris, marketing and event manager for Closets by Design Exton.
Maximizing closet space—and purging items you haven't worn—allows items to be displayed and easy-to-spot. Customized closet solutions can work with the space available, or go extreme as building your own dressing room.
For a typical closet, Nadine Holtz of Closets by Design of Northern New Jersey says going vertical opens up a lot of space. "Most people have more items to hang than anything else. Doing double hangers creates more storage space for items, and allows a his-and-hers option," she says. "Underneath that we can build dressers or shelves for handbags, shoes and accessories. We have hampers, baskets and cubbies to keep everything organized so they don't become messy."
Walk-in closets can also be designed to look and feel like your own personal boutique. "We have done walk-in closets with a complete organization system," says Daryle Ricco, owner of Ricco Builders. "They include a combination of open hanging racks, shelving and drawer space. We finish it off with crown molding so it has a true built-in custom look. The end result is a clean, neat organized look."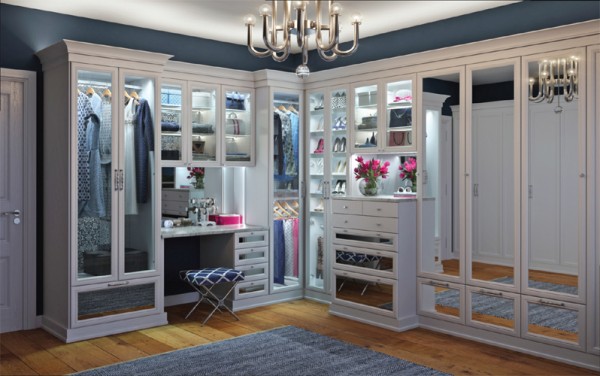 This high-end look is in demand among homeowners. "Closet space isn't maximized because there is just one pole and a shelf above it, and the wire shelving installed by some builders is also a common complaint," says Statlander. "People want a built-in look and a more luxurious feel to their closets. You should feel good about getting a custom closet installed to hold [your wardrobe] in a way that showcases the clothing and allows you to see and get the items you use most often."
Closet designers can make a closet beautiful with the help of accessories and finishing touches. "The materials come in a variety of colors—whites, antique whites, wood grain colors—and are made of melamine, some with new textured papers," says Holtz. "You can also choose from a selection of door handles, glass drawers, sliding shelves. It can be simple to high-end." Other accessory options include valet bars, belt bars, tie racks, jewelry and bangle drawers, or even hidden ironing boards.
LIVABLE LIVING SPACES
Common areas of the home also need their share of organization. Be it pantries, mudrooms or the home office, a professional and custom solution can eliminate the clutter and make the home tidier.
Statlander highlights built-in desks for kids to do their homework, or built-ins alongside a fireplace for books and collectibles. "We can go with a traditional design or something more modern or contemporary," she says. "Because everything is custom-designed, the end result will be in line with the client's taste and style."
The options are endless.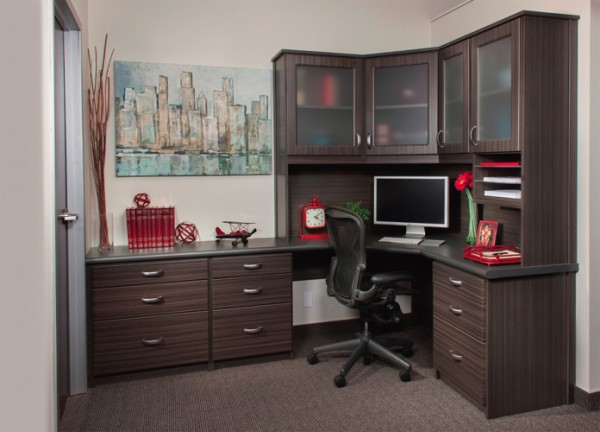 "We have done everything from entry hall closets, pantries, under staircase closets, entertainment and media storage and even wine cellars," says Holtz. "Whatever the need is, designers can come up with an organized system."
Kitchen pantries are a common request. Cans, dry goods and those tall oil and vinegar bottles need a place of their own. "Some appliances, like a stand mixer or pasta maker, aren't used every day, so we can put in pull-out drawers for things like that, so it's easier to access when you do need it," says Lewis. "Pantries are also good storage for cookware, cookie sheets and even wine racks for a small selection."
John Conrad, president of Clever Closets, says mudrooms have been one of the biggest areas for organization in the last decade. "When people move into a house they see the closet space and accept what they have, but they don't notice the mud area or foyer," he says. "There's no good place to put the kids' coats, backpacks, dirty shoes. It's an area that is used for four seasons."
Conrad says they build solutions with a freestanding locker unit, cubbies and coat hooks, so an existing closet is not even necessary.
Another room that benefits from professional organization is the home office. Sometimes this can be a converted spare bedroom, or a dedicated space on the main floor of a home.
"Spare bedrooms might only be used a few times a year when you have guests," says Morris. "A traditional bed takes up a lot of space, but Murphy beds are a returning trend that allows you to use the space of the room and pull down the bed when needed. When the Murphy bed is up, you don't even know it's there. We can install a desk next to the bed to allow the room's primary use to be for work."
And as working from home grows in popularity, a customized home office—complete with desk, cabinets and shelving—can help a person stay focused. "Sure you could buy a pre-made desk from Ikea or Staples and have it serve the purpose," says Conrad, "but when you're working 40 hours a week at this desk, you want to have exactly what you need." Maybe it's a corner desk that needs to fit just so, or you want to face the window. "It should be functional and enjoyable so you are more productive and have peace of mind to get work done," says Conrad.
No matter which area of the home needs organization, the professionals we spoke with say it's a decision their clients don't regret. "After customers get this done, they say 'I should have done this years ago,'" says Lewis. "It really helps relieve stress and gets them organized as life becomes more hectic."
RESOURCES
California Closets North Jersey
Fairfield, N.J.
(973) 882-3800
CaliforniaClosets.com
Clever Closets
Bethlehem, Pa.
(610) 867-2778
CleverClosets.com
Closets By Design
(866) 278-8881 | (Pennsylvania and Delaware)
(888) 500-9215 | (New Jersey)
ClosetsByDesign.com
Closets for Less of Bucks County
Feasterville-Trevose, Pa.
(215) 660-3080
Closets4LessBucks.com
Ricco Builders
Doylestown, Pa.
(215) 778-2655
RiccoBuilders.com
The first, second and fourth photos are courtesy of Closets by Design Northern New Jersey.
The third photo is courtesy of California Closets North Jersey.
Published (and copyrighted) in House & Home, Volume 17, Issue 6 (January 2017).
For more info on House & Home magazine, click here.
To subscribe to House & Home magazine, click here.
To advertise in House & Home magazine, call 610-272-3120.