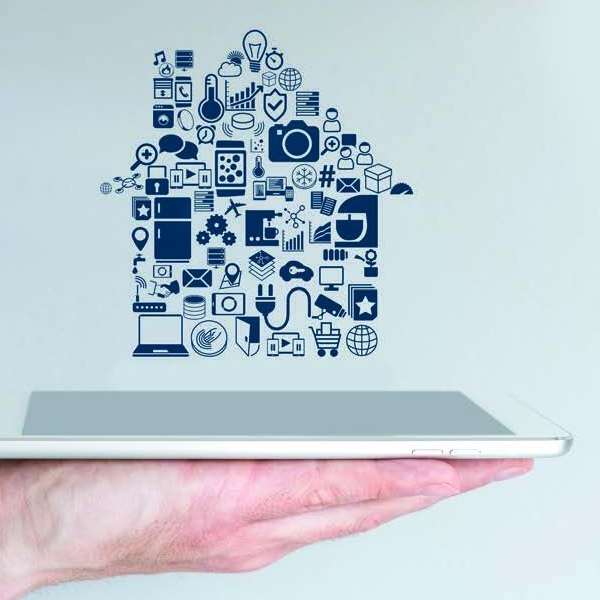 In the 21st century, technology has come to be a significant part of our everyday lives, so commonplace that it is no longer remarkable to see someone use their smartphone to video chat or get directions in an instant.
That same technology is available for your home, from smart thermostats to motorized shades to home audio systems to responsive lighting. Smart living technologies like these have certainly been around for years, however, just like your smartphone and computer, today's home gadgets are more sophisticated. Your lights can be controlled even when you're away at work or on vacation. The home theater is sleeker and more streamlined.  
So, maybe it's time to take another look at the smart living technologies in your house. Or, if you're a newcomer to smart devices, it's time to upgrade your space. Either way, you'll find that smart home devices make living easier.  
UPGRADING NETWORKS
The coronavirus pandemic has people working from home and taking meetings through Zoom video conference. Meanwhile, students are attending  school by livestreaming classes on their computers. All that bandwidth at one time is causing a strain for many families.  
Neil Wiessler, president of Shore Sound & Cinema, says he receives more calls today for network upgrades than any other service.  
 "With multiple family members all trying to run Zoom calls for both work and education simultaneously, the demand on networks, that we designed for entertainment and lifestyle purposes, are being crushed by the need for greater speed and bandwidth," he says.  
 "Now the kids have to do school from home, and parents are working from home and it's just not cutting it," says Harry Blanchard, senior sales engineer for Creative Systems. "Our enterprise grade networks are becoming more valuable and more sought out to people."
Additionally, smart home technologies in many cases need to connect to your WiFi network just like your smartphone or tablet. 
 "All the smart home devices basically need to be connected to the internet to get their updates and to control them from your phone," says Scott Leonard, system engineer and designer at Valley Automation. 
With so many devices linked to your WiFi network, it's important to have a strong signal throughout your house.  
 "If you don't have a good connection with your home WiFi on your phone, you won't be able to have a good experience with your smart home devices," Leonard says.  
ENERGY EFFICIENCY  
Having an energy-efficient home is good for the environment but it's even better for your wallet. And smart home technologies are a great way to reduce your energy use.  
Blocking out sunlight during the hottest parts of the day is one way to lessen how often your air conditioner needs to run. Motorized shades provide a solution, allowing you to keep your home cooler without straining your AC and giving you the ability to easily roll your blinds up or down.  
Smart lighting devices can stop you from accidentally leaving switches on around the house. In fact, you can use your phone to pro- gram your lights to turn on or off according to your schedule.  
But the No. 1 way to better equip your house for better energy management is to install a smart thermostat. Thomas McCarty, a comfort specialist at C&C Heating & Air Conditioning, says today's smart thermostats can be set up to automatically relieve the temperature of your home by a few degrees when you are away. 
 "And then we would set it to automatically come back to your desired comfort settings so that when you arrive home, your house is already at the desired comfort temperature," he says. "The couple of degrees of difference over a period of time is pretty significant energy savings."  
Your smart thermostat will also collect data on your home's energy usage and that information can be used to help you make more informed decisions. 
 "You can look at your monthly trend from year to year, and it'll say what the average temperature was that month and how much energy was consumed in your home that month," McCarty says. "So if you're looking at your smart control  and it's telling you over the last three years you've used more and more energy as each year goes by, it's a good indicator that there might be an issue."
LIGHTING
Integrating your lights into one system is one of the most popular smart home upgrades. Homeowners say they love the convenience of being able to control their lights even when they are away from home, along with the ability to set the system on a timer.
"And the one-touch programming allows [the homeowners] to basically have the same light settings every time so they don't have to go around to different rooms and adjust the dimmers," Leonard says.  
People can also use their lighting control system as a security measure by setting it to mimic that someone is home when they are not.  
Smart lighting systems can be operated from a keypad installed in your home or by smartphone or tablet. They can also be voice activated with the use of a Google Home, Amazon Echo or a similar home speaker.   
 "Instead of going around and switching buttons, you can say [to] whatever the device is, 'Hey, turn off my lights in the kitchen,'" Leonard says. "And the lights in the kitchen will turn off."  
INDOOR AND OUTDOOR ENTERTAINMENT
Home theaters with surround sound and high-definition viewing have been fashionable for a long time. But equipment for older home theater  systems has aged and some people are finding that the quarantine imposed by the coronavirus pandemic is a good time to upgrade. 
Blanchard says many of the systems he's been called to redo lately are 10 to 20 years old. 
Homeowners are also wanting to take their entertainment outdoors by installing an outdoor television and landscape speakers in their patio or backyard. Both can be done creatively.  
"I have a project where the TV is hidden in a container that looks like a stack of firewood," Blanchard says. "So when [the homeowner] wants to watch the TV, it rises up out of this stack of firewood. And when she doesn't need it, it motorizes back down inside."
Down at the Shore, entertaining outside is the norm so this is a highly desired amenity.  
"Here at the beach, Shore living is a different dynamic, so our clients tend to focus more on the outdoor lifestyle," Wiessler says, adding that outdoor TVs are in demand.  
INSTALLATION
There are some DIY ways to bootstrap your house with smart devices but installation can be tricky.
 "Today's technology is ever evolving," Wiessler says. "And you don't want to rely on the neighbor's kid or your buddy from college for tech support."  
Installation by a professional can save you a lot of headaches. It is also generally a swift process. "
It depends on how complicated the system is and how many devices [the homeowner] wants to install at one time," Leonard says. "Minimum  it could be an hour. You could be looking at half a day for a couple of devices if you wanted to do a thermostat or some lighting installation."
But once you've gotten your devices in place, you may find that you never knew how you lived without them.
Leonard says homeowners who have one smart device installed often find themselves wanting to add another to their living space soon after.  
 "A lot of times we get calls to come back and do another area of their home," he says. 
RESOURCES
C&C Heating & Air Conditioning
Souderton, Pa.
(215) 799-0515
CC-HVAC.com
Creative Systems
Collegeville, Pa.
(610) 450-6580
CreativeSys.com
Shore Sound & Cinema
Northfield, N.J.
(609) 645-1300
S2Cinema.com
Valley Automation LLC
Huntingdon Valley, Pa.
(215) 622-4915
ValleyAutomationLLC.com
Published (and copyrighted) in House & Home, Volume 21, Issue 1 (Fall 2020). 
For more info on House & Home magazine, click here. 
To subscribe to House & Home magazine, click here. 
To advertise in House & Home magazine, call 610-272-3120.