Revolutionizing Your Garage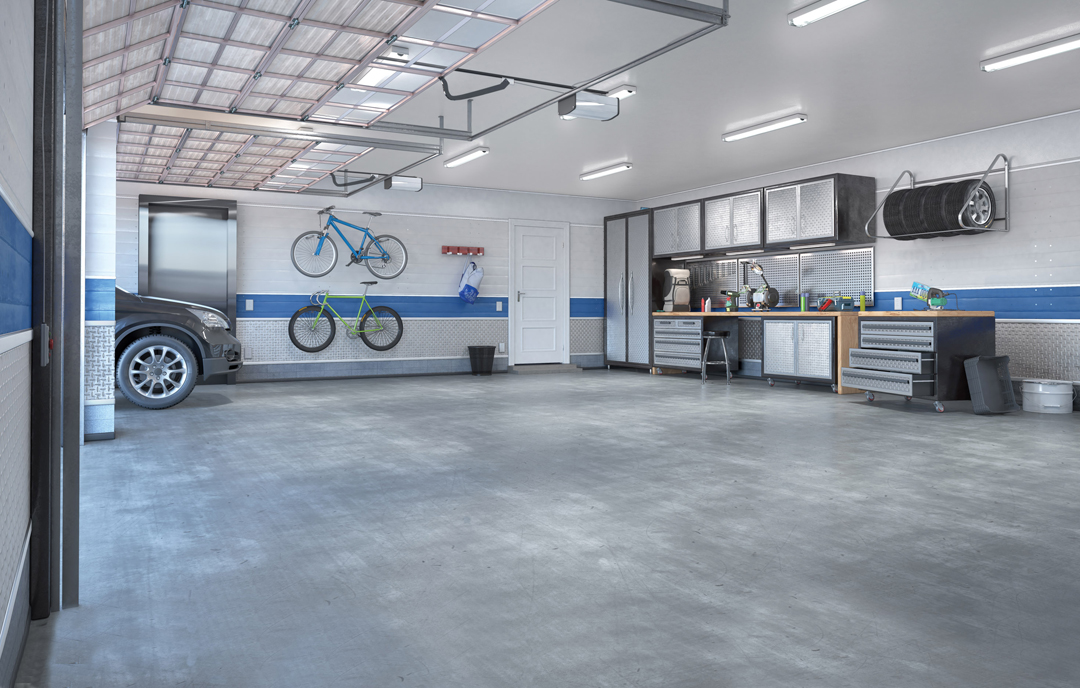 Garages can often be the dirtiest parts of a living space, as well as the most neglected. Many people use their garages for storage, and sometimes reorganizing can seem like too much of an undertaking. This is exponentiated by dirt tracked in from vehicles or shoes, which inevitably causes the flooring to deteriorate. Ultimately, a garage's utility and appearance are just as necessary as any other type of home renovation—especially when walking through it cannot be avoided.
Transforming a garage can result in numerous finished products: from storage spaces with streamlined organization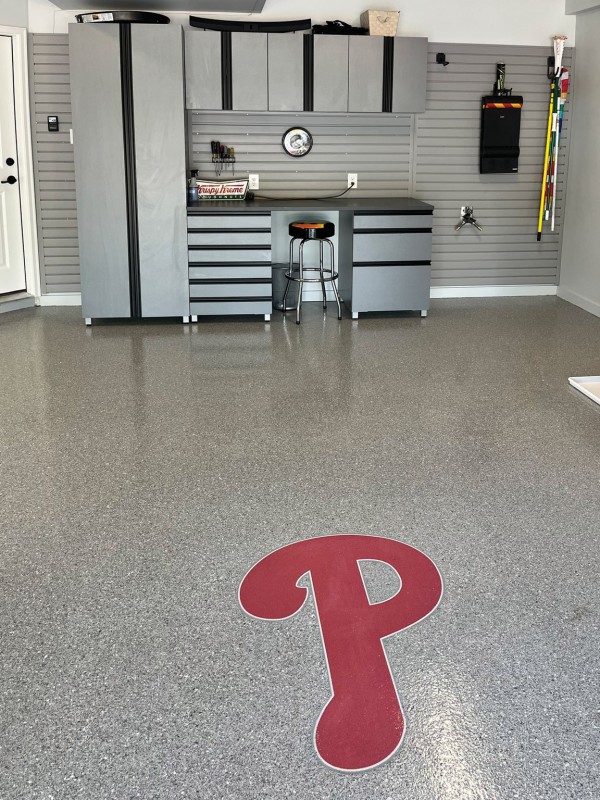 systems, to an additional room that functions as a living space, or even just creating enough room to park vehicles. Whether one envisions a new workout room, or a man-cave makeover to invite friends over to watch a game, local experts are there to provide services from top to bottom. As an added perk, a renovated garage can increase a property's value.
In speaking with garage makeover professionals, the two most common problems that people experience with their garages are flooring that is too difficult to clean, and clutter. They all agree that the before-and-after transformation results in an awe-struck customer.
"They're pretty excited. Which is surprising. It's a garage, right? They're delighted that the main house is clean because people aren't tracking all the dirt from the garage in the house," says Reid Murray, owner and president of Floorguard.
The main priority in seeking a renovated garage floor is its durability, as traditional gray is generally the customer's color preference. Furthermore, any patterns are typically subtle. For those who want a bold statement for the first impression of their home, there are options for blue, black, red and even glitter embellishments. Straying from the conventional is rare when it comes to garage design, but it's exciting to know the extent of customization that can be achieved to convert an ideal vision into a reality. Though appearance is important when considering a garage renovation, it is not the only element for which to account.
Especially in a home with children, garages contain many potential hazards. Flooring with a sealant will be more visually appealing, but it is safer and less likely to cause slipping. According to experts, the traditionally considered epoxy is losing traction for garage flooring. Also, since the pandemic, the price of epoxy has increased.
"Epoxy is very hard, but it does not have much flexibility. Therefore, with the concrete movement in garages from temperature change, the concrete will move slightly with the temperature change and this could cause epoxy to crack since the epoxy is not flexible—and another reason for using the polyaspartic versus the epoxy is it has a better heat threshold which means it won't melt or peel from the hot tars. And last of all, epoxy is not UV-stable which means with direct sunlight, it will start to yellow or fade ... polyaspartic is totally UV-stable which means it will not fade from direct sunlight," says David Smucker, owner of Duramax Concrete Coatings.
"The texture from the flakes gives it a natural slip resistance. And we can also add to that with an additive in the top coat which gives it more of a sandpaper feel. So we can very much control the final texture as far as slip resistance," he adds.
As an alternative product to epoxy, Joseph Paul, president of Apex Concrete Coating Solutions, recommends "the combination of the polyurea base and the polyaspartic top that really sets us apart from most of our other competitors. It's the best combination of garage flooring currently on the market."
Murray says the installations at Floorguard also contain a polyaspartic topcoat with textured flakes.
"People are delighted with the product. I like to say it's all about us, but the product and material, which—we make our own chemicals, and we make them in the United States and we've been doing it for 30 years—but the product is great. The finished product is really terrific," he says.
There's no excuse to delay getting started when using the right materials. According to Paul, "We're not hampered by cold temperatures or extremely high temperatures for installation. We do work all year round. Air temperature can be a big issue with the epoxies."
Once a company is selected and an inquiry is made, a garage can be modified with minimal stress on the customer's end. Professionals are available from start to finish, taking care of each necessary step. "We go in and measure the garage, see what they're looking for, create a design and then we proceed from there," says Aaron Lewis, owner of Closets For Less.
"We handle it from start to finish, we've got a network of outside sales reps who are designers that meet with the potential customer, consult them on their needs and their wants with the design, and then sketch it out and use their experience and our product portfolio to best use the space to accommodate the goals of the storage area," says Dave Schaefer, general manager of Innovative Closet Designs.
And with the perfect storage solution, tripping on clutter can be avoided, too. For further safety, it can also prevent clutter from collapsing or creating an avalanche. Organized storage options come a variety of ways, and different lifestyles call for a unique choice for each household. One would be amazed at how a compatible storage system can completely condense disorder into newly available space.
"Lately, everyone wants to have a nice floor and they want to get organization systems. Some customers want cabinets to have everything enclosed. Some customers don't mind having shelving, or they actually prefer having shelving so they can see everything," says Lenny Kelman, owner of Dream Garage Remodeling, Co.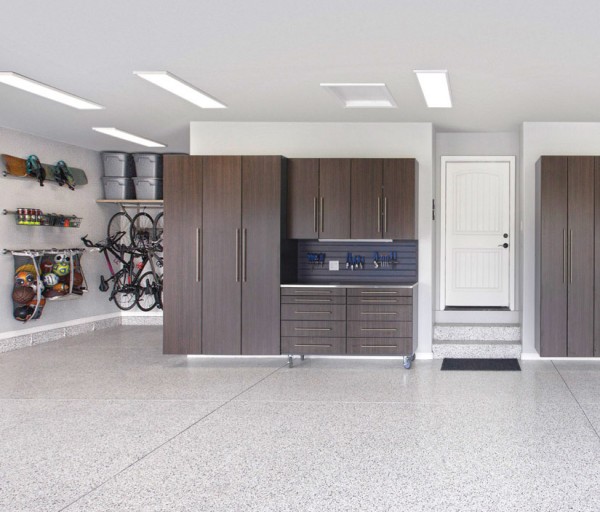 Storage systems can be functional, trendy and even protected—meaning locks can be added to ensure security. Whether protecting valuable items from theft or keeping items like power tools and chemicals out of the reach of children, there is a storage solution for each customer's needs.
"We have the ability to give people what they want ... we can offer cabinets, slatwall, the door-front Monkey Bar shelving and overhead storage. So basically, everything that you may think of that you may want for a storage purpose ... in most cases, it's a combination of things," Kelman continues.
Perhaps reorganizing can allow for a perfect workshop, with all of the tools in a designated place and easily accessible. Maybe a garage's makeover into a livable space will inspire further evolutions of utility like a private space to play loud music or video games comfortably without disturbing the rest of the house. Ultimately, with unfathomable new space, the options are endless. Schaefer claimed that he has even made room for dog-washing areas.
"Thanks to our flexibility and being able to customize or accommodate specific requests or goals in the design, we're able to accommodate more imagination or creativity to accomplish the client's requests," he says.
Clutter can be removed with a proper shelving or cabinet system without having to get rid of items completely. Making those tough decisions does not have to be part of the renovation process, with the added benefit of the ability to locate everything conveniently. For instance, many people have seasonal decorations that need to be out of the way for the rest of the year—and still available when needed.
"We offer cabinetry, we offer slatwall, we offer HyLoft—which is an item that hangs off the ceiling for them to be able to store their big Christmas trees and bulkier items off the floor and not use up cabinet space because they're only used once a year," says Lewis.
With a local service professional, a garage will be considered for optimal design and practicality from the ceiling to the floor. And the results of a carefully planned renovation will help this once neglected space match the appeal and allure of the rest of the home while boosting property value.
RESOURCES
Apex Concrete Coating Solutions
Wilmington, Del.
(302) 993-6716
ApexConcreteCoatingSolutions.com
Closets For Less
Warminster, Pa.
(215) 709-7908
Closets4LessBucks.com
Dream Garage Remodeling, Co.
Langhorne, Pa.
(215) 354-6502
DreamGaragePA.com
Duramax Concrete Coatings
Narvon, Pa.
(610) 286-7749
DuramaxCoatings.com
Floorguard
Newark, Del.
(484) 880-4302
Floorguard.com
Innovative Closet Designs
Wyckoff, NJ
(201) 473-2932
InnovativeClosetDesigns.com
Published (and copyrighted) in House & Home, Volume 23, Issue 9 (July 2023).
For more info on House & Home magazine, click here.
To subscribe to House & Home magazine, click here.
To advertise in House & Home magazine, call 610-272-3120.