Rettinger Fireplace Systems, Inc.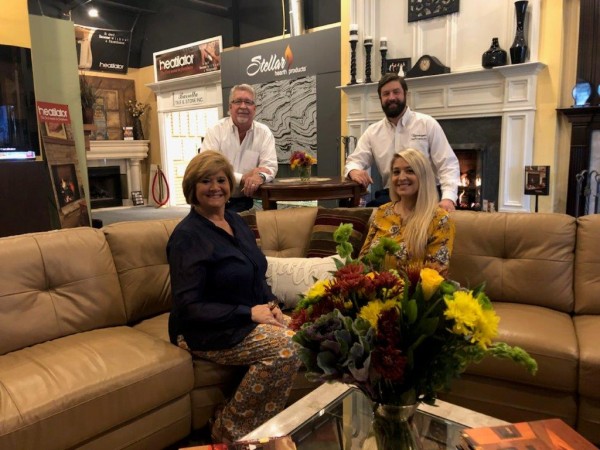 DAVID, ALEXIS, ALYSSA, AND DAVID JR. RETTINGER
Who founded the company and when?  
David Rettinger Sr. in 1995 working from the basement of our home. He literally would install each fireplace and come home and physically build the wooden mantle surround and then install that. He was a true one-man band initially and has done pretty much everything he asks his staff to do now.  
What made you want to start or be part of this business?  
Dave was working with another supply company and saw the vision of growing the fireplace division to a different level and when met with opposition from his employer he decided to venture out on his own. After a few years Alexis joined in 1999. Both adult children, Alyssa, age 32, and David Jr., age 30, worked in the business in some capacity all through high school and college and ventured into their own careers for approximately five years following college graduations before they both returned to the "family business." Alyssa now acts as purchasing manager and David Jr. wears equally as many hats as his dad, performing daily tasks of builder and retail sales, project management along with scheduling logistics.  
What are some challenges you've faced working with family members?  
There is a lot at stake when the whole family is making their living together. Plus sometimes it's hard to shut work off. There are nights when one of us is still thinking about a job, and the minute you bring it up at home you're sorry you did because you realize the other person had shut it off and now you turned it back on again. When we are all together on weekends even though our intention is to be "off" we often talk "shop" as well.      
What are the advantages and/or what do you find rewarding about working with family members?
We are a very close-knit family and all live in close proximity to each other and manage to spend lots of time together outside of work and truly love being together. We eat lunch together every day as a family. Dave and Alexis especially like working in the showroom together with other married couples. Sometimes people catch on that they are married, sometimes they don't and just think this is a super-friendly company calling each other "hon." It's amazing to see both adult children embracing a business they essentially grew up in and realizing now the blood, sweat, tears and effort that went into building this business. Most importantly, we are family first and business partners second. We stay focused on our vision of building a successful business together but we are family first and will never let Rettinger Fireplace Systems get in the way of being the Rettinger family first.  
What is your favorite thing to do together as a family outside of work?  
We enjoy cooking family dinners and spending  time in Avalon at the beach. With an addition of a grandson, Hudson, to the family this past year everything now revolves around him and being together to watch this little one grow … who knows, maybe even into the third generation of Rettinger Fireplace Systems!  
Rettinger Fireplace Systems, Inc., Voorhees, N.J., (855) GET-RETT, RettingerFireplace.com
Published (and copyrighted) in House & Home, Volume 19, Issue 10 (April 2019). 
For more info on House & Home magazine, click here. 
To subscribe to House & Home magazine, click here. 
To advertise in House & Home magazine, call 610-272-3120.