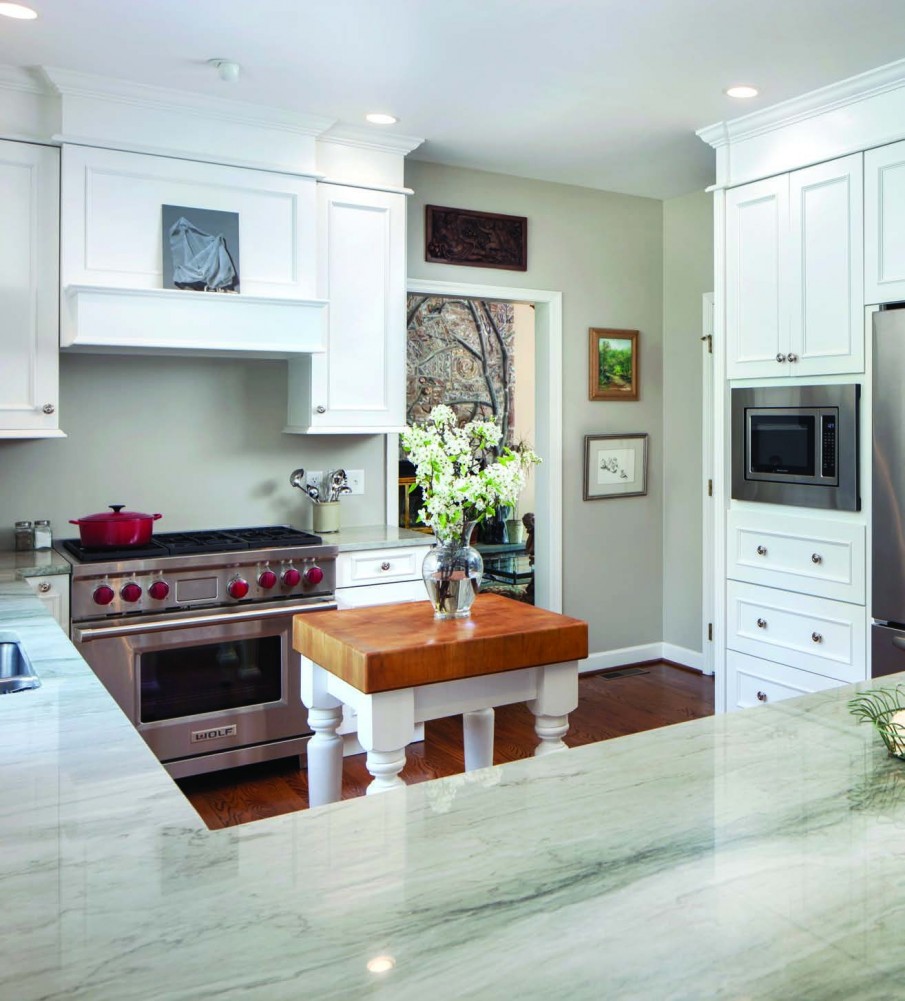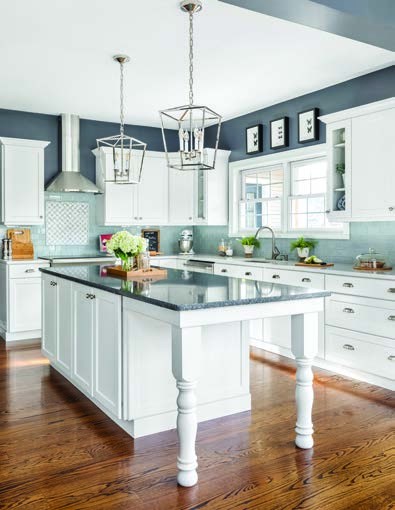 Kitchens and bathrooms remain at the top of the remodeling list for homeowners, even during the pandemic. People are cooking at home more often, working and learning remotely (often using kitchen space) and the hot real estate market has some making updates to make their house more appealing to buyers.
In fact, the National Kitchen and Bath Association released its latest Market Outlook, and it confirms this trend, showing that the percentage of homeowners actively working on remodeling projects increased significantly, from 19% in this year's first quarter to 36% in the second quarter. 
Guy Henri, owner of F+S Kitchen and Bath Design Studio, says when the pandemic came, he was sure the market for home improvements would crash. "Instead, there  was a spike in demand— kitchens, baths, renovations. Now that they've been home, they see the missing parts or the outdated things and want to make changes," he says.
 "With the reduced travel and vacation plans for most homeowners, they are taking those funds and investing them into their homes," says Linda Fennessy, Kitchen Magic public relations and print manager. "The staycation is becoming more popular, and they are investing the vacation fund into their kitchen and bath remodels."
House & Home spoke with some of the top companies who have invested years in remodeling kitchens and bathrooms to find out what design elements are coming to the fore and what advice they have for anyone about to embark on this adventure.
KITCHENS: WHAT THE EXPERTS SAY
In kitchens, the overall desired look remains something simple, clean and soft.  
 "Homeowners are looking for materials that are easier to clean—simple door styles without a lot of detail, which tend to pick up dust, lint and grease. Shaker door styles remain popular, but flat panel doors are gaining traction." —Meg Schultz, The CabinetTree Design Studio
"Seventy percent of homeowners are choosing some form of white. Grays and light woods follow in second and third places. Our flat-center-panel Shaker styles are the most popular. These door styles are from our Prestige Collection and are all at the lowest price point of all our doors. The material is a maintenance-free laminate, allowing homeowners to clean them with just   a wipe for easier care.
 "Almost all homeowners are adding efficiencies like prep-islands and smart storage solutions like roll-out spice racks, pot drawers and shelves to create a more efficient cooking experience. Many of our customers are choosing cabinet refacing, saving almost 50% over new cabinets and reinvesting the savings they incur for these upgrades." —Linda Fennessy, Kitchen Magic
"In kitchens, most people want the space to look clean/uncluttered. Many people like the idea of USB outlets in or near their island/seating area so electronics can be charged more easily. The modern farmhouse look is still thriving, even with different traditional looks thrown in to match the existing home. A lot of whites and grays, navy blue has become popular too—mainly used as an accent color."  — Wendy Amiano, Amiano & Son Design-Build
 "Soft, white cabinetry with quartz or marble countertops with slight veins is the most contemporary look right now. We're seeing this in suburban homes, but another color popping up is blue. It goes so well with things—you really have to see it to believe it. I think in 2025, gray will look like an outdated color. We're already starting to see it fade with some vendors, and see more colors come in, even green.
 "Another one coming to the forefront is countertops with Microban. People often cut on granite or quartz without damage, but this also protects it from bacteria seeping in. In the last nine months this has definitely been something people are more interested in." —Daryl Holcomb, Holcomb Cabinetry
 "If you are  thinking of doing your kitchen, you might think new cabinets will cost too much, but imported cabinetry is affordable and offers a great selection of materials and semicustom designs, which can help you stay on budget for projects. Fabuwood and Cubitac are two brands, for instance, where you can really have a nice finished look without being extravagant." —Guy Henri, F+S Kitchen and Bath Design Studio
WHAT'S OUT?
Busy wood grain (oak and cherry) cabinets
Ornate wood hoods with corbels and heavy lintels
Soffits above upper cabinets
Drop-in sinks and built-in soap dispensers
WHAT'S IN?
Quartz countertops
Blue accent cabinets
Clean and simple door styles
Prep islands
Roll-out racks, drawers and shelves
Built-in USB chargers
BATHROOMS: WHAT THE EXPERTS SAY

In bathrooms, homeowners want openness, as well as practicality.
 "The No. 1 feature we hear from customers is the open and airy feel that all-glass frameless enclosures help create. The bathroom feels bigger and more luxurious. It also helps in viewing the tilework on the shower, in many cases which has been a  significant investment by the homeowner. 
 "We are generally seeing increased popularity with 'Euro style' sliders, or sliders with exposed rollers. In a door or closet situation you would see them called a 'barn door' style. We are also generally seeing larger shower enclosures, and in many cases incorporating large fixed panels of glass to accommodate the increased size." —Ben Weaver, Alderfer Glass
"If committed to staying in the home long term, people want to make the master bath personal. They lean toward a fresh, transitional contemporary style, removing the confines of a narrow toilet room, but still looking for privacy with a partial wall or obscured glass. Freestanding tubs can also be like a work of art in the space and come in a variety of materials.
 "Hall bathrooms  are often ignored when discussing bath- room remodels. Hall baths serve a different purpose, usually for children and guests. It should include a tub, especially if there is not another tub in the home, because parents likely aren't bringing their children into the master to bathe in that tub. Trends aren't much different than the master bath—clean, neutral whites, grays and navy blue or natural wood for vanities." —Dave Cerami, HomeTech Renovations  
"All-glass frameless shower enclosures add a great look and value to your project. We can enhance the look with heavy ⅜-inch or ½-inch clear tempered glass to show off accent tiles, or choose from different types of patterned or custom-tinted glass.   
 "We also offer Showerguard—low-maintenance glass that protects against soap scum and hard water stains." —Rick Wilson, Glasstech
MORE ADVICE FROM THE PROS
"Don't get overwhelmed. Look at pictures online of kitchens, bathrooms and areas that you like and would like to incorporate  into your home. Pick out specifics from those photos and go from there. If you don't have a direction that you would like to go with before you start, you will have an overwhelming amount of options in front of you." —Wendy Amiano
 "Really consider all the different interior components that are more readily available these days  to make your cabinets work harder—drawers with built-in USBs to charge devices but keep them hidden away and off countertops for example. Ask the designer to recommend  storage options to make the most of the renovation." —Meg Schultz
 "I am a firm believer that the installation of a shower makes all the difference to a successful product. The value of experienced and highly trained installers cannot be overstated, as there often are no two bathrooms that are completely the same. Glass has very little room for error, so you know that experienced companies and techs have years of practice honing their craft." —Ben Weaver
"Share specifics of your lifestyle to designers and contractors. With all of the technology and  products available, if you tells us your grandkids are over all the time and playing with the cabinet doors, or if you cook a lot, or if you're moving in five years and don't want to spend a lot, or if you're never moving— you can never share too much. All of that allows us to create something tailored just to you." —Daryl Holcomb
WHAT'S OUT?
Built-in Jacuzzi tubs
Small tile
Narrow toilet rooms
WHAT'S IN?
Spa-like master baths
All-glass frameless shower enclosures
Freestanding tubs
Floor-to-ceiling window panels with contemporary glass blocks
Floating vanities
RESOURCES
Alderfer Glass
Telford,  Limerick,  Quakertown,
Allentown and Lansdale, Pa.
(215) 723-1192
AlderferGlass.com
Amiano & Son Design-Build
Tabernacle,  N.J.
(609) 268-5923
AmianoAndSon.com
CabinetTree Design Studio
Cherry Hill, N.J.
(856) 888-2220
CabinetTree.com
F+S Kitchen and Bath
Design Studio
Voorhees, N.J.
(856) 428-3800
FSKitchenAndBath.com
Glasstech
South Plainfield, N.J.
(908) 754-4046
GlassTechNJ.com
Holcomb Cabinetry
Claymont, Del.
(302) 478-5000
HolcombCabinetry.com
HomeTech Renovations
Springhouse, Pa.
(215) 646-7477
HTRenovations.com
Kitchen Magic
Nazareth, Pa.
(800) 510-4710
KitchenMagic.com
Select imagery courtesy of Kitchen Magic by Andy Ryan and HomeTech Renovations.
Published (and copyrighted) in House & Home, Volume 21, Issue 3 (October 2020). 
For more info on House & Home magazine, click here. 
To subscribe to House & Home magazine, click here. 
To advertise in House & Home magazine, call 610-272-3120.