There's nothing like having your own backyard pool. No swim club crowds to fight, no rule banning floats and you can swim day or night. And after a year of a global pandemic, the demand for pools has never been higher as people want to experience a resort experience in their own yard. According to Realtor Magazine, there was a 21 percent uptick in new in-ground residential pools compared to 2019.
However, that demand comes with a waiting list and possible material shortages. To put it bluntly, a new pool for 2021 likely isn't going to happen for those who want it. But there's always 2022, say pool pros.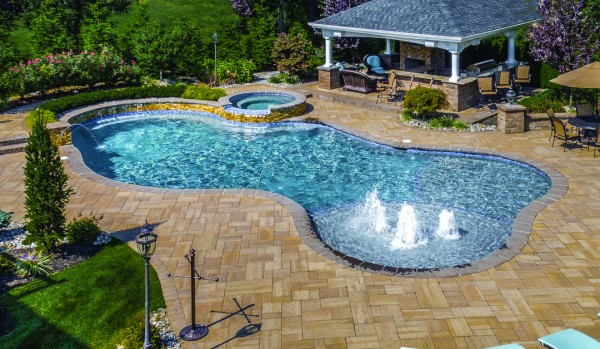 "Honestly, having a pool installed for this summer is pretty much out of the question," says Mike McCool of Swim-Mor Pools & Spas. "Because of the boom in pool sales and the problems with the supply chain of a variety of materials, building a pool for swimming this summer is probably not in the cards. Homeowners shopping now have come to that realization and understand that they are now planning for 2022. This is important to know as you do not want to decide to wait until the fall to plan for next year as we fully intend for this trend to continue. Pool companies are already booking for spring 2022 starts so you do not want to wait too long."
We asked experts in the industry for their advice on servicing and upgrades on current pools, as well as what decisions homeowners would have to make during the new pool planning process.
Current Pools
As you get ready for this summer, experts advise on features to consider adding and maintenance that shouldn't be ignored.
The most commonly requested or required repairs include structural cracks, broken tiles, pool coping and plumbing equipment, says Dominic DiCesare, general manager of Blue Haven Pools & Spas. "Your pool is like any other home repair, a small issue will just continue to turn into a major one if left unresolved."
Essential equipment such as bottom drains should be replaced every seven years and be firmly secured with the proper screws and lids to avoid risk of entrapment. Newer laws also call for drains to have three feet of separation, which should be checked by a professional. Heaters may also need to be replaced every 10 years.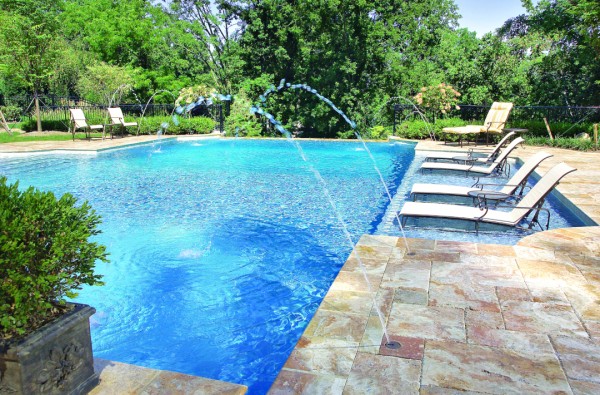 Upgrades can bring a new look and feel to your existing pool, and make it run more efficiently. "Variable speed pumps are being used rather than having a one-speed pump," says John Pezzetta of Pezzetta Pools & Patios. "It is easier to control and saves on electricity and energy." If run at a lower RPM for a longer period of time each day, these pumps contribute to clearer, more chemically balanced water.
Salt systems reduce the need for added chemicals and can be added to existing pools. Saltwater prevents pool water from turning green and leaves skin smoother without that chlorine feel.
At Blue Haven, something of particular interest during this new era in which we're living is the company's exclusive SmartFilter with Microban. "This filter is coated with Microban to resist mold, mildew and bacteria. Even when your pool is not running, there's no chance for bacteria to grow," DiCesare says.
You can still bring some fun features to your pool this season. "Depending on the type of pool will determine what homeowners are able to do with regard to enhancing an existing pool on a renovation," says McCool. "With gunite pools, a wide variety of features can be added as part of the renovation. Outside of simply upgrading to the more decorative materials and finishes being used today, some of the most popular features added on a renovation are a spa, sun shelf or tanning ledge, raised walls, water features or rock waterfalls. Each are features that are commonplace on today's pools but were not popular 20-plus years ago."
Homeowners may even consider transforming the surrounding landscape of their pool to really bring their backyard oasis to life. Something even as simple as a fire pit with benches can make your pool area more inviting.
Next Year's Pool
Good things come to those who wait, and believe it or not, planning your 2022 pool now will pay off in the long run.
DiCesare says there are quite a few compliance-related hoops to get through first—township requirements, engineering, setback distance codes, to name a few. "We first need to come out and look at your property," he says. "Some townships have more rules than others, but we always want to complete a topographical survey and check out stormwater management to make sure there are no issues. A new pool can't just be planned and done in a month if done the right way. It can be a drawn out process."
Townships may also be backlogged due to the pandemic, so the sooner your plans are submitted, the more time cushion you have.
As you interview pool contractors, find out their areas of expertise. For instance, Blue Haven works exclusively with concrete (gunite) pools. "Our focus is on inground, custom gunite pools because they are a permanent structure," he says. "Over the years, renovations can be made to these pools to update the look or features or make it look brand new. It's more valuable for homeowners to invest in this type of pool."
Fiberglass pools are another option and many prefer to work with these, such as Chuck Ordini of Ordini's Best Fiberglass Pools. He says, "Fiberglass is the best product pool-wise on the market starting with the lifetime warranty and the very low maintenance involved. It's a no brainer—you will never refinish a fiberglass pool like a concrete pool or change a liner in a vinyl pool. Vinyl replacement is $6,000-8,000 and resurfacing a gunite pool is $15,000-25,000."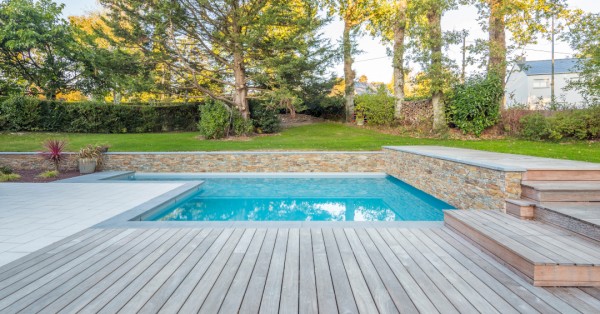 Ordini is known for its one-day installation of fiberglass pools, although he is booked out until spring 2022. As a Latham Grand dealer, these pools are available in over 70 shapes and sizes and 12 colors.
"Freeform pools are a new trend as far as shapes are concerned," adds Pezzetta. "Very few people are asking for the traditional rectangles or squares."
Knowing which company will get you what works right for you is important. Check the Better Business Bureau for ratings and reviews, and nothing beats word of mouth.
"It is important that the builder shows up on time, and is consistent," says Pezzetta. "Check their reputation with past customers and make sure that they have references. Look at jobs they have done to make sure that they have experience, high-quality workmanship and take pride in what they do. Also look for someone who has been building pools for a minimum of 15 to 20 years."
"You want to make sure you're dealing with a professional company, and if it's a right fit for you because it is major construction and you have to live with the outcome of the job," says DiCesare. "You have a lot of small builders and landscapers that start pool projects that go upside-down real quick."
RESOURCES
Blue Haven Pools & Spas by Calvitti
Serving Pa., N.J. and Del.
(800) 219-2141
BlueHaven.com
Ordini's Best Fiberglass Pools
Bristol, Pa.
(215) 602-3485
Swim1Day.com
Pezzetta Pools & Patios
Sewell, N.J.
(856) 209-2209
PezzettaPoolsAndPatios.com
Swim-Mor Pools & Spas
Mount Ephraim, N.J.
(856) 270-6571
Northfield, N.J.
(609) 755-3046
Millstone Twp., N.J.
(732) 422-5314
SwimMor.com