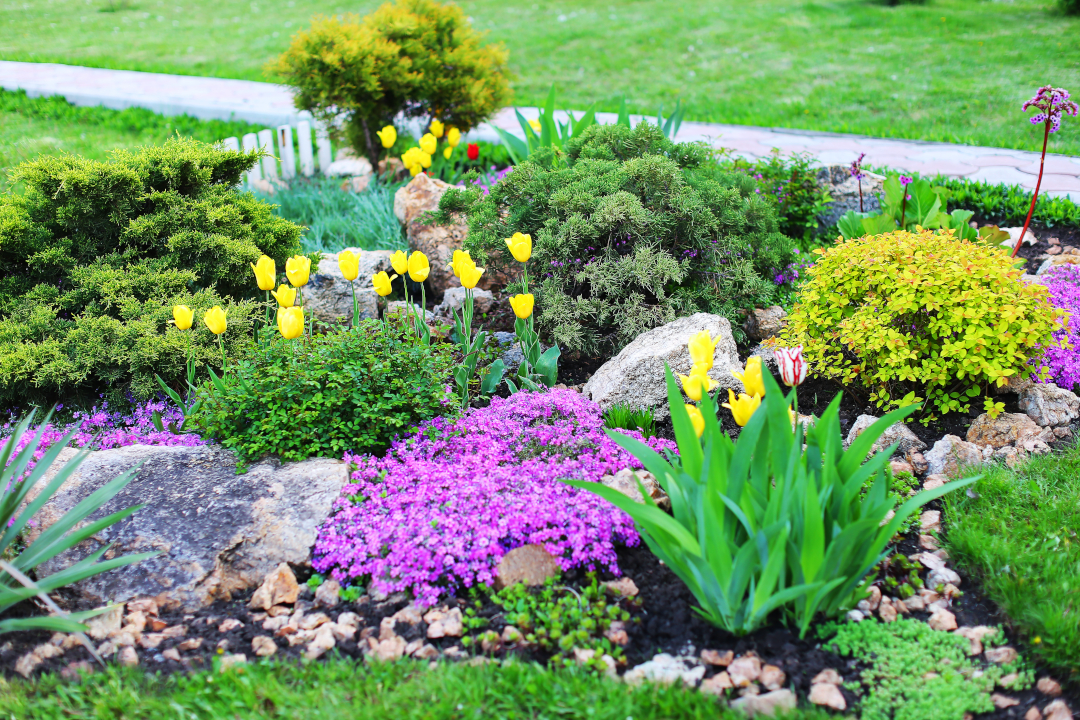 It's tempting to regard the winter as a temporary reprieve from outdoor projects, especially when the cozy indoors become more and more appealing with every cold snap and snowstorm. 
But being too lax with your property in the dormant season can come back to haunt you in the spring. By sitting out the winter, you lose out on valuable designing time, an optimal place on professionals' client schedules and staying on top of necessary yard maintenance, to say nothing of the extra work winter neglect can make for you in the spring. 
Even just using this time to plan ahead can be a proactive approach to kickstarting your property's yearly transition from cold-weather dormancy to spring's reawakening. "Winter is probably the most ideal time of the year to plan these projects," says Mike Pasquarello of Elite Landscaping. "There is much more added time and attention that can be given to the design phase, with actual installation construction slower due to weather constraints."
As more and more people are bringing the comfort and personal flourishes of their home's interiors outside, they're casting a keen eye on its landscaping and hardscaping potential. Whether your upcoming outdoor projects are major overhauls, more about simple updates or anywhere in between, the region's landscaping professionals have plenty of advice about how you can embrace the winter months to get started, maximize the lifespan of your yard's features and boost your home's overall curb appeal.  
Your Property's Plant Life
With the pandemic entering its third year and people still spending more time at home than ever before, they've been able to focus on truly personalizing their living spaces. Some already tackled their major landscaping goals a season or two ago and are focusing on maintenance and upkeep, while others are just now getting around to their outdoor overhaul. 
"Homeowners spending more time at home has given us more opportunities to create healthy, beautiful, pest-free living spaces to beautify their property more," confirms Madison Malik of Joshua Tree Experts. "Winter is very important as the beginning of a project's planning stage. We arborists have more time in the winter to really nurture our clients' property and create a great maintenance plan with them moving forward."
Winterizing a living yard actually begins in the fall. That's when it's crucial to lay down a protective layer of "compost or high-end mulch that doesn't introduce new weeds to your garden" to protect plants' root systems from the cold and prevent their soil from drying out in the harsh weather, says Ronni Hock of Ronni Hock Garden & Landscape.
"Snow is actually great for your garden: A blanket of snow on the ground is marvelous because it acts as an extra blanket protecting it from the winter winds, and those winds are what's most damaging to your plant life and soil," she notes. 
Unsurprisingly, your yard's soil is a crucial component in determining how exactly your landscaping goals will come to life, as its composition will indicate what kind of foliage will thrive there. Hock points out that winter is a great time to get your soil tested, and says that all kinds of resources offer testing kits, like the bigger tree companies, any county office of Rutgers University's New Jersey Agricultural Experiment Station Cooperative Extension or a local gardening center.
"It's all in the soil: If your soil's not right, nothing is going to grow no matter what you plant in it," she says. "Once you test your soil and send out your sample, you'll get your results back and an explanation of what they mean and what you should be planting."
Ryan Panetta of D. Panetta Contracting says the winter can be a great time to study your property's relationship to the elements beyond its native flora and your preferred fixtures.
"Do some research to see how the sun travels across your property," he suggests, adding that websites like SunCalc.org can help in determining things like daylight duration, shadow lengths, average solar paths and more to ensure you're designing natural elements that are harmonious with your unique geographic location and its features.
Take Advantage of the Dormant Season
With winter's bare branches and dormant plant life making parts of your yard more accessible in the cold months, it's also an opportune time to get hands-on and reshape some of your more unwieldy overgrown landscaping elements. 
"Winter pruning is great to do during the late winter months, as you really can easily see and evaluate branching habits of a deciduous shrub or tree," says Pasquarello.
"Some tree pruning is optimal to perform in the winter, despite the common misconception that springtime is best," Malik adds. "This includes pruning fruit trees because they become dormant or pruning diseased trees. When it comes to accessing hard-to-reach trees, winter is an optimal time to perform that service—plus, the soil conditions often create a more compact ground, which supports heavy equipment without damaging the lawn."
She also suggests removing dead or dangerous trees, as well as any unsightly stumps. "You'll want to look at mature trees with hazardous deadwood, as well as hazardous oak trees. Tree removals and stump grinding also become ideal in the winter if you are looking to plant a new tree in its place, since it provides plenty of time to prep the area to plant again in the spring. If you wait until spring, the optimal window for planting will have passed."
Panetta notes that a little winter landscaping TLC can be hugely beneficial for plant life once spring returns, whether it's tidying up or introducing native species to your landscaping.
"Starting in the fall through now, it's nice to get all your plant material properly trimmed and pruned back to make sure the snow doesn't do any damage to your plant material," he explains. "Make sure your grass is all cleaned up and there's no grass clippings or leaves on it so when spring comes, it has a better chance to germinate and a better chance to thrive."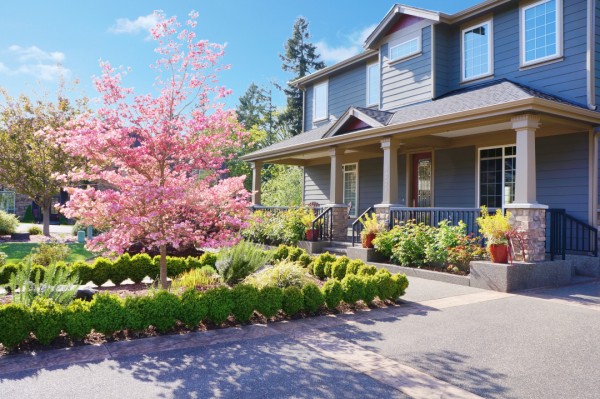 "If you're okay with digging through the frozen ground, you can do transplants," Panetta continues. "They'll just kind of stay dormant until springtime, which is when you'll have to revisit them and make sure everything's coming in properly. We've done a lot of pine plantings and spruce plantings this time of year. They're all in their element, so they'll be dormant until they start thriving in the spring."
Some Final Words of Advice
The frozen ground, snowy runoffs, soggy daytime conditions that refreeze at night, and the overall harshness and unpredictability of northeastern winters make it a suboptimal time to break ground on a new walkway or steps. It is, however, a good opportunity for examining cement, concrete and other hard fixtures for signs of weathering and wear so you know exactly what you need replaced or repaired.
Most high-quality construction should be fine after just one winter, though the introduction of salt and other deicing agents can be what rapidly ages those features. "The one thing that really hurts everything in the winter is the chemicals and salt you use, which could do damage to certain materials," Panetta explains.
The kind of winter weather we have will definitely impact the kind of spring maintenance you'll have to do. To minimize the damage of harsh winds, driving snow and inclement weather that can kill plants, Pasquarello has some proactive tips to ensure your yard's plant life lives to see another spring.
"Protect trees and shrubs from snow and ice, which can bend and break branches," he says. "Many evergreen varieties of trees and shrubs become extremely weighted with snow and ice and become damaged beyond repair. Simply tying outer smaller branches to inner central leaders will give an added strength to withstand the stresses of snow and ice load."
With the uptick in landscaping services' demands, now is the time to start talking with professionals and snagging your place on their schedules before it's too late.
"In a normal year, if you called in January, you could probably expect to get your work done by late spring or early summer but now, with the pandemic and the volume of calls and leads, I'm working on projects that I started last summer," notes Hock. "And it's not just me: It's across the board with anyone in the business and construction because there's been such a big explosion of demand, which is a blessing and a curse."
No matter what your landscaping goals are, the size of your property or the features you want to personalize your outdoor space with, the must-dos remain the same, according to Malik.
"If there's one thing every homeowner should keep in mind when it comes to caring for their homes' outdoor spaces, it's to prioritize preventative maintenance and yearly inspections," she says. "They are both extremely important."
RESOURCES
D. Panetta Contracting
Randolph, N.J.
(973) 659-9374
DPanettaContracting.com
Elite Landscaping
Berlin, N.J.
(856) 753-1944
EliteLandscaping.com
Joshua Tree Experts
Souderton, Pa.
(215) 798-9520
JoshuaTreeExperts.com
Ronni Hock Garden & Landscape
Lawrenceville, N.J.
(609) 844-0066
RonnisGarden.com
Published (and copyrighted) in House & Home, Volume 22, Issue 4 (January/February 2022). 
For more info on House & Home magazine, click here. 
To subscribe to House & Home magazine, click here. 
To advertise in House & Home magazine, call 610-272-3120.