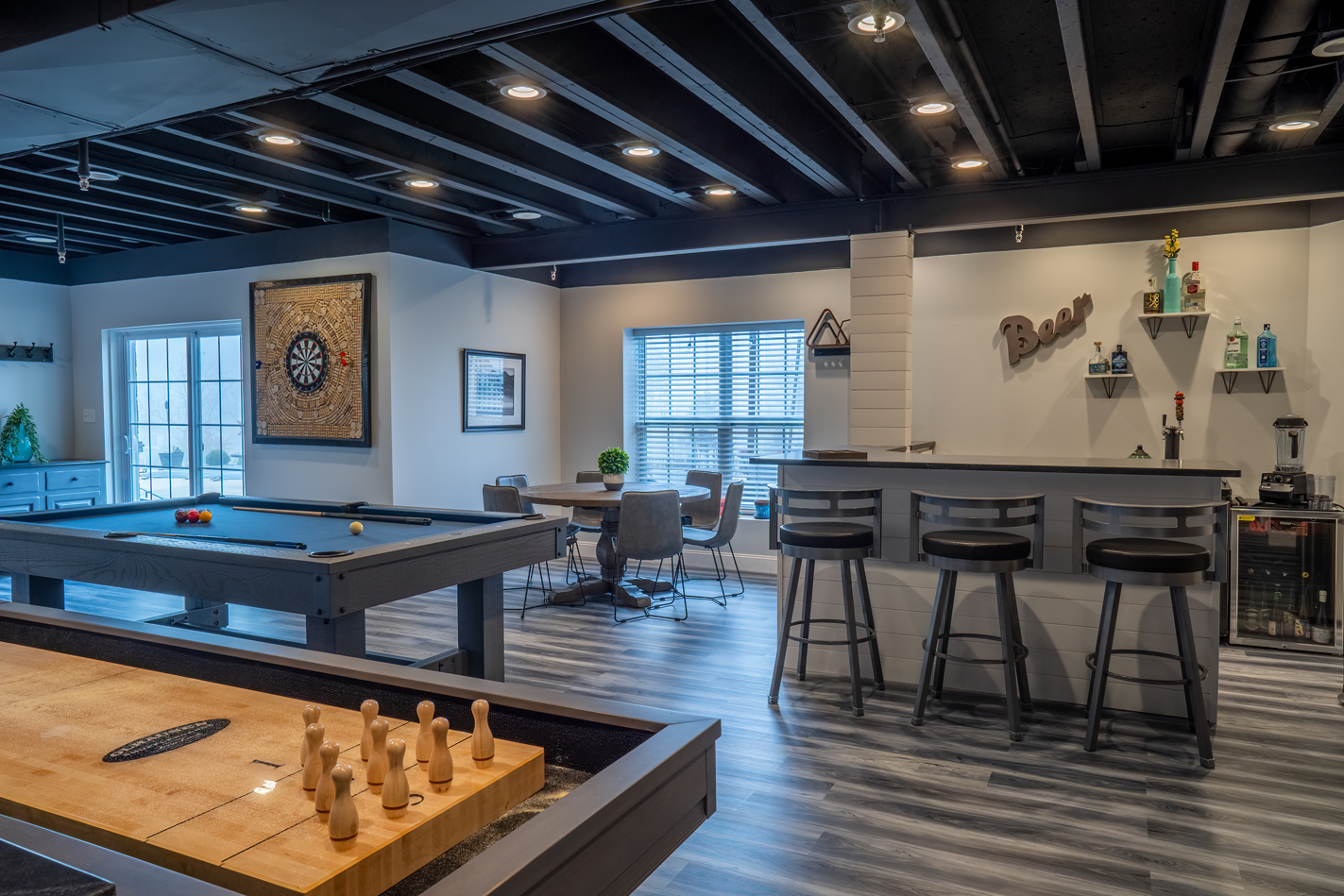 The past few years have inspired countless households to customize their homes in ways that better suit their families' needs and preferences, from the inside out and top to bottom. Oftentimes, those projects not only provide a personalized touch but also increase a home's value.
Justin Avishay, owner of Avishay Contractors, reports that even though lockdown is an increasingly distant memory, his company is still seeing a glut of clients eager to redo, renovate and reclaim their more neglected living spaces—particularly their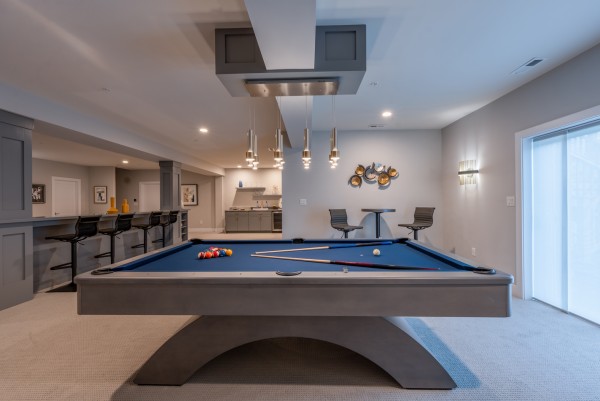 basements.
"Most people, when they don't have a finished basement, normally what's happening is that it'll just collect water, become a place for unnecessary storage and collecting things that should have been thrown out years ago. There's a whole bunch of boxes up against one wall and then you'll start to collect mold down there," he explains. "It ends up degrading the home value just by having the presence of mold and debris, and at the same time, you're just cluttering up your home more."
He also notes that the rising interest rates impacting today's financial landscape make it more attractive to invest in one's home: "No matter what you do, if you put money into your basement, a finished basement is always going to add value to your home. ... Imagine a basement as kind of like a savings account of equity: If you have an extra $50,000, instead of it sitting in a checking account or savings account low-interest bearing, most people will take that money and put it into their house, investing in the equity of their home. You're just converting the money from dollars into home equity, which, in the long run, ends up becoming more useful and powerful in times like this because houses keep up with inflation."
For Audra DelConte, Royal Billiard & Recreation's owner, she and her team have helped countless clients turn a drab, dank basement into a recreational space humming with life and decked out with personalized touches that encourage friendly gatherings by providing roomy at-home entertainment spaces.
"We always try to create a social gathering spot for family and friends," she says. "We might suggest adding a bar with complementary barstools that go with it, or a pub table in a corner to create extra seating or put your drink on while you're playing shuffleboard, ping pong, whatever. Those complementary items really help create a great hangout space."
In fact, many of Royal Billiard's projects focus on turning basements from unfurnished to fabulous.
"I would say that about 80% of our products go into basements," estimates DelConte. "Sometimes there's that added detail about deciding how to get a shuffleboard table into a basement because they're very long boards that aren't very flexible, but beyond getting the product in, it's really no different than working with any other space." Avishay, too, is seeing that demand to help underutilized, unsightly basements go from cluttered to cozy, and giving homeowners more room for activities is just one way people are breathing new life into those spaces.
"For basements, we've done everything: someone's man cave, where they want to put in a nice bar and hangout spot; playrooms for kids; custom home theaters—that's a big one, people like to build an in-house movie room," he begins. "Then there's spare bedrooms, or something like an in-law suite. I have a client whose basement we're doing right now ... and there's basically four feet of dead space that I turned into a closet for them, which they didn't even realize was an option."
The ways a bland, utilitarian basement can be turned into a vibrant part of the home are as infinite as the lifestyles and needs guiding those transformations, but that process should always begin with consulting the keen eyes and vast experience of proven professionals. In addition to their knowledge and experience, those experts have overseen and gotten their hands on a wide range of projects, so they have the well-trained eye to see the potential—and potential issues—that a homeowner might not even know to look for.
"A client might say, 'This is where I think a pool table will be best,' and we'll take a look at the whole space," says DelConte. "By the time we leave, it's in a whole different area because it will play better there and have more space that's needed for play than what they were originally thinking."
Those experts also tend to be well-versed in logistics like zoning approvals, how an additional bathroom will affect your home's sewage system and ensuring that your dream basement doesn't run afoul of municipal regulations.
"We are a start-to-finish company, so we help our clients along the way through the whole process," says Avishay. "We'll go to the towns for them, we handle all of the paperwork, all the legalities. ... My goal is to make this a seamless transition by accommodating the clients in any way, shape or form." Having an expert on your side also means someone can help you tastefully incorporate some trendy touches without embracing so modern a design that the space looks dated despite having plenty of life left in it—while also helping you identify ways to mindfully designing your new space that both accommodate and anticipate the inevitable future projects that a successfully renovated basement tends to invite.
"When you think of adding a pool table, keep an open mind to eventually adding a complementary matching shuffleboard or another game table," says DelConte. "So many of our customers come back because they want to add foosball or a ping-pong table down the road. When you're designing that space, consider how you'll want to add additional fun things to the space."
"If you're going to remodel your basement and you have the abilities to add a bathroom, that's the perfect space and the perfect time to add a bathroom," Avishay adds. "You want to add those amenities as much as possible."
With plenty of options for turning your basement into thoughtfully redesigned and lovingly appointed space, one thing that remains the same across those infinitely customizable options is hiring someone who'll treat your home like it's their own.
"When it comes down to who you're hiring, go with your gut feeling," Avishay advises. "Go with who will treat your house the best."
RESOURCES
Avishay Contractors
Kearny, N.J.
(973) 319-4726
AvishayConstruction.com
Royal Billiard & Recreation
Colmar, Pa.
(215) 997-7777
RoyalBilliard.com
Published (and copyrighted) in House & Home, Volume 23, Issue 10 (August 2023).
For more info on House & Home magazine, click here.
To subscribe to House & Home magazine, click here.
To advertise in House & Home magazine, call 610-272-3120.