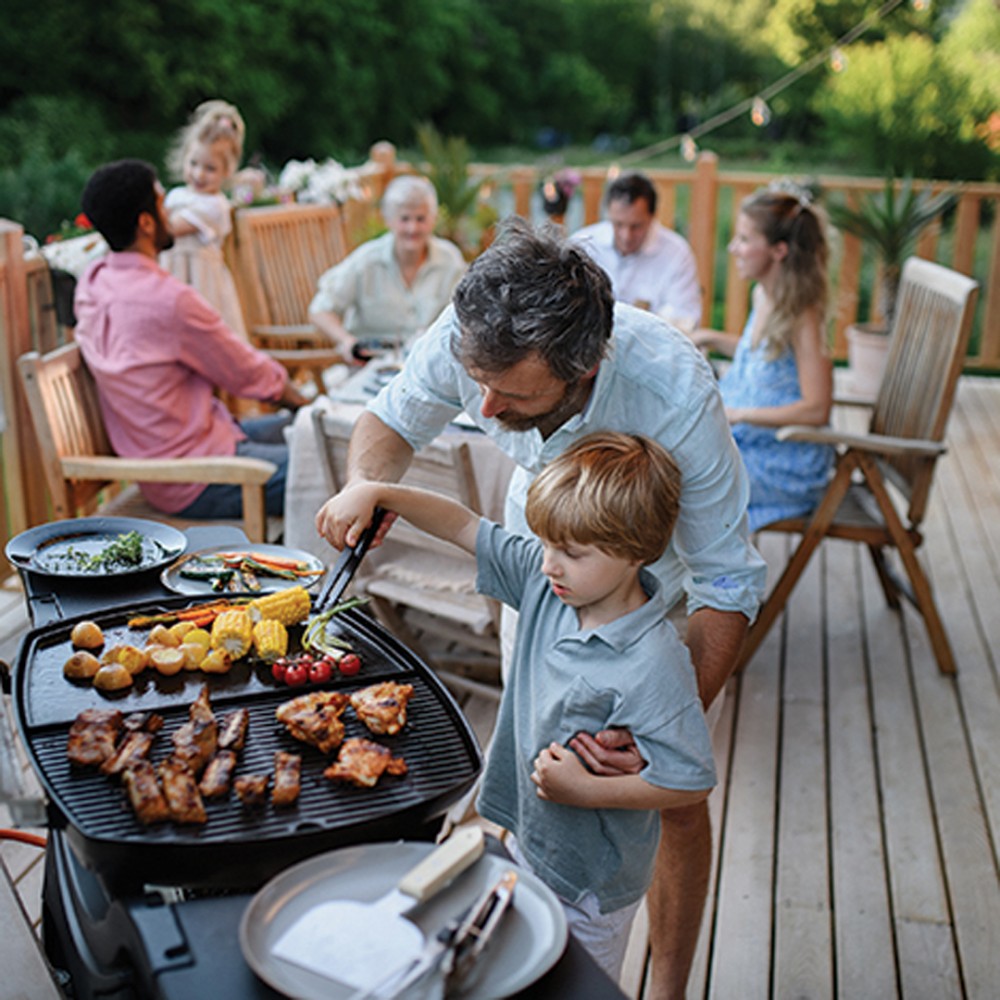 With the spring season well underway, the thoughts of summer are quickly approaching.
The 21st day of June marks the solstice, and the official start of the summer season made up of meetings, conviviality, dinners and outdoor gatherings. This is when the outdoor environment becomes the protagonist, and outdoor kitchens and grilling take center stage. Outdoor kitchens are also accentuated by all the exterior hardscape designers and seasonally geared companies who are kicking off all new projects for outdoor spaces.
So what are the trends for the coming summer months? We talked with a few professionals in the industry to see just what exactly is trending for this season and how any homeowner can reach their level of "grilling greatness" this summer.
"Outdoor kitchens and grilling at home have been extremely popular in the past few years, especially since COVID, as people are spending more time in their homes and properties. They're excited to make improvements to entertaining family and friends and use these new spaces year-round. These improvements also add value to homes and property," explains Natalie Weeks Rossitto of M.C. Weeks, Inc. Window Fashions & Outdoor Kitchens.
In fact, owning an outdoor kitchen is still trending in all the major search engines and it is at the top of everyone's wish list this season. The evolution of outdoor entertainment spaces has been building momentum for quite some time and doesn't seem to be slowing down. Over the past couple of years, more homeowners than ever are eager to invest in luxury, innovation and unique design to create cutting-edge outdoor kitchens, functional and beautiful dining spaces, and super comfortable lounge areas to gather with friends and family.
"One thing that I think every homeowner considering an outdoor kitchen should insist on including is some sort of seating around the kitchen area. Just like the kitchen tends to be the heart of the inside of your home, where everyone tends to congregate, the outdoor kitchen can be the heart of your outdoor living space—a place for gathering and catching up on the day's happenings," explains Steve Compton Jr., owner of CKC Landscaping.
Innovations in outdoor appliances mean you can have a professional-grade cooking experience while still enjoying the sun shining overhead. Much more than stainless steel grills, smokers can also be built into outdoor counters and cabinets. "While most outdoor kitchens still center around a gas or charcoal grill, we are seeing more and more customers expand their grill islands into full outdoor kitchens. Typically the first add-on once moving beyond just a traditional grill island, is to incorporate an outdoor refrigerator—this allows for greater convenience whether entertaining or just enjoying some time outside with the family," says Compton.
Great at Grilling
One of the quickest and easiest ways to turn your backyard into a culinary hotspot starts with getting the right grilling equipment. Of course, knowing how to get started is always a novice enthusiast's biggest hurdle. Grills have been the most common staple in most backyards, but customers today are looking for more premier products and to add more amenities to their grilling arsenal.
"Cart grills are quite commonplace in most backyards, but having the counter space of an outdoor kitchen or just an island as well for entertaining and preparing meals is important too," explains Weeks Rossitto. "When you're tired of wheeling a rusty cart grill out of the garage each year and replacing parts before you can even use it, think of investing in something more substantial like the Coyote Outdoor grill. These grills are made of 304 stainless steel, so they will last longer and be useable when you're ready to use them."
Karen Stalker, general manager of Gas Works, adds, "We've seen a renewed interest in outdoor grill islands, this year in particular with the modular ones that can grow over time and the uniquely designed styles specifically for the client's size area. When compared to a good quality stainless steel grill, the modular island is becoming more popular."
Flattops and pellet grills are also enhancing the cooking experience beyond just burgers because you can cook vegetables, fish, sides and more—even eggs, pancakes for breakfast. It's all without having to split your time outside and inside.
Kristi Reading, managing partner of The Buxton Complex and certified "eggspert" when it comes to the Big Green Egg, one of the most recognized grilling companies in the country, further ignites the conversation. "Customers are always asking us what they need to get started, which is why we have different packages available, from the Tailgater Package to get you started with burgers and dogs to the EggHead Package that includes the ConvEGGtor and Cast Iron Grid."
When investing in a Big Green Egg grilling device, you can have peace of mind that you are taking home the highest quality cooker for the past 40 years since it was patented and introduced to the public.
According to Reading, knowing where to go to obtain the right equipment and grilling accessories is an "eggcellent" start to grilling success. But she also explains that your grilling goals play a large part in the direction you might want to go when investing your time and money.
"We have found that no two customers are alike when it comes to the Big Green Egg. It all depends on what you will be cooking or smoking and the 'eggcessories' that you will need. Whether it be pizza wedges to turn the Big Green Egg into a brick oven pizza, rib racks to smoke the perfect barbecue ribs, vertical chicken roasters to cook that perfectly brined chicken, or the rotisserie to perfectly roast your favorite cut of meat, there is an 'eggcessory' for you."
Finishing Touches
To truly make your outdoor space feel like an extension of your home and your happy place, it's recommended to add a few personal touches. Invest in additional furniture like a sectional or lounge chairs for after-dinner socializing. Add a bubbling fountain or cozy fire pit to boost the ambiance and add to the overall experience. Finally, install some custom art panels or pieces and colorful planters to separate and define spaces.
With the increased time people are spending at home, the outdoor space will continue to be an important part of the home experience even past the summer season. "Just by simply adding a roof over an existing deck or an awning, you can make a true outdoor room and entertaining place to enjoy the outside for more than that just four or five months," adds Stalker. "An outdoor kitchen can often be used year-round if they're designed right; also including patio and screen shades can help with this," says Weeks Rossitto.
As spending more time at home has become the new normal, outdoor living and entertaining are likely to continue. These new outdoor kitchens add a new and enticing dimension to the home. Planning the ultimate outdoor entertaining space for your home takes thoughtful consideration. But with so many options to choose from, it's easy to truly customize your outdoor areas to fit any and all of your needs.
Resources
The Buxton Complex
Ewing Township, N.J.
(609) 771-0274
TheBuxtonComplex.com
CKC Landscaping
West Chester, Pa.
(484) 645-2407
CKCLandscaping.com
Gas Works
Frazer, Pa.
(610) 296-3557
FireBBQ.com
M.C. Weeks Inc. Window Fashions & Outdoor Kitchens
Trappe, Pa.
(610) 489-7231
MCWeeksInc.com
Published (and copyrighted) in House & Home, Volume 23, Issue 7 (May 2023).
For more info on House & Home magazine, click here.
To subscribe to House & Home magazine, click here.
To advertise in House & Home magazine, call 610-272-3120.