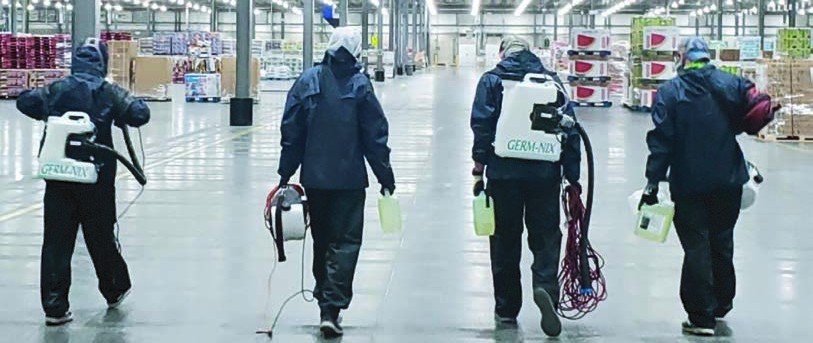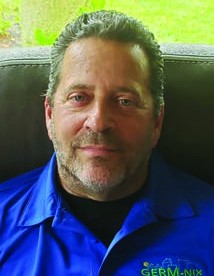 Long before the COVID-19 pandemic forced the world to think differently about safety, disinfection and cleanliness, Robert DiNunzio had already established himself in a field he feels passionate about. With 25 years of experience in the health care industry—many of those as the director of environmental services at hospitals throughout the country—he founded Legion Building Services in 2011 to offer professional cleaning to operating rooms, surgical suites and other health care facilities.
In 2019 he doubled down on his commitment by starting Germ-Nix, which provides the highest level of disinfection services to commercial and residential clients. Although demand was already high to reduce dangerous bacteria, germs and diseases, little did DiNunzio know at the time just how relevant Germ-Nix   would become. With the onset of the pandemic, the need has only grown for the guidance his company can deliver.
House & Home spoke with DiNunzio to learn more about his company, the benefits of disinfecting and what separates Germ-Nix from its competitors. 
Why did you decide to start Germ-Nix in 2019?
I saw a need in the maintenance division of so many hospitals regarding proper cleaning and disinfecting and started Legion Building Services to address that need in the health care industry, but I was also getting requests outside of the health care industry from government buildings, private businesses and homeowners. I started Germ-Nix so we could benefit a larger variety of clients. This was prior to the coronavirus pandemic; it was in response to what has been a problem for decades in hospitals and homes throughout the world, everything from the seasonal flu to MRSA and hospital-borne infections. 
Many people might think deep cleaning is all that is necessary, but can you explain the difference that disinfecting makes?
Utilizing proper equipment,   with an EPA registered disinfectant, will eradicate 99.99% of germs and bacteria that live both in high and low surfaces. Our equipment allows us to spray a disinfectant from ceiling to floor and that is more reassuring and efficient than wiping every surface by hand. General cleaning utilizing a cloth or sponge reduces germs on the reachable surface. Spray disinfecting, meanwhile, kills the germs on the reachable surfaces and unreachable surfaces.
Why is Germ-Nix different from other companies?
I believe that one of the main differences about Germ-Nix is that our staff is made up of infection preventionists, epidemiologists as well as certified technicians. The majority of our associates have worked in hospitals and in the health care industry. Many other businesses have added on disinfecting as a service, but do not have the experience of what is expected in a hospital or operating room. We also validate our disinfecting processes utilizing adenosine triphosphate (ATP) monitoring devices that read the level of bacteria, living and once living, on a surface, via swab. We offer free education to business owners, schools and government about bacteria and disinfecting processes, which may prevent potential problems to the general public.
Do you work with a wide range of clients?
Yes. Our clients include all industries—retail, transportation, businesses, schools, universities, residential properties and government buildings. There isn't an industry that we are unable to service. We have been working with several restaurants that have struggled with the closure of inside dining and limited capacity. Germ-Nix provides these restaurant owners the resources   and knowledge to reopen and stay open safely. We have helped many small businesses with complimentary training and disinfection so that they may open their doors to the public once again and not live in fear of losing their livelihood. Before this pandemic started, people didn't want to talk about the fact that they had a disinfecting company treat their establishment. Now, disinfecting a workplace is broadcasted publicly. It also eases the mind of employees and patrons when they see signs stating that "This Area Has Been Disinfected."
Why hire Germ-Nix for your home?
Our homes are supposed to be our safe zone. However, when it comes to bacteria it may not be as safe as you think. Our disinfecting methods reach everywhere you cannot reach by hand. Some of our  clients are immunocompromised or have been hospitalized and released and need to come home to a disinfected environment. We also treat the homes of people who are caring for a loved one on hospice surrounded by medical equipment, which also needs to be disinfected. 
Do you feel that disinfection will be necessary beyond the crisis?
Absolutely. Disinfecting and keeping bacteria at bay isn't a new standard but the process that Germ-Nix uses to keep these contagions at bay is. If you care about your health and the health of those around you our disinfecting service and treatment can be used as a preventive measure at home or work. We partner with you so your family, guests, employees and visitors feel comfortable knowing a health care-based professional disinfecting company is eradicating your facility of any potential contagious bacteria, germs and viruses. Our technicians thoroughly and professionally disinfect with the same standards required in a hospital or an operating room. Harmful germs, bacteria and viruses have been here long before COVID-19, during COVID-19 and will be here long after COVID-19 and so will Germ-Nix because we want you to live, work and play in a healthy environment.
Germ-Nix LLC
Marlton, N.J. ||(833) GERMNIX (437-6649)
GermNixLLC.com | sales@germnixllc.com
Published (and copyrighted) in House & Home, Volume 21, Issue 1 (Fall 2020). 
For more info on House & Home magazine, click here. 
To subscribe to House & Home magazine, click here. 
To advertise in House & Home magazine, call 610-272-3120.