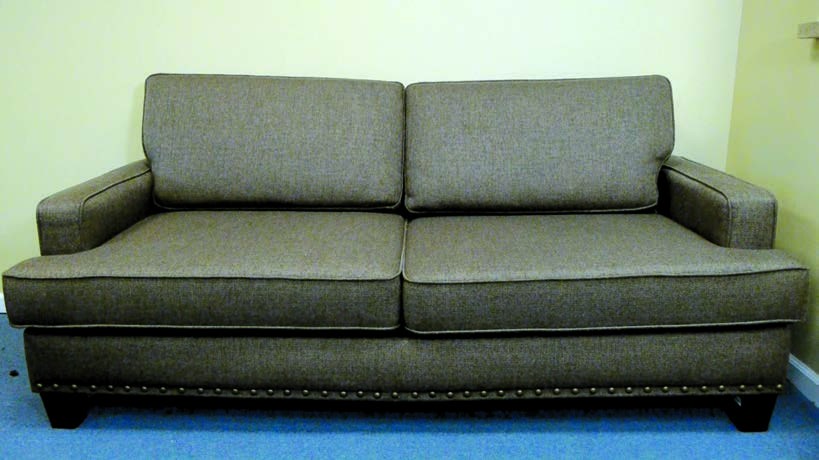 Have you ever noticed that new couch you bought a few years ago is getting soft and losing its support and comfort? Are you using pillows between your sofa's back cushion to give you better support? You're not alone. Foam cushions tend to break down and lose their firmness, making sitting down not nearly as comfortable as it was when you first purchased the couch, sometimes even somewhat painful. When you can't take it anymore, the first thing that crosses your mind is to get a brand-new couch again, which can be quite costly.
But there is a cost-effective solution that will make your couch look and feel brand new—The Foam Outlet. A family-owned and operated business with 29 years of experience serving the tri-state area, the company specializes in cutting replacement foam  for couch cushions and offers a lifetime guarantee with every couch cushion they make.
House & Home spoke with owner Jim Marr about how he got into this business, the process of making couch cushions and what types of firmness are best for each individual.
How did you get into this line of business?
I am an upholsterer by trade; we needed a source for foam. As a parachute rigger in the Navy, 90 percent of what I did was sewing for pilots. … My source of foam closed many years ago and I needed to get into the foam end of the business as a necessity. Between that and [my] trade, it became the perfect storm. As the price of oil went up, manufacturers cut back on the quality of foam they put in [retail or store bought] couches, and just like everybody knows, these days cushions only last two to three years while mom and dad's lasted 30 years.
What is the process like?
It's easy—folks bring  in their cushions with the covers left on them. You shouldn't take them off because they lose shape. We measure the cushion for you so the measurements are always correct and we place the covers back onto the new cushions which can be tricky  at times. We also offer custom-cut cushions, so if you have an odd shape or a very large cushion you need to replace, we can satisfy that need. Then, we find out what your needs are by having you sit and sample  three different types [of cushions and firmness] in our lobby. This gives the customer  knowledge of exactly what they want and when they get home, there are no surprises. Then, we cut and install the foam while you wait. Sometimes it takes as little as  15-20 minutes.
How do customers decide which type of firmness is best for them?
Ninety-nine percent of the people who come through the door, the first thing they say is, give me the hardest foam. They usually change their minds after trying our different types of foam cushions. A [6-foot tall] man needs a firmer foam than a lady who is [a little over 5 feet] and weighs 118 pounds, but that's the problem—people equate firmness with longevity. They think getting firm foam lasts longer, but that's not the case. A lot of times they come in looking for the hardest foam and they leave with the softest.
The important thing is we educate our clients so they understand what they are buying,  and everyone has different reasons— someone may  have had a knee and hip replacement done recently, a bad back or posture issues so they prefer to have their replacement cushions a little firmer.
Is this the only way for customers to go about getting new foam for couch cushions?
The Foam Outlet experience cannot be duplicated over the internet. You can buy foam online for less money, but you don't know exactly what you're getting. We are the only place that gives a lifetime guarantee on our couch cushions—you won't get that guarantee at any other store.
What else do you work with besides couches?
Besides replacement cushions for sofas, loveseats and chairs, we also cut replacement foam for boats, RV trailers, customer mattresses  and foam for wheelchairs. Anything you need foam for, we   can make. Our slogan is: we manufacture what you can't buy.
The Foam Outlet
Pennsauken, N.J.
(856) 382-7145 | FoamOutlet.com
Published (and copyrighted) in House & Home, Volume 19, Issue 3 (September 2018). 
For more info on House & Home magazine, click here. 
To subscribe to House & Home magazine, click here. 
To advertise in House & Home magazine, call 610-272-3120.