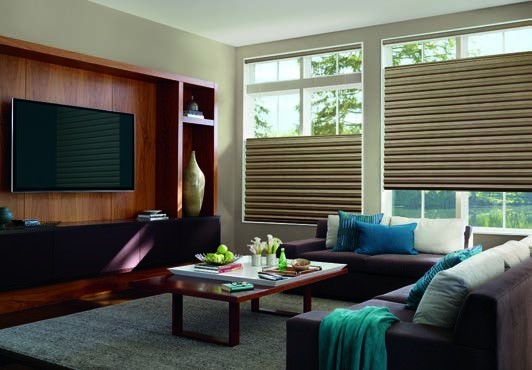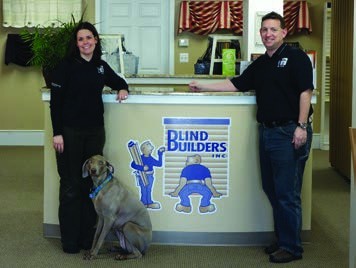 Nikki and Brett Rieber are a husband and wife team that own and run Blind Builders, Inc. in Feasterville, Pa. Along with their dedicated staff, the Riebers are committed to helping their customers find amazing custom window treatments for their home. They have been serving the Bucks County area for nearly 25 years and offer a full Hunter Douglas Gallery showroom.
Seasonal window treatment trends
As we get further into fall and closer to winter, people start to think about the impending rise in their energy bills and how they can lower them. Window treatments usually aren't the first solution that comes to mind, but they can help dramatically. Hunter Douglas offers several different styles of energy-efficient shades that can not only keep your home more comfortable in the cooler months, but they can save you money as well.
Duette Honeycomb Shades were created in response to the United States' energy crisis in the 1970s and have since become a design standard in the industry. These innovative shades feature small pockets that trap air and keep it from entering or exiting through your windows. Since up to 50 percent of your home's heating and cooling energy can be lost through the windows, this feature keeps the internal temperature of your home more constant. This added insulation  keeps your heating and cooling units from having to run as often, so you can save money on your energy bills.
While Duette shades are the original energy-efficient shade, Hunter Douglas has improved some other popular window  treatment styles to offer more energy-saving options. Solera Soft Shades feature the beautiful, sculpted folds found in roman shades but have the same cellular construction that makes honeycomb shades so efficient. Additionally, the lift cords on these shades are internal, so your windows will look neater and your home will be safer for children and pets.
Elegant window treatments are great, but sometimes you just want something simple. Sonnette Cellular Roller Shades can offer this. These beautiful shades feature the clean, minimalistic design of a roller shade but can offer the same money and energy-saving benefits of other cellular shades. They are available in over 48 different colors, so you can get exactly the look you want in your home. Additionally, their gently curved shape is perfect for light  diffusion, which softens harsh sunlight and provides better illumination.
What makes Hunter Douglas special?
For the last nearly 100 years, Hunter Douglas has been dedicated to studying the properties light has at the window. This has allowed them to create beautiful, revolutionary window treatments that both look amazing and meet their customers' many needs. Privacy, light control and energy efficiency are just a few of the many benefits you can expect to get from Hunter Douglas window treatments.
Hunter Douglas window treatments are made of the highest quality, custom-crafted in the United States and feature a limited lifetime  warranty on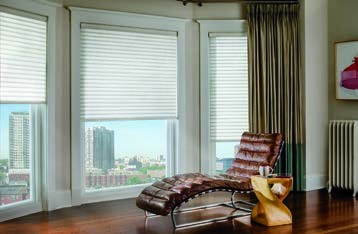 every product. They are created specifically for your window, so not only will you get exactly the style you want, but you can be confident that they will fit and work perfectly.  
Many popular window fashions from Hunter Douglas are also available in specialty shapes, like arches and ovals, so you can outfit any window in your home. They also feature innovative operating systems like PowerView Motorization, allowing you to adjust your hard-to-reach window coverings with just the push of a button, rather than trying to do it manually.
Blind Builders is your go-to source for window treatments
Blind Builders, Inc. has their Hunter Douglas Gallery showroom in Feasterville, Pa., where you can see and interact with full-sized displays of Hunter Douglas window treatments. They also offer free in-home design consultations, where you can get an idea of how their products will look in your home before you make any purchases. 
Each shopping experience with Blind Builders is specially personalized to ensure you get exactly what you want and need from your window treatments. Their team has a ton of experience with design, color and function, and they have expert knowledge on the inner workings of each product they offer. Choosing Blind Builders allows you to get the perfect window treatments,  without becoming overwhelmed by the process.
Blind Builders
Feasterville, Pa.
(215) 322-5855
BlindBuilders.com
Published (and copyrighted) in House & Home, Volume 19, Issue 4 (October 2018). 
For more info on House & Home magazine, click here. 
To subscribe to House & Home magazine, click here. 
To advertise in House & Home magazine, call 610-272-3120.