Family Owned and Future-Focused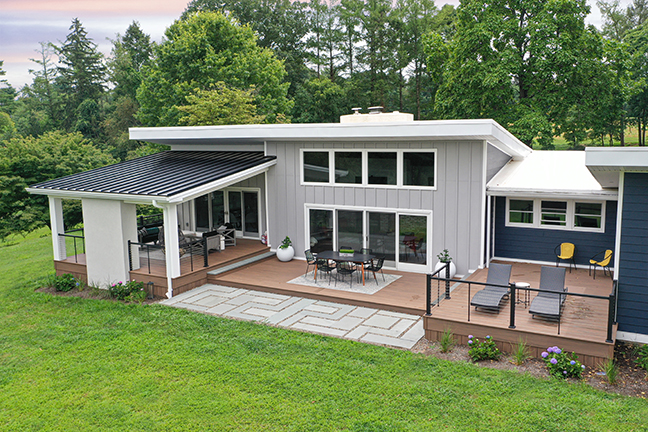 Ever since founder Amos Esh welcomed his first client to Keystone Custom Decks, the company has been building a reputation as sound and as impressive as the pools, pergolas, water features, hardscaping fixtures, outdoor kitchens and, of course, eponymous decks it has put its name on across four states for the past 40 years.
With the late Amos' sons confidently and capably steering the company they grew up in toward its promising future, the family-owned builder is in its second generation of turning homeowners' vast and varied visions for their outdoor living spaces into a fully realized, show-stopping space.
"The trend has really become turning your backyard into your sanctuary, your own personal retreat at home," observes Michael Esh. "It's been kind of gradual over the last 10 years, maybe a little longer, but it just exploded with COVID. We still do decks, but the scope of the project has become so much more than that. Now people want to relax outside with a fireplace and heaters, and have their TV there, and have a swimming pool out there, too."
But before a company can point to four decades of incredible work and satisfied clients, it needs to assemble a team capable of creating the high-quality, long-lasting and painstakingly individualized outdoor structures that especially today's clients expect.
"We like to push the envelope on what anyone else has done with these ideas that our clients and our sales team have come up with, and just figuring out a way to make them happen," Esh says. "That's what our company and our team thrive on, taking those challenges, those dreams people have, and turning them into a reality."
Keystone's dedicated, hand-picked team has helped ensure that the area's premier deck builder has been able to thoughtfully expand as trends demand an explosive growth of complementary outdoor-living services. With homeowners wanting their properties' exterior amenities to reflect the comfort of those inside, plus the benefit of doing it all under one roof so the client only has to deal with one company throughout the entirety of the project, adapting to an evolving industry's shifting needs long-ago emerged as a necessity to company leadership.
"When my dad started this business, an outdoor living space meant putting a deck out back that was big enough for a picnic table and your grill," Esh says. "Today, we're doing projects with outdoor kitchens, swimming pools and fireplaces because, as the idea behind outdoor living spaces has changed over the years, the backyard has become an extension of the home."
Both training and hiring hands-on talent to deliver the diligent details required of today's projects is just one way the "team has grown tremendously." In addition to knowing all the right kinds of supplemental staff when a specialized skill is needed, more front-facing staff have also been fairly contemporary additions to the team.
"Dad would come home after being on the job site all day and sketch out designs by hand; now, we have an entire team of full-time, in-house designers," notes Esh. "We put together these 3D renderings of the project before people even sign a contract, and we've had to hire people specifically for that, too. But then there are people who have been working out in the field for years, and we were able to bring them into a new role allowing them to use all that experience they've accumulated."
And while an ever-expanding roster of services certainly keeps the Keystone team busy, the meteoric rise of its pool installations accounts for some of its most in-demand projects.
"I think pools are the biggest thing we've really started promoting in the last couple years," Esh says. "We have a whole division now that's only doing swimming pools."
While their areas of expertise go well beyond the decks the company originally built its reputation on, the desire to take on new challenges that ultimately shape the expansion of Keystone's wheelhouse has always been a core tenet of the company.
"We've always tried to stay on the cutting edge and I think we've done that over the years—Dad loved to try new things and all the new ideas that came along," Esh affirms.
But for all the changing trends that come along, the company's cornerstones remain the same all these decades later, like cultivating a family feeling among the talented team making Keystone's exemplary work possible. Perhaps even more important, though, is simply leading with integrity, a lesson that Amos Esh instilled in his children and insisted on for the company he founded.
And it's a legacy that lives on in a company that operates on the unwavering principle of treating customers like they're part of the Keystone family, too.
"We've grown a lot but we're still very much, at our core, a family business," says Esh. "It's very important to us to invest in our team and for them to care for our clients."
Keystone Custom Decks
Serving DE, MD, NY and PA
PA office: (717) 553-0835
NY office: (315) 227-2288
KeystoneCustomDecks.com
Published (and copyrighted) in House & Home, Volume 23, Issue 4 (January/February 2023). 
For more info on House & Home magazine, click here. 
To subscribe to House & Home magazine, click here. 
To advertise in House & Home magazine, call 610-272-3120.